[dropcap]G[/dropcap]rowing up my mom was not the best cook in the world (sorry Mom!) but she did make a few dishes that she had mastered. Lasagna and stuffed shells were two dishes she would make a lot. As I got older it was something she would make on Sundays. She would cook the sauce all day and then make a big pan of either. The house always smelled so good. She never liked ricotta cheese. So when she would make either of these dishes she would always use cottage cheese which I loved and I think is one thing I took with me from her cooking.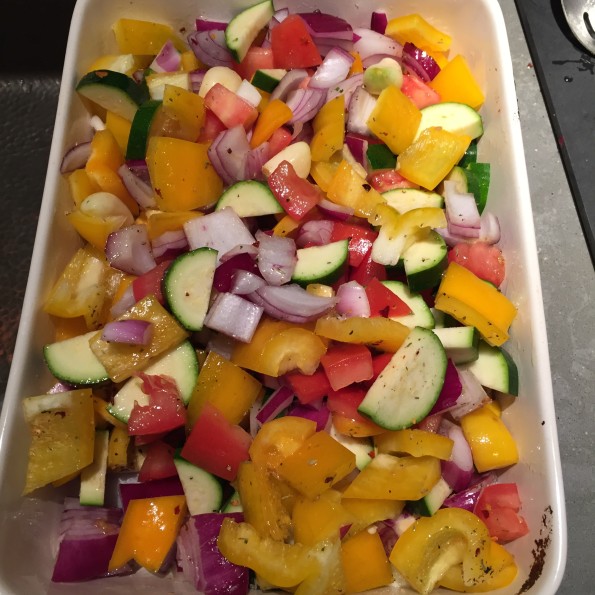 Lasagna is something I love but it makes SO much. It can also be a lot of work too. It is a great fall dish though and one that makes your house smell like you have been in the kitchen hours cooking. My husband wasn't feeling the best the other night so I figured I would be nice and make dinner. O
ur kitchen responsibilities are actually very well balanced. I go to yoga almost every day after work and there are some nights I don't get home until almost 8 and then I still have to shower. So on those nights he makes me dinner. Nights where we are looking to get a quick dinner done I usually cook.
Then there are the nights that we cook together. Often on the weekends where we have more time. It's almost our version of a date night. We put music on and crack a bottle of wine (or two) and take our time making dinner. This happened to be a Saturday night so I had a little time and figured I would play around in the kitchen while he relaxed.
As you can tell from any recipe I make I LOVE vegetables. Roasted veggies are something I like to make. It's so simple. You can just rough chop your vegetables and simply season them with olive oil, salt, pepper, Italian seasoning and some crushed red pepper and throw them in the oven and let them do their thing. That's the one thing I hate about lasagna is I feel so guilty eating it since it's loaded with cheese. To me if I throw a ton of vegetables in my meal I feel better if I am splurging a little. These also make a great side dish on their own.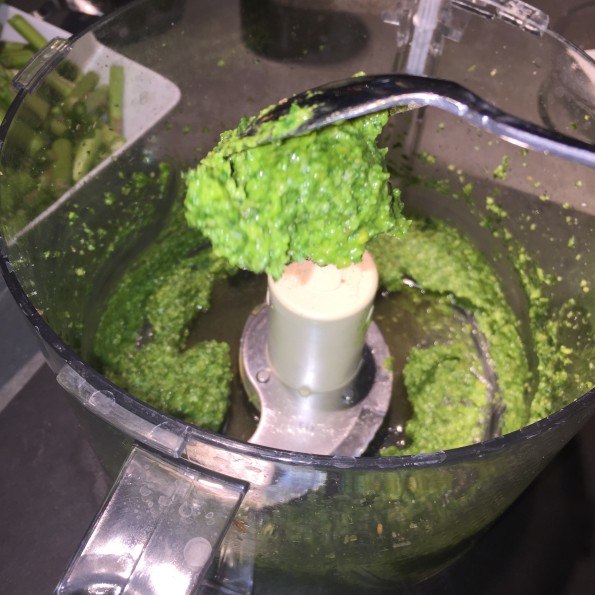 Tomato sauces are great when you have all day to make them but when you want to eat in a reasonable time I have found that making a quick tomato sauce is just as good especially when your dish will have lots of flavors going through it. You can easily make a sauce with onions, garlic, crushed and diced tomatoes and make it seem fresh with a ton of fresh basil. I have found recently by adding a small amount of sugar in these quick cooking sauces it helps take the acidity out of the sauce from the tomatoes. If you have all day to cook a sauce that happens naturally but for quick cooking this does the trick.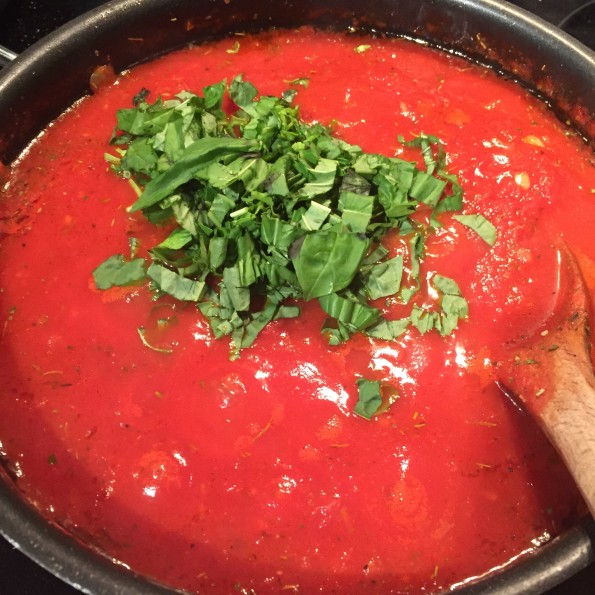 So I got a little over ambitious because I decided not to stop there. Previously I had watched a cooking show (Extra Virgin) and they made a pesto lasagna which is to die for. Actually I have made it a few times and my friends request it (and never leave leftovers) so I thought why not add pesto into my "lasagna". Pesto is one of those things that are so easy to make if you have a food processor. Plus you can play with what kinds of pesto you make. You can add roasted bell peppers or sun dried tomatoes and it turns out so good. I decided just to keep everything simple tonight though.
Lastly my husband loves italian sausage. I personally am not a fan but it is really easy to brown some up and add to his dish and not mine. Marriage is all about compromise right??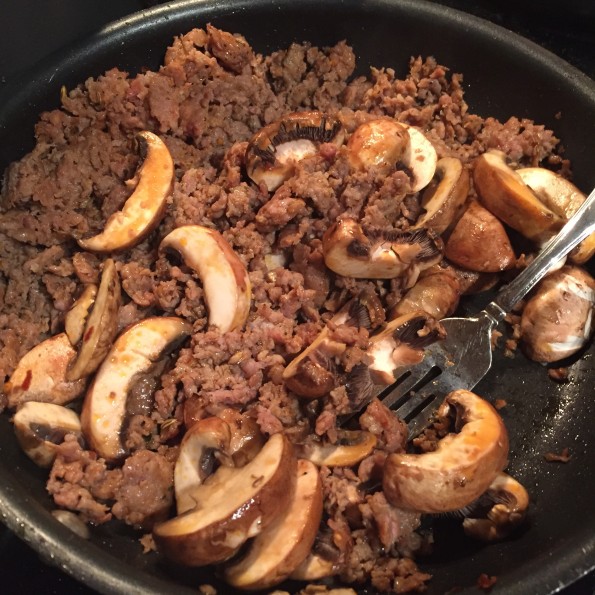 I decided I didn't feel like layering everything together and taking the time to assemble the lasagna so I decided to deconstruct my dish and make a baked pasta version. To make it like I would make lasagna I decided to add in cottage cheese and some fontina to make it cheesy like a lasagna would be.
I found cool little noodles that looked were curly on the edges like lasagna noodles so it really fit with my theme. Whenever you bake a pasta with a sauce always under cook your noodles. They will continue to cook in your sauce and you don't want them soggy. Once the pasta was done I combined it with the roasted veggies, cottage cheese, fontina, spinach and pesto. I then topped it with my red sauce, mozzerella, parmesan and some basil and baked it until it was golden brown and bubbly.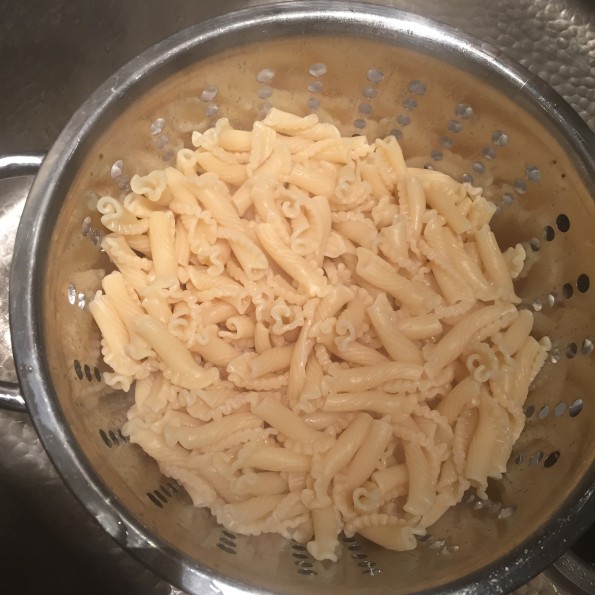 In hindsight making the sauces probably made the dish take as long as normal lasagna but it was a cool twist, tribute to my childhood and a great meal for an under the weather husband.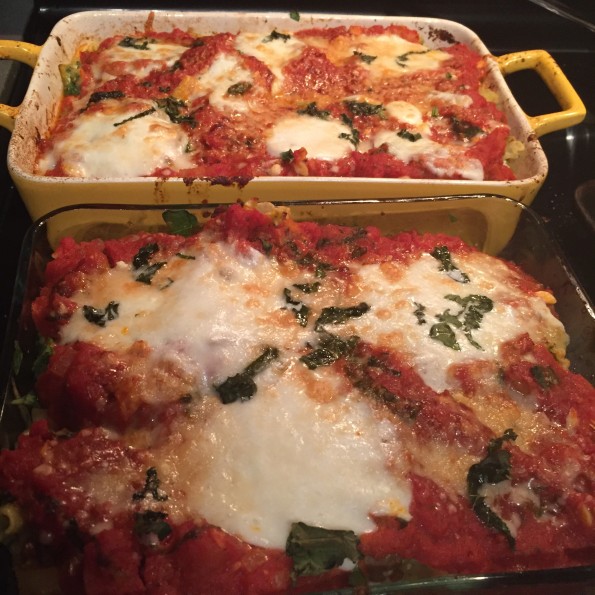 Print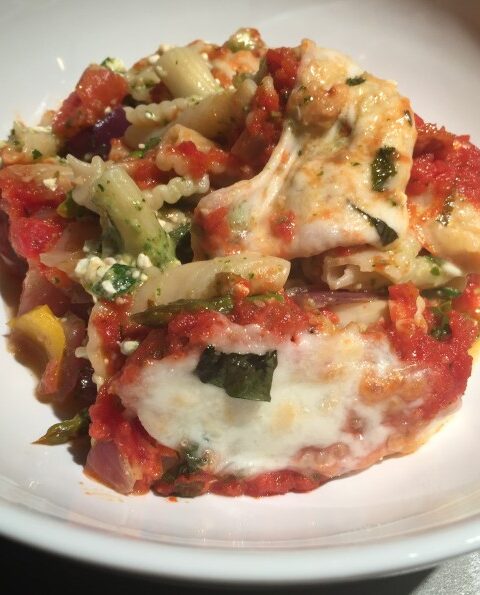 deconstructed roasted vegetable "lasagna"
---
for the veggies
2 bell peppers any color (I used a red and yellow) large dice
2 medium zucchinis cut in large dice
1 red onion large dice
8–10 whole garlic cloves
3 roma tomatoes cut in large dice
2 TBS italian seasoning
1/4–1/2 tsp crushed red pepper (depends how spicy you like it)
3 TBS olive oil
salt and pepper
for the tomato sauce
1/2 white onion diced fine
6 cloves of garlic minced
1 28 oz can crushed tomatoes
1 28 oz can diced tomatoes
1/2 tsp sugar
3 TBS Italian seasoning
1/4 tsp crushed red pepper flakes
1 TBS oregano
handful of fresh basil torn or chopped
salt and pepper
for the pesto (you can also use store bought but I prefer to make my own)
8 oz basil (I bought 2 4oz packages) it's ok to eyeball it, remove thick stems from the ends
1/4 c pinenuts, toasted (Trader Joe's has them already toasted to save you the work)
3 cloves of garlic left whole
1/4 c parmesan cheese
salt and pepper to taste
1/4 c olive oil
everything else
1/2–1 lb spicy italian sausage (omit if you are vegetarian)
8 cremini mushrooms, wiped with a damp paper towel, stems removed, cut in thick slices
1 lb of pasta (I used campanile but you can use anything)
1 ball of buffalo mozzerella (I used the kind packed in water) sliced
1/4 c parmesan cheese
1 c fontina cheese grated
16 oz cottage cheese
2 cups of baby spinach roughly chopped
---
Instructions
for the veggies
Pre-heat oven to 435
Combine all ingredients in a large roasting pan. Bake 30-40 minutes until veggies are tender stirring occasionally.
for the pesto
Combine basil, pinenuts, garlic, parmesan and salt and pepper in food processor. Pulse until ground up. Stream in the olive oil as you pulse. Your pesto should be really thick. I find in these kind of recipes when it is runny the olive oil bakes out of the pesto and leaves the dish a little oily. You should be able to turn a spoon upside down and have it stick.
for the tomato sauce
Over medium heat cook the onions, garlic and crushed red pepper in olive oil until they are nice and soft. You do not want to garlic to brown, just soften up. Add in crushed and diced tomatoes. Season with Italian seasoning, salt and pepper, sugar (this helps cut the acidity down) and oregano. Let cook 20-30 minutes over medium low heat. I find that my sauce starts to spatter a little so I prop the lid of my pan over it but do not cover all the way. Allow some ventilation. Stir in most of the fresh basil (save a little to top your pasta) at the end.
In a small frying pan brown up the sausage over medium – medium high heat. When the sausage is cooked move it over to half of the pan and add in the mushrooms. Allow the mushrooms to brown up for a few minutes.
Cook pasta 2-3 minutes less than package recommendation. You want your noodles to still have a little bite to them. They will continue to cook in the oven.
Once veggies are done drain the liquid out of the pan. You could put the veggies through a strainer or just scoop it the liquid with a large spoon. Add the veggies, pasta, pesto, cottage cheese, sausage mixture, spinach and fontina back to the baking dish you used for the veggies. If your pan is smaller divide everything into 2 baking dishes (I did this because one had meat and one was vegetarian)
Top the dishes with the red sauce, fresh mozzarella slices, parmesan cheese and some fresh basil. Place under the broiler for 5 minutes or until cheese is golden brown.
Let your pan sit a few minutes before serving. The cottage cheese will make it a little runny but the leftovers are even better. Everything really thickens up and comes together (just like lasagna) Make some garlic bread to go with to sop up all the sauce.