These easy vegetarian unstuffed shells eliminate most of the hard work that comes with shells but keeps all the same great flavors.
Growing up as a kid my mom didn't cook a lot. She had a few meals she would make and stuffed shells was one of them. She would cook her sauce all day and then stuff the shells. As I got older and moved out it is still a meal she makes when I come home. Often times with my grandparents joining us. It's definitely a nostalgic comfort food for me when I make it – but stuffed shells are a lot of work!
Cottage Cheese Versus Ricotta
When my mom would make her stuffed shells or lasagna she would always use cottage cheese instead of ricotta cheese. So that is always what I knew. But sometimes I find the cottage cheese can add a little extra moisture in the mix. Recently I figured out how to prevent that. Now I make my cheese filling for lasagna and shells in my food processor. That's right. I dump everything in there and pulse it up. The mixture becomes like a thick cheese spread (dare I say, ALMOST ricotta like?).
Because I like my cheese to have flavor, I make my cheese a pesto cheese. All the ingredients from a basil pesto go in with the cheese mix. Then to sneak in even more vegetables I throw in baby spinach. By the time everything gets pulsed in the food processor the spinach really is for color more than anything – but you get those good nutrients all the same.
Unstuff the shells to save time
I don't mind doing the work but sometimes I don't have time. Or I simply don't want to. So what I have recently starting doing is unstuffing my shells. How does one do that you might ask? It's really easy.
I make all the components of the stuffed shells that I normally would. I whip up a quick and easy tomato sauce. You can even use a jarred sauce of your choice if you wanted. But this tomato sauce is ALMOST as easy as opening a jar so if you have the time, try this. It doesn't take long to put together it just takes a little time to cook on the stove.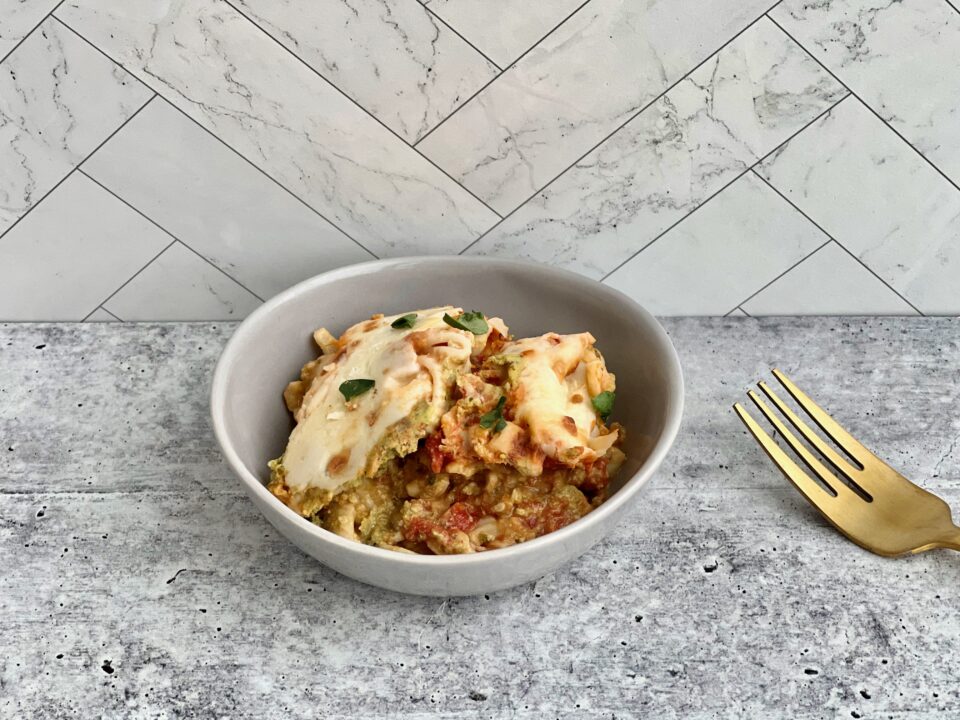 Once the sauce is done and the pasta is cooked it's time to get to work. And by work I mean significantly LESS work than stuffing each individual shell. I simply start to layer everything. First goes down some sauce so nothing sticks to the bottom. Next goes a little of the cheese mixture. Then half the pasta followed by more sauce, the rest of the cheese cheese, the rest of the pasta and the remaining sauce.
Wrapping it all up
These vegetarian unstuffed shells cook in the oven for about twenty five minutes. Remember – UNDERCOOK YOUR PASTA! If you cook your pasta the full amount of time it's going to get overcooked in the oven. So if the directions say seven to nine minutes go 2 minutes shy of the smaller amount of time. In this example I would cook the pasta five minutes.
So that's it. This vegetarian unstuffed shells is much less time consuming than the usual recipe. However all the flavors are still there. Actually, by infusing the cheese with all the pesto MORE flavor is there.
So the next time you are craving shells but not the work, try these vegetarian unstuffed shells instead.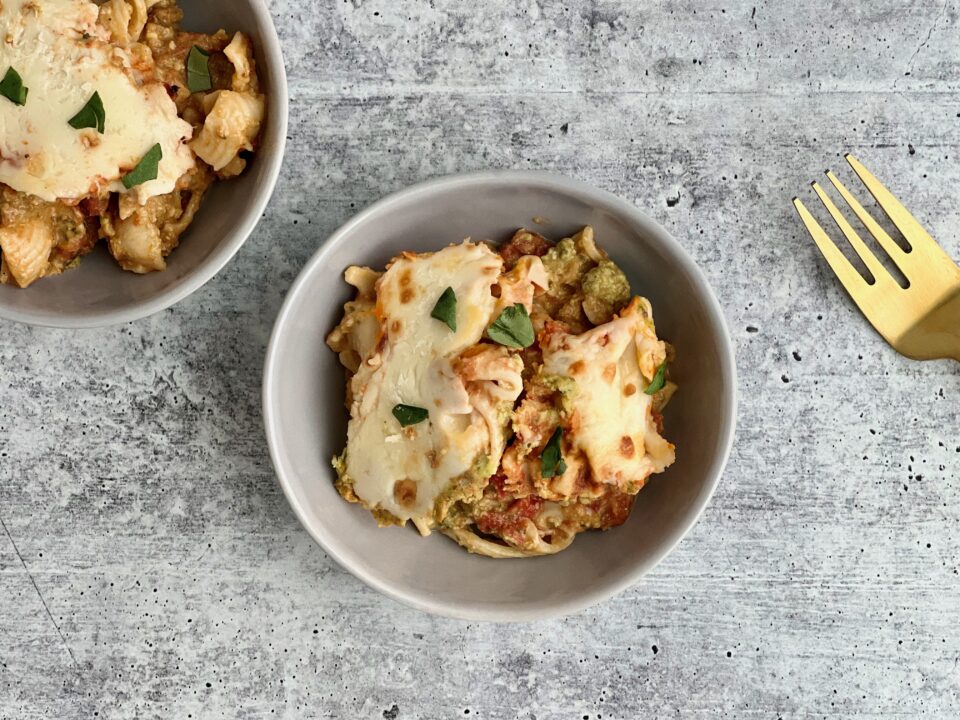 Print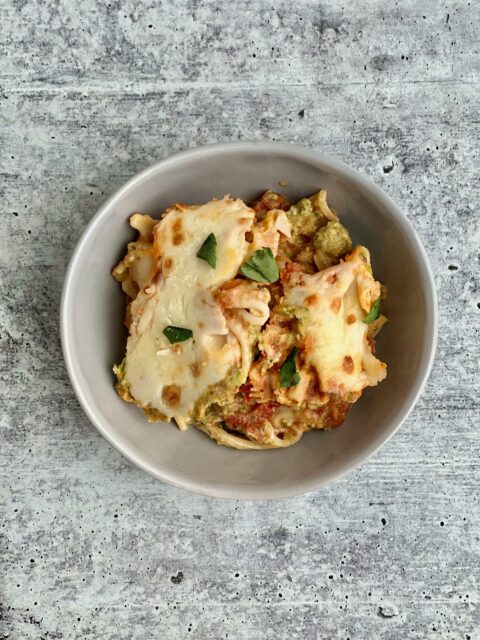 Easy Vegetarian Stuffed Shells
---
Tomato Sauce
1/2 medium yellow onion, minced
6–8 cloves garlic, minced
1 shallot, minced
2 28 oz can crushed tomatoes
2 parmesan cheese rinds
1/8 c heavy cream
Cheese Filling
8 oz full fat cottage cheese
8 oz shredded Italian cheese blend
3 cloves of garlic
1/4 c pinenuts
2 oz package of fresh basil
2 large handfuls of fresh baby spinach
1/4 c grated parmesan cheese
Remaining Ingredients
1 lb shell pasta (medium or jumbo size work best)
8 oz fresh mozzarella medallions (you could also buy a large ball and slice it as well)
---
Instructions
In a Dutch oven or high sided frying pan in 1 TBS of olive oil sauté onions, garlic and shallots over medium low heat for 8-10 minutes until softened. You do not want to brown your garlic so keep the heat low! If you like a little spice I add a few dashes of crushed red pepper flakes
Add in crushed tomatoes and parmesan cheese rinds. Season with salt and pepper. Cook on medium low heat partially covered (so your sauce doesn't splatter) for at least one hour. If you can cook it for two even better because the canned tomato taste will cook out. Be sure to stir from time to time.
In a food processor combine all the ingredients for the cheese mixture. Season with salt and pepper.
Once sauce is cooked cook your pasta in heavily salted water (should taste like the ocean!). Cook pasta 2 minutes shy of the cooking time. Mine said 9-11 minutes so I cooked for 7. The pasta will continue to cook in the oven.
While pasta is cooking pre-heat oven to 375
While pasta is cooking add the heavy cream to your tomato sauce, stir around. Check the seasoning and season with more salt and pepper if needed.
In a large baking dish ladle one ladle of sauce and spread around the bottom.
Next add a few dollops of the cheese mixture around the bottom.
Layer with half the pasta. Then layer sauce and the rest of the cheese, pasta and the rest of the sauce. Be sure to spread the sauce around the pasta so it can be covered and not dry out.
Bake in the oven for 20-25 minutes
Remove and layer with the fresh mozzarella medallions. Place under the broiler 3-5 minutes until golden brown.
Let sit for 5 minutes before serving
Prep Time: 5m
Cook Time: 2h35m
Category: Pasta