Fresh summer tomatoes are one of my favorite ingredients to cook with. When we have visited Europe you see most menus cater to what is in season. You don't see artichokes in October or root vegetables in the spring. In the US we definitely are spoiled in the sense that we have more food available to us in their "off seasons" than other parts of the world. But nothing is as good as the veggies when they are actually in season. So I decided to make the most of the beautiful tomatoes at the grocery store and whip up a bean and tomato soup.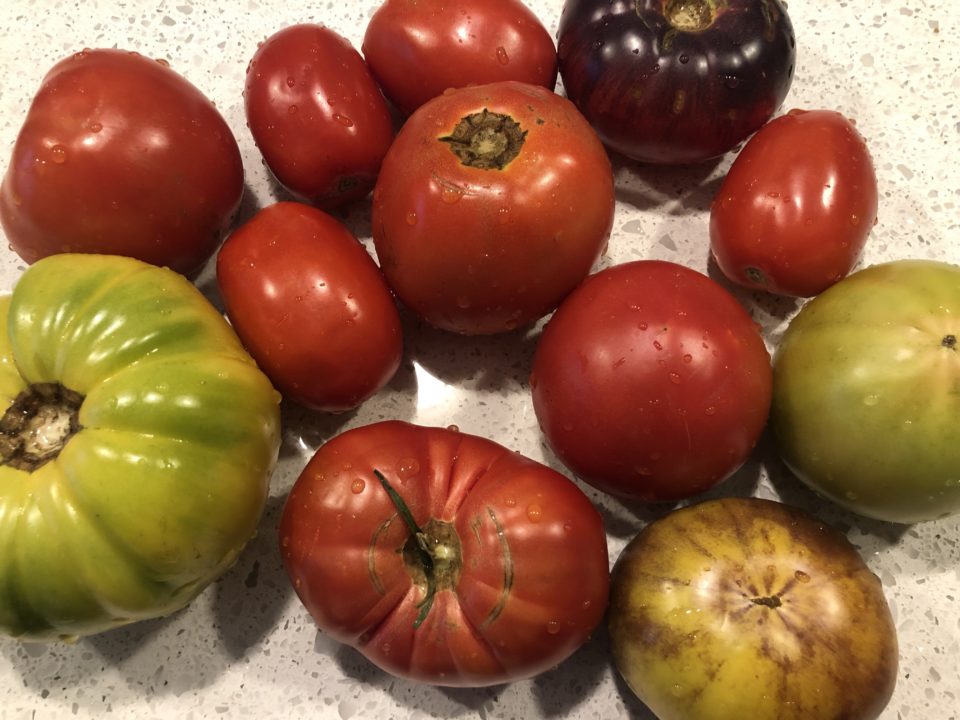 I have made several varieties of tomato soup in the past. This weekend I was craving something that would give me a little more substance to eat for lunch during the week. Beans and cauliflower are my standard go-tos to thicken a soup in a more healthy way.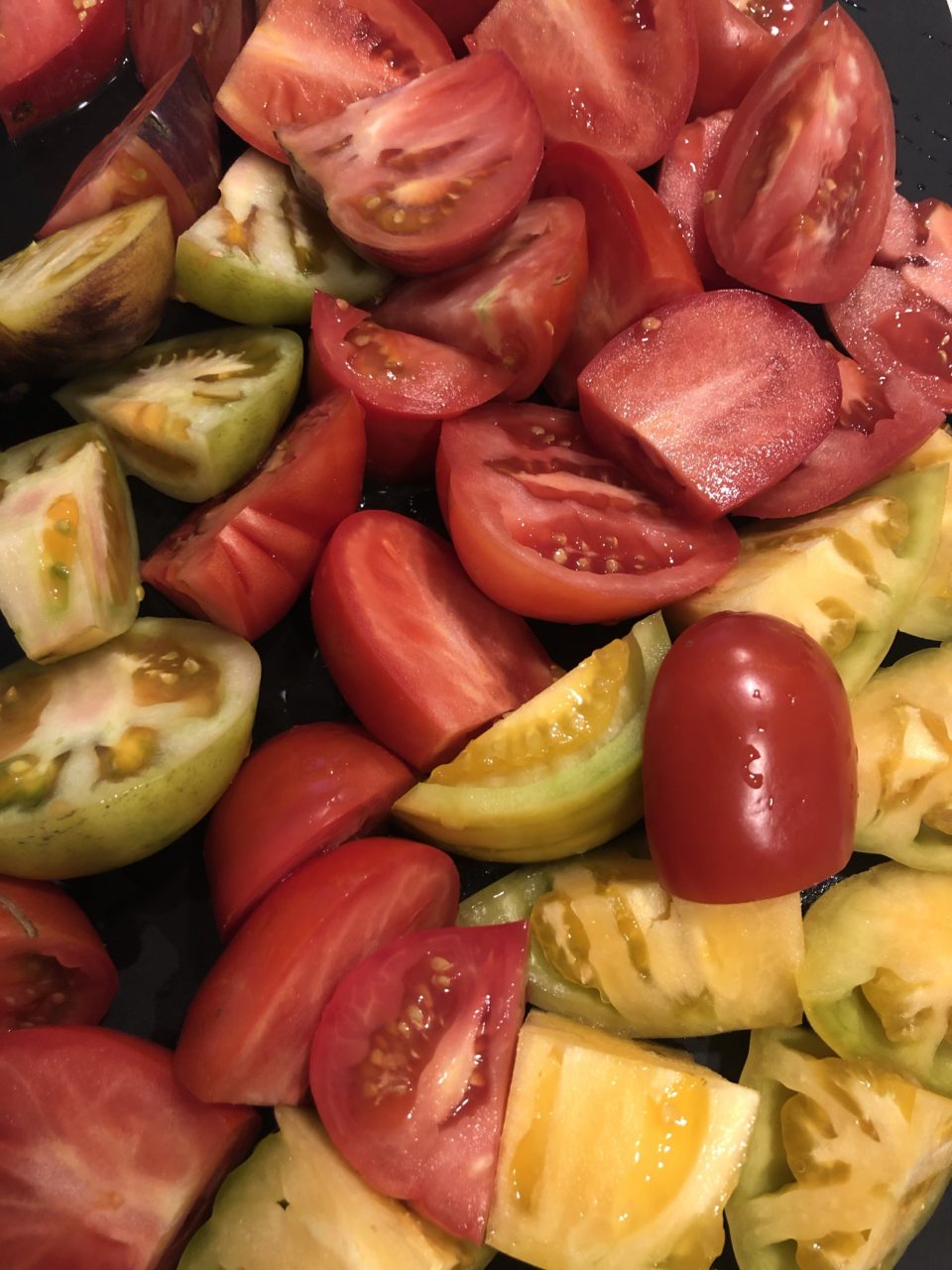 I love roasting veggies in the oven. The char that they get brings out a nice slightly smoky flavor to tomato soup. Plus I add in a ton of whole cloves of garlic to the veggies as they are roasting and the garlic cooks down and gets nice and sweet. If you haven't tried roasting rosemary let me tell you – you are missing out. The rosemary crisps up and falls off the stem. As it dries out it takes on a nuttiness that is so different than it usually tastes. And it is a great addition to the soup.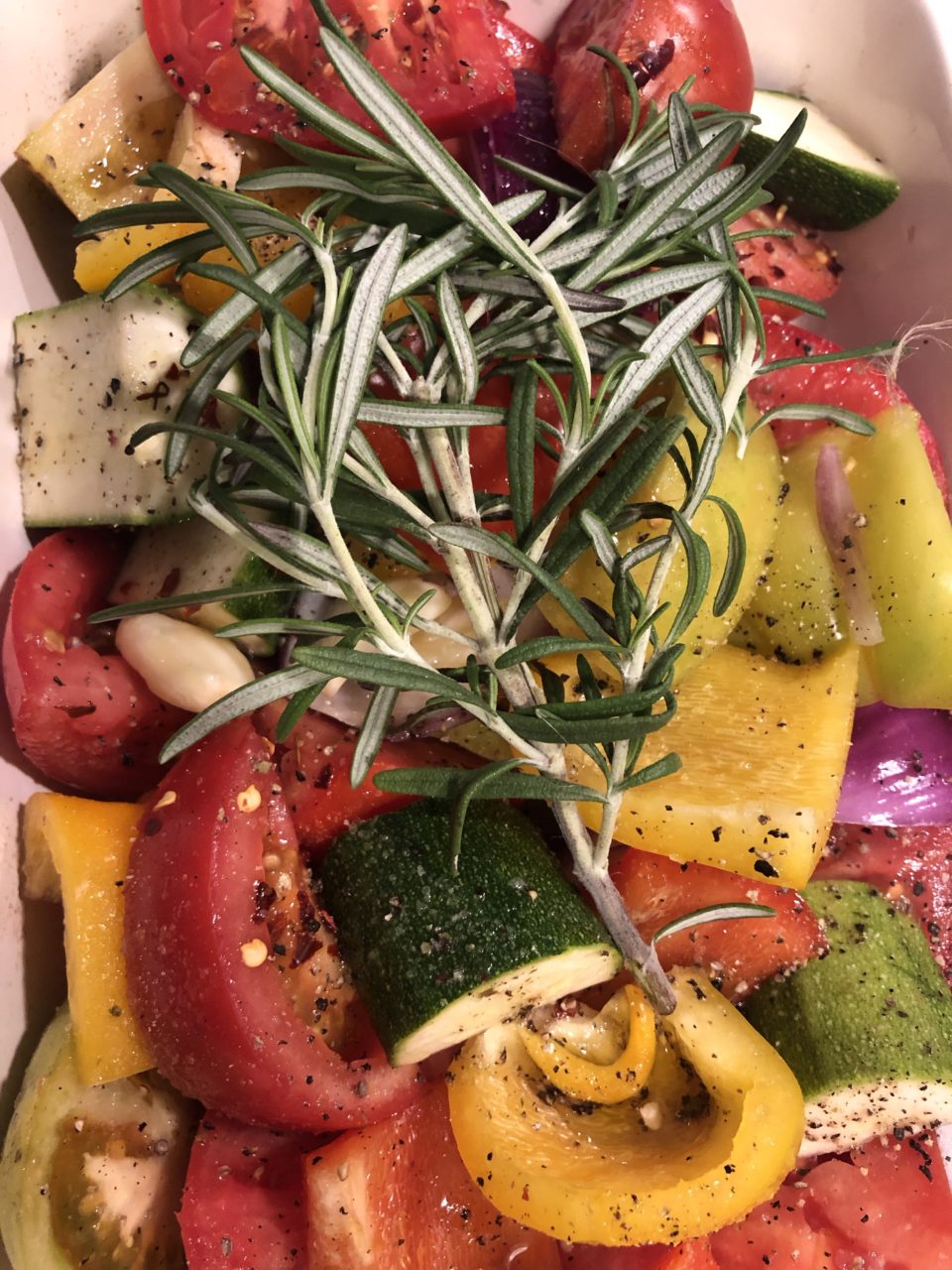 The soup hardly takes any time at all. The most time is when the veggies are roasting in the oven. Once they are done all that needs to be done is to blend everything together and add some broth to it. And maybe pair it with a grilled cheese!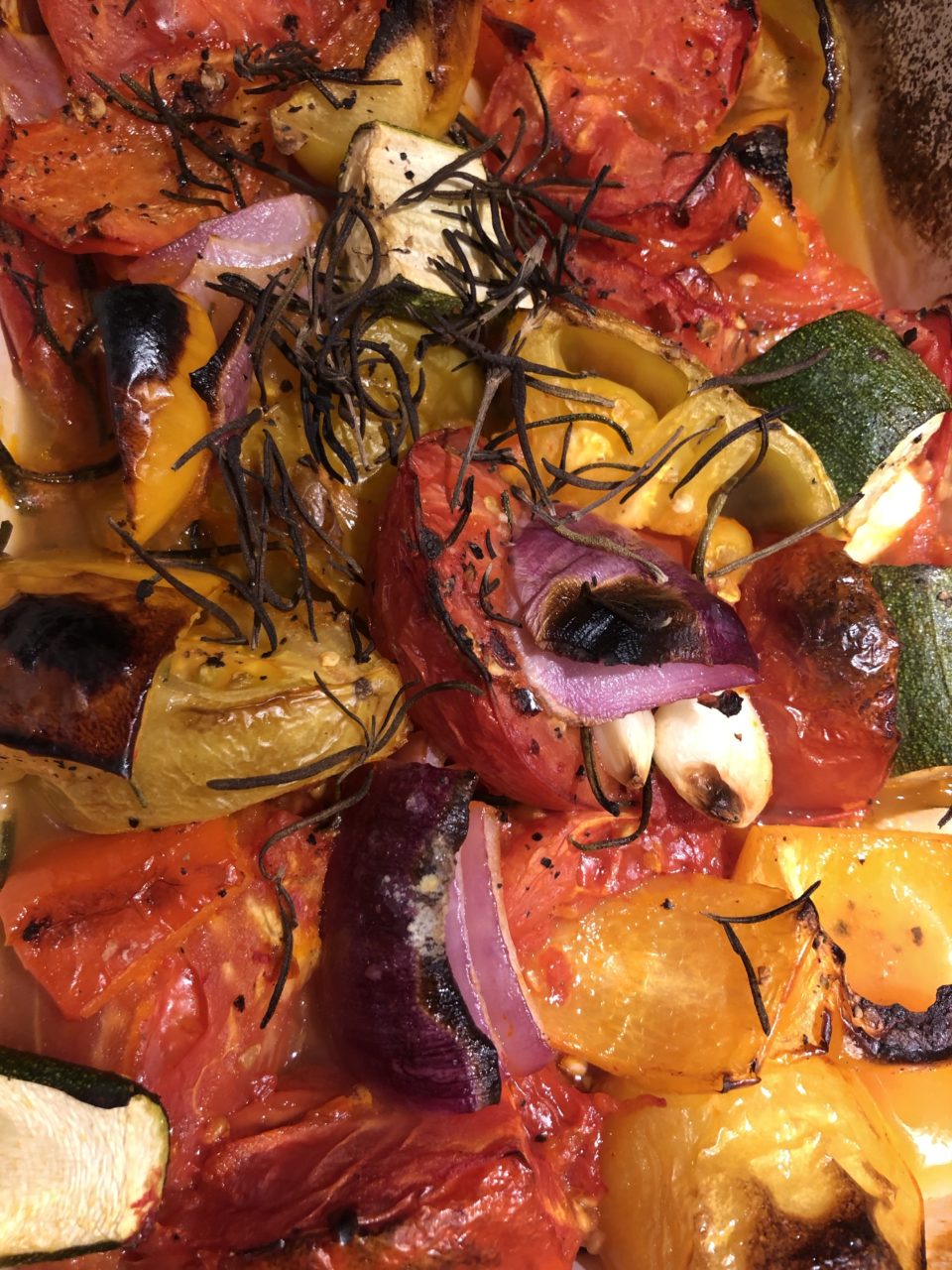 Meals don't have to cook for hours to taste good. Using in season veggies when they are the most fresh and seasoning simply will maximize the natural flavor. And when things are quick to cook it allows you to spend more time doing what you love. Or in my case, maybe just sitting down for five minutes and enjoying just a little peace and quiet.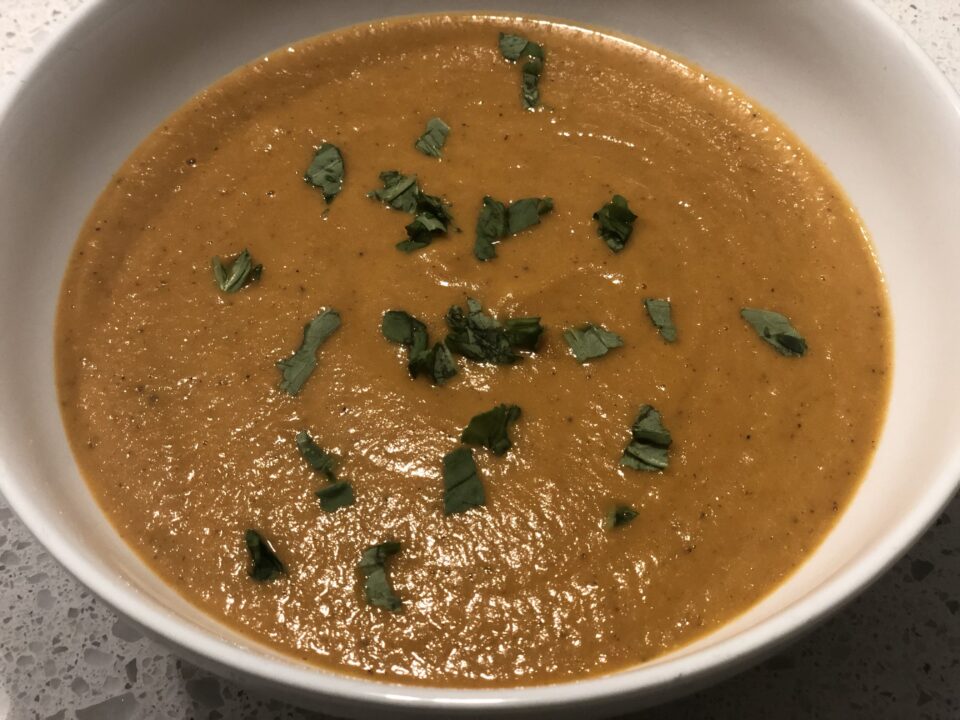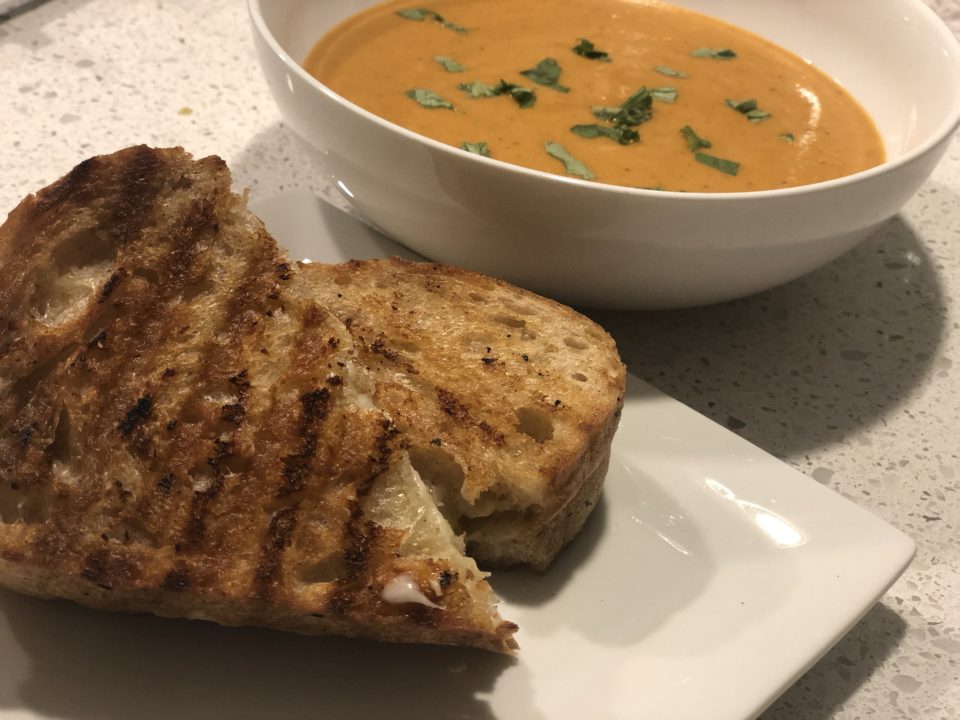 Print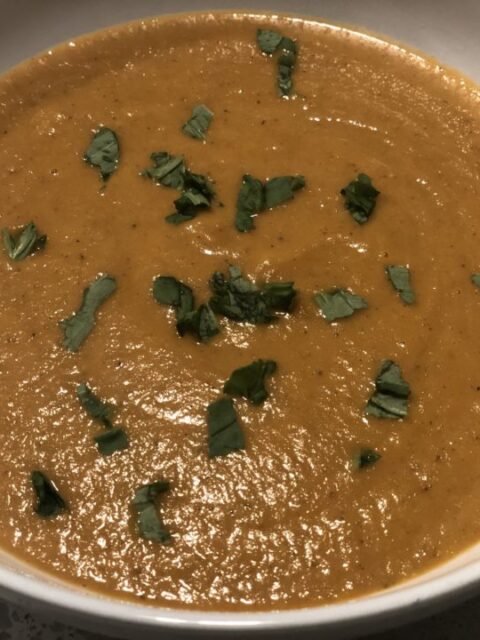 Bean and Tomato Soup
---
2 – 2.5 lbs of fresh tomatoes cut in large chunks- use a variety, I used heirloom, cherry tomatoes, and roma. If fresh tomatoes are hard to find 2 28 oz can of whole tomatoes and their juice work perfect
1 red onion cut in large chunks
1 large or 2 small zucchini – cut in large chunks
2 bell peppers cut in large chunks
3 sprigs of rosemary
8–10 cloves of garlic
1 TBS red wine vinegar
2 TBS olive oil
2 cans of cannellini beans (no need to rinse or drain)
4–6 c of veggie or chicken broth
Basil for garnish
---
Instructions
Pre-heat the oven to 450.
In a very large baking dish (or you may need 2) layer in the tomatoes, peppers, onion, and zucchini. Sprinkle in the cloves of garlic. Drizzle with the vinegar, olive oil and season very liberally with salt and pepper. If you like a little spice add in a tsp of crushed red pepper. Top with the sprigs of rosemary.
Bake for 40 minutes stirring occasionally. For the last five minutes turn the broiler on to help the veggies char up slightly.
Remove the large woody stems of the rosemary from the veggies. Remove the leaves of rosemary that might be attached and add it to the veggies. In batches puree the veggies and beans in blender. Make sure to leave a little venting while blending so the hot liquid does not cause your blender to explode. Transfer the batches into a large soup pot.
Add in veggie or chicken broth to get the desired consistency for your soup. Start with 2 cups at a time. If you like a thicker soup use less, for a thinner soup use more. I used 4 cups in this version and it was a nice in between. Check the seasoning for your soup and add more salt and pepper if needed.
Garnish with basil and maybe some parmesan cheese!
Notes
You will need a blender of some sort. A Vitamix or even an immersion blender work great. I find my Vitamix will get the soup the smoothest.