So lately there are two things I definitely don't have time to do (well actually that list is way more than two). Make a good breakfast and blog. During the week we, I mean MY HUSBAND, makes us smoothies for breakfast. Then on the weekends it seems like we never take the time to make anything more "gourmet" either. But last weekend I finally decided to step up my game and make a loaded hash.
So I set out to Whole Foods which was a feat in itself. Chase usually does all our grocery shopping while I am tending to our child. I had planned on cheating and just buying frozen hash browns and loading them up. But when I got to the frozen aisle they didn't have any organic hash browns. Potatoes are a dirty dozen and soak up pesticides so I really didn't want to cave and buy non-organic. Instead I decided I would just make my own.
I had a food processor for years before I met my husband. One day I was grating carrots by hand and he showed me a new timesaving trick on how to use the grating attachment with my processor. What a lifesaver! Since then I use that blade a ton. Which is also perfect for making hash browns. I peeled 4 russet potatoes, chopped them into chunks big enough to fit down the shoot of the processor and in probably 5 minutes I had my own hash. I also snuck in a zucchini to the mix for a little more veg.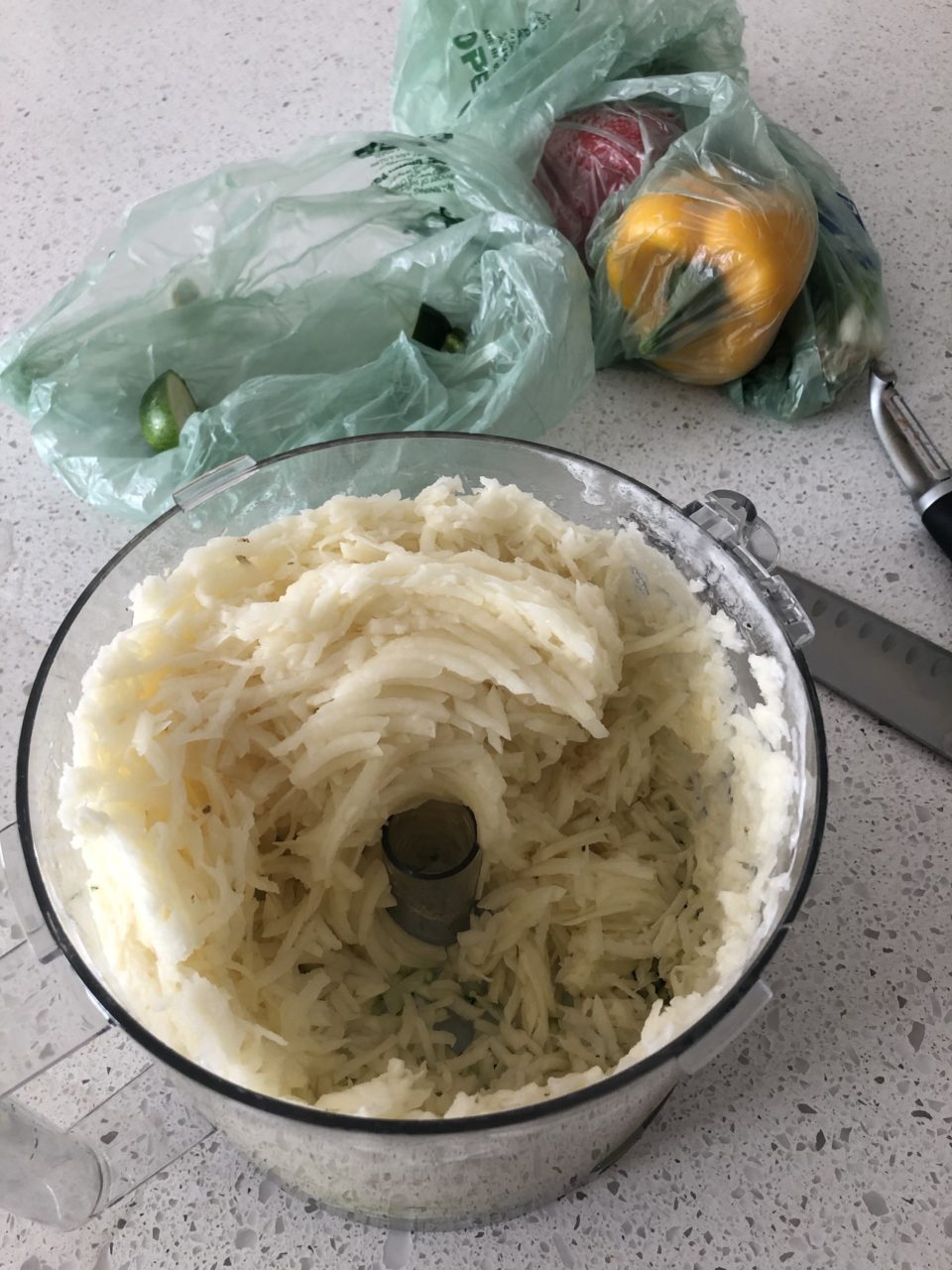 Then I put my hash mix in a mixing bowl of water and let them soak and get some of the starchiness from the potatoes out. That helps the potatoes stay separated instead of clumping all together. Kind of the same concept when you rinse rice before you cook it. While I let those soak I started on my veggies.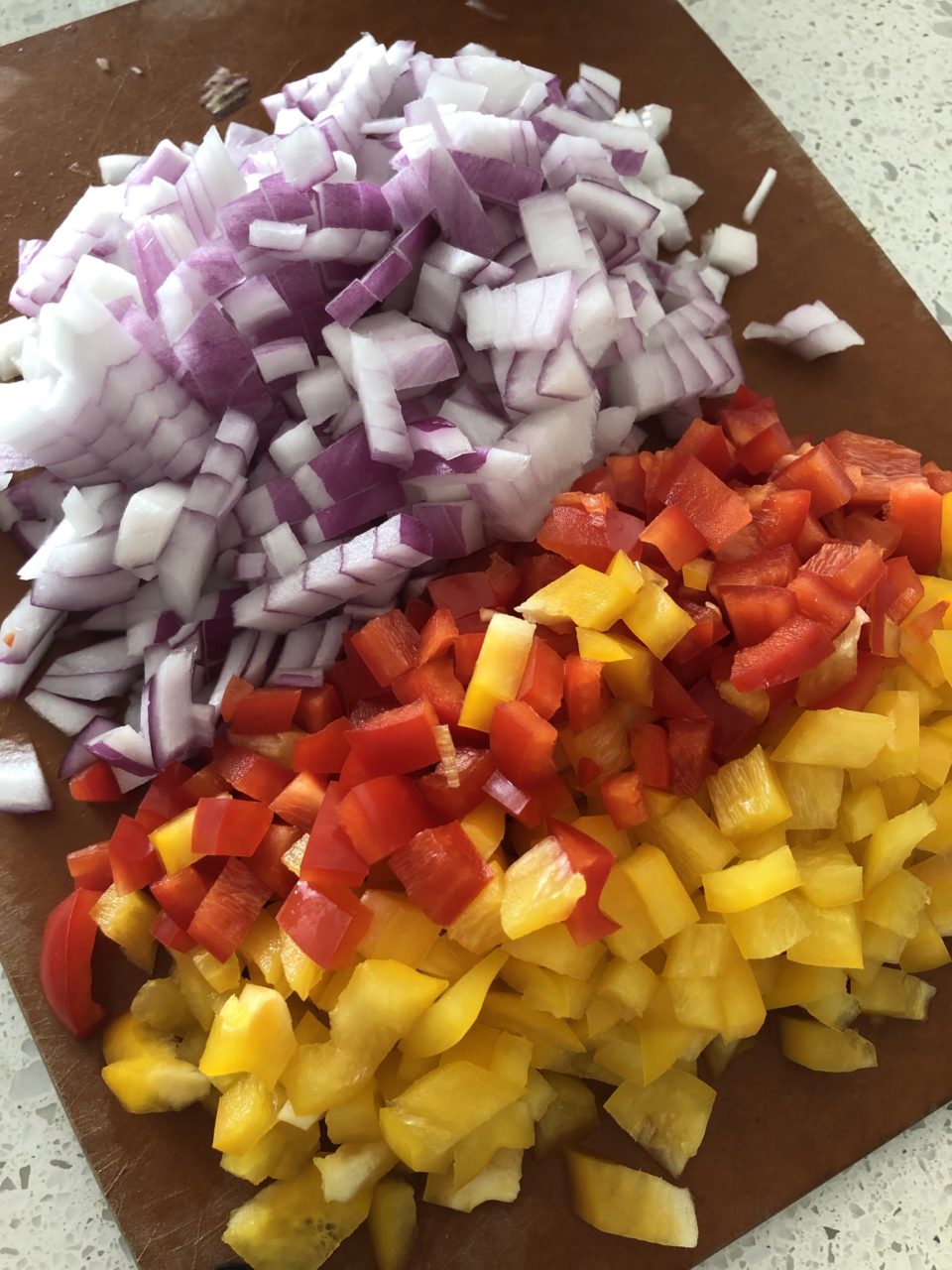 For the veggies I diced two bell peppers, a small red onion and for garnish, cherry tomatoes and scallions. After the veggies were done then the potatoes were drained and rinsed again. Then the key is to get as much of the water out of the potatoes as possible. I used a large clean kitchen towel and put the potatoes in and squeezed and ringed out all the water I could.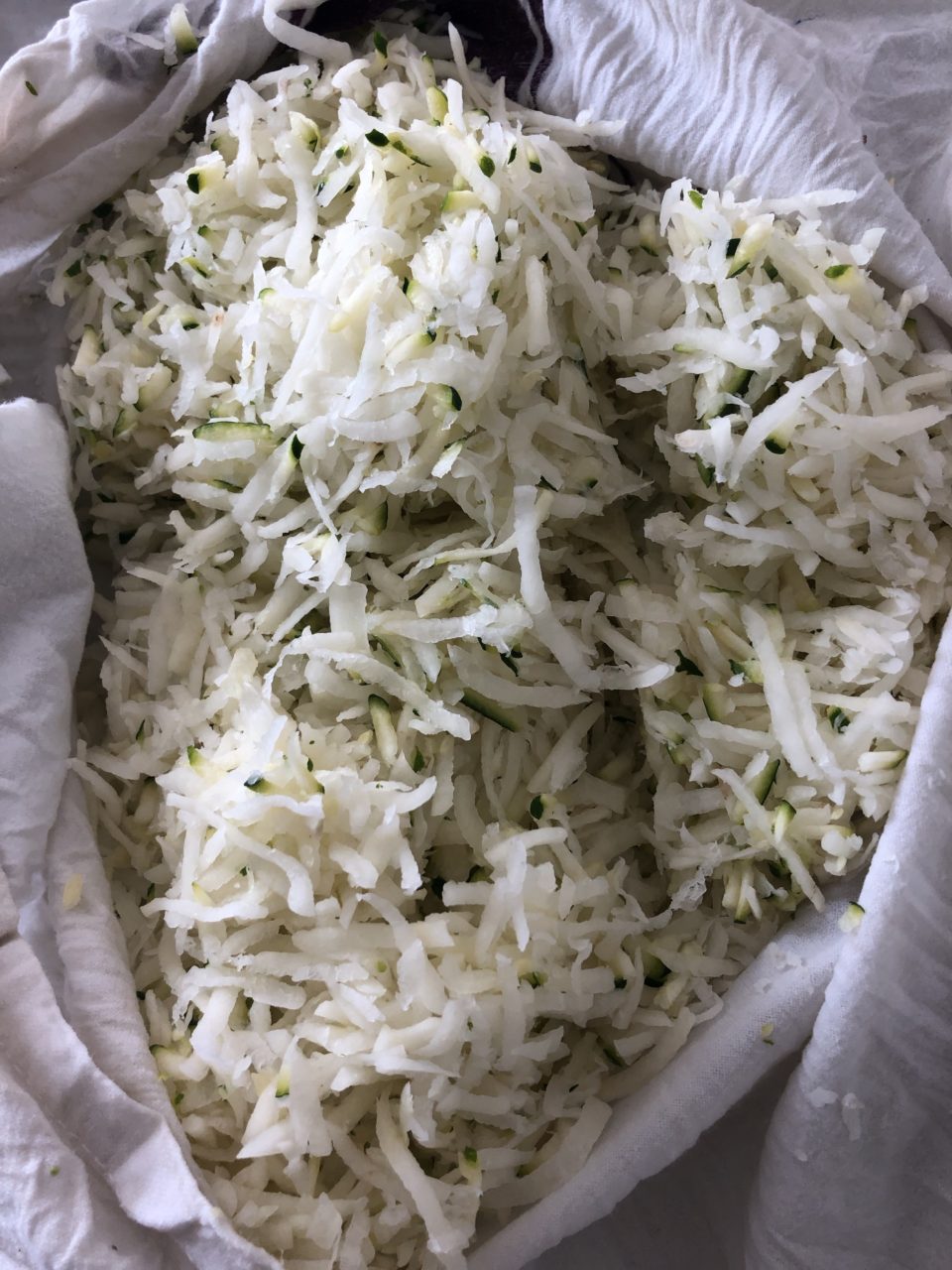 To season the potatoes I melted about 4 tablespoons of butter. Into the butter went salt, pepper, cumin, a little chili powder, garlic powder and onion powder. Not only does the butter help the seasoning stick to the potatoes it also helps the potatoes get nice and golden brown while cooking.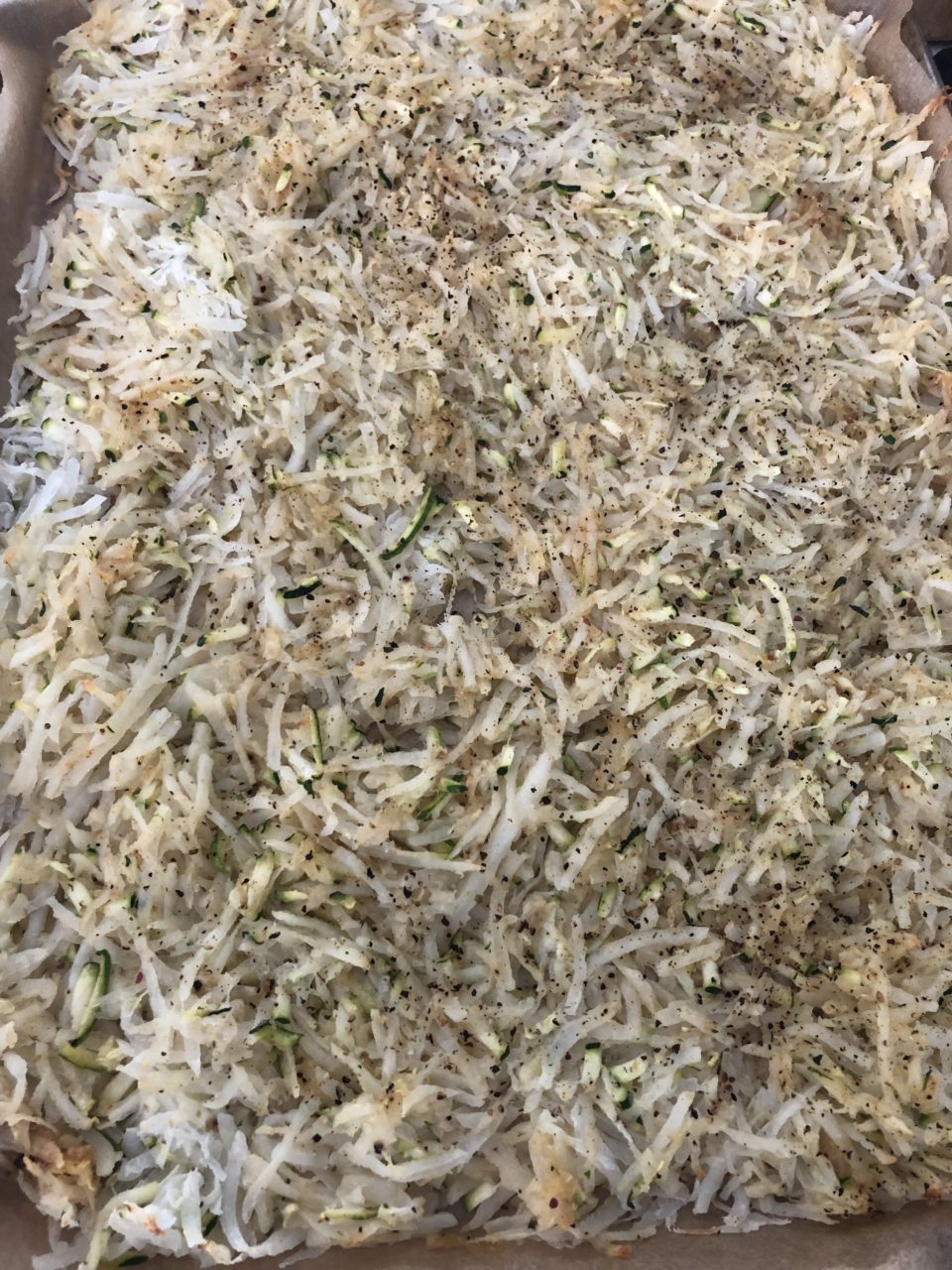 The key to this dish is cooking in layers. You want the potatoes to get nice and golden and crispy before you add the veggies to it. You don't want the veggies to water down your potatoes. The last layer of the hash are the beans and cheese. The last few minutes are used to melt the cheese because the beans are already cooked.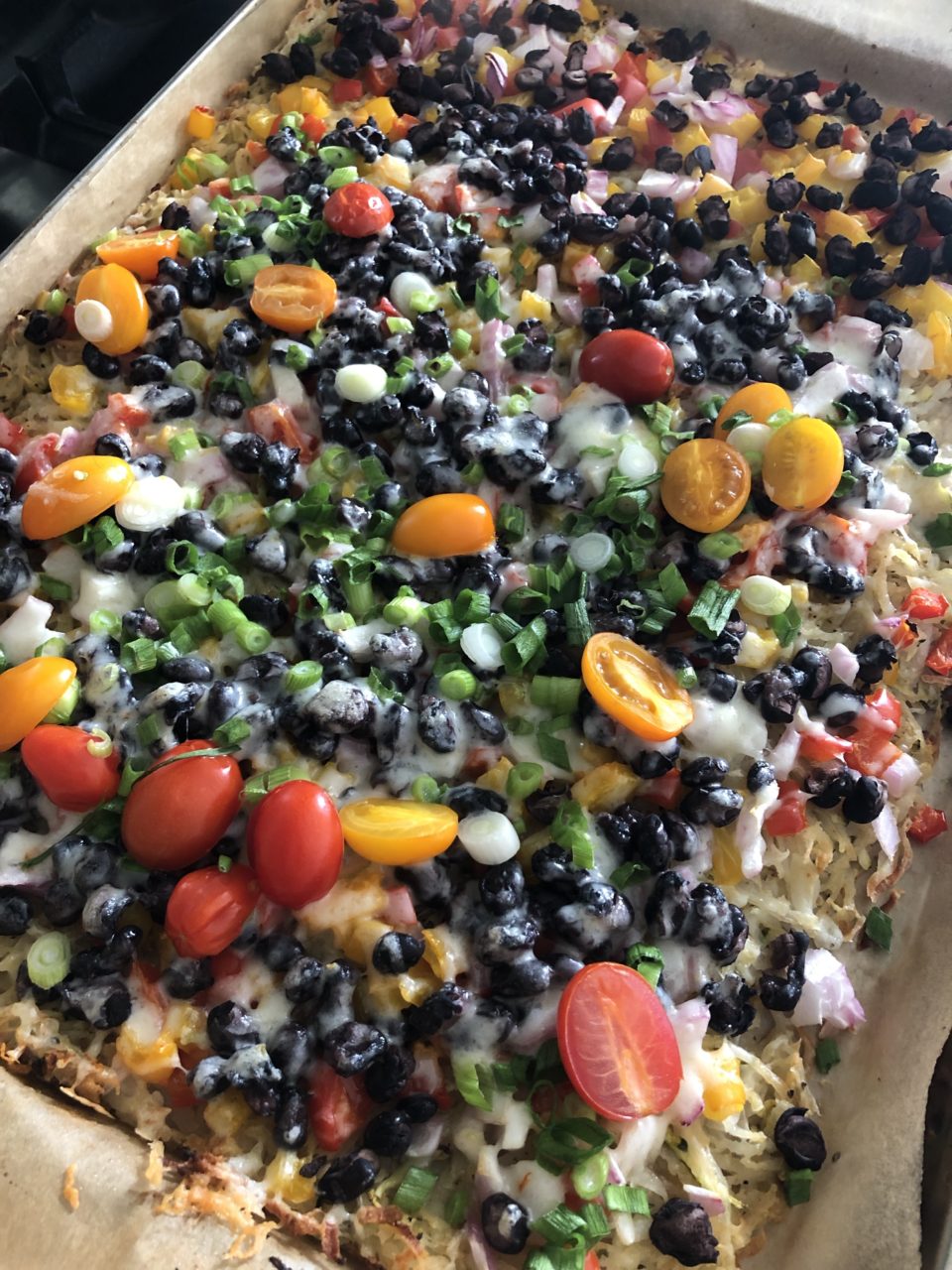 This dish is great as is or you could add some crumbled bacon if you wanted some protein or top them with scrambled eggs like we did. Don't be intimidated to make your own hash! And certainly if you found frozen hash browns you could definitely sub in this meal to make your life a little easier. Just make sure to thaw them out and drain them to get that nice crispiness that a hash brown should have.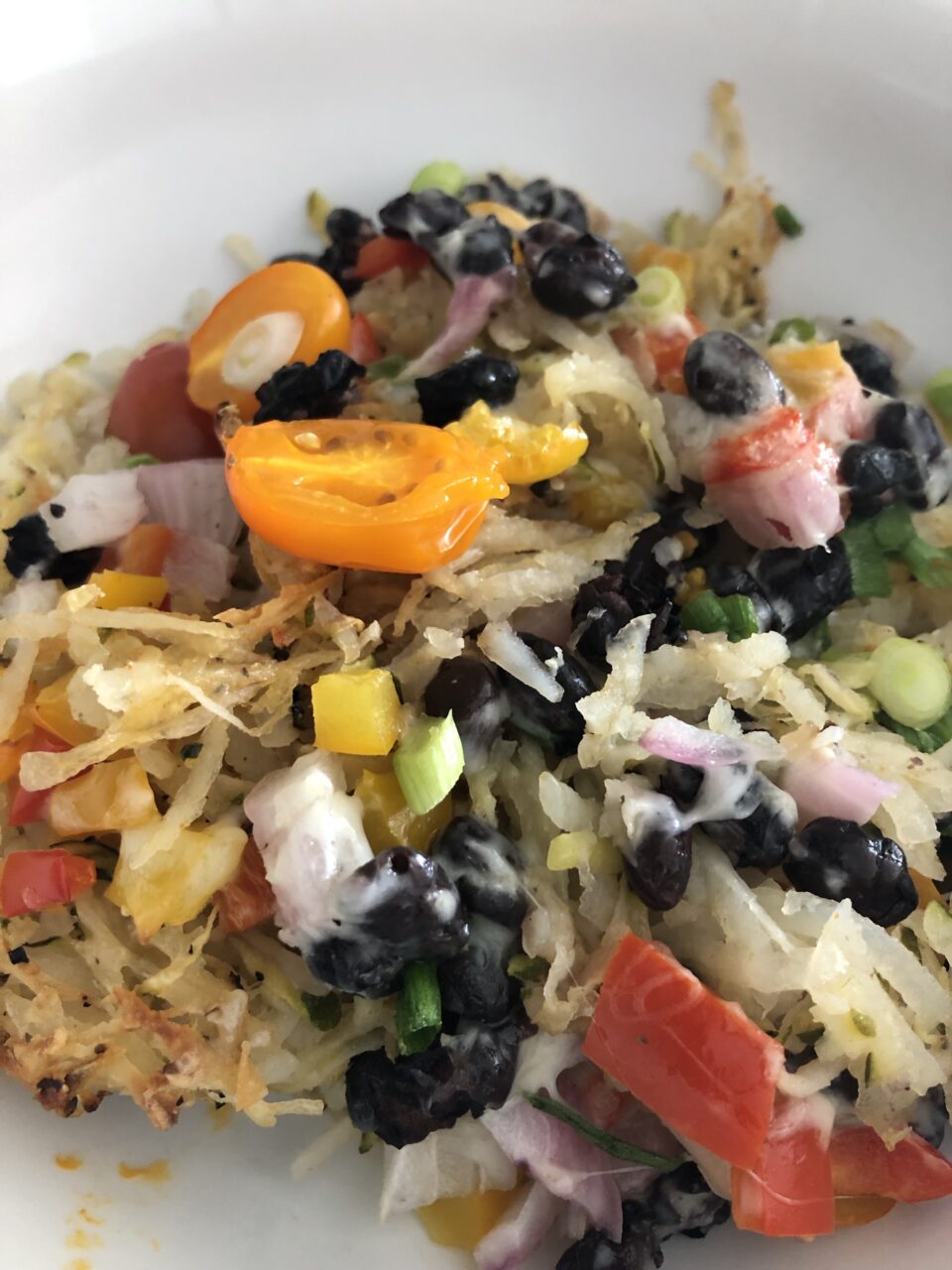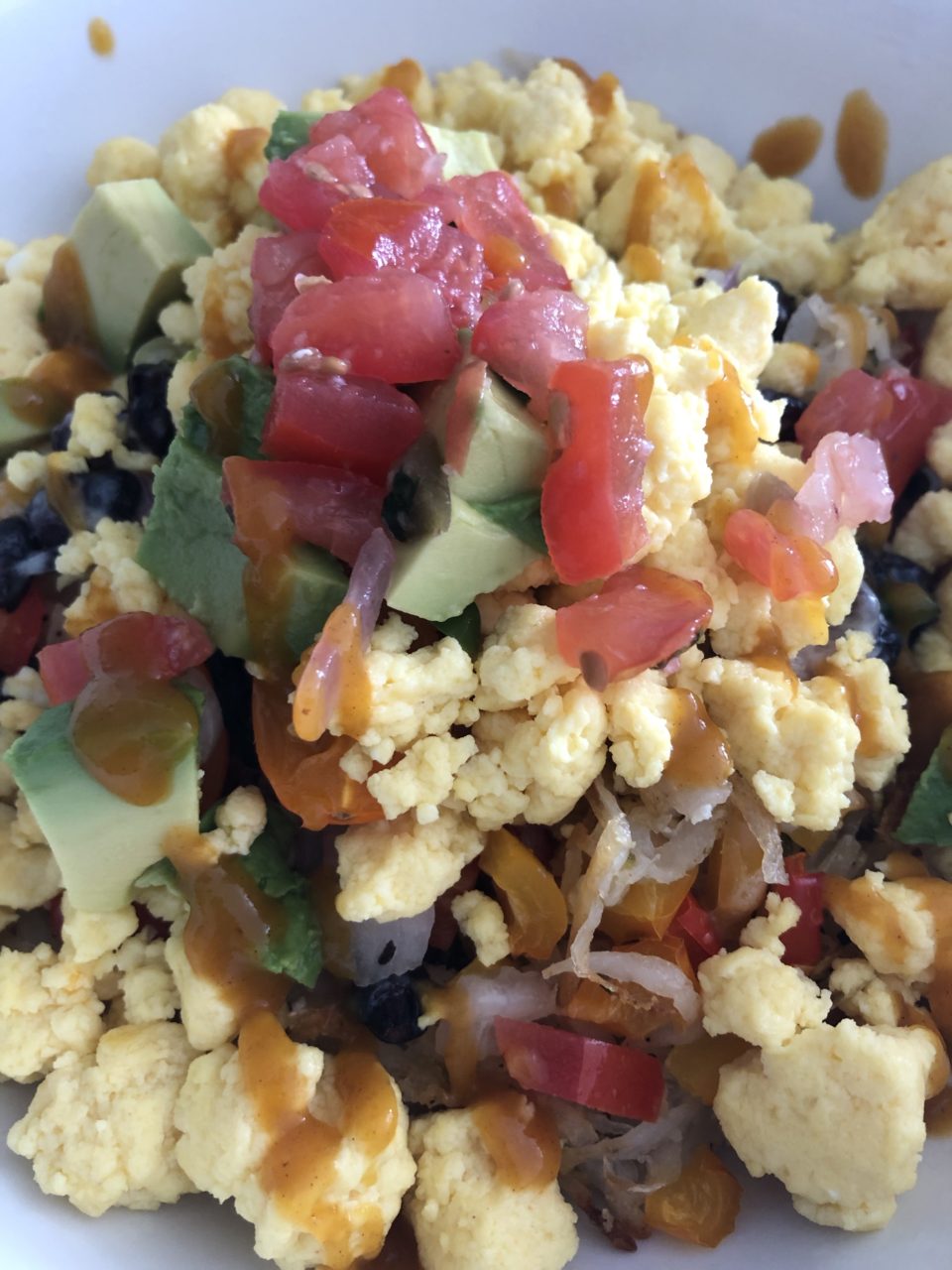 loaded hash browns
2019-08-10 10:23:11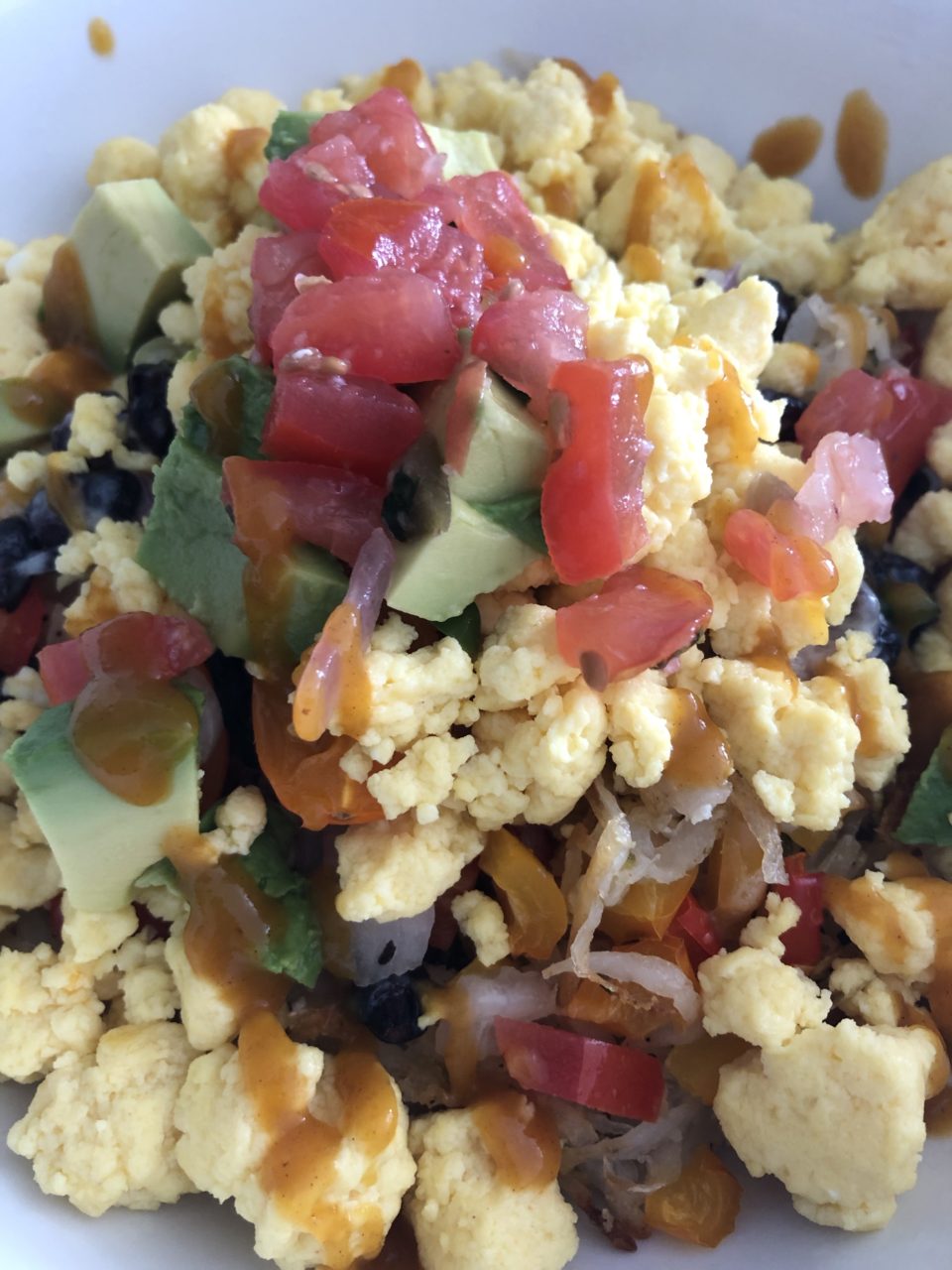 Serves 4
Ingredients
4 russet potatoes, peeled
2 medium zucchini
2 bell peppers, diced
1/2 red onion, diced
1 16 oz can black beans, rinsed and drained
1 c shredded white cheddar cheese
4 TBS butter melted
1 tsp cumin
1 tsp chili powder
1 tsp paprika
1/2 tsp garlic powder
1/2 tsp onion powder
Additional toppings
Cherry tomatoes, halved
Scallions, thinly sliced
Avocado
Sour cream or Greek yogurt
Scrambled eggs
Crumbled bacon or sausage
Hot sauce
Instructions
Preheat oven to 425
Using either a cheese grater or a food processor, grate potatoes and zucchini. In a large mixing bowl soak the grated veggies in cold water for 5-10 minutes. I used this time to chop my other veggies. Drain potatoes in a colander and rinse with cold water until water runs clear. This helps get all of the starch out so the potatoes crisp up.
Use a clean cooking towel or a large stack of paper towels wrap up the potatoes and squeeze out all the excess water. Make sure to get out as much as you can so the potatoes get crispy.
On a large cookie sheet lined with parchment paper, spread the potatoes in a nice even thin layer. In a small dish combine all seasonings with melted butter. Drizzle the butter mixture over the potatoes. Toss with a spatula or your hands to coat the potatoes. Season with salt and pepper.
Bake in the oven for 25 minutes until hash browns start getting a nice golden brown. Top with bell peppers and onion and bake another 10 minutes.
Remove hash from oven. Top black beans and then the cheese. Bake another 5 minutes until cheese is melted. Serve the potatoes and top with toppings of your choice.
eat.breathe.love https://eatbreathelove.net/