Self care is not selfish. Repeat that. Self care is not selfish. Self care is NECESSARY! Before I had my baby I didn't have to prioritize self care. My life was full of it. Yoga every day, massages every other week, spa days, traveling whenever I needed or wanted to to "take a break", I had so many moments of self care. My life was balanced, I felt good about myself. I took care of myself. And my husband did too.
Then we had a baby. And life changed. I wasn't getting enough sleep. My yoga practice was non-existent. Massage? I think I had one in the two years she was born. The only ten minutes I had to myself to sit and clear my head was when I would take a shower alone. My shower time was SACRED! When my husband would come into the bathroom to ask me a question or get something I would flip out. Those were the only ten minutes I had for ME. And I assure you, that wasn't self care. Those ten minutes were just for me to enjoy some peace and quiet.
I breastfed Isley for almost two years. Those two years were tough. My life revolved around her. But I also made excuses. She became my excuse. I can't workout because of her. I turned down events because of her. Was her eating schedule unpredictable? Yes. But in hind sight I probably used it more as a crutch than anything.
I didn't go to yoga anymore. Going out with friends was reserved for after bedtime only. It was hard. I was losing myself. I was a MOTHER. And that was about it. I wasn't a good wife. I wasn't a good friend. Not only that, I lost my identity. I lost all the freedom I once had to put myself first.
One day I was on my phone, which was my usual routine after I put her to bed. I started looking at my social media tracker. Then I saw how much I was on Facebook for someone who "didn't have time". I would be looking at garbage on social media for a good hour after I put her to bed. Do you know how much time an HOUR is to a new mom?!? And how much you can actually get done in an hour? What a waste!
Right around that time someone reached out to me to start Beachbody. In my head I had my excuse all set to go. We were going on vacation in four weeks and I didn't want to start a workout program for four weeks and then take a week off. How ridiculous is that?! I was so ready to just sit on my couch for four more weeks instead. But I stopped myself mid thought and said yes. I committed to myself that if I could browse Facebook for an hour I sure as hell could work out for thirty minutes.
The first few months were hard. I was working out after a full day of work, coming home to make dinner, bath, put Isley to bed, THEN workout. It was rough. But I managed. I set timers on my social media to keep myself in check. I gave myself thirty minutes a day and I used them wisely. Instead of aimlessly scrolling I only looked at things I cared about. I finally made myself a priority. I even started working out in the morning again because the nights just got to be too tough.
Then COVID hit. All of a sudden my world, like everyone else's, changed. It became so hard to make time for myself besides my workouts. My husband, two year old daughter and myself all trapped at home. Good bye yoga classes. Good bye date nights. So long babysitters. Farewell vacations. Good bye massages. Anything that I did to take care of myself instantly disappeared.
In times like these we need to be creative. Self care is not selfish. Self care is necessary for us now more than ever to save our sanity. Some days are going to be harder than others. But now is not the time to put yourself on the back burner. Now is the time you need to take care of yourself more than ever. And it probably seems like you don't have time. Reality is you probably don't. But that means you are going to have to really look at your day differently.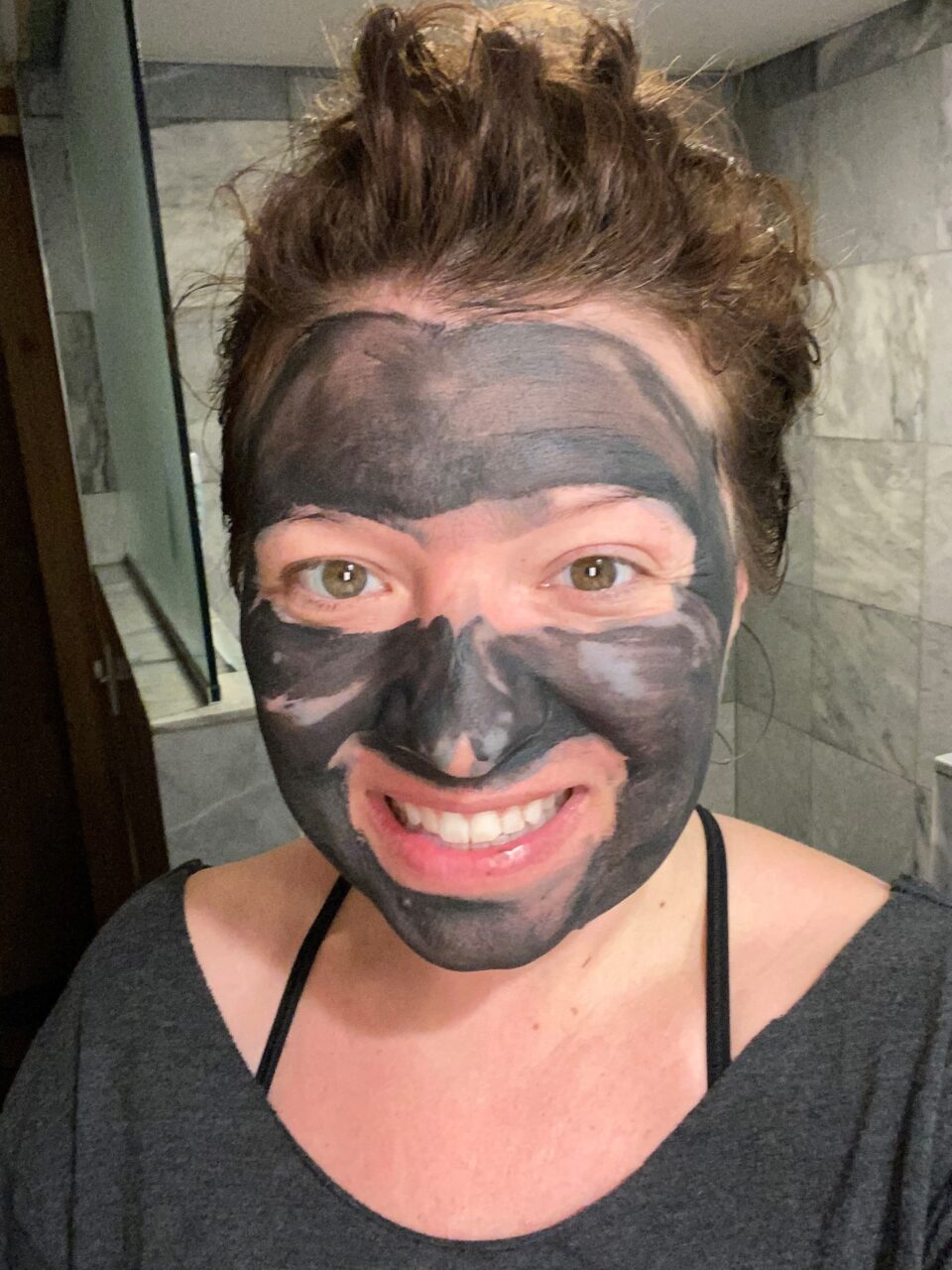 How much time do you spend on social media? Look at your history on your phone. I bet you will be surprised and alarmed. That time you could be doing something else. You could be working out. You could be meditating. Or you could be sitting alone in a shower. Maybe you could be taking a walk.
Look at your work schedule. Can you block off two fifteen minute breaks on your calendar and maybe even a lunch hour? That way you can escape your computer and your work to clear your head. I am fortunate that I work for a company that is VERY supportive of this. And while some companies might not come right out and tell you to do these things it might be up to you to start the conversation. Talk to your boss. Tell them you need time to clear your head for your own mental sanity.
The one thing that was hard for me when I started taking care of myself was saying NO. You can't say yes to everything if you aren't saying YES to YOU! Is taking care of yourself more important than going to an event you really don't want to go to? YES! It doesn't make you a bad person to tell someone no. It's ok if your reason is "I don't want to". Stop saying yes to everyone else and start saying yes to you!
Bottom line take an inventory of how you spend your day. And if you aren't giving yourself at least fifteen minutes a day if not more you have to figure it out. Wake up earlier before everyone else does so you can do the thing you want to do. Do whatever it takes to do it. You need to invest in yourself. Self care is not selfish. Self care is a necessity for you to be a better version of yourself. Once that happens you can be a better partner, mother, friend, co-worker, daughter etc. Now more than ever do yourself a favor and put yourself first, even if it's only for fifteen minutes a day!