I am having a hard time being inspired these days. Life is frankly chaotic. But I want to share good recipes with others, especially people who are trying to cook more. One of my favorite simple recipes has made my Instagram but I never put the fingers to the key board. Until now. Let me share with you my peanut coconut sauce with veggie recipe.
I love Asian food but after three bouts with MSG poisoning I can't go out to restaurants anymore. So I am forced to play with new flavor profiles which is fun but can be intimidating. One thing I have always loved is a good peanut sauce. Whether it be a dipping sauce for chicken satay or a sauce for noodles it's hard to turn down a form of peanut butter. I remember Rachel Ray used to have a recipe for a peanut sauce cold noodle chicken salad that I made probably every other week back in the day to take with me for lunches.
We drink a ton of coconut milk for smoothies. Coconut milk is a great milk alternative but it also makes amazing sauces especially when you are going for an Asian inspired dish. And it s used frequently in Thai cooking. The coconut balances out the spiciness of the Siracha and tones down the nuttiness of the dish. Plus this peanut coconut sauce is very easy to make!
Now days we are eating mostly vegan so this is a recipe to really load up on the veggies. You definitely could make this a meaty meal as well if you sautéed up some chicken breasts before cooking everything or even cooked a pound of ground turkey or pork for this meal. I think it's pretty good without meat and plus you are getting some protein from the nuts.
If you are looking for a quick and easy weeknight meal and want to play with flavors this one is for you!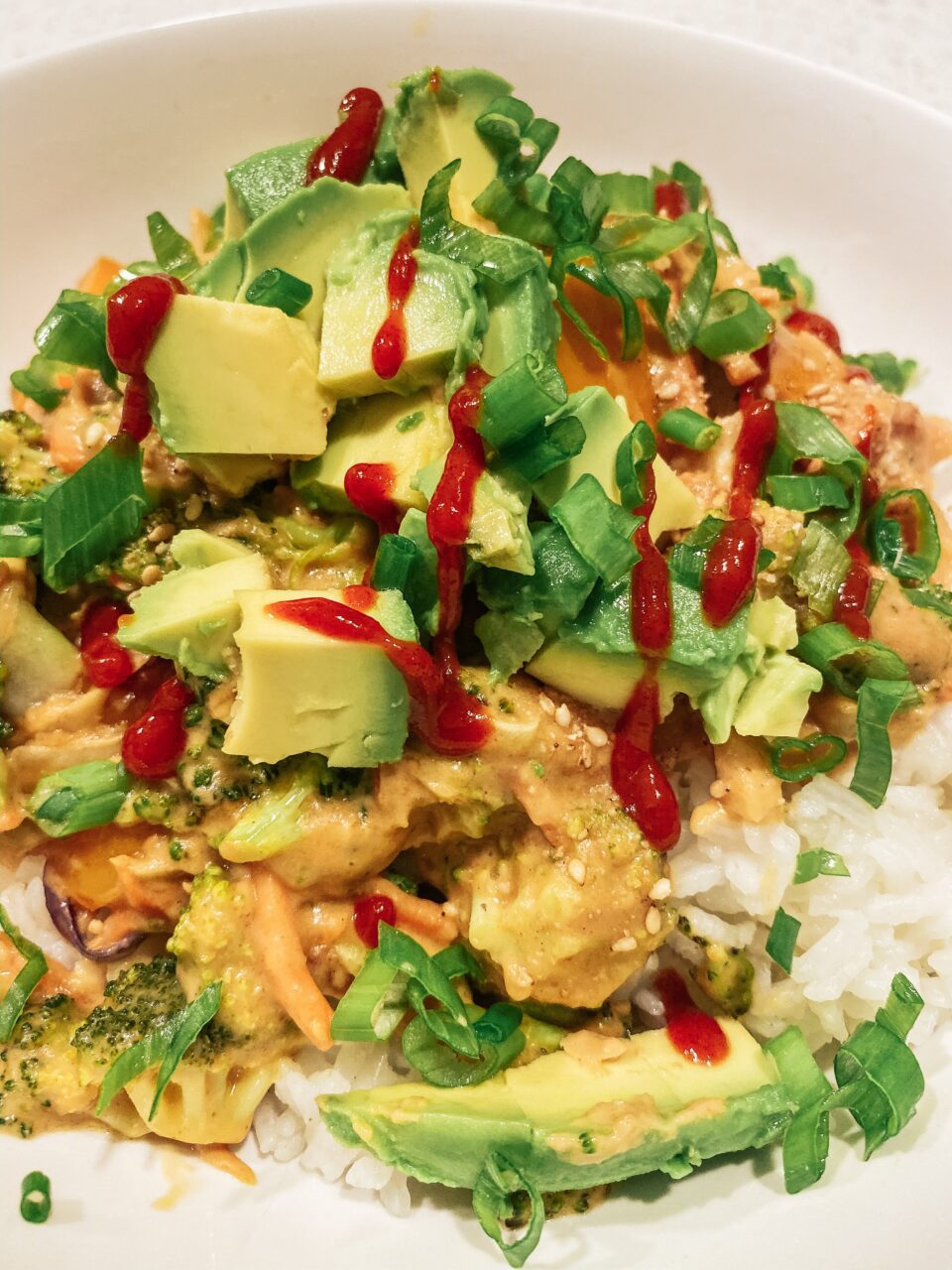 Peanut Coconut Sauce with Veggies
April 19, 2020
: 10 min
: 15 min
: 25 min
: Easy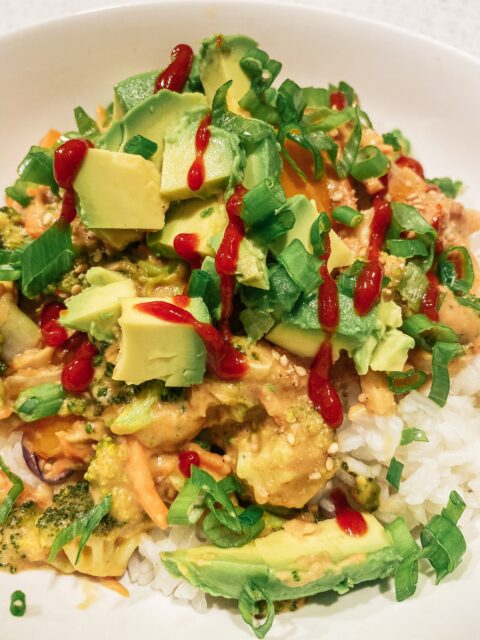 Ingredients
2 bell peppers, large dice
1 yellow onion, large dice
1 c shredded carrots (or 2 carrots diced or sliced)
2 c broccoli florets
1 c red cabbage thinly sliced (or buy pre-shredded coleslaw mix and save yourself more time!)
For the sauce:
1 can full fat coconut milk
1 inch fresh ginger grated or minced (or 1/2 TBS ginger paste)
3 garlic cloves grated or minced
1/4 c Tamari or soy sauce (I prefer low sodium)
1 c peanut butter (creamy works best here, I buy no sugar added)
1-2 TBS Siracha (start with 1 TBS and add more if you want it spicier)
Juice of 1 lime
Optional items to top with:
Scallions, thinly sliced
Avocado slices
Sesame seeds
More Siracha
Directions
Step 1

Combine all the ingredients for the sauce in a bowl and mix until smooth.

Step 2

Sautee the veggies except the cabbage in a TBS or two of sesame oil or coconut oil over medium to medium high heat for 8-10 minutes. You want the veggies a little tender but still have a slight crunch to them. Turn the heat down to medium low. Stir in the sauce and cabbage. Let the cabbage cook for 2 minutes so it wilts slightly.

Step 3

Serve over rice or rice noodles. For a quick version buy frozen already cooked rice and stir into the veggie sauce mix to heat through.

Step 4

NOTES: To make a meaty version of this you could sautee chunks of chicken breast, ground turkey or ground pork in sesame oil in the pan before cooking the veggies. Remove the cooked meat and follow directions above. Then add meat back in when you add the sauce to the veggies.