My husband recently started a new workout program and is strictly following the meal plan that goes with it. Which is making it harder for me to put together meals. The real challenge is when I want to cook vegetarian. He is allowed lots of protein and unlimited veggies but his carb intake is restricted. So now we use measuring cups to keep track. I on the other hand, eat beans left and right when I am not eating meat for protein which makes meal planning difficult. One low carb meal I love to make in replace of high carb pasta is spaghetti squash. Texture and appearance wise it is very similar to spaghetti. And if you put a sauce over it it covers up the sweet squash taste and makes you think you are eating noodles.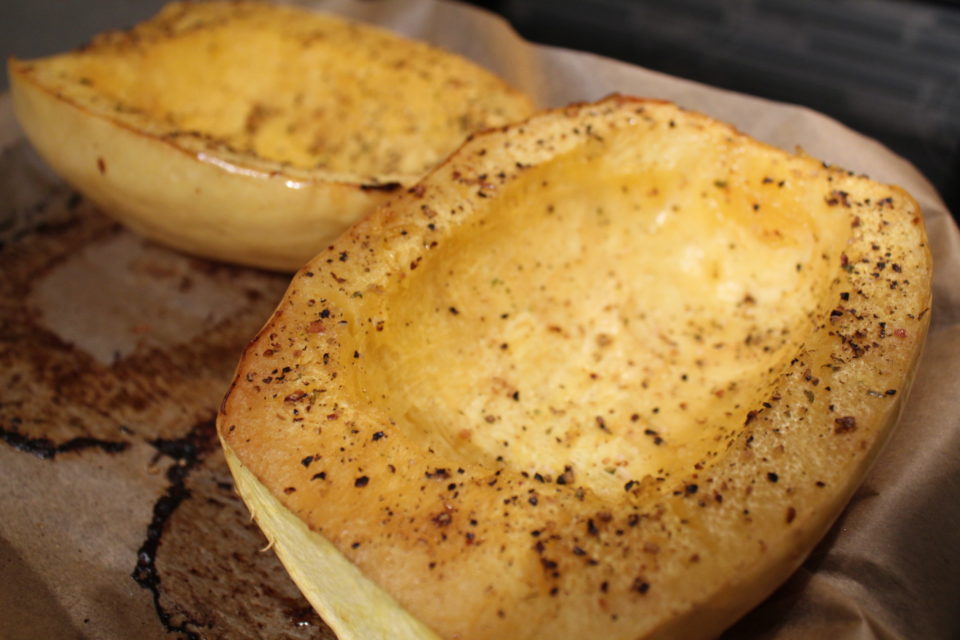 In the past I have made pesto spaghetti squash (recipe found here). The last time I made squash it was delicious. So I wanted to make it again with a new flavor profile. I decided to make a meatless meal since it was Monday. Because the squash is low carb and not a noodle, I figured adding beans in and not blow my husband's meal plan. I also wanted a sauce for this dish and when I think sauces for Mexican food my mind immediately goes to enchilada sauce. Enchilada sauce is so easy to make on your own (see my recipe here) but if you don't want to spend the time you can always get the store bought stuff.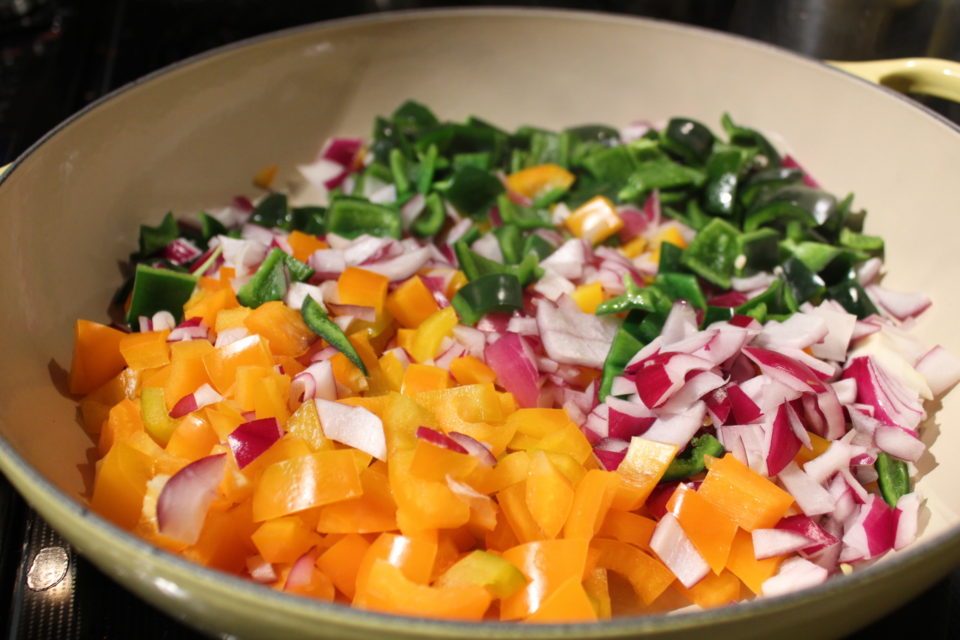 The addition of veggies to this dish makes it a little bit hearty (which helps you forget the fact that there isn't meat in the dish!). To multi task, the veggies can roast in the oven when the squash is cooking. Once the squash is finished cooking and shredded into "noodles", all the ingredients are combined. Personally I prefer how the meal looks when the squash shell is re-stuffed. But you can always just put the mixture in a baking dish. To finish the dish it is topped with cheese, cherry tomatoes and scallions and then quickly thrown under the broiler until the cheese is bubbly and golden brown.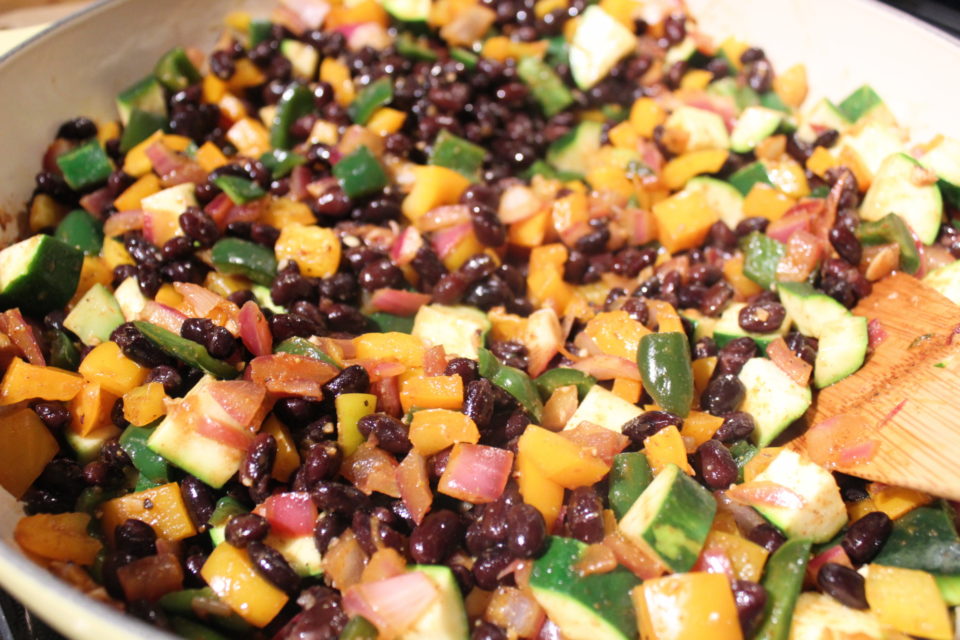 Dietary restrictions can make cooking challenging therefore the recipe maybe modified for any dietary need. Omit the beans for a true low carb dish. Leave out the cheese or replace with a nut based cheese for vegans. If you truly cannot skip the meat you could add ground turkey to the vegetable mix, however I encourage you to just try it meatless, I PROMISE you won't notice a difference. Especially when you spice it up with this recipe!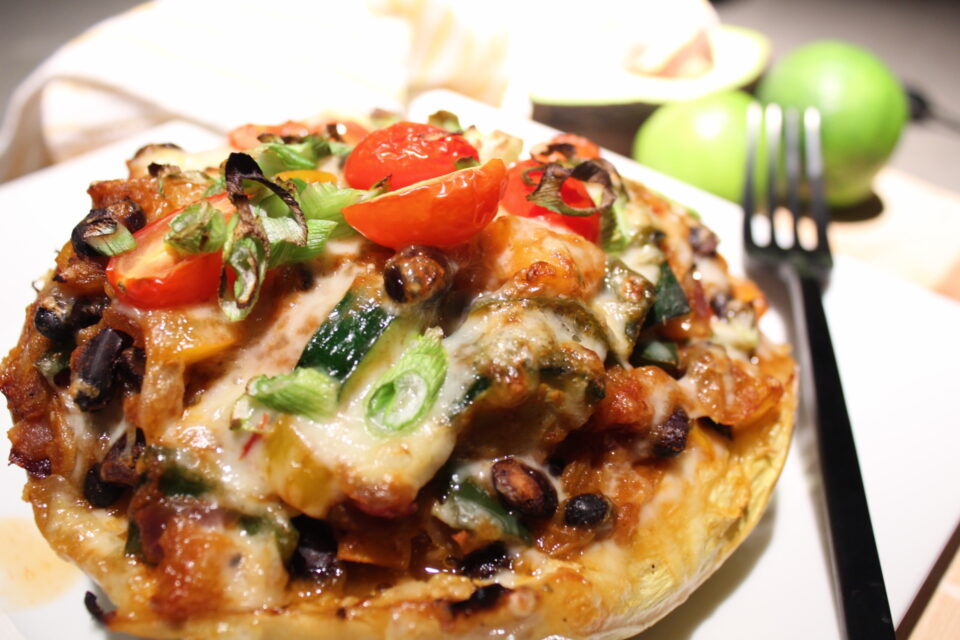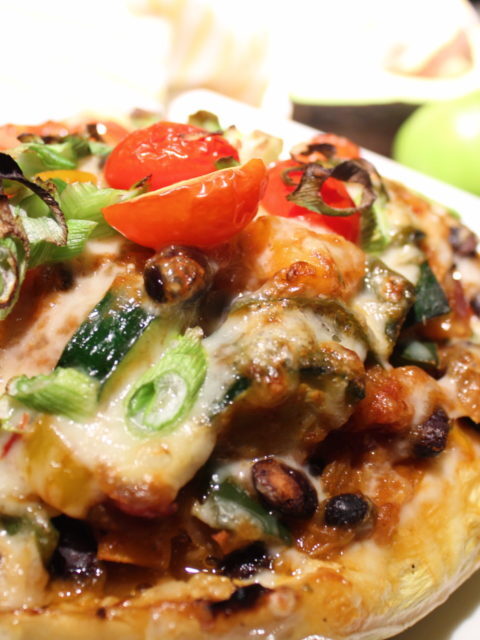 enchilada sauce stuffed spaghetti squash
---
Total Time:

1 hour 5 minutes
One spaghetti squash cut in half lengthwise, seeds scooped out

1.5

c red enchilada sauce

1/2

red onion, diced

1

bell pepper, diced

1

–

2

poblano peppers, diced (if larger just use one)

1

zucchini, diced

1

can black beans, rinsed and drained

6

cloves of garlic, minced

1

jalapeno, minced (omit if you don't like spicy food)
a few dashes of hot sauce (omit if you don't want the spice)

1

TBS cumin

1

TBS chili powder

1/2

c grated cheese (I used pepperjack but monterey jack or cheddar would be good here too)
handful of cherry tomatoes, sliced in half length wise

2

scallions, sliced thin
---
Instructions
Pre-heat oven to 400
First cut spaghetti squash in half length wise. Next scoop out all of the seeds. Season the flesh side of the squash with salt, pepper and a small amount of olive oil. Bake in the oven on a cookie sheet or pan, flesh side down for 35-40 minutes or until you can easily pierce the skin with a fork (kind of like a baked potato). When the squash is done turn your broiler to high.
While squash is cooking in a cast iron skillet or a deep frying pan sautee red onion, bell pepper, poblano pepper, jalapeno, and garlic over medium heat for 8-10 minutes until almost cooked. Season with cumin, chili powder, hot sauce if using, salt and pepper. Add in zucchini and black beans and cook an additional few minutes until the zucchini is cooked.
When the squash is done, using a fork shred the flesh of the squash into "noodles". In a large mixing bowl combine squash, veggie mix, and enchilada sauce. Stir well to coat the veggies and squash with the sauce.
Take the mixture and stuff back into your squash shells. Top with cheese, tomatoes and scallions. Place in the oven under the broiler for 5 minutes until cheese is bubbly and golden brown.
Notes
*This is an easy recipe to double and serve four
*Omit cheese for a vegan version
Prep Time:

15

Cook Time:

50
Save
Save
SaveSave