[dropcap]L[/dropcap]azy Saturdays at home are my favorite. Often times our weekends are full and we don't have time to just relax. When we are out running errands we usually grab brunch somewhere. So it's a treat if we actually get to brunch at home. However, we are slow in the kitchen so brunch turns into a one or two pm event.
Personally I love a good savory breakfast. Some of my favorites are skillets that have hashbrowns or breakfast potatoes. We make skillets at home when we have time to cook breakfast. I wanted to make something new but still wanted the basic ingredients the same – eggs, potatoes and of course, lots of veggies.
Frittatas are really easy to make. They are essentially an omelette without the work. Since they can be "stuffed" with anything really, (meats, cheeses, vegetables, etc.) it allows you to get creative. The beauty about frittatas is that you put it in the oven to bake and doesn't take much effort. Additionally you can make it one pan which makes clean up nice and easy.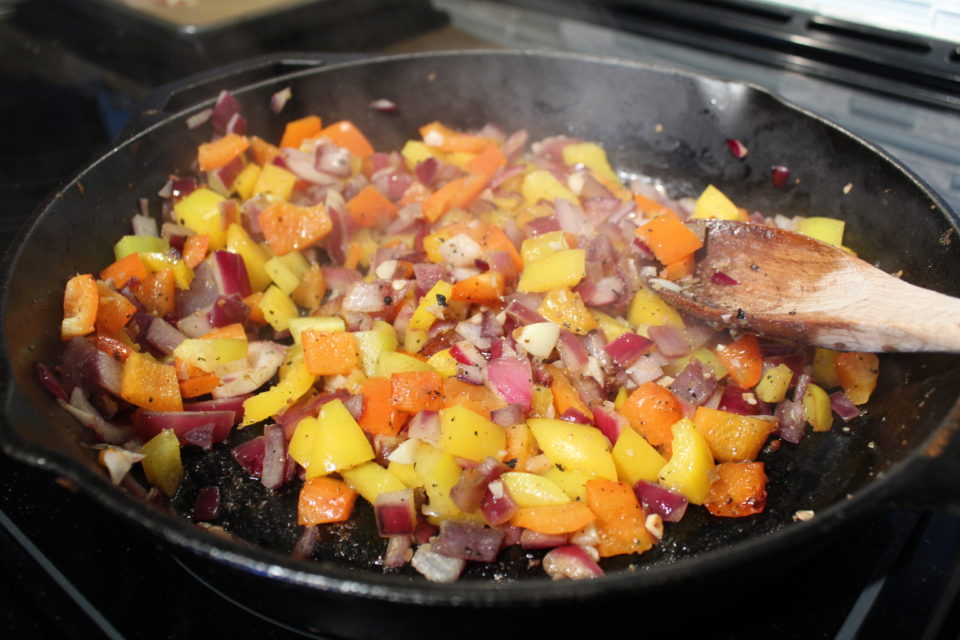 For my frittata I wanted some carbs but didn't feel like cooking potatoes myself so I cheated and bought some store bought ones. I wanted the little diced potatoes but the store didn't have any organic ones so I settled for some organic red skinned wedges. I seasoned them up and baked them according to the package directions. Any potato would be good here, but the key is to cook it first (no one likes an undercooked potato!). You could even use hashbrowns. My selection at the store was slim. I even contemplated using frozen french fries because they were the only organic potato I could find until the red skins appeared.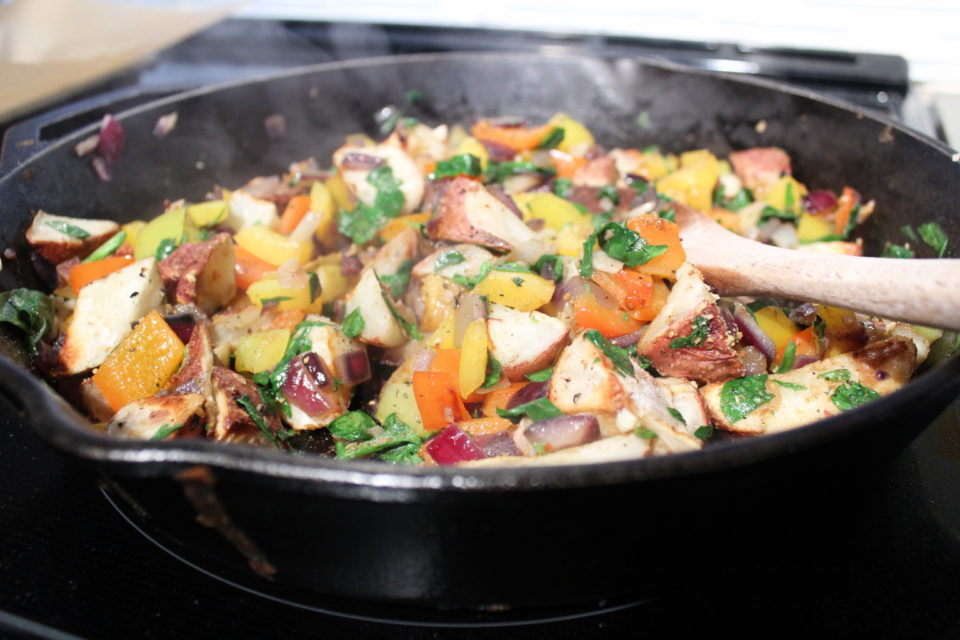 This meal is great to multi task. While my potatoes were roasting in the oven I sauteed and seasoned my veggies in a cast iron skillet. Since I cooked my potatoes on parchment paper I didn't have to wash a cookie sheet so the only dirty dish became my skillet. When the potatoes were done they are added to the veggie mix. The key is to season the mixture really well. Your egg mix will dilute the seasoning on the vegetables once added so it's ok to go a little heavy on the seasoning.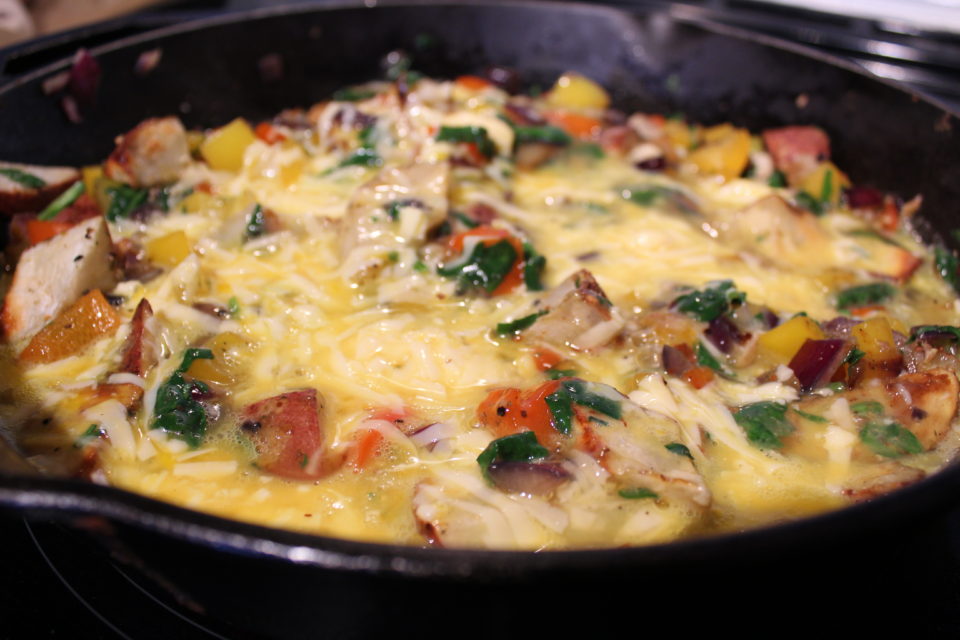 Let's talk about the egg mixture. Growing up my parents added milk to our scrambled eggs to make them fluffy. We only buy almond milk for smoothies and I know a lot of Paleo recipes will swap the milks but personally I don't love coconut or almond milk in my savory meals. One trick my husband taught me when he made me eggs before is to use Greek yogurt. A heaping tablespoon of it in your egg mix will give them that same fluffy texture. For cheese I prefer to use something that has more flavor in the dish so you don't need to use as much of it. I chose Gouda for this dish but you could use a good sharp cheddar, parmesan, even a pepperjack if you want a little spice.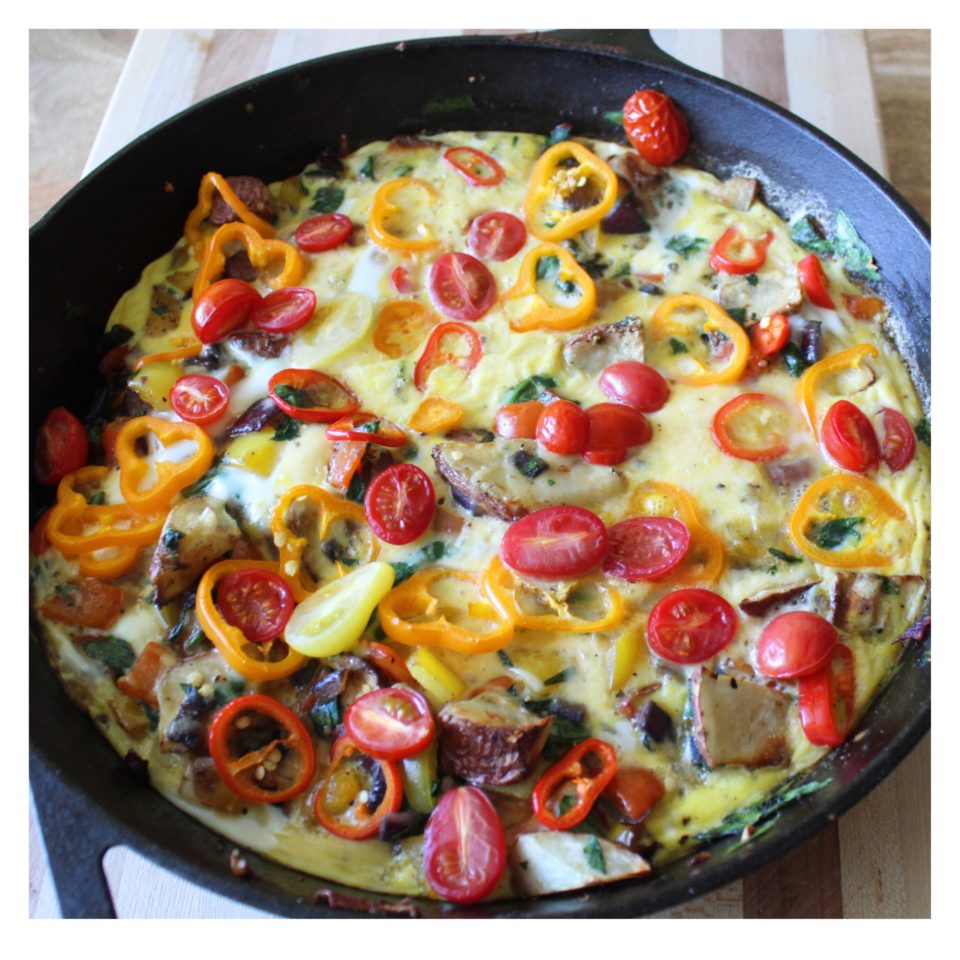 Once the veggies are done all you have to do is pour your eggs over the mix, tip your pan side to side to make sure the eggs get a nice layer over everything and bake it in the oven. It's as easy as that. Since I prefer my eggs to not be runny at all fifteen minutes in the oven was perfect. But if you prefer undercooked eggs you can lessen the cooking time.
While the frittata is good as is, if you want a little more you can top your breakfast with avocados or chives. And if you are anything like my husband, you will probably load it with hot sauce too. This meal a complete balance of protein, carbs and veggies (and even a little fat with the cheese!). It's perfect for a lazy weekend. But if you really want to go all out, pair it with some spiked coffee for an even better morning (or afternoon if you are slow like us!).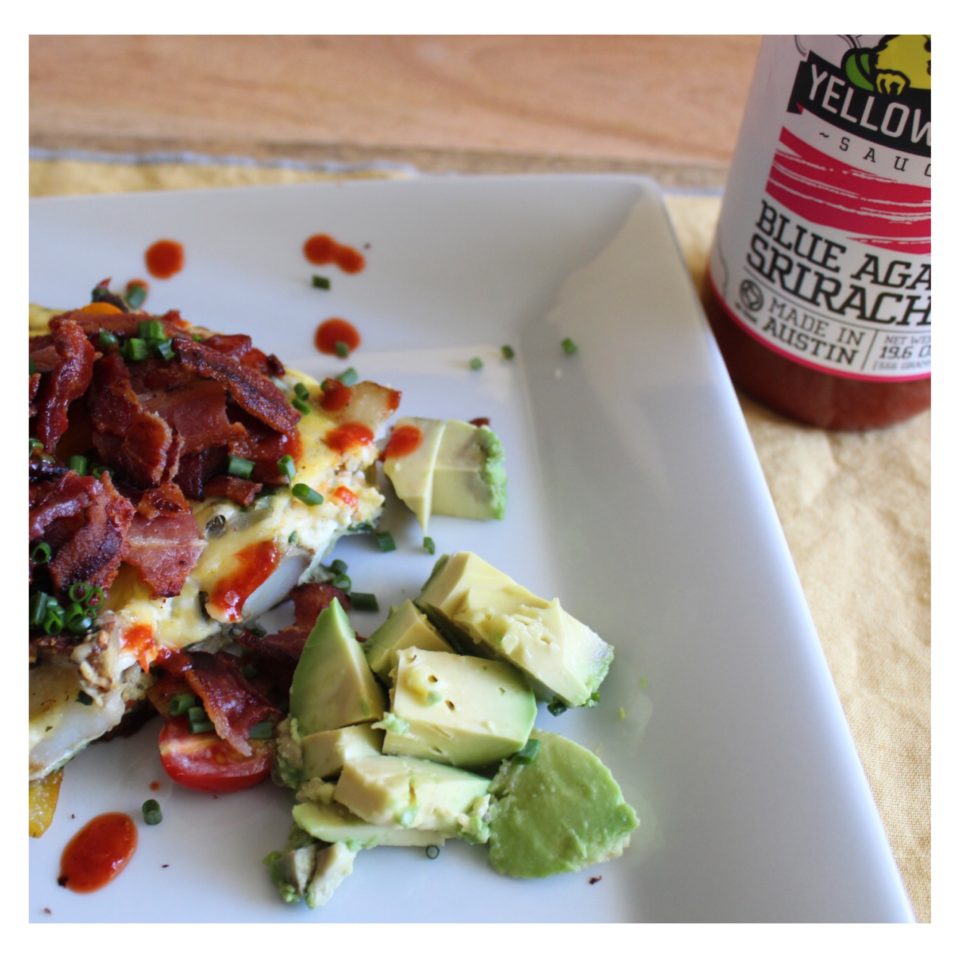 Print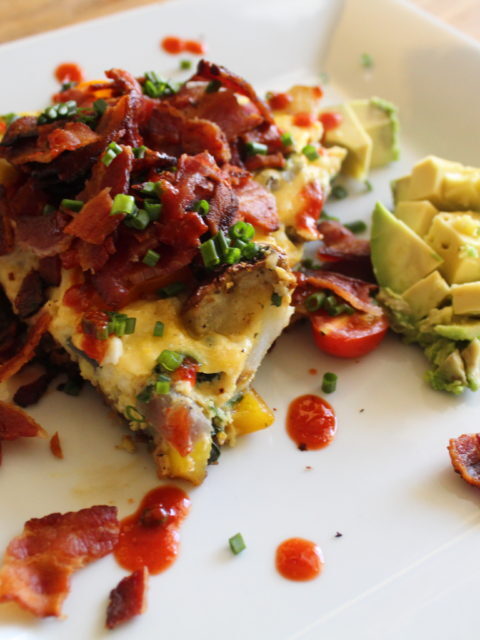 potato and vegetable frittata
---
2 cups frozen breakfast potatoes, if you would like to use fresh potatoes dice fresh potatoes into one inch cubes
1 red onion, diced
2 bell peppers, diced
6–8 cloves garlic, minced
1 large handful of baby spinach, rough chopped
2 TBS or more everyday seasoning blend (I like Trader Joe's 21 Season Salute)
8 eggs
1 TBS Greek yogurt
1 cup shredded cheese (I used gouda and it was wonderful in this, cheddar would be good too)
handful of cherry tomatoes, sliced in half
chives for garnish
Additional toppings
hot sauce, avocado, scallions
---
Instructions
Season potatoes with salt and pepper. Cook frozen potatoes according to package directions in the oven. If you use fresh potatoes bake in the oven on a cookie sheet at 450 for about 20 minutes until fork tender.
While the potatoes are cooking, in a cast iron skillet or an oven proof pan, sautée peppers, onions and garlic over medium heat for 10 minutes until garlic and onions are soft. Season with salt, pepper and 1 TBS of every day seasoning to start.
In a large bowl whisk eggs, cheese and Greek yogurt. Season with salt and pepper. Set aside.
When the potatoes are done cooking, add to the skillet with the vegetables. Turn your oven down to 375. Stir in spinach. Season with more salt, pepper and everyday seasoning to your liking. I like my vegetables to have plenty of seasoning so that way when the eggs are added everything gets the flavor incorporated.
Pour egg mixture on top of vegetables. Top with cherry tomatoes. Place in the oven 12 minutes. After 12 minutes check your frittata. You want your eggs to be cooked and not runny on the top. I like my eggs cooked completely through so mine needed an extra 3 minutes (15 in total).
Finally, to serve slice in wedges and garnish with chives and any other toppings of your liking.
Prep Time: 10
Cook Time: 35