This veggie ramen with gochujang sauce is perfect for a quick weeknight meal. Tons of veggies are added to a simple sauce for a healthy meal.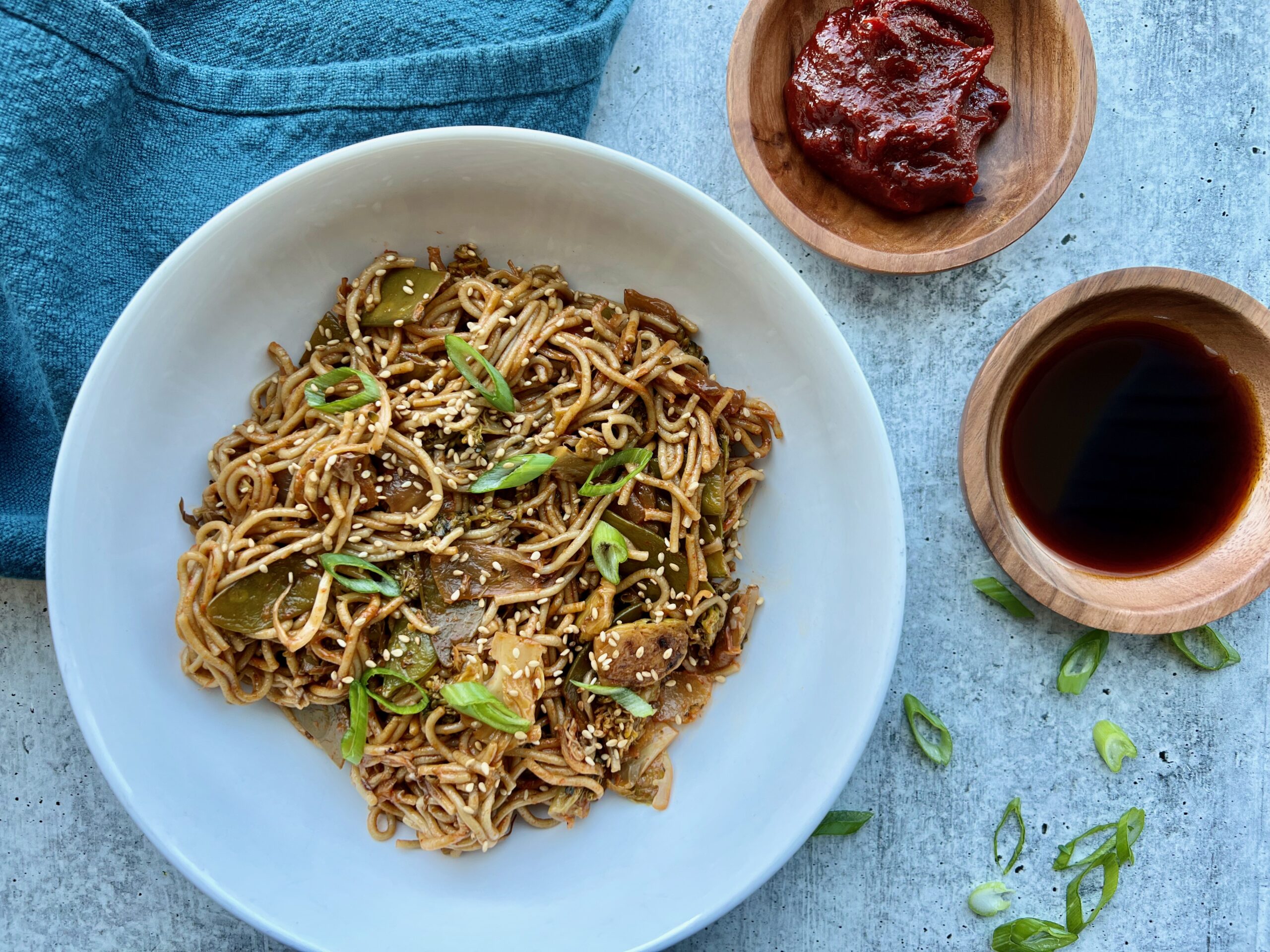 During the week I like to make quick and easy dinners since we are often racing from work to home. I don't have time to spend hours in the kitchen. But that doesn't mean fast meals have to be unhealthy or flavorless. Personally I find when I cook Asian inspired meals they always check the box from a time saving perspective. And this veggie ramen with gochojang sauce is no exception.
Veggies, Veggies and More Veggies
When cooking Asian inspired meals I find it's really easy to add in a ton of veggies. For this dish I went green and used a ton of different green veggies. It honestly takes more time to chop everything than to cook it for this dish. However, here are the tips to ensure your veggies aren't overcooked and maintain a level of crunch that gives the meal some texture.
Cook in layers – not all the veggies have the same cook time. For this I start with the brussel sprouts as I know they will take the longest. Next come the onions and peppers. Items like bean sprouts and snow peas have the least amount of time to cook so those go in last.
Chop your veggies in uniform size – when the veggies are relatively the same size it ensures even cook time so some aren't under cooked and some aren't over
Turn off heat if necessary – I am usually multi tasking cooking dinner while trying to get my daughter to bed. A lot of times I make the veggies in advance, go get her to bed and then come back to it. So I keep my veggies on the crispier side, turn the heat off, and then when I finish the ramen I put it all together and warm it back up. Then if the veggies cook a little more they don't turn mushy!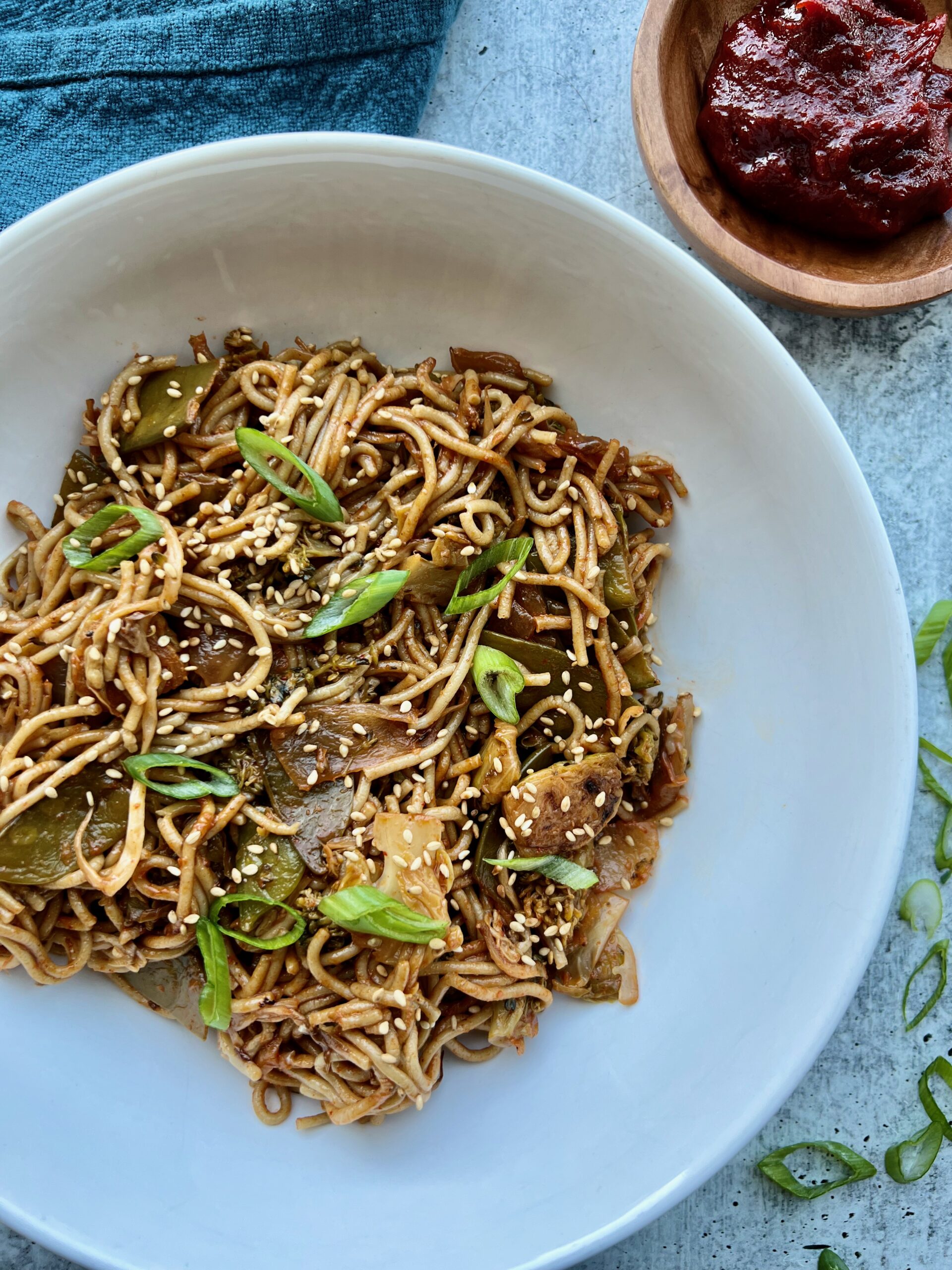 Simple Sauce
I remember when I first started playing around with Asian inspired flavors I was so intimidated. But over the years I have really gotten better about experimenting. If you start with the basics and use recipes at first you will be ok. Here are the staples of almost every Asian inspired sauce I make:
Soy sauce or tamari – for that salty umami flavor and the ingredient I use the most to be the base of a sauce
Garlic cloves – we put garlic in everything but I find the key with sauces is to GRATE the garlic so you aren't left with big chunks
Fresh ginger – use a spoon to "peel" the skin off and then grate with a zester or microplane
Sesame oil – for a little fat and some nuttiness
Rice wine vinegar – for some acidity
Then from there you can start to expand. Like heat? Use some chili oil. Or in this recipe I use gochujang paste. If you like even more flavor bombs fish sauce or oyster sauce can be added for an added depth of flavor. Tahini or peanut butter are great adds to make a creamier sauce. Really the sky is the limit!
Putting it All Together
This veggie ramen with gochujang sauce is so easy to make. It can be made in twenty five minutes if you multi task right.
While the veggies are cooking bring your water for the ramen to a boil so that is ready for you
Put the sauce together while veggies are cooking
As you finish the veggies the ramen cooks
Everything gets thrown together and served!
Even though this meal comes together quickly it's SUPER healthy from all those green veggies and has tons of flavor from the simple sauce. The next time you are looking for fast food and don't feel like ordering take out be sure to try this veggie ramen with gochujang sauce. Also remember, if you try this recipe be sure to rate it and leave a comment below and let me know how you like it. Or tag me on Instagram or #eatbreathelove!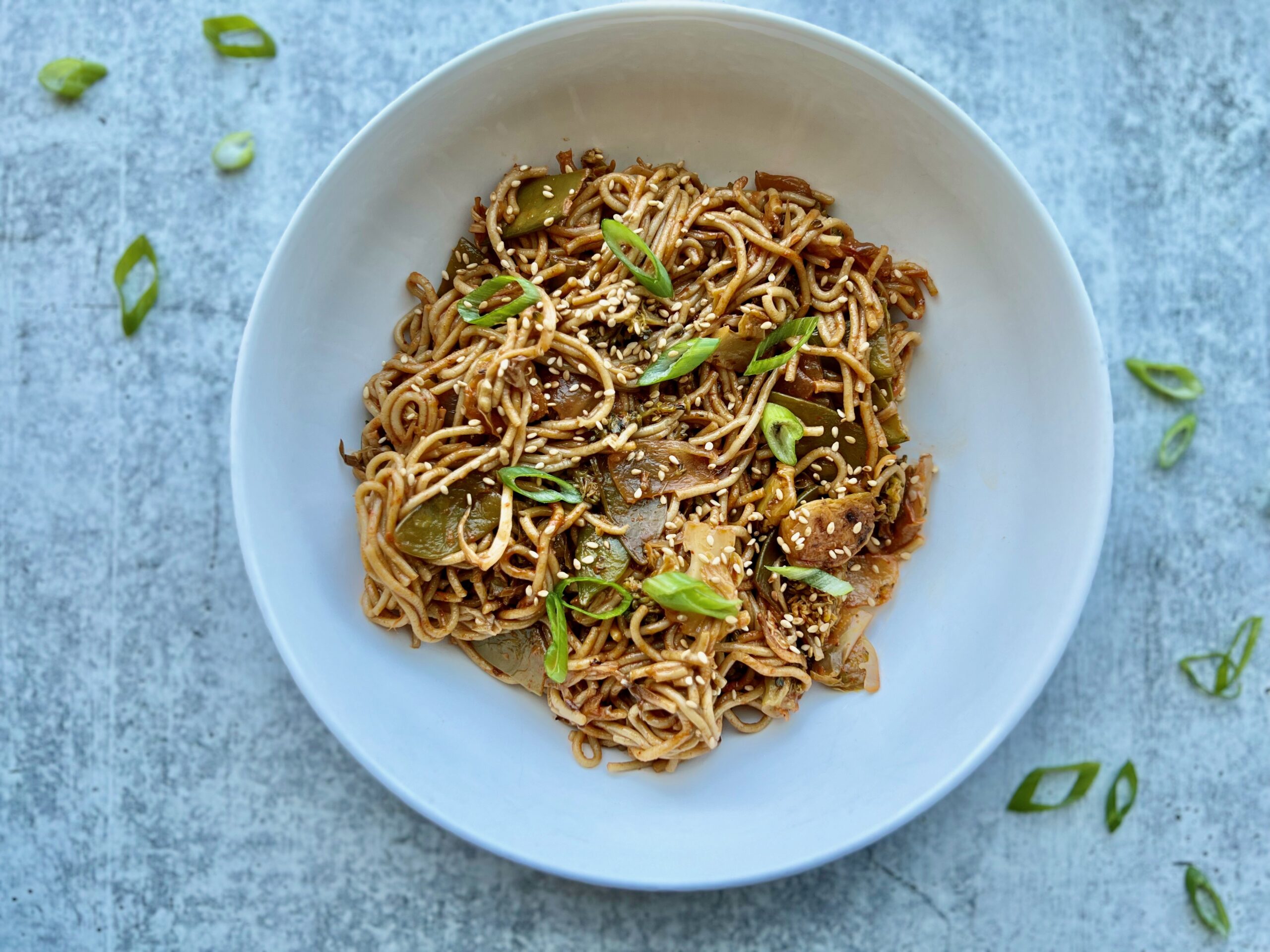 Print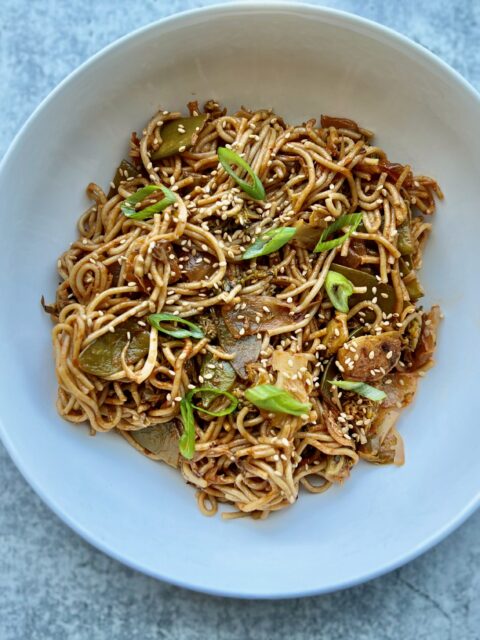 Veggie Ramen with Gochogang Sauce
---
Author: Karissa P
Total Time: 25M
Yield: 2-3 1x
Description
This veggie ramen with gochujang sauce is perfect for a quick weeknight meal. Tons of veggies are added to a simple sauce for a healthy meal.
---
2 TBS toasted sesame oil
1/3 c veggie or chicken broth
15 – 20 brussel sprouts, ends and outer leaves removed halved lengthwise
2 c broccoli florets
2 handfuls of snow pea pods, cut in halves or thirds
1 white onion, large dice
8 oz mung bean sprouts
4 bricks of ramen
Additional toppings – avocado, cilantro, sesame seeds, scallions, sliced hot peppers
Sauce:
2.5 TBS toasted sesame oil
1/2 c soy sauce or Tamari
2 TBS rice wine vinegar
1 inch fresh grated ginger or 1/2 TBS ginger paste (do not use ground ginger as a replacement)
2 large cloves garlic, grated or minced
1–2 TBS Gochugang (start with a little at a time and taste your sauce, if you like spicy food add the full 2 TBS)
---
Instructions
Combine all ingredients for the sauce in a bowl, whisk to combine, set aside
Place a large pot of water to boil, I like to keep mine at medium high until I am almost ready to use
In a large skillet or wok heat sesame oil up to medium to medium heat for a minute
Add in brussel sprouts, cook for 3-4 minutes not moving too much as you want them to get a nice golden brown color.
Add in broth and let them cook a few more minutes until broth is evaporated
Add in broccoli and onions cook 3-4 minutes
Add in bean sprouts and snow peas, let cook a few minutes until bean sprouts are slightly wilted, turn heat down to low
Cook ramen according to the package instructions, try the noodles at the time specified to ensure they are cooked completely. Make sure to break up the ramen with a fork or tongs after they have started to soften in the water. Most instructions call to run the ramen under cold water once done. Do this to stop the noodles from continuing to cook and get mushy!
Add sauce and ramen to the veggies. Stir to coat and let ramen warm back up another few minutes
Top with any toppings of your choice
Notes
For a meaty option: brown up 1/2 lb – 1 lb of ground turkey, pork or chicken in 2 tsp of sesame oil. Season with a little soy sauce, a 1/2 tsp of gochujang to compliment the veggies.
For more veggies – use whatever else you have on hand. Mushrooms, bell peppers, grated carrots or crunchy cabbage to top with all would be good
Prep Time: 5M
Cook Time: 20M
Keywords: ramen, quick meal, asian inspired