This burst tomato and zucchini pasta is easy to make. The veggies make the sauce and are paired with lemon and chives for a light meal.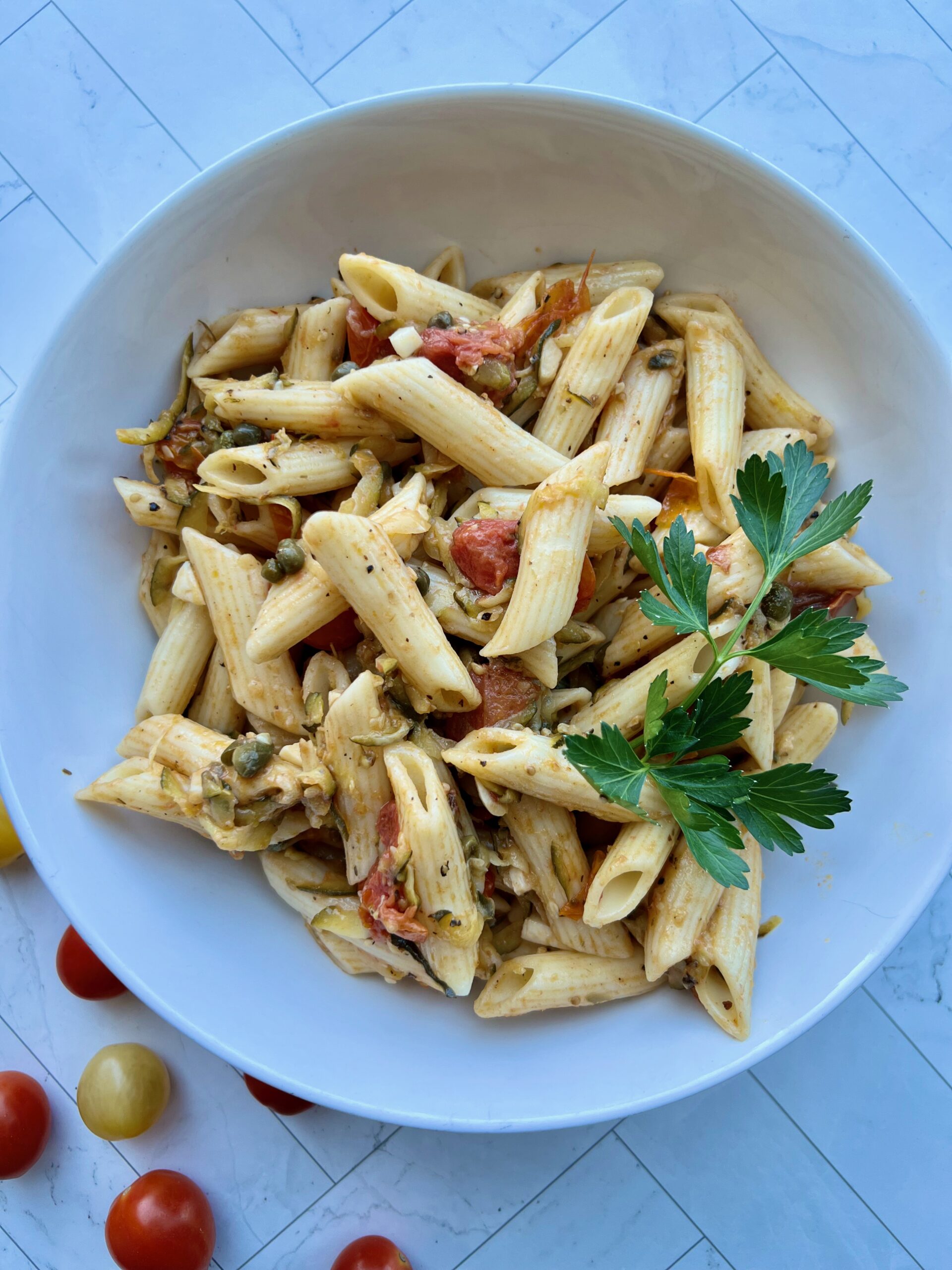 It is finally feeling like spring. The robins are out, the weather is getting nicer (and then colder all in the same week!) and the sun has been shining. In Michigan that is a big deal. I feel like we are all animals coming out of hibernation after months of gray weather. And with spring comes different in season veggies and meals.
Our meals tend to be lighter in the warmer months. And while I love pasta in the summer I don't like my pasta to be super heavy. And since it felt like summer the other day I decided to go back to an old favorite of mine and make my burst tomato and zucchini pasta.
Veggies as a Sauce
This burst tomato and zucchini pasta is so easy to make. The sauce is made simply with the veggies sautéed in a pan. There really isn't much more to it than that. There are a few tips here that will help you along the way:
Use the right pan – you want a large skillet that has high sides to it so that you can make your sauce and then add the pasta to it. My favorite pan I use is my Le Creuset brasier however it is on the pricer side. For something cheaper here are a few cheaper options:
Leave the tomatoes alone – as the tomatoes start to cook try not to move them around too much. You want them to get golden brown and actually burst in the pan to create the sauce
Save some pasta water – before you drain your pasta save a cup of the pasta water in case the sauce thickens up too much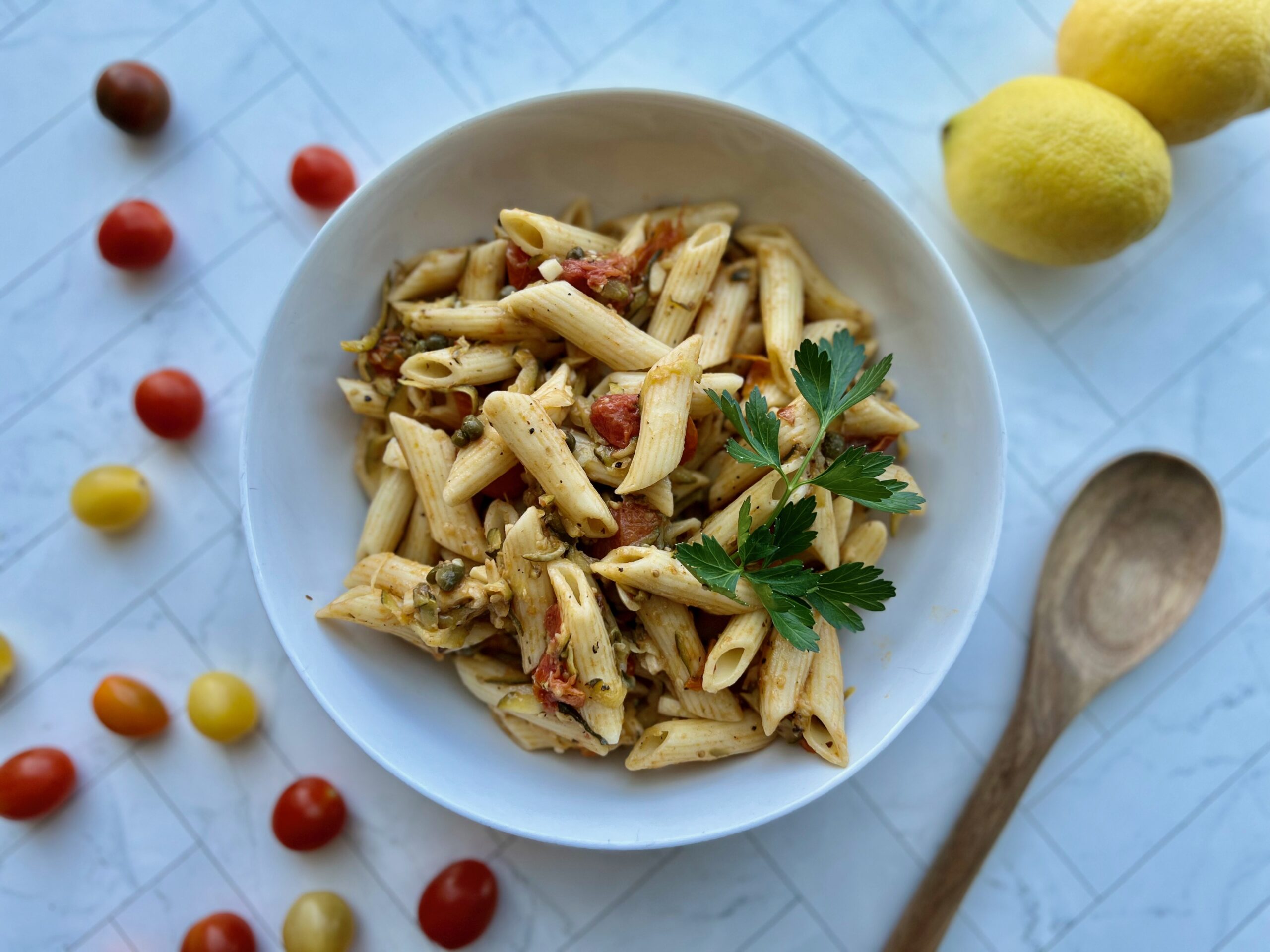 Fresh Flavors
When cooking any meal fresh flavors are crucial to making a good dish. A little can go a long way to enhance the flavor of a meal. In this burst tomato and zucchini pasta I use two ingredients that brighten up the meal.
The addition of lemon zest provides a slightly acidic taste that compliments the fresh vegetables. If you don't have a zester I highly recommend buying one. They come in handy for meals like this. You can find them at any specialty kitchen store which tend to be a little pricier or an inexpensive one like this.
Lastly chives are used at the very end. Chives and lemons compliment each other so well. So instead of using a herb like parsley or basil in this dish I opted for some fresh chives. Plus they have a little crunch for some added texture.
So the next time you are looking for an easy FRESH meal try out this bust tomato and zucchini pasta. Also remember, if you try this recipe be sure to rate it and leave a comment below and let me know how you like it. Or tag me on Instagram!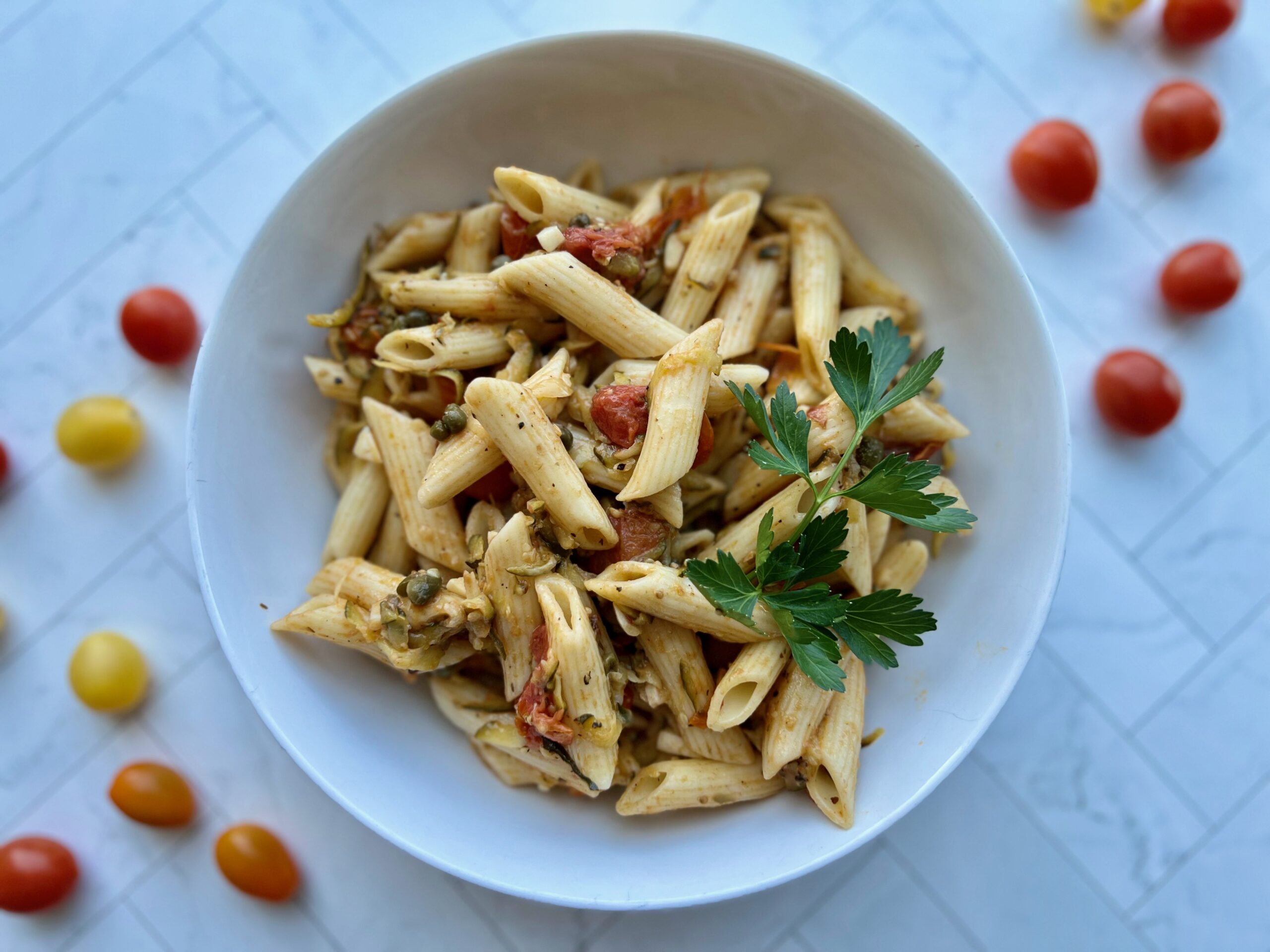 Print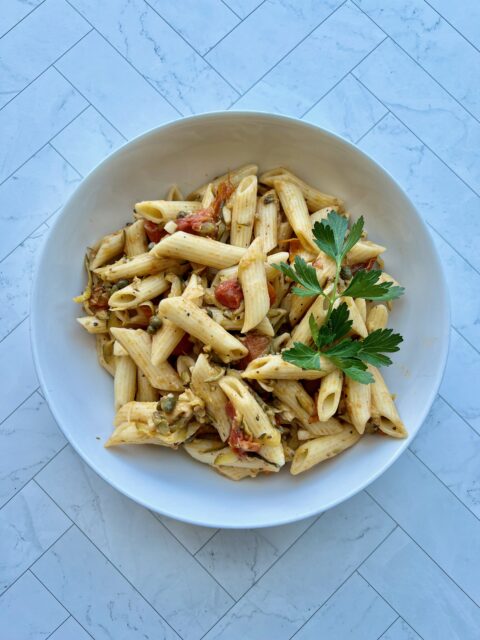 Burst Tomato and Zucchini Pasta
---
Author: Karissa P
Total Time: 25m
Yield: 3-4 1x
Description
This burst tomato and zucchini pasta is easy to make. The veggies make the sauce and are paired with lemon and chives for a light meal.
---
6–8 cloves garlic, minced
1 shallot, minced
2 quarts cherry tomatoes
2 zucchini, grated
1 c chicken or veggie broth
3.5 oz capers, drained
zest of 2 lemons (should be about 1.5–2 TBS worth)
1 lb penne, rigatoni or ziti pasta
Fresh chives minced for topping
parmesan for topping
---
Instructions
Bring a large pot of water to a boil. Salt the water and cook pasta according to directions. While water is heating up make the sauce
In a large high sided skillet cook garlic and shallots in 1 TBS olive oil over medium low heat 4-5 minutes until softened. If you like a little spice add a few sprinkles of crushed red pepper at this step as well. Remove and save to the side.
Add in tomatoes to the pan and over medium to medium high heat cook until bursting and golden brown stirring occasionally.
Add in zucchini, capers and broth. Season well with salt and pepper. Cook a few minutes over medium heat until zucchini cooks through.
Add garlic and shallots back to pan and add lemon zest
Once pasta is cooked save a cup of pasta water then drain. Add pasta to the sauce. Gently stir everything together. If the sauce thickened up too much add a splash of broth or reserved pasta water.
Serve immediately as the pasta will start to sop up the sauce. Top with breadcrumbs, chives and parmesan cheese.
Notes
Vegan version – omit parmesan cheese
Prep Time: 5m
Cook Time: 20m
Category: pasta
Keywords: pasta, tomatoes, zucchini, lemon, easy