[dropcap]Q[/dropcap]uick dinners are hard to come by in our household, especially if my husband is in charge of cooking dinner. Even a basic salad takes him a bit of time to make. Which is COMPLETELY ok because A. I have a man who cooks and B. the food tastes fabulous. When it comes to making a dinner quickly that's usually where I step in. I am constantly on the go. Anyone that knows me well knows that I always have a lot going on. Between work, practicing yoga, teaching yoga, this blog and whatever else I have up my sleeve, it doesn't leave me with a ton of free time. I am often getting home at 7:30 or later, so for us eating before 9:30 becomes a big challenge.
When I was in college and right after I graduated I remember coming home after work and sitting to relax. I have never been a huge TV person and I found myself watching the Food Network or HGTV a lot versus sitcoms. I used to watch Rachael Ray all the time. She actually is the one celebrity I am told I remind people of. She was queen of the 30 minute meals. I think a lot of making quick dinners is mastering the art of multi-tasking in the kitchen. Due to my on the go lifestyle I have become really good at multi-tasking to make things more efficient and I have learned that skill in the kitchen as well.
We recently went to a newly opened restaurant in Detroit called Central Kitchen. For the people that do not live in Detroit, not only is Detroit growing and completely turning around, it is becoming a "foodie" city. New restaurants are opening all the time from pop-ups to gastro pubs with craft cocktails to celebrity burger joints. The city is really becoming a foodie destination. At Central Kitchen I had a great salad that had farro in it. Farro is a grain that reminds me of the cereal Super Golden Crisp from when I was little.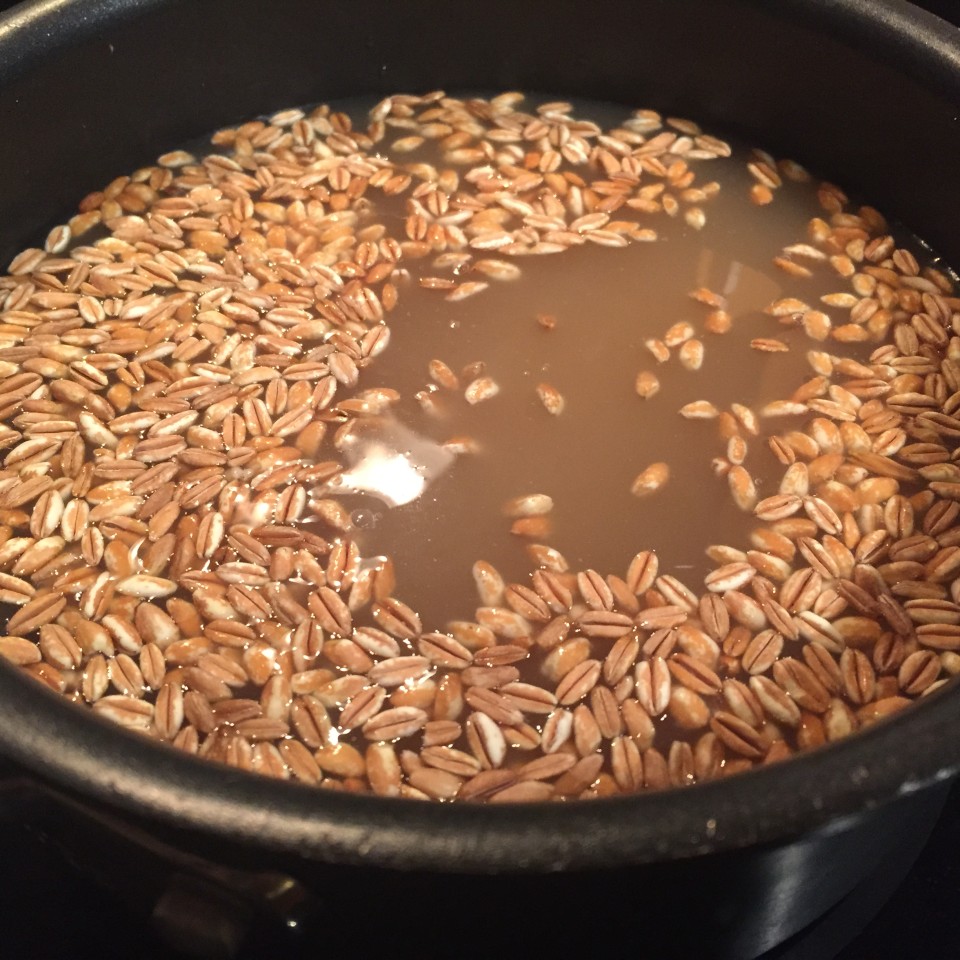 It looks like puffed rice. The texture is a little firm and has a little bite to it, it doesn't get soggy and soft like barley and it has a nutty flavor. It is also VERY easy to cook. It's like rice or quinoa, you put it in a liquid (I would say water but I NEVER cook my grains in water and always use chicken or vegetable stock instead), bring to a boil, cover, cook for x amount of minutes until the liquid evaporates and move off the heat. When we cook with grains at our house we often use quinoa. Quinoa is a high protein grain so it makes me feel less bad about eating carbs. After I had my salad that night I thought about how I could substitute farro in dishes that I would typically use quinoa, just to mix up what we are used to.
It was a night where we had been looking for a quick meal and I really did not feel like meat. I think sometimes cooking meat adds time to cooking a dish even if it doesn't take that long. I also love being able to only use one or two pots when I cook. Farro is an Italian grain typically grown in Northern Italy so I decided to whip up some kind of Italian inspired farro for the night.
My go to vegetables for anything Italian are always onions, bell peppers, zucchini, spinach and of course, tomatoes. Since it is winter tomatoes are not in season so I usually buy boxed organic tomatoes imported from Italy or use the organic heirlooms that I prepare and freeze in the summer to use all winter long for dishes like this. When I cook vegetarian I often use beans as my "meat" substitute. Adding cannellini beans was a no brainer to add to the Italian flair of the dish.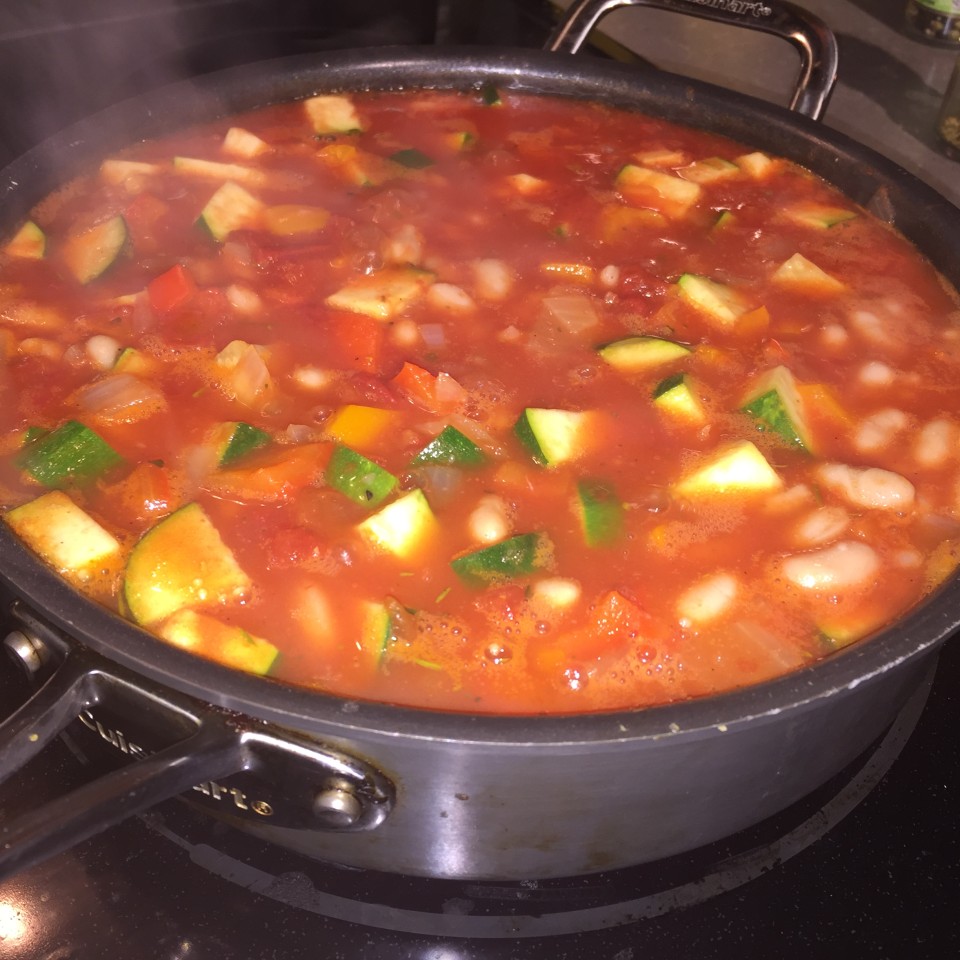 When I am making a dish with a lot of vegetables I like the vegetables to be the flavor show case. I always tease my husband that when he cooks vegetables he seasons the hell out of them so all I taste is what ever spice he decided to use versus the actual vegetable. So to keep this dish relatively simple I used crushed red pepper and Italian seasoning and that was it. It was as simple as sautéing a bunch of vegetables together for 10 minutes or so while my farro was cooking and then throwing everything together and topping with some good quality parmesan reggiano. When you use a good quality cheese like a good aged parmesan you don't need as much. You can use a sprinkle vs. a ¼ cup and get a great flavor from it without all the fat and calories.
This truly was the definition of a 30 minute meal from chopping my vegetables to putting my meal on my plate. I think my celebrity look alike would be proud of my 30 minute skills, now I just need to work on my husband's…….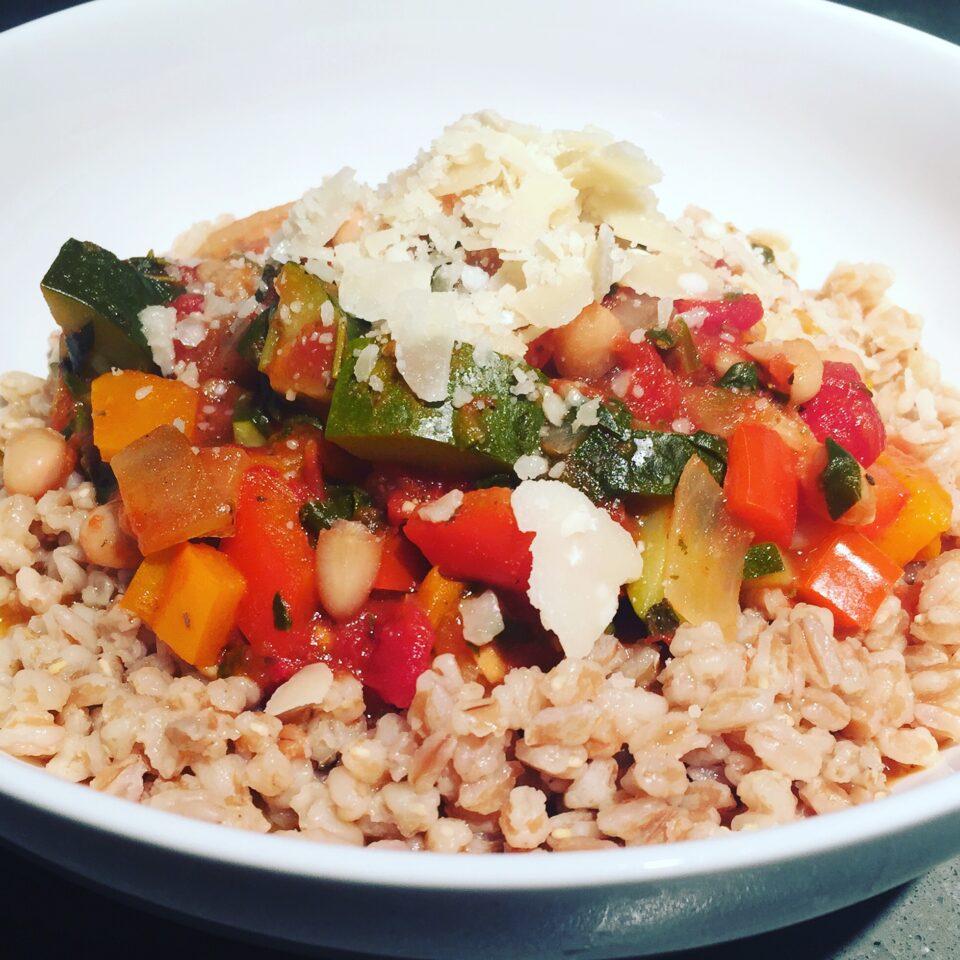 Print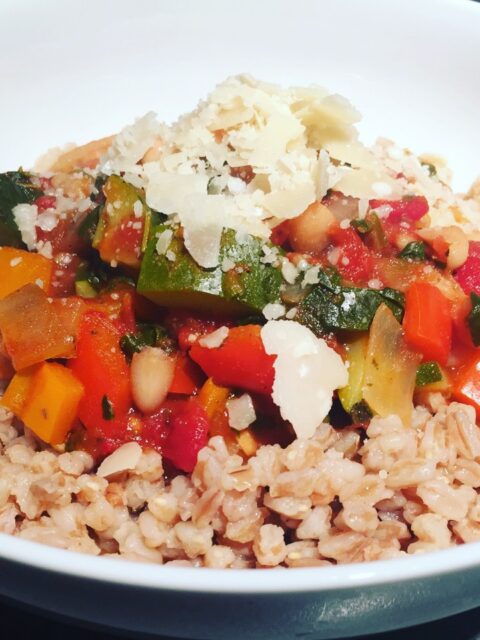 italian vegetables with farro
Prep Time:

10

Cook Time:

20

Total Time:

30 minutes
---
1.5

c farro (not cooked)

5

–

6

c chicken or vegetable broth

2

bell peppers any color (I prefer the sweet peppers like the red and yellow), diced

1

yellow onion, diced

6

–

8

cloves of garlic, minced

2

medium zucchini, diced

1

28 oz can diced tomatoes (San Marzano are my favorite)

2

16 oz cans cannellini beans, drained

1/4

–

1/2

tsp crushed red pepper flakes (depending how spicy you like your food)

1

–

2

TBS Italian seasoning (my favorite is the McCormick Italian seasoning grinder)

1

TBS olive oil

2

c baby spinach rough chopped

1.5

c dry white wine
parmesan cheese for topping
salt and pepper
---
Instructions
In sauce pan cook farro in chicken broth according to package instructions. Farro ratios are a little more than rice at about 3:1. The package I get for every 1/4 c of farro it calls for 3/4 c liquid. Use the chicken or veggie stock instead of rice to give your farro more flavor. Typically you bring to a boil uncovered. Once your farro and broth are boiling, turn temp down to medium-low and cover. Cook 10-12 minutes (or whatever the package instructions indicate). At this point I try my farro because I feel like sometimes it needs a few minutes more to cook. Then remove from heat and keep covered for 5 minutes or until you are ready to use it. Sometimes there will be liquid left, just drain that out before you use.
In a large sautee pan cook onions, garlic, peppers and red pepper flakes over medium heat in the olive oil for 8-10 minutes until soft. Add in white wine and turn temp up to medium high. Let wine almost cook all the way out (should take a few minutes) Turn heat back to medium, add in tomatoes, zucchini, Italian seasoning, salt and pepper and cook 5 minutes or so until zucchini begins to soften. Add in beans and spinach and let beans warm and spinach wilt down. Taste your dish and season with more Italian seasoning if needed.
Serve vegetable/bean mixture over farro and top with parmesan cheese.
---
---