On a day it's 90 degrees out and you are planning your dinner for the night what is the first thing that comes to your mind? I bet it's not soup. But for me since I could eat it every day it was what came to my mind. Probably because it was raining so hard out and there was tons of thunder and lightning it was one of those days you wanted to be at home under the covers snuggled up instead of at my cube looking longingly out the window. I maybe associate bad weather with comfort food because I live in the midwest. Usually when it rains it comes hand in hand with cold weather. Not 90 degrees and humidity.
My husband had cooked me dinner 2 nights this week so I figured I should return the favor so I texted him and asked what he wanted. He actually said soup too – and he's from the south! know with him I can always make a Mexican/Southwest flavor profile and he will be happy. So I decided to come up with some kind of enchilada style soup. He always teases me because I like thick soups and I don't make anything too brothy so I figured this time I would try not to make anything too thick for him.
Lately I have been seeing poblaño peppers looking really good at the store. They even had organic poblaños too so I grabbed some of those. Roasting peppers are really easy. You can roast up a bunch of them and freeze so you have on hand for recipes like this but they really only take 5 minutes of work to peel the skins once they are roasted and taste so good that it's worth the work. See my previous recipe found here for instructions on how to roast peppers.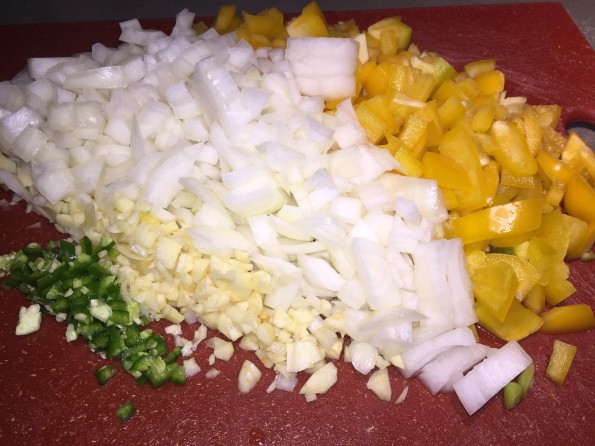 Like any other soup I make I try to load it with vegetables. I used a combination of bell peppers, onions, jalapeño, zucchini, spinach and fire roasted tomatoes. I also wanted to pack the soup with protein so I used black and pinto beans in this soup. Typical spices when I make anything southern include chili powder and lots of cumin. Once the soup was coming together and the chicken stock was added in (I kept true to my promise to keep the soup brothy) I added in some jasmine rice and let that cook.
Since it's summer I really wanted to use corn in this recipe but they didn't have any organic corn at the store. I thought I would just go without until we got home and my husband reminded me I had just made the corn "mac" the other night (find recipe here) and that had all the same flavors I was using in my soup so at the very end I added in a few cups of the corn I had left over and let that warm though. It thickened up my soup just slightly so I liked it but kept it brothy enough for my husband to enjoy.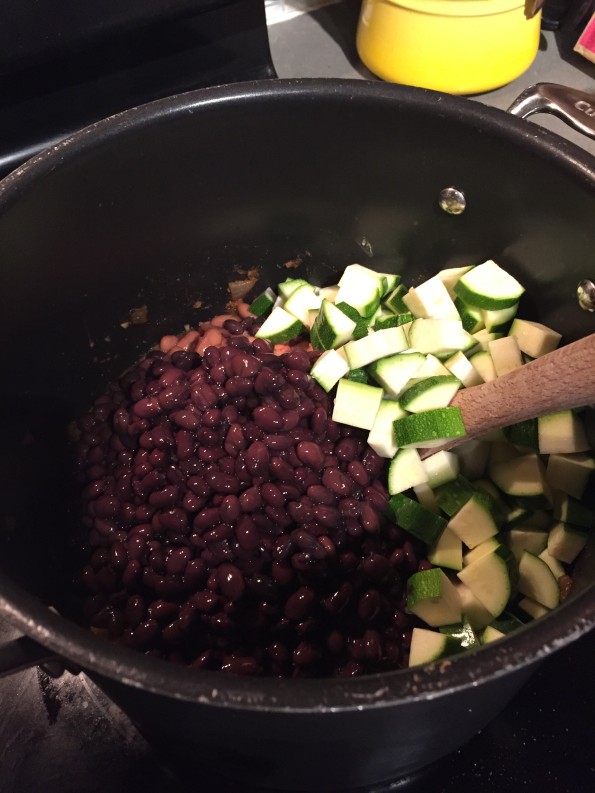 While I kept my soup meatless you could definitely add some extra protein to this dish. You could start out my sautéing any ground meat of your choice (turkey, bison, beef, chicken etc) and then follow the recipe below. Or if you wanted to save time you could buy a rotisserie chicken and shred it up and add it to the soup in the end.
This soup is also good to top with your favorites. Our favorites included fresh squeezed lime, pepper jack cheese, organic Greek yogurt and avocados but fresh tomatoes, scallions, cilantro and tortilla strips would go well too. It's all about the method and getting creative in the kitchen.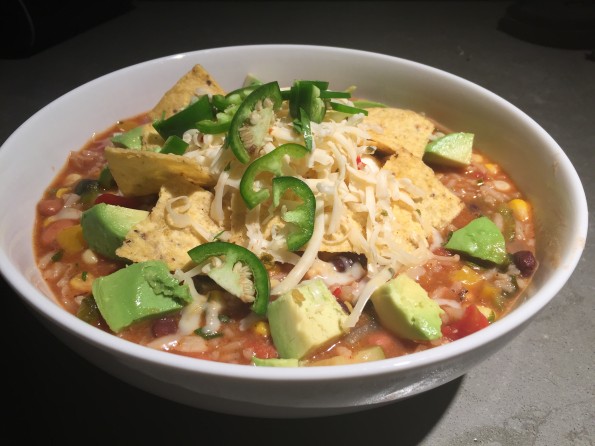 Print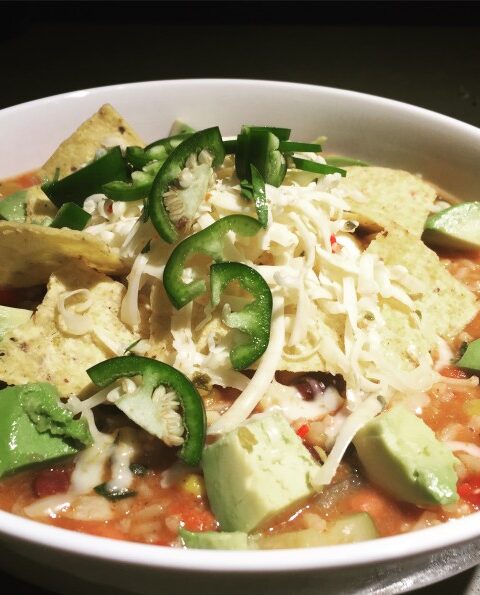 enchilada soup
---
Total Time: 1 hour 15 minutes
2 bell peppers any color, diced
1 yellow or white onion, diced
4 poblano peppers, roasted, seeds removed and chopped (or 1 can of diced green chilis)
2 medium zucchini, diced
2 cups of fresh baby spinach roughly chopped
5 cloves of garlic, minced
1/2 jalapeno, minced
3 TBS cumin
2 bay leaves
1 tsp chili powder
1 tsp paprika
3 TBS olive oil
2 cans/boxes of black beans, drained not rinsed
1 can/box of pinto beans, drained not rinsed
8–10 cups (2–3 boxes) of chicken broth/stock (or use vegetable to keep this vegetarian)
1 1/2 cups of jasmine or your favorite long grain rice
2 14 oz cans of fire roasted tomatoes
2 cups of either fresh corn off the cob or frozen corn (or leftovers from making corn "mac")
Additional ingredients for topping: Greek yogurt or sour cream, tortilla strips, cheese, scallions, avocado
---
Instructions
In a soup pot sauté bell peppers, onions, garlic and jalapeños in olive oil. Season with cumin, chili powder, paprika, bay leaves and salt and pepper. Cook on medium high 10-12 minutes until veggies are soft. Add in zucchini, beans, tomatoes, and 4 cups of chicken broth, bring to a boil. Check your stock and season with more S&P if necessary. Add in rice and cook about 20 minutes until rice is almost done.
Check your soup, the rice will start to absorb lots of the liquid. Add in 2 cups of chicken stock at a time and then check again 5-10 minutes later. If you like a thicker soup do not add as much liquid. I like my soups thicker so I only used a total of 10 cups of stock.
Once rice is almost cooked add in the corn, spinach and chopped poblano peppers. Cook a few more minutes to wilt the spinach and unthaw corn if you are using frozen. Season again if necessary with 1 TBS extra cumin and salt and pepper. The more liquid you continue to add the more seasoning you might need.
Top with any additional toppings you like
Prep Time: 15
Cook Time: 60