Growing up I remember my dad making us soup a lot as a kid. When I was in high school and my parents got divorced I lived with my dad and my sister lived with my mom. My dad worked shift work so when he was on afternoons I was on my own when I came home from school. He would usually make me a big pot of soup on Monday that I would heat up for dinner every night. One of my favorites that he made was potato leek soup. I remember even making it for my friends after we would come home late from where ever we were for the night and whipping up a big batch because it was easy to make. Easy and fattening! My dad would use milk (and not skim) and butter. Not that I am opposed to those things but then when you top the soup with cheese it's RICH.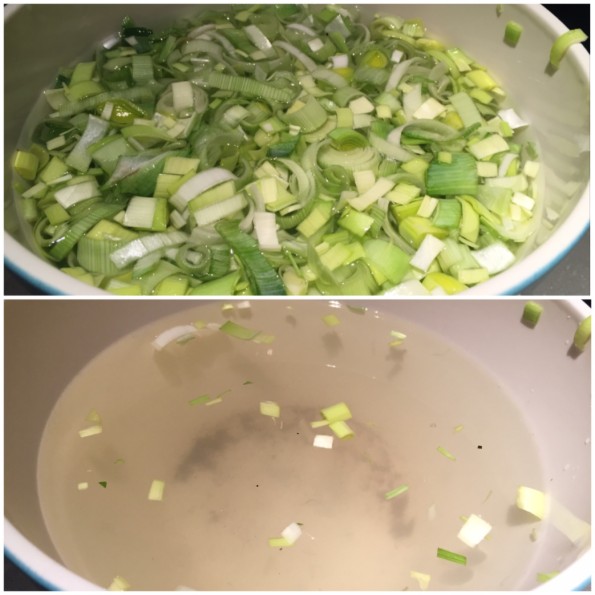 I usually always look for ways to cut the fat and calories in food. You have to be careful with this though and really read labels. Items that are fat free can now be made with sugar substitutes. My rationale on that is your body was not designed to break down chemicals so if I am going to eat sugar it's going to be raw sugar, not something bleached or man-made. Also fat free items sometimes contain hydrogenated oils. So my philosophy is moderation. I use butter, not every day, and not sticks at a time. I eat sugar. Again, not every day but I am not going to feel guilty when I put a sprinkle in my coffee. I try to make mostly healthy decisions and do that 80% of the time. The other 20% I cut myself some slack (unless I miss yoga, then my husband can tell you I beat myself up about it). Over the years I have learned tricks to lighten up my dad's potato soup but have it taste ALMOST as good as the full fat version.
I skip the milk when I make this soup. If you puree the soup like I do you don't even realize you are missing the milk at all when you use chicken broth instead. My dad also used to use chicken bullion or a bullion base. If you read the ingredients on that there is a TON of sodium in those products. I buy low-sodium chicken broth or stock. However, you have to be careful with that as well. Sometimes chicken broth contains MSG, added sugar, "natural flavors" etc. I spend a ton of time at the grocery store because I am reading ingredients.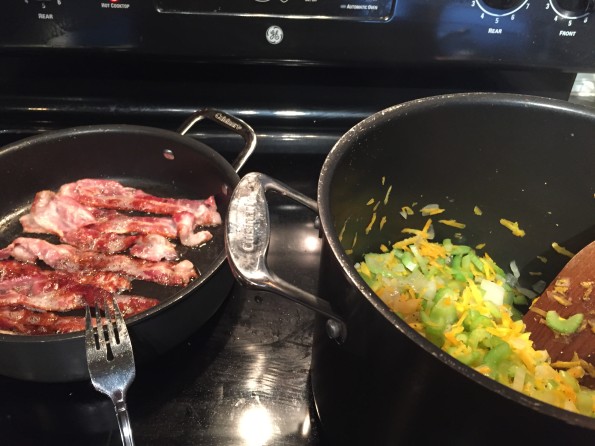 When I can I also try to always incorporate as many vegetables as possible. Often times I see people taking so many supplements or are deficient in this or that. I also feel as a society we are so quick to take a pill for this or get a quick fix from that. I try to get my nutrients from the actual food source. As I have stated before, when I am making any kind of potato that will be mashed or pureed I add in a head of cauliflower. You never even know it's there.
I also add in celery and grated carrots too. Personally I hate carrots but when you grate them into a soup you can't even taste them. Trust me! My husband hates celery (and he doesn't HATE much) and he can't even taste it once it's pureed. The only problem is once you puree the soup you loose all the chunks. Now I make my potato soup with 2 kinds of potatoes. First I use russets and then once I puree the soup I add in either Yukon Golds or red skinned potatoes so you still have those chunks of potatoes running through. I also like the chunks of leeks so I don't add those until after the soup is pureed.
So where is the 20% in this soup? Bacon. And cheese. Oh…. I tried the soup with a TOUCH of cream this time as well. It was all delicious. I cooked a few pieces of bacon on the stove and reserved a tiny bit of the bacon grease (because my husband reserved MOST of the bacon grease so he can save it for when he is cooking something) and then sautéed up the leeks in it. It gave the leeks a nice smoky flavor.
Leeks are really sandy so if you haven't worked with them before I learned a trick from one of the million cooking shows I used to watch. Once you remove the dark green stalks from the leeks I slice them in quarters length wise. Then slice them in really thin slices width wise. Take a big bowl of warm water and break the leeks up and place them in the water. Move them around a little with your hands. The sand from the leeks will fall to the bottom of your bowl of water while the leeks float at the top. You can skim them off the top, place them in paper towels to dry and then cook them. After you soften them in the bacon grease you can add them into the pureed soup.
The soup can be topped with whatever you like. When topping it you can keep it simple and not top it with anything or go crazy. You can make it a loaded potato soup with the bacon pieces, scallions, chives, tomatoes, cheese. The cheese you can play with – cheddar, gruyere, gouda, monterey jack to name a few. Heirloom tomatoes were on sale and so was the grass fed New Zealand cheddar so those were some of my toppings of choice the other night.
Classics can stay classic. You can have all the good memories of cooking childhood favorites but evolve them to fit your grown up lifestyle (or your picky eating habits, whatever you like to call them). The only difference now is I have someone at home to help me eat the pot!
Print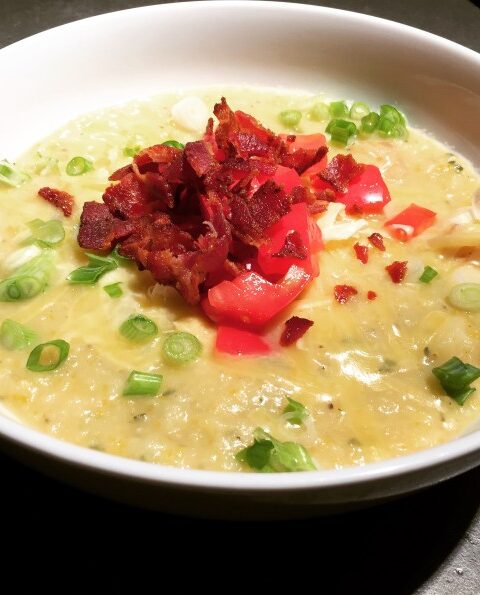 potato soup – lightened up
---
Total Time: 1 hour 30 minutes
3–4 (if smaller go with 4-5) russet potatoes, skins peeled, cut into cubes
2 TBS olive oil
4 stalks of celery sliced thin
1 white onion diced
3 carrots peeled then shredded (if you want to buy pre-shredded carrots use 1–1.5 cups)
3 cloves of garlic whole
2 32 oz boxes of chicken stock (I buy low sodium so I can control the salt, you can also use veggie stock and skip the bacon to make this vegetarian)
1 head of cauliflower cut into florets
6 slices of bacon
3 leeks, dark green ends removed, sliced into quarters then sliced thinly
2–3 bay leaves
4–5 medium sized Yukon Gold potatoes (if you can't find you can use red skinned or more russets)
2 TBS heavy cream
Salt and pepper
Optional items for topping: greek yogurt or sour cream, diced heirloom tomatoes, scallions, cheese (cheddar, gruyere, gouda all work well)
---
Instructions
In a large skillet cook bacon over medium heat flipping from time to time to your desired done-ness (I like mine crispy!) Leave one TBS of the bacon drippings in the pan for later, reserve cooked bacon.
In a large soup pot or dutch oven cook onions, celery, carrots, garlic and bay leaves in olive oil over medium-medium high heat until the vegetables are tender (10-12 minutes) season liberally with salt and pepper. Add one box of chicken stock, russet potatoes and cauliflower, bring up to a gentle boil. Cook until potatoes and cauliflower are fork tender (check after 10 minutes). Find the bay leaves in your pot (this might take a few minutes) and remove (you do NOT want to blend the bay leaves!) With an immersion blender puree the soup. At this point it will probably get really thick like mashed potatoes which is ok. Alternately if you do not have an immersion blender you may use a regular blender blending in batches but BE CAREFUL. The heat can cause the blender top to explode, vent the top or cover with a kitchen towel.
Add in half a box of the remaining stock and Yukon Golds. Taste the soup and add more salt and pepper if needed now that you have added more liquid the flavor may have become diluted. Let these potatoes cook another 10-15 minutes until they are cooked through. This gives the soup a chunk like texture. If you do not want chunky soup you can just skip this step all together and just add in broth to get the soup to your desired thickness.
In the reserved bacon fat sauté leeks and season with salt and pepper. Cook over medium low heat until they are tender about 10-15 minutes (I do this while the Yukons are cooking to multi-task).
Once potatoes are cooked through add the leeks to your soup. Add more broth if necessary if your soup is too thick. Season again with more salt and pepper if needed. Add in the heavy cream and stir to combine.
Top with your favorites and don't forget the reserved bacon to crumble on top!
Prep Time: 30
Cook Time: 60