[dropcap]M[/dropcap]y husband loves anything and everything southwestern inspired. Especially tequila and limes. After being gone all weekend to a "quick" trip to my home town (7 hours north of Detroit, yes, in the SAME STATE…. google Marquette) and eating out or not eating "our" food I decided I would make him something he would love. He always kids around with me that people in the Midwest "hate salt" and we don't know what flavor in our food is. I would agree with the former. I in turn kid around with him that in the south they eat such basic food they have to season the hell out of it just to make it edible. Which isn't terribly far off base. In Louisiana they learned how to get by on the basics, rice, beans, mirpoux, and to make it taste really good they seasoned it. If you go to Mexico it's the same thing, rice, beans, vegetables, corn so you need to flavor these rather boring basics. When we were in Italy our waiter was telling us a story about this beef stew they made with a TON of black pepper and they used that because back before refrigeration the pepper would help mask the taste of the meat going bad. Yum….. My husband has taught me how to eat spicier food and I have taught hm you don't need a pound of salt in everything you make. Marriage is a balance right?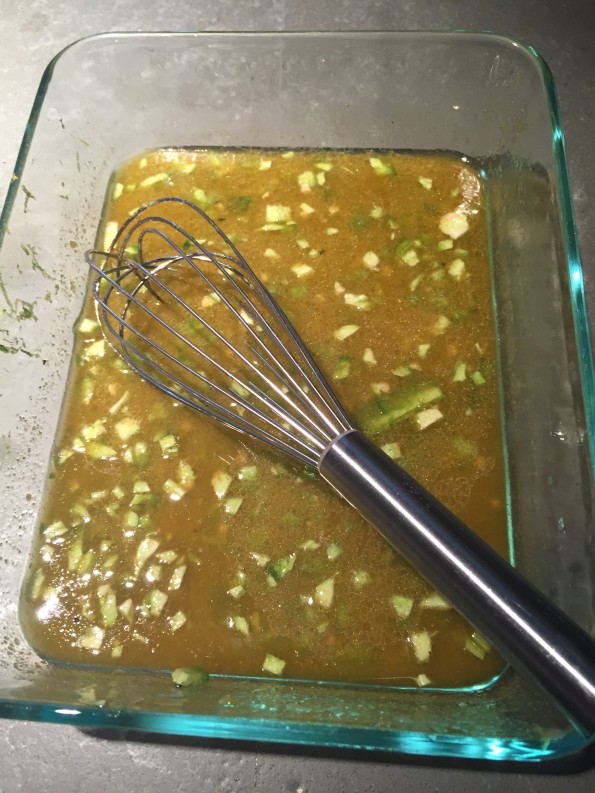 Knowing that anytime I use southern inspired ingredients he will be thrilled I decided to play around with some of my basics. I make grilled chicken a million different ways. He loves margaritas and tequila and lime go together so well. I feel like the key to every good marinade for chicken is a fat (some kind of good oil), an acid (vinegar, citrus, etc) and spices. Also the longer you have to let your meat marinade the longer the acid has to break down the meat and really tenderize it. In the margaritas he makes there is also triple sec which is an orange based liquor. I decided to use tequila, the juice and zest from limes and oranges, garlic, cumin, and of course, some jalapeños to soak my chicken in. Unfortunately after sitting 7 hours in the car we got home kind of late but this marinade would be perfect to make in the morning or even the night before and let your chicken soak in it. We also share a difference of opinions on what chicken we like. Marinating and grilling makes that easier for us. We can do chicken breasts for me and thighs for my husband. The one key I have found to grilling chicken and not having a tough exterior and a raw center is POUND OUT your chicken breasts. Make them the same thickness to promote even cooking time. Also to reduce cooking time pound to about a half an inch thick.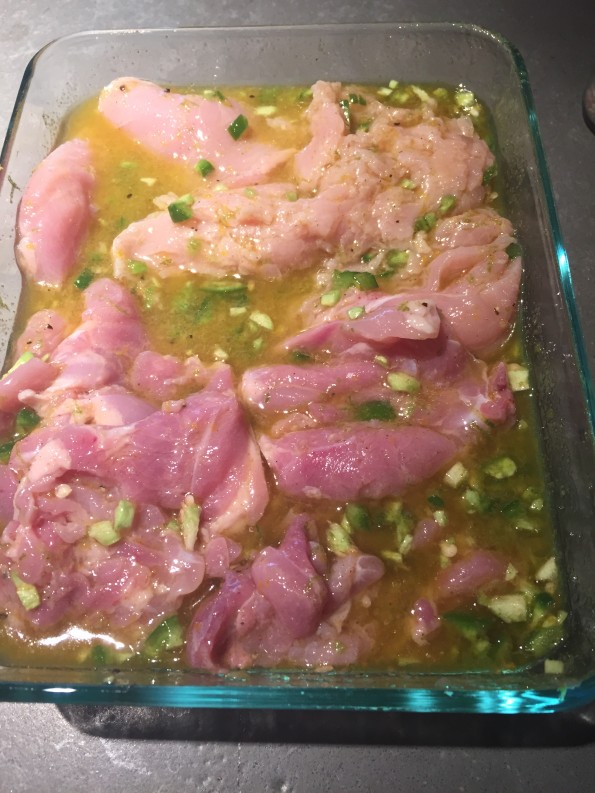 I also make great Italian stuff bell peppers. Half the time I am too lazy to actually stuff the bell pepper back and bake it in the oven that I just make the filling for the stuff peppers and eat that on its own. (it seriously saves 20 minutes at least!) Since I was making a southwest inspired dish I wanted to do the same with my sides. I combined a ton of vegetables (I know you are SHOCKED!), beans and quinoa. Quinoa has become my go to carb especially during the week. It's super high in protein and really easy to make. Lately the poblano peppers have been so fresh too. I like roasting my peppers to give them a nice smoky taste from the grates of a grill or the oven. If you don't feel like spending the time to roast the peppers you can buy a can of diced green chilis but it really only takes 20 minutes and the work is minimal. I needed the oven so I decided to roast them directly on my oven grates. Once your peppers are done you place them in a paper bag (I just use a brown grocery bag) for 10 minutes to cool and loosen the skins. Then you can peel the skins off, scrap out the seeds and dice them up for whatever you are making.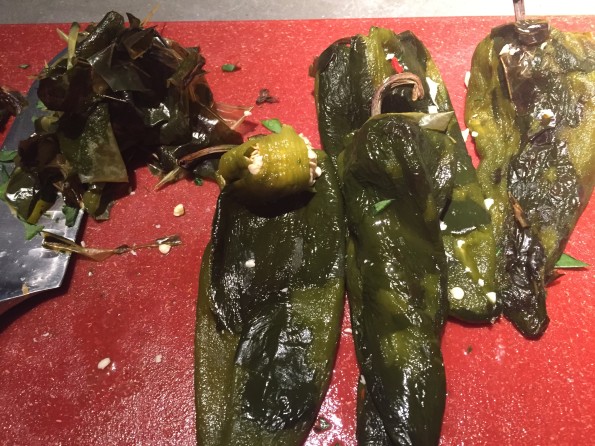 I have said before once you get a concept down and then learn what spices go well together it's easy to play with the method. You can do stuffed peppers really any ethnic inspiration you would like. You could go Middle Eastern and stuff it with lentils and chickpeas or rice, Italian and stuff with risotto and cannellini beans, the possibilities are endless. Alternately, if you wanted to make these peppers as a full meal you could cook any ground meat of your choice, beef, bison, turkey, maybe even some chorizo and make the peppers your main dish. I encourage you to play. Worst case scenario, you don't like your food and you order take out!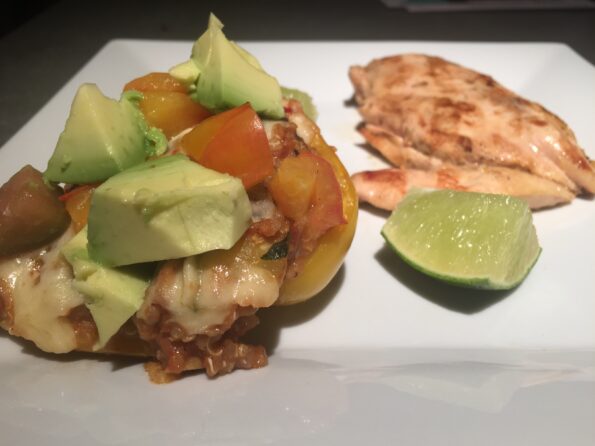 Print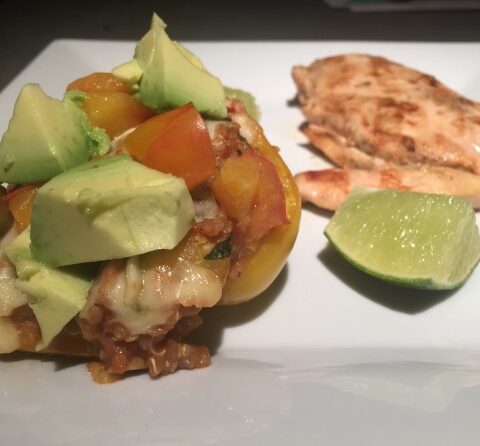 tequila citrus chicken and southwest inspired stuffed bell peppers
Prep Time:

30

Cook Time:

30

Total Time:

1 hour
---
for the chicken
1

–

1 1/2

pounds of chicken (breasts, thighs, whatever pieces you like)

1/2 cup

olive oil

1/4 cup

silver tequila
zest of

one

orange, juice of half of it
zest and juice of 3 limes

4

cloves of garlic minced or grated with your zester

1

jalapeno minced

2 tsp

cumin
salt and pepper
for the peppers
5

bell peppers any color, 2 diced, 3 cut in half with the stems, seeds and ribs removed

3

poblano peppers (or

one

can of diced green chilis)

1 1/2 cups

quinoa

1

28 oz can crushed tomatoes

1

can of pinto beans, liquid drained

1

can of black beans, liquid drained

1

medium zucchini, diced

1

red onion, diced

2

TBS olive oil

6

cloves of garlic, 4 minced 2 smashed

2

bay leaves

2

TBS cumin +

2 tsp

2

TBS chili powder

2 cups

of fresh baby spinach roughly chopped

2

fresh tomatoes diced (I prefer heirlooms, especially when it's summer and they are in season)

1 1/2 cup

pepper jack cheese

1

jalapeño cut in length the long way, half minced the other half left whole

3 cups

of chicken stock or broth (to make vegetarian use vegetable stock)
---
Instructions
directions
for the chicken
Combine all of the ingredients except chicken in a large dish that has a cover (I use a baking dish that is deep), whisk together to combine. Add in chicken to the dish. Turn a few times to cover the meat with the marinade. Cover, refrigerate for at least 4 hours, overnight if you have time. Shake your meat or turn from time to time so each side is covered evenly. Take chicken out of the fridge 30 minutes prior to grilling to allow the meat to come to room temperature and cook evenly.
for the peppers
Preheat broiler
When broiler is hot place poblano peppers directly on oven grates. I place a cookie sheet on the rack below to catch any liquid that might cook out of the peppers. Turn every 5 minutes. The skin should start to char and blister. Turn 3-4 times until most of the peppers have been charred. Turn oven to 400 degrees. Place in a paper bag for 10 mins to let cool. Once cooled the skin of the peppers should remove easily. Remove skin, cut peppers in half and scoop out all of the stems and seeds. Dice and reserve. Place the halved bell peppers under the broiler for 5 minutes. You just want these to soften slightly. Reserve.
In a deep skillet sauté the 2 diced bell peppers, red onion, minced jalapeños and minced garlic in olive oil over medium temperature until soft (about 10-12 minutes). Season with 2 TBS of cumin, chili powder. Add in zucchini, beans, fresh tomatoes, 1 1/2 cups of the crushed tomatoes. Let cook another 5 minutes until zucchini softens. Add in chopped spinach and diced poblanos. Stir to incorporate and wilt down.
In a sauce pot bring quinoa, chicken stock, 1/2 cup of the crushed tomatoes, 2 tsp of cumin, bay leaves, whole garlic cloves, whole half of the jalapeño and salt and pepper up to a boil. Once quinoa boils reduce heat to medium low and cover. Cook according to directions. (We usually cook 10-12 minutes on the heat, fluff, return the lid and take the quinoa off of the heat and sit covered for 5 minutes) Remove bay leaves, jalapeño, and smashed garlic.
preheat grill for 10 minutes
In a large mixing bowl combine bean and veggie mixture with half of the cheese and all of the quinoa. Stuff each bell pepper half with the mixture and place on a cookie sheet. Top with remaining grated cheese. Place in the oven and bake for 12 minutes until cheese is golden brown.
While the peppers are in the oven grill the chicken. If you pounded your breasts to 1/2 inch cook on medium to medium high heat for 5 minutes a side. Boneless skinless thighs that are thinner than that will cook in about 4 minutes a side. Place on a plate and cover with tin foil or place in the microwave (DO NOT TURN MICROWAVE ON) so the chicken can rest (but it stays warm at the same time) Let your meat rest at least 5 minutes before serving or cutting to let the juices to circulate through the meat.
---
---