The weekends are reserved for meals that take a little bit more time. Like my drunken chicken parmesan. Druken chicken parmesan is different from the traditional recipe. What makes it unique is by using a vodka sauce instead of a marinara. The effort is about the same but the taste is quite different.
Drunken sauce…..
Typically when I think pasta sauces I think old school, cooked all day sauces. When my mom used to make spaghetti sauce when we were kids and I remember she would let it simmer on the stove all day. Even to this day I will sometimes call her and she is at home at lunch time throwing sauce on the stove so it can cook for hours before dinner. I have learned over the years while sauces cooked all day taste great, quick sauces can have just as much flavor if you use good ingredients.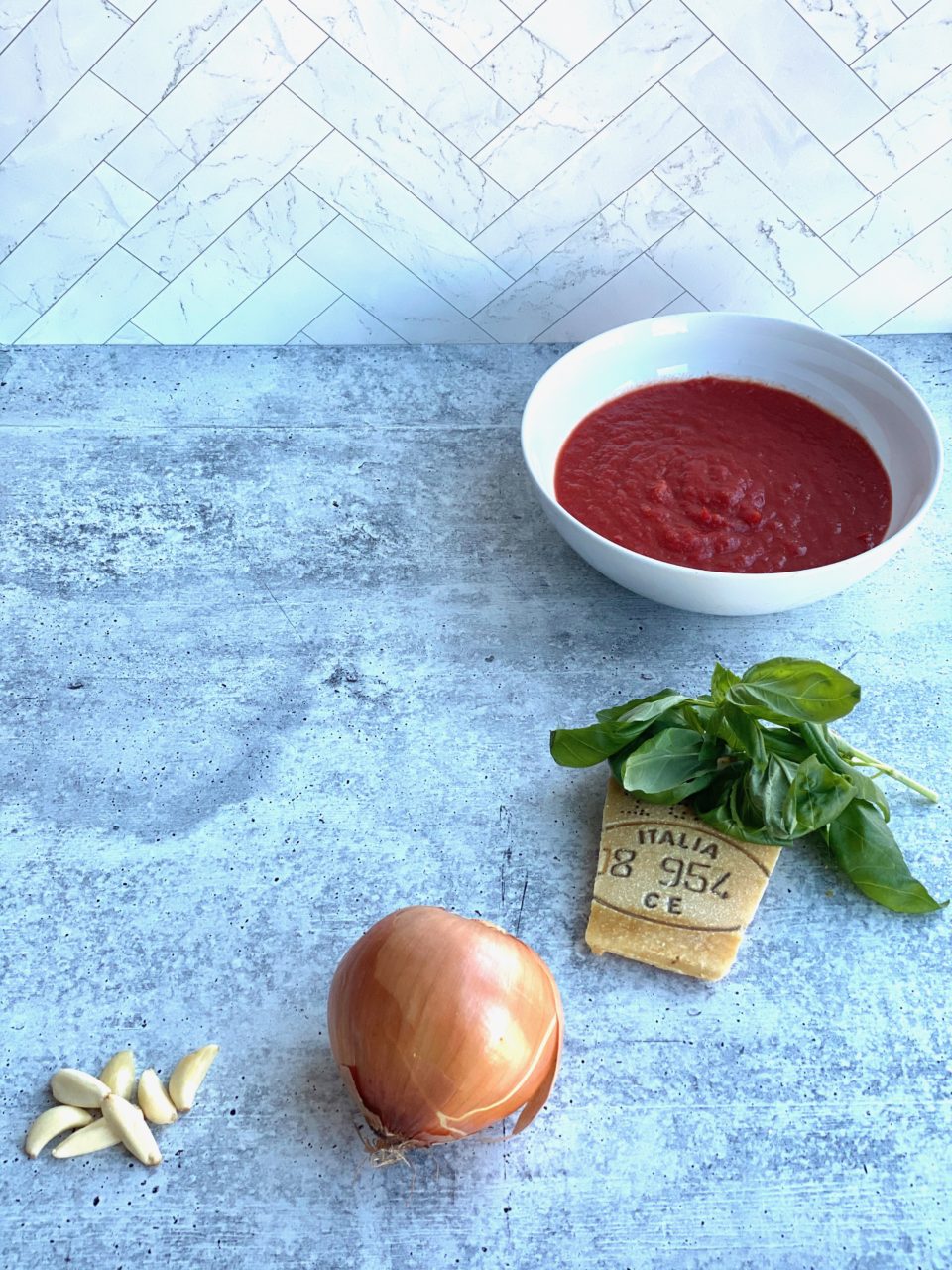 Penne and vodka sauce is one of my favorite pastas. Surprisingly making a vodka sauce is actually quite quick and easy. There are a few keys to making this sauce good. First of all, always use a good vodka. If you typically don't drink vodka you can omit this or buy a few shooters of vodka so you don't have a ton of leftovers. When you cook with any alcohol (liquor or wine) the heat reduces and concentrates the flavor of it so if you start out with a bad tasting alcohol….well, you know the rest. I like to buy good imported tomatoes from Italy. Look for San Marzano which are popular for sauces. I use the whole tomatoes and smash them down with a potato masher. Lastly, using fresh basil gives this sauce a nice herby flavor.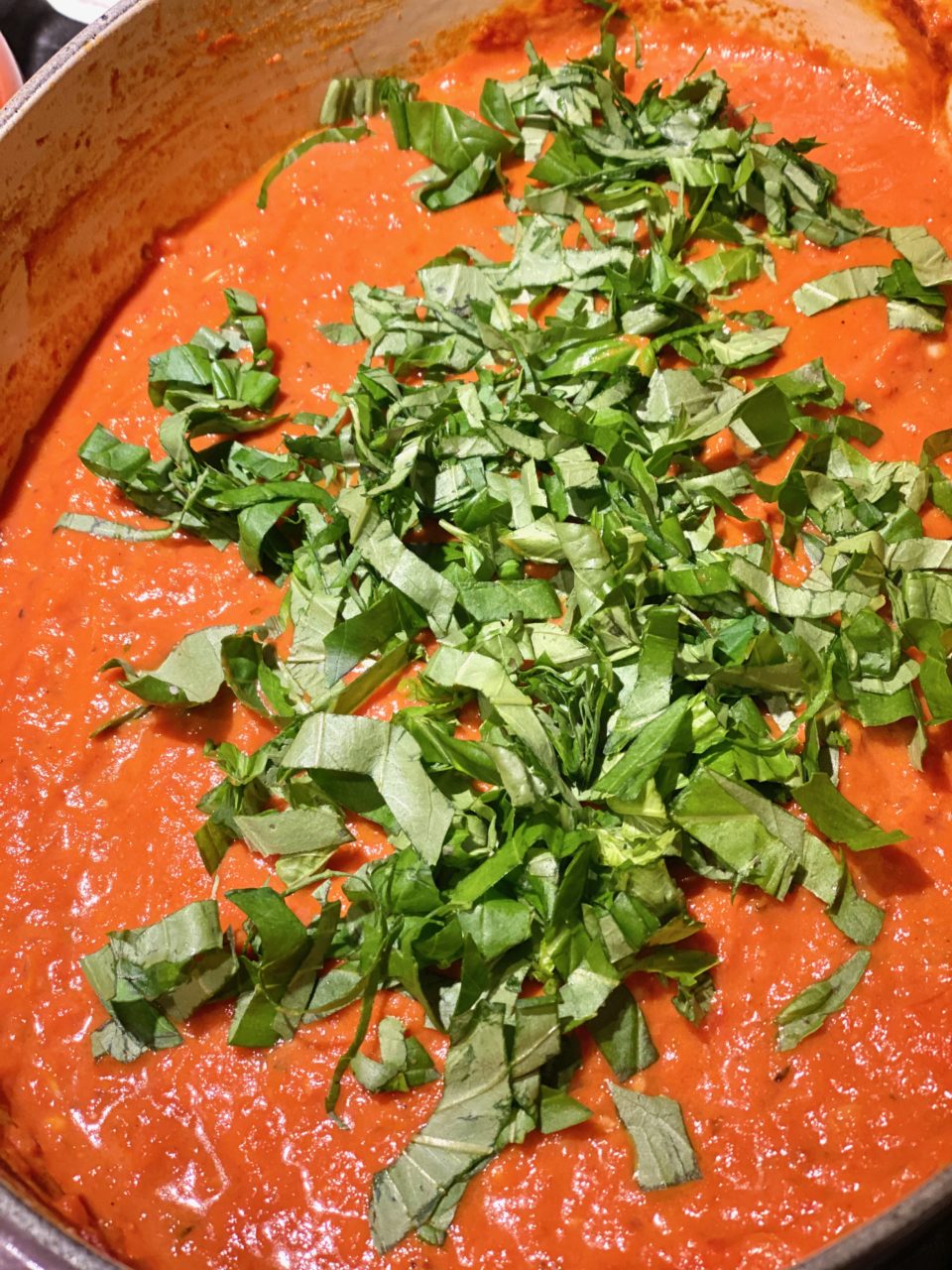 The time consuming part….
Overall chicken parmesan does require a little work. Breading the chicken requires a method of dredging in flour, egg and a bread crumb mixture. The beauty of this method is once you get it down you can play with the flavor profiles. You can season your bread crumbs however you see fit. In this recipe I stick with a typical Italian flavor but you could do a Mexican inspired breaded chicken or even an Asian style depending on what ingredients you use. Once you get the method down you can use it in other dishes.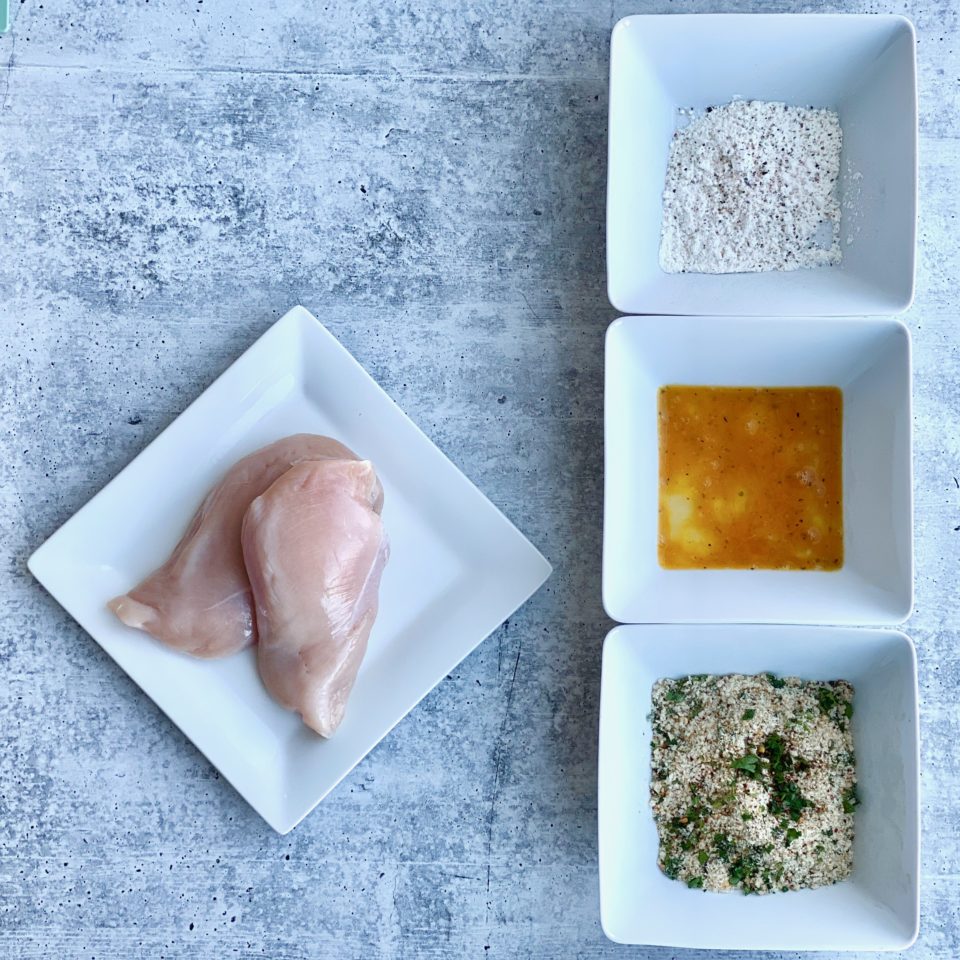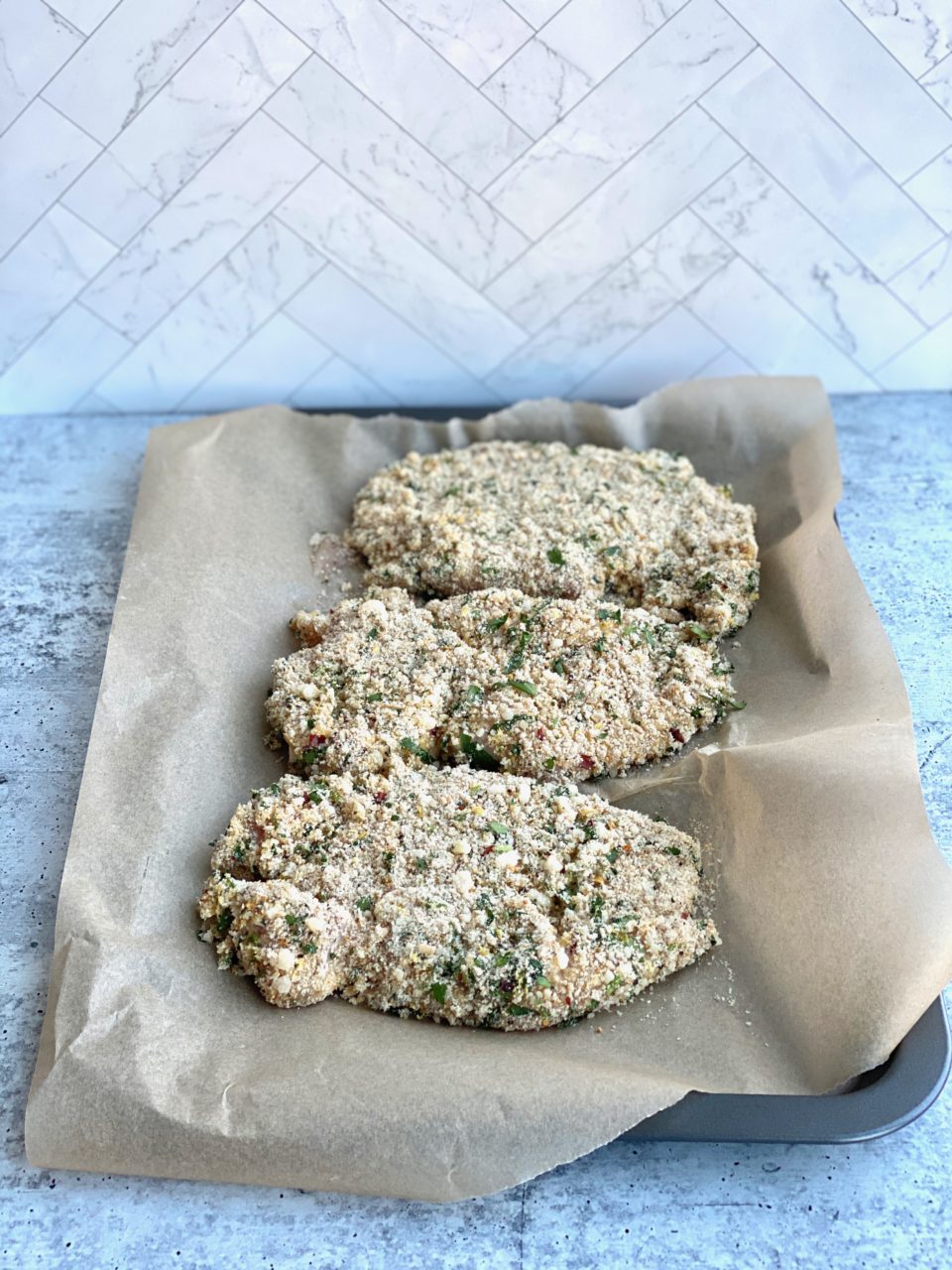 Usually chicken parm recipes call for the chicken to be fried which results in lots of fat added to the dish. But for my version of the recipe, I quickly pan fry the chicken in a little olive oil to brown it up. Finally I top the chicken with the vodka sauce and some fresh mozzarella cheese finish in the oven to make it a healthier dish.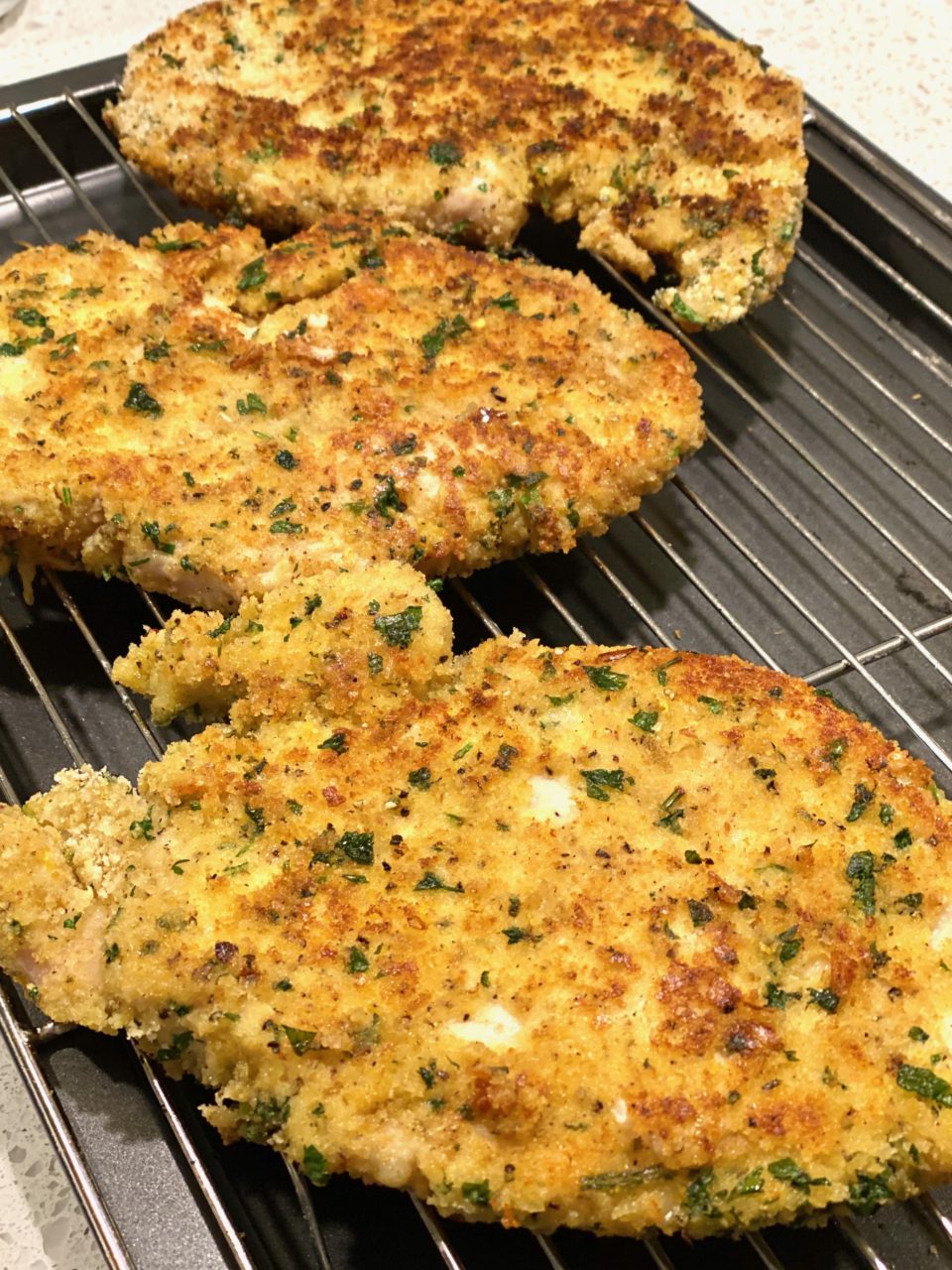 While this recipe may not save any time from a traditional chicken parmesan dish it does bring new variety to the table. By using the vodka sauce, this drunken chicken parmesan brings a new level of flavor to your traditional recipe.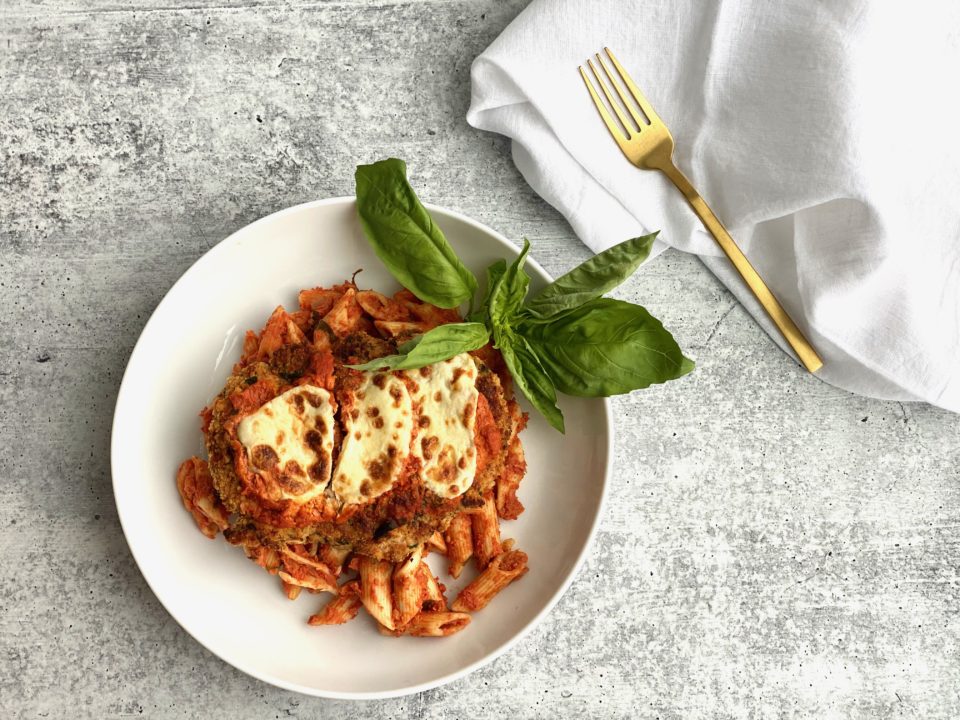 If you liked this you will love these:
Lasagna alla vodka – lasagna made with this same amazing sauce, it's a game changer
More drunken chicken pasta – this time it gets paired with lemons for a new twist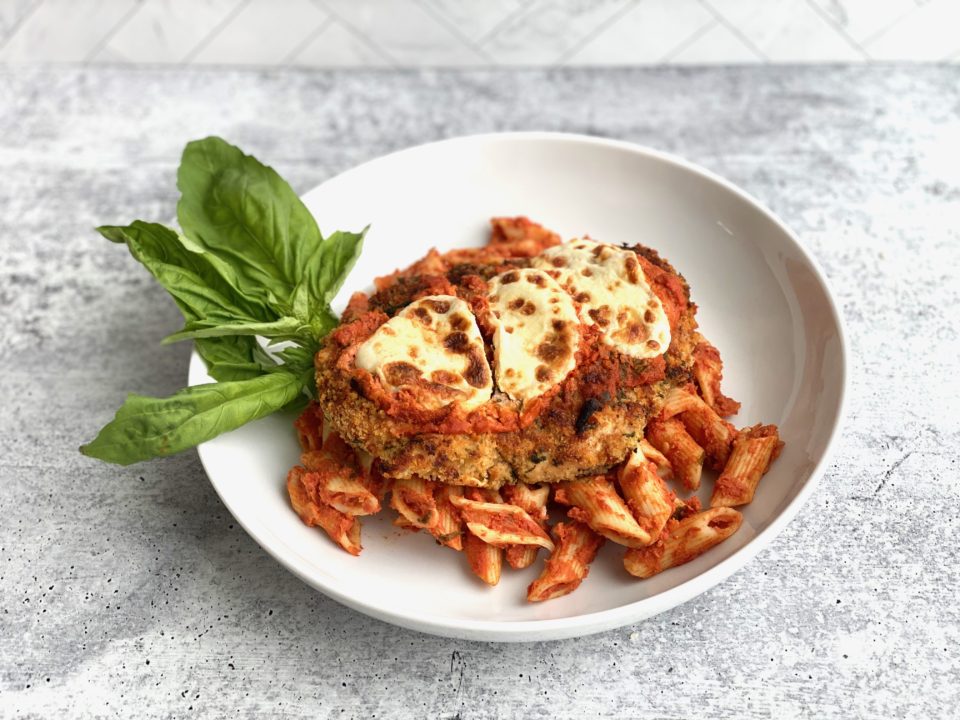 Drunken Chicken Parmesan
October 30, 2016
: 4
: Medium (lots of steps)
Ingredients
FOR THE CHICKEN:
4 boneless skinless chicken breasts pounded 1/4-1/2 inch thick (if you do not have a meat mallet you can use a heavy bottomed frying pan to pound your chicken between 2 pieces of wax paper or ask your meat counter for chicken cutlets which are usually thin)
2 c of panko bread crumbs
1/4 c fresh italian flat leaf parsley, minced
12 garlic cloves minced, divided in half (if you buy pre-minced garlic use two heaping spoonfuls)
1/2 c grated parmesan (plus a little more to sprinkle with your dish in the end)
1 tsp crushed red pepper flakes (depends how spicy you like it, you will use half for the chicken half for the sauce)
1 TBS Italian seasoning
1/2 c flour
2 eggs
8 slices of fresh buffalo mozzerella
FOR THE SAUCE:
2 28 oz can whole plumb tomatoes (I prefer San Marzano)
1 yellow onion minced
3 carrots grated
1 c of vodka (don't buy cheap vodka! when you cook it the flavor concentrates)
1/4-1/2 c heavy cream
1 package of fresh basil chopped or torn into pieces
1 lb of pasta (penne, rigatoni, fusilli all work well in this dish)
4 c of broccoli florets (I used 3 heads of broccoli because they were small)
Directions
Step 1

Pre-heat oven to 400

Step 2

Start your sauce: In a large sautee pan or a dutch oven in olive oil sautee onions, carrots, half of the minced garlic and half of the red pepper flakes over medium – medium low heat until the onions and garlic are tender (12-14 minutes) You want to slow cook them so they do not brown.

Step 3

Once onions are soft, turn heat up to medium high. Add in the vodka. Cook 3-5 minutes until the vodka has cooked down and reduced by at least half. Add in the tomatoes. With a fork or potato masher, mash tomatoes into onion mix so they separate and start to cook. Season with 2 TBS of the Italian seasoning, salt and pepper. Turn the heat down to medium low and let simmer while you make the chicken.

Step 4

Use 3 shallow bowls to set your chicken breading station up. In one bowl combine the flour with salt and pepper, it is ok to be liberal with the seasoning here. To the next bowl add a splash (maybe a TBS) of cold water to your eggs and whisk with a fork. In the last bowl combine panko, grated parmesan, half of your minced garlic, parsley, 1 TBS of the Italian seasoning, half of the red pepper flakes and more salt and pepper.

Step 5

Dredge the chicken breasts (one at a time) through each station. First coat with flour, then coat with the egg (make sure the entire piece of chicken is completely coated) and then through the breadcrumbs.

Step 6

Bring a large pot of water to boil for your pasta while you start making the chicken. Once water comes to a boil salt liberally and cook pasta according to directions. 4 minutes before the pasta is done add in the broccoli to cook.

Step 7

In a frying pan over medium-medium high heat with a TBS of olive oil brown each piece of chicken for about 2-3 minutes on each side (they should be golden brown). I like to cook each chicken piece one at a time. If you notice your bread crumbs getting too dark lower your heat. If the pan gets too dry add a little olive oil to the pan as you cook each piece. At this point your chicken is NOT cooked all the way. Set the chicken on a cookie sheet lined with parchment paper. Do not stack the chicken.

Step 8

With an immersion blender puree your sauce so it is nice and smooth. You don't have to do this but I prefer this sauce creamy. Stir in the basil and heavy cream. Taste your sauce and season with more salt and pepper or Italian seasoning if necessary.

Step 9

Spoon a layer of sauce over the chicken breasts. Top each piece with 2 slices of mozzerella cheese. Place in the oven for 15 minutes.

Step 10

Turn your broiler to high and cook for 2 more minutes for the cheese to become golden brown and bubbly.

Step 11

Mix the pasta/broccoli into your sauce and stir to coat.

Step 12

Serve a scoop of your pasta mixture and top with a piece of chicken. Sprinkle more parmesan cheese and parsley or basil on top to garnish.
SaveSave