[dropcap]O[/dropcap]ne of my husband's favorite snack in the world is queso. Every time we go down south to Texas where he is from he always stops to get a container of the stuff he likes at Whole Foods that we don't have in Michigan. Over the years I have tried to make homemade queso. One of the problems with most of the recipes are that they call for Velveeta or processed American cheese. Generally I shy away from processed foods so I don't tend to eat either of these. However, I do make mac and cheese enough with good varieties of cheese that once you have that method down you can easily convert a cheese sauce to a queso by reducing the amount of liquid in it.
It was a Sunday and at our house Sundays are synonymous with football. Lately my husband had been craving a good "tailgate" meal so I decided to be a nice wife and make him some queso since we don't normally eat it. I added in a bunch of vegetables to it (to kid myself that it was "healthy"). Typically with queso or any cheese sauce for that matter, milk is what makes the sauce thick and creamy so to thin it out a little I always use chicken broth. Apparently I don't know how to cook for 2 people. As a result, we always have a ton of leftovers no matter what I cook (although breakfast tends to be the worst!). In hopes that I could re-purpose the queso I saved all my leftovers for a later use.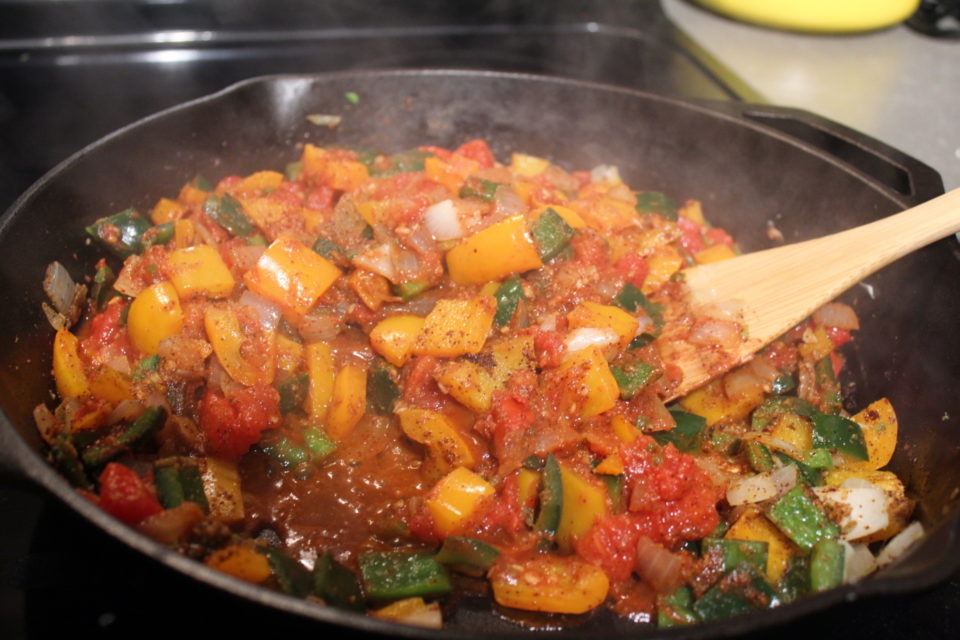 Before I met my husband I could go weeks without eating meat. Not only were Meatless Mondays a common thing so were Meatless Tuesdays, Meatless Wednesdays and so on. On the other hand, he probably did not go a meal without some form of meat or protein. Since we have met that has changed drastically. Finally he has someone to actually cook for him so it's hard to turn down a meal when you don't have to make it – regardless of what it is. When I am cooking vegetarian, beans become a staple in my meals so I can get protein. Pairing beans with vegetables makes for a quick, easy and nutritious meal.
Being that it was a Monday, I decided to go meatless and keep with the Mexican theme of my left over queso. Since I was going Mexican I knew fajita veggies would pair perfectly with this dish. When I prepare my veggies I like to grill them or make them in the cast iron frying pan. We have a large cast iron pan which makes "one pan" dishes easy to make. More importantly, easy to clean up! After all the veggies have cooked I added in the beans, canned tomatoes and fresh spinach.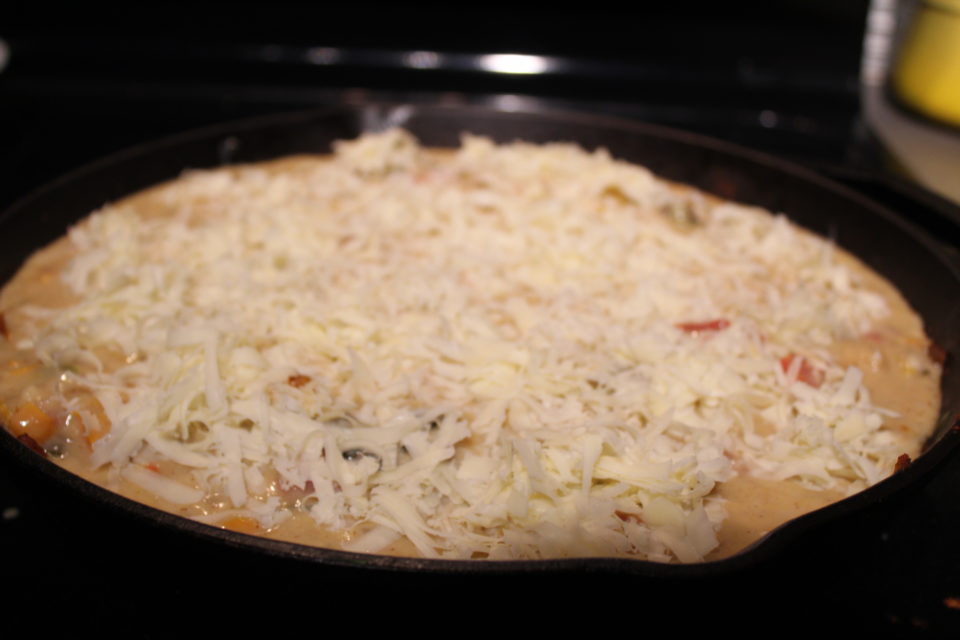 Next I topped my skillet with some of the leftover queso and put it under the broiler for a few minutes to heat everything through. Lastly, I used some good fresh cheese to top the skillet with (monterey jack, pepper jack or cheddar would all be good here) and sprinkled it with fresh tomatoes and scallions. and put it under the broiler a few more minutes to brown up and turn bubbly.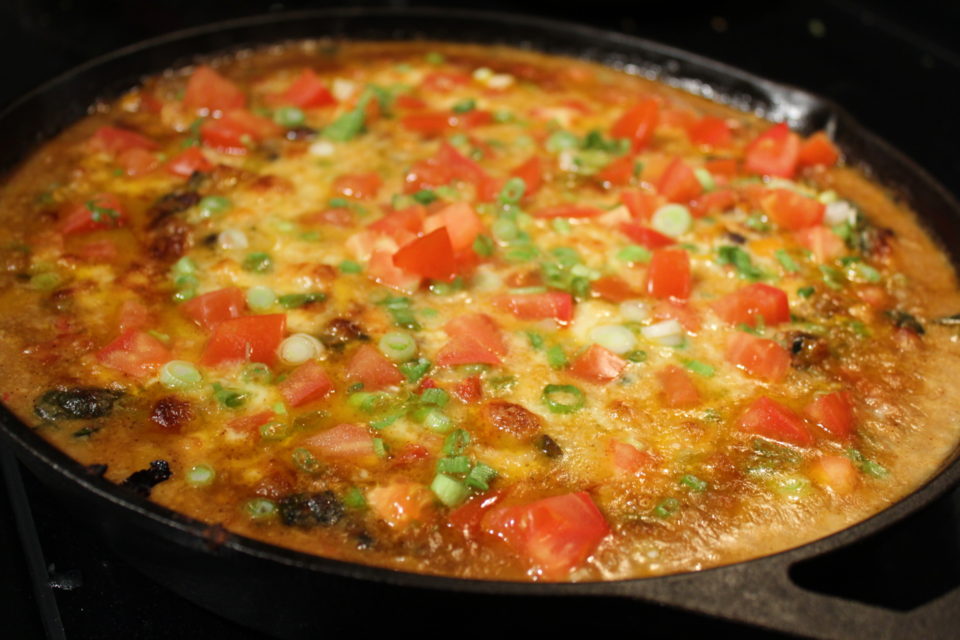 For a balance of veggies, carbs and protein I cooked up some nutty jasmine rice in chicken broth (I just said "meatless" I didn't say "vegetarian") and the juice from my canned tomatoes to give the rice extra flavor. Alternately you can also use vegetable broth or (BORING) water in this recipe as well to cook your rice. Preferably I always using broth because it adds one more layer of flavor to grains opposed to just using water. Finally, to serve I topped my rice with the bean mixture.
This meatless meal was a complete balance of flavor as well as nutrition. With all the cheesy goodness you wouldn't even know you are missing the meat!
Print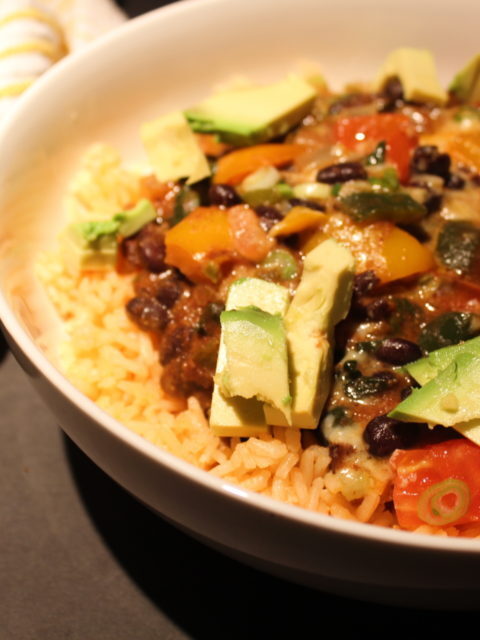 cheesy black bean and veggie skillet
---
2

bell peppers (any color – red, yellow or orange) diced

2

poblano peppers (if your store doesn't have any poblanos you can use green peppers) diced

1

–

2

jalapenos minced

1

yellow onion diced

2

16 oz cans of black beans drained not rinsed

5

–

6

cloves of garlic minced

1

16 oz. can diced tomatoes

3

c baby spinach rough chopped

2

TBS cumin

1

TBS chili powder

2

c jasmine rice

3

c chicken or veggie broth

2

c queso (store bought or recipe below)

2

c grated cheese (I used monterey jack but pepper jack or cheddar would work fine)

2

fresh tomatoes diced (romas work well here), drain and reserve liquid

3

scallions sliced thin
Additional toppings: avocado, cilantro, pico de gallo, hot sauce
---
Instructions
Pre-heat broiler to high
To begin, a cast iron or oven proof skillet on the stove over medium heat sautee peppers, onions, jalapenos and garlic in a little olive oil for 10 minutes until the veggies start to get tender. Once the veggies are tender season with cumin, chili powder and salt and pepper to taste. Next in the beans, tomatoes, and spinach. Cook for a few minutes until spinach is wilted. Spread queso over bean/veggie mix, top with grated cheese. Place under the broiler for a few minutes until cheese becomes bubbly and golden brown. Finally top with tomatoes and scallions and broil for 2-3 more minutes.
While the veggies are cooking, in a large sauce pan over medium heat add 1 TBS butter or olive oil and rice. Toast rice in fat for a few minutes until rice gets golden brown. Measure how much liquid is reserved from the tomatoes and use that and broth to total 3 c of liquid. Season with salt and pepper. Bring up to a boil. Once rice/broth mix has come to a boil turn heat down to medium-low and cover. Cook for 15 minutes. Remove from heat, fluff, cover back up and leave off the heat.
Serve cheesy black bean mixture over rice. Top with any additional toppings of your choice.
Notes
Queso Ingredients
1 small red onion minced
1-2 jalapenos minced
5 cloves of garlic minced
2 bell peppers any color small dice
1 c fresh pico de gallo (if you cannot find pico 1 tomato diced small will work)
3 TBS cumin
1 TBS chili powder
3 TBS olive oil or butter
1/3 c flour
2.5 c chicken or veggie broth
1 can of beer
1 lb shredded cheese (I prefer to grate it myself, pre-grated cheese has a powder on it that makes melting difficult. I used mainly pepper jack with some gouda, if you don't like spicy use montery jack cheese, fontina would also mix nicely. Try to avoid cheddar cheese because it tends to get a little greasy and not melt as well)
1 6oz container of plain Greek yogurt
In a large sauce pan sautee the onions, peppers, jalapenos and garlic in the butter or olive oil over medium heat until veggies are tender (about 10-12 minutes). Next add in cumin, chili powder and season with salt and pepper. Stir in flour and cook a few minutes. Turn heat up to medium high, add in half of the beer (drink the other half!). The beer will start to cook out and your mixture will get thick after a minute or so. Stir in broth and whisk to remove all flour lumps. Let mixture cook for 5-10 minutes while whisking from time to time. This should help thicken up your sauce. Once sauce has thickened turn the heat off and slowly stir in cheese handfuls at a time. Each handful you add, whisk to make sure the cheese is melting and incorporating into the mix. Then repeat with another handful at a time until all the cheese is melted in. Finally stir in the Greek yogurt and pico. If cheese sauce is too thick you can thin out with a little extra broth.
Prep Time:

20

Cook Time:

30