When I think of a bistro I think fresh and gourmet. I think of meals that probably have layers upon layers of flavor. In all my worldly travels I have yet to be to France but I imagine these places as cute little restaurants that are probably family owned with recipes handed down. The definition of "bistro" is small restaurant. Often times small restaurants can be casual but don't let that fool you on the quality of food. I have been finding the more and more I eat at a small restaurant the atmosphere may be casual the food is anything but.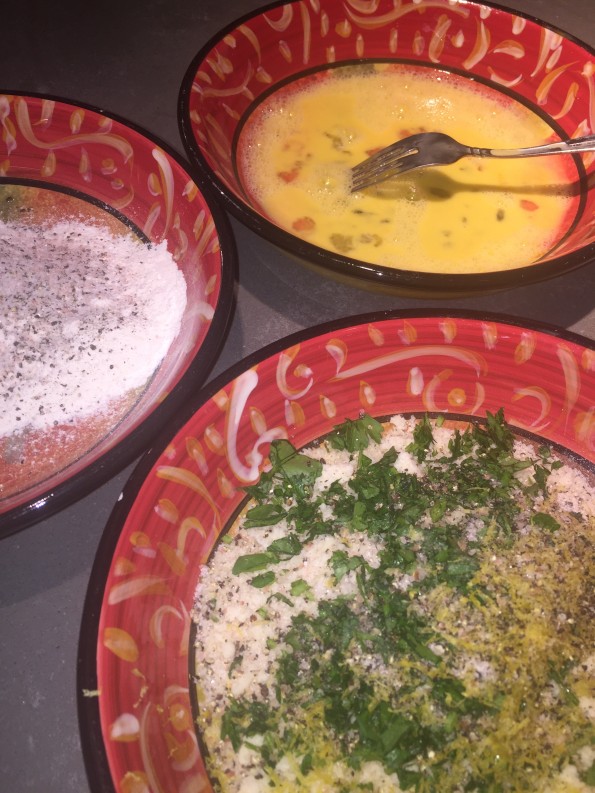 Most nights during the week I am busy. I get off of work, go to yoga, come home, shower and by then it's after 8 and at that point dinner gets started. Unless my husband cooks for us and has it ready for when I get home. Most of the nights when I cook I am whipping together something that is easy and doesn't take too long. I reserve my longer cooking nights for the weekend when I have more time. There are some nights though that I don't mind spending a little more time in the kitchen to make something I really like.
I used to make chicken parmesan a lot when I first started cooking more after I graduated college. The process to breading the chicken was always flour, egg then breadcrumbs. Over the years I realized you can really change this up and add more and more flavor into the breadcrumbs. You can make them Italian inspired with Italian seasoning, garlic, and parmesan. You could go spicy with cumin, chili pepper and even add a little Tabasco to your egg wash. One of my favorite variations of a "breaded" chicken is making the breadcrumb mixture with panko crumbs, lemon zest (lots of it!) fresh chopped garlic, fresh Italian parsley, grated parmesan and a little spice with red pepper flakes.
Typically chicken parmesan tends to be a little heavy with all the sauce, cheese, breadcrumbs and is typically fried. Usually I don't like to eat a ton of heavy foods during the week. I like to keep things light. When my husband and I were in Vegas last year we went to NOVE which is an Italian restaurant and I had their veal nove which came with this lemon arugula salad on top of it. It was delicious and light. I started trying inspirations from that meal but using chicken instead.
Also, I love tomato, basil, mozzarella salads so the salad that I top my chicken with becomes a hybrid of those two with arugula, cherry tomatoes, pinenuts, shaved parmesan and lemon. We actually learned in our trip to Italy that the Italians don't cook with a lot balsamic vinegar like us Americans tend to dress our TBM salads with. We were told they put it on the tables for the tourists but don't actually use it on salads, sometimes in desserts but that's about it. Instead they use red wine vinegar. In this salad you don't really even need vinegar because the fresh squeezed lemon juice acts as an acid to balance the oil.
I do like to have a little bit of pasta in this dish to serve my chicken on top of. To make the pasta not as heavy I make half as much as I normally do and then use my spiralizer to make "zoodles" (zucchini noodles) to add in more greens to the dish. (see my previous post for how-tos here)
The sauce for my pasta is kept super light with white wine, tons of garlic, tomatoes and basil. In the summer when there is an abundance of fresh tomatoes I usually buy pounds and pounds of them and prep them for winter use. Heirloom tomatoes are my favorite and they are wonderful in tomato sauces. Especially recipes like this where you can just pull them out of the freezer and add them to your cooking sauce. If you don't have frozen tomatoes you can always use a can of diced tomatoes or fresh tomatoes if you are spoiled and live in a warm weather climate year round. I am not fortunate enough to get fresh tomatoes in December.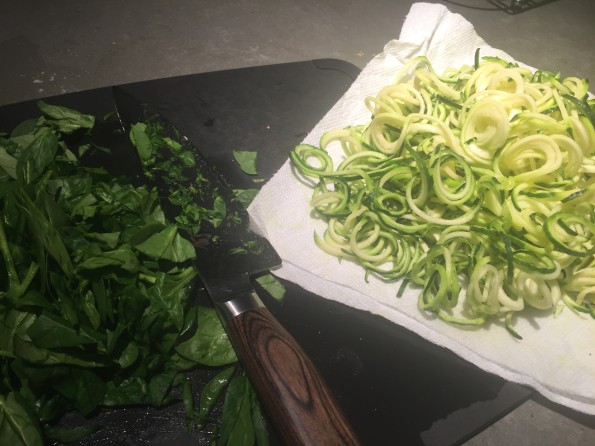 While this dish may seem a little labor intensive it's not too bad if you can multi-task or spend a little more time in the kitchen. I personally like to prep everything first then make my salad because that can sit in the fridge while you do everything else. To begin I get the garlic and onion cooking on the stove to soften it down and bring out all the flavors. While that is cooking I bread my chicken and quickly pan fry them while I turn my big pasta pot of water on to come up to a boil. Once my chicken goes in the oven, I can finish my sauce while my pasta is cooking. After a little practice you get the hang of timing.
You don't have to go to France to get bistro gourmet. You can make it in the comfort of your own kitchen. If you really want the full effect turn your lights down low, put some candles on, pour a glass of wine and enjoy your meal.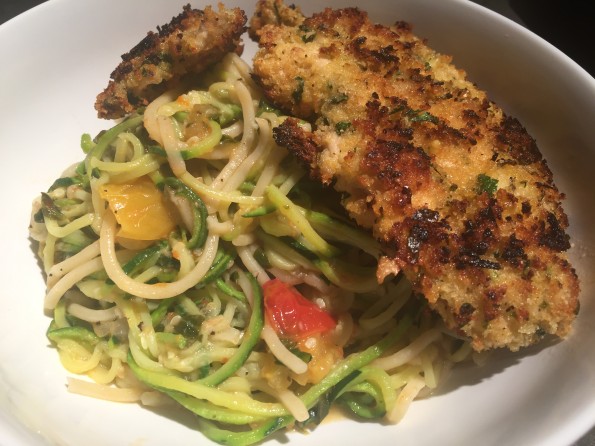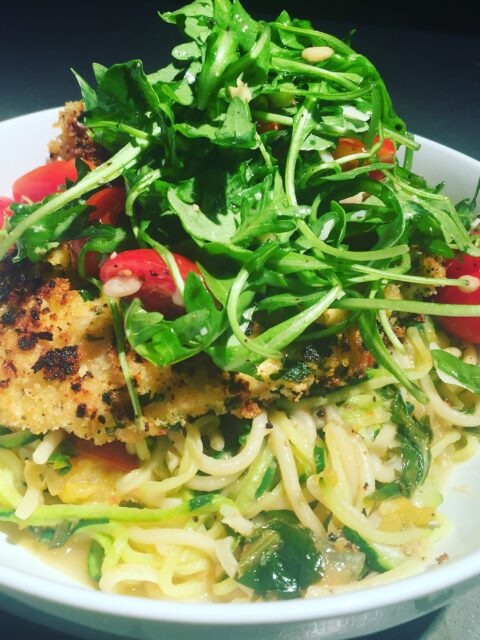 light "crispy" chicken with rocket salad over tomato white wine pasta
2015-12-21 13:26:39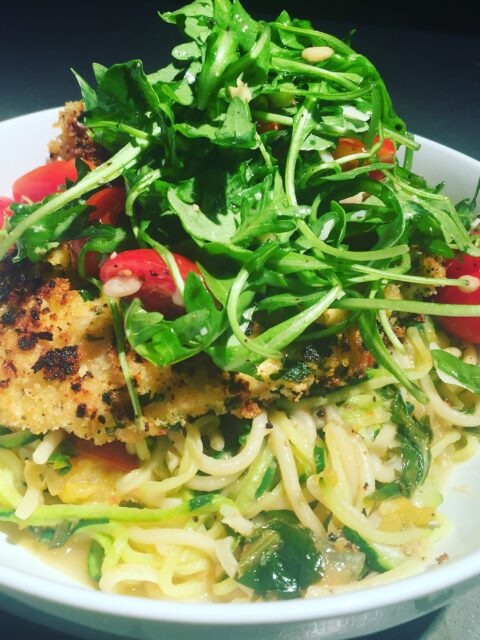 Serves 2
Ingredients
2 boneless skinless chicken breasts pounded 1/4-1/2 inch thick (if you do not have a meat mallet you can use a heavy bottomed frying pan to pound your chicken between 2 pieces of wax paper)
4-5 zucchini spiralized or julienned with a julienne peeler
1/2 lb. pasta (spaghetti, linguine, angel hair all work best in this recipe)
1 c. of panko bread crumbs
1/4 c. fresh italian flat leaf parsley, minced
12 garlic cloves minced, divided in half
1 lemon (you will use the juice and zest)
1/2 c. grated parmesan
1/4 - 1/2 tsp. crushed red pepper flakes (depends how spicy you like it)
1/2 c. flour
1 egg
tomatoes - either 1 28 oz. can diced tomatoes or 1.5 lb fresh tomatoes, you can use heirlooms, romas, campari, roughly diced
1/2 c. yellow onion minced
1/2 bottle dry white wine (make sure it's something you would like to drink) I used an Italian bianco here
1 c. of chicken broth
2 c. fresh baby spinach rough chopped
1 small package of basil, torn in pieces of chiffonade (fancy term for thin slices)
salt and pepper
1/2 quart of cherry tomatoes sliced in half
2 c. of fresh arugula
2 TBS toasted pinenuts (Trader Joe's sells them already toasted, good time saver)
Olive oil
shaved parmesan (you can buy a small brick of fresh parmesan reggiano and use a potato peeler to shave into thin small slices or buy a container already done for you) you will only use a sprinkle on your salad
Instructions
I am ordering these steps in the way I have found to be the most efficient for my time.
Pre-heat the oven to 400 degrees
Fill a big pasta or soup pot with water, place a lid on it, set aside for now
In large skillet with 1 TBS of olive oil sauté over medium-medium low half of the minced garlic and onion. Add in a sprinkle of red pepper flakes if you like a touch of spice.
In 3 shallow bowls set your chicken breading station up. To the first bowl combine the flour with salt and pepper, it is ok to be liberal with the seasoning here. In the next bowl add a splash (maybe a TBS) of cold water to your egg and whisk with a fork. In the next bowl combine panko, 1/4 cup of the grated parmesan, half of your minced garlic, parsley, lemon zest, red pepper flakes and more salt and pepper.
Combine arugula, cherry tomatoes, pinenuts and shaved parmesan in a small salad bowl. Juice the lemon you zested for your breadcrumbs over the salad. Add 1 TBS of olive oil and salt and pepper. Toss the salad to combine everything. Place back in your fridge.
In the pan with the garlic and onion, add in the half bottle of wine, season with salt and pepper and turn the heat up to medium-high to let the wine start to cook down. Turn your pasta water on high to bring to a boil at this time.
In a small frying pan add 1 TBS of olive oil and turn heat on to between a medium/medium-high level. Dredge a piece of chicken first in flour, then in the egg wash and then breadcrumbs. Make sure chicken is coated completely. Place into pan and cook about 3 minutes a side. I like to peek under and make sure my chicken is golden brown before I flip it. Once chicken is golden brown place on a baking sheet lined with parchment paper and set aside. Complete with the second piece of chicken. Place in the oven and bake to finish cooking the chicken 10-12 minutes.
Once the wine has reduced by more than half, add in the chicken broth and tomatoes. Your tomatoes will cook down if you are using fresh. I also used the remaining half pint of cherry tomatoes from my "salad" and threw those in with the sauce. Check the seasoning on the sauce and season with more salt and pepper if necessary.
When pasta water is boiling add in pasta. When your pasta is about 3 minutes shy of aldente add in zucchini noodles to cook for a few minutes.
Stir in basil and spinach into your pasta sauce and let wilt down (1-2 minutes).
Drain pasta/zucchini and add into pasta sauce pan. Add in remaining 1/4 cup of grated parmesan. I like to use grill tongs to toss the pasta in the sauce so it gets coated evenly. Serve pasta mix topped with a piece of chicken and then top with the salad.
eat.breathe.love https://eatbreathelove.net/