I grew up in a small town that had no diversity really, just lots of small town white kids at my high school. I moved to Detroit over 10 years ago and I remember hearing the term Chaldean and I had NO clue what it meant. Soon I realized that the Detroit area had the second largest population of Middle East next to the actual Middle East. The people that immigrated to Detroit brought with them the fabulous food from their culture. We have some amazing restaurants in the area with crushed lentil soup, chicken schwarma, fattoush salads, almond rice pilafs, the list goes on and on.
There was a restaurant I always went to for takeout. However, the more educated I became on food the less and less I eat out. Green peppers and cucumbers are considered "dirty dozen" and are on the salads I like. Most lentil soup recipes use chicken broth which are probably not organic. I wanted to be able to control the ingredients that I eat so I started playing around with making my Middle Eastern favorites at home.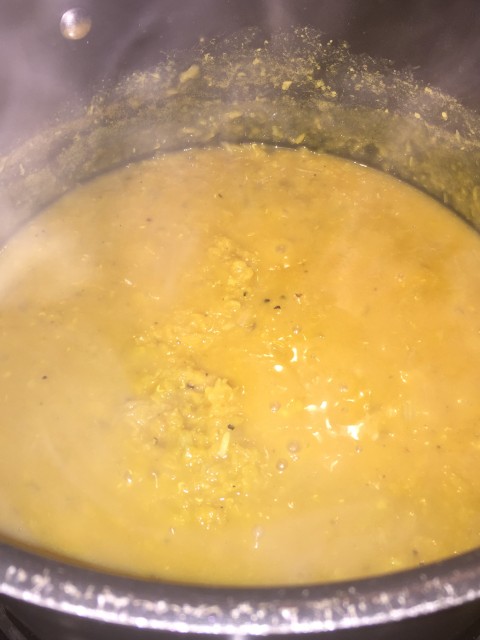 Lentil soup is one of my favorites. The restaurant I used to go to had the best crushed lentil soup. Even though I have tried to make it over and over, there always seemed to be a spice missing. I have perused around a bunch of different recipes for the soup and I saw one with turmeric in it. I had never tried turmeric but it is a very yellow spice and the soup I made was never quite the color of the restaurant I went to so I figured that must be what I was missing.
The lentil soup is SO easy to make. Especially since there are not too many ingredients in it just garlic, onions, lentils, chicken stock, and spices. You pretty much let it all cook together and blend it. The one thing I like to do to finish my soup off is add lots of fresh squeezed lemon juice to it. There is something about that last touch that really just finishes the dish out perfectly.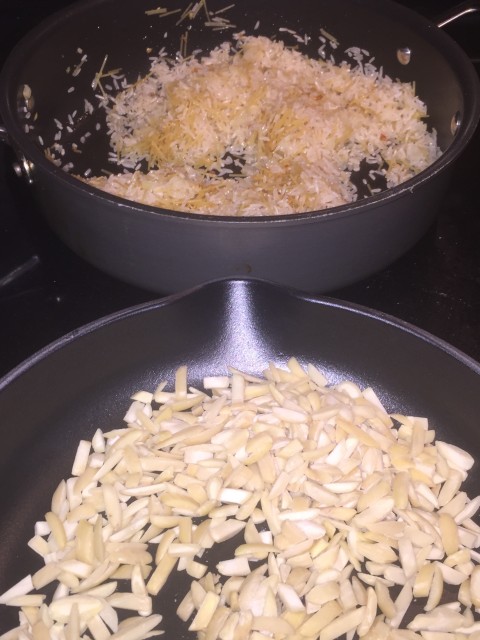 I love the almond rice pilaf that you can get at a Middle Eastern restaurant. It's very basic, slivered almonds, rice and a little tiny bit of pasta. However, I find that the rice doesn't have a lot of flavor when I get it. Enter in chicken broth (or veggie if you are vegetarian or vegan) which adds more flavor to soups, sauces, or grains. Anytime I cook a grain that is supposed to be cooked in water such as rice or quinoa I always use broth instead to infuse that extra layer of flavor.
Another trick it to season the food quite liberally. My husband is from the south and when he first moved here he always commented on how bland the food in the midwest is. My tolerance for spice went up significantly as well so I love using fresh ground pepper in anything I cook and I use it liberally. By using lemon in every component of the dish (the soup, rice and salad) it marries them all together. Like I did for the soup, I finish the rice off with a little squeeze of lemon juice as well.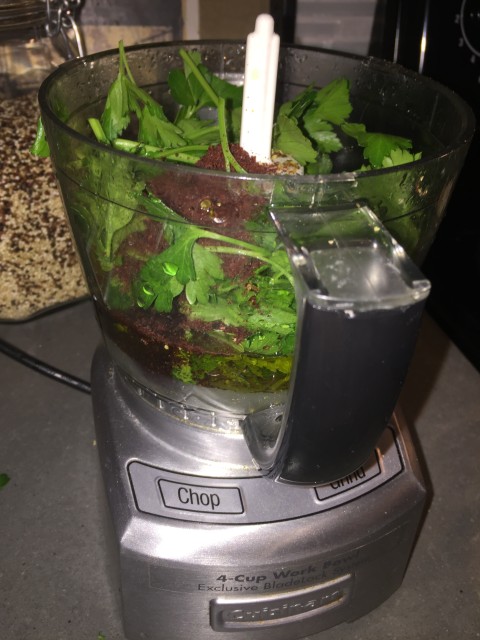 The salad is quite easy. You can use any blend of lettuces you like. This time I used a butter lettuce mix and baby spinach but romaine would be good in here too. Then I slice up cucumbers, cherry tomatoes and green peppers to put in the salad. Red onions would go great if you are an onion person. The salad itself is easy. It was getting the dressing down that took me some tries. Last night when I made this salad I finally nailed it! The key to a good fattoush salad dressing is sumac. WTF is sumac you are probably thinking. I was when I was doing my homework. Sumac is a Middle Eastern spice that comes from berries of a sumac bush and is ground up. It is dark red in color and almost has a lemony taste to it which compliments everything about this dish.
You could make the dressing without it but I highly recommend trying to find it. Trader Joe's had this amazing 4 pack of Middle Eastern spices for awhile and sumac was one of them. Of course I went to get more this past weekend and they were out. I went to three stores until I found it (Detroit area readers – Holiday Market in Royal Oak sells in a huge bag made by Ziyad) if you don't live in an area where you have Middle Eastern grocery stores I recommend buying it online. It really makes the dressing.
The rest of the dressing is easy, olive oil, lemon juice, garlic, flat leaf parsley, mint, salt and pepper. We have a mini food processor/chopper that I LOVE to use for dressings. It makes blending and emulsifying the dressing super easy. If you have a Nutribullet or something like that you can make it in that as well. It saves you the hassle of having to chop herbs and garlic.
Being a picky eater comes with a price. My husband and I don't eat out as much because we can control what we put into our bodies (plus I feel like what we make tastes better most of the time). It results in me spending more time in the kitchen but the end result is worth every minute I am in there. For those of you who don't live in Detroit and haven't experienced good Middle Eastern cuisine, I assure you, this is a pretty good replica!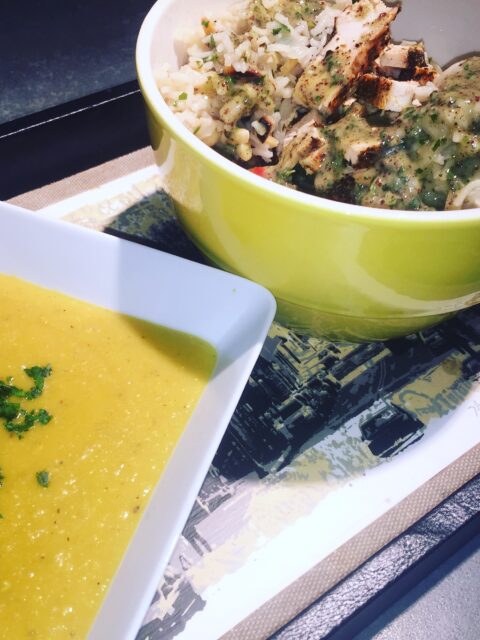 Print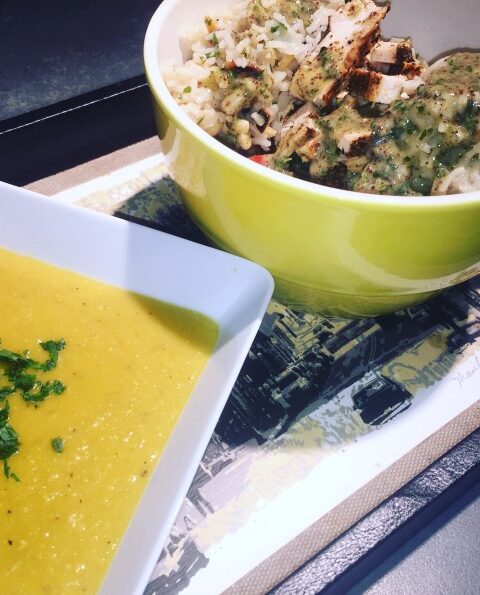 crushed lentil soup with almond rice grilled chicken salads
---
For the rice
1.5 c long grain rice
small handful of thin pasta like capellini or spaghetti
5 c broth
1 c dry white wine
1/4 c white onion diced
4 cloves of garlic, minced
1/4 c flat leaf parsley, minced
For the salad
1 lb of chicken (breasts, thighs, whatever you like to use, if using breasts I like to pound my chicken about 1/4 inch thin into cutlets to reduce grill time)
2 bags of lettuce, your choice, I used a butter lettuce blend and baby spinach, romaine hearts would be good here
1/2 quart of cherry tomatoes, sliced in half
1/2 cucumber, sliced in quarters
1 green bell pepper, diced
1/4 of a red onion, diced
For the chicken seasoning
1 tsp dried parsley
1 tsp sumac
2 tsp Greek seasonings (I used a mix I brought back from Greece, if you cannot find anything use a combination of oregano, paprika, garlic powder and cumin 1/2 tsp each)
salt and pepper
zest of one lemon
For the salad dressing
1 c olive oil
1/2 c fresh squeezed lemon juice
1 large handful of flat leaf parsley
6–8 mint leaves (if they are really small use 8)
3 cloves of garlic
1.5 TBS sumac
salt and pepper
For the soup
2.5 c orange lentils
the rest of the onion diced leftover from the rice
4 cloves of garlic minced
3 boxes of chicken broth
1 tsp tumeric
2 TBS cumin
salt and pepper
juice from 1.5 lemons
flat leaf parsley to garnish
---
Instructions
Soup
In a large soup pot saute onion and garlic over medium heat about 8 minutes until soft and fragrant. Turn up heat to medium high and add in lentils, 2 boxes of chicken broth, turmeric, cumin and salt and pepper. Let cook 20 minutes or until lentils are cooked.
Turn heat down to low and with an immersion blender puree soup. Squeeze in fresh lime juice and garnish with fresh parsley. If the soup is too thick use the third box of broth you have to thin it out a little.
Salad
Pre-heat grill
Take all of the chicken seasonings in a small dish and mix together. Season the chicken with the seasoning and a drizzle or two of olive oil. I like to coat my chicken quite liberally with the seasoning to almost create a crust of herbs on it once it's grilled. When grill is hot grill your chicken over medium-medium high heat. If you are using chicken breasts pounded thin about 5-6 minutes a side. Boneless skinless chicken thighs require about 5 minutes a side. Set aside to let rest. At this point do not cut into your meat until it's done resting! All the juice will run out (so will the flavor!) Let your meat sit to recirculate the juice through out the meat to help ensure juicy chicken.
In a food processor, chopper, or blender, combine all of the dressing ingredients. Blend until oil is mixed all the way through and herbs are chopped up small. Taste your dressing. Add more salt and pepper if necessary.
Then take whatever container (blender, processor, etc) you just used and place in the fridge until you are ready to use and then blend it for 20 seconds again.
In a large sautee pan with a TBS of olive oil over medium heat, heat up onions and garlic and cook until softened, about 8 minutes. Add in your crushed pasta and let cook a few minutes until it gets brown and nutty. Add in rice and white wine and turn heat up to medium high heat. Let the wine cook out so it's almost evaporated. Add in one box of chicken stock. Once the broth is bubbling turn the heat down to medium. Season with salt and pepper. I use low sodium broth so I can control my salt and usually season liberally with pepper.
Stir rice occasionally. Once broth is almost evaporated try your rice. If it is still under cooked add another half box of broth and let cook the rest of the way.
In a small frying pan over medium-medium low heat place almonds in pan. Let almonds toast up. You will be able to smell them when they are almost done. Keep an eye on them and turn them from time to time as they are easy to burn.
Once rice is cooked squeeze the juice of half of a lemon, stir in parsley and almonds.
Top your salad with your grilled chicken and a few mounds of the almond rice mixture. Re-blend your salad dressing for 10-15 seconds and top your salad with it. Serve with the lentil soup.
Prep Time: 30
Cook Time: 30