You know those nights when you are just craving comfort food? This was one of those nights. My husband and I had just returned from being back home for the Holidays. We were visiting my grandma one night and I had told my dad "if she is offering dinner let her know it would be ok if she made rigatoni" (hint hint). Apparently he didn't relay the message. When we got there the food was amazing as always but no rigatoni.
My grandma raised 5 boys, actually 6 since my grandpa is a big kid himself. He was in the army and my grandma kept the house in order, raised the kids and did all the cooking. She was used to feeding a small army herself. When we would go there as kids I remember the huge spread of food she would put out. She would make everything from scratch too. She would make these amazing dinner rolls my sister and I called "butt buns" because the tops looked like a butt.
Silly the things you come up with as a kid. One of my favorite dishes she made when we were little was rigatoni. It still to this day is one of my favorite shapes of pasta. I think because it's a tube and if you get riagtoni rigate (with lines) I feel like it just soaks up a lot more sauce and makes it more flavorful.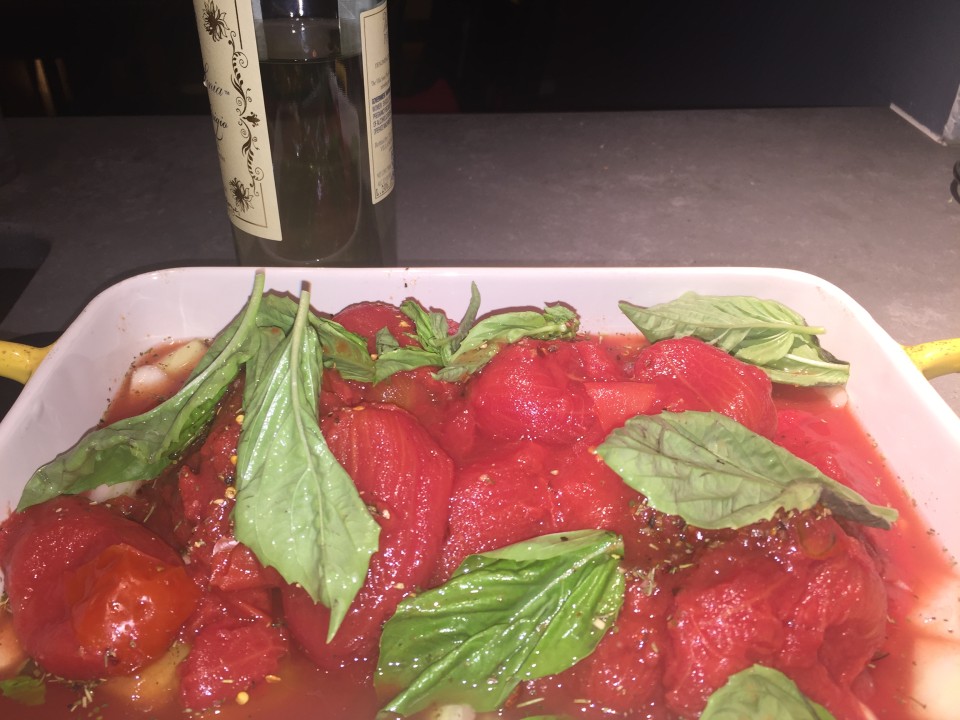 It was our first night home (well, Detroit is home now to me) after being HOME (where I grew up) and I was craving the rigatoni I didn't get while we were up north. I had seen a recipe on Pinterest for "druken noodles" with Italian sausage and I thought it looked pretty good:
http://www.food.com/recipe/italian-drunken-noodles-with-spicy-italian-sausage-499622
My husband loves Italian sausage and I am not really a fan but it's easy to make off to the side and then he can add it to his dish and I can leave it out. I took some inspiration from the recipe above but wanted to make a spicy baked pasta. When I bake any pasta I like a shape of pasta that will hold up and sop up sauce. Rigatoni of course is my go to but a penne rigate would be great in this dish too.
My husband being from the south loves anything spicy and often adds jalapeños to EVERYTHING, even Italian dishes. So I decided to use TONS of red pepper flakes in this dish to amp up the spice. I used it in the sauce which I roasted in the oven for a little smoky flavor to enhance the spice. Plus by doing this you omit a lot of time and work.
You can rough chop everything and throw it in a pan, stir it once or twice and let it do it's thing. I like the sauce to be smooth so I use an immersion blender after so most of the ingredients I leave whole like the tomatoes and garlic cloves. It really is minimal work to make this sauce. The recipe above is called "druken" noodles. To get my version of "druken" I added a half of a bottle of some nice Pinot Grigio in the baking dish for my sauce. Cooking the sauce at a high heat for 45 minutes gives the wine time to reduce and cook the alcohol out.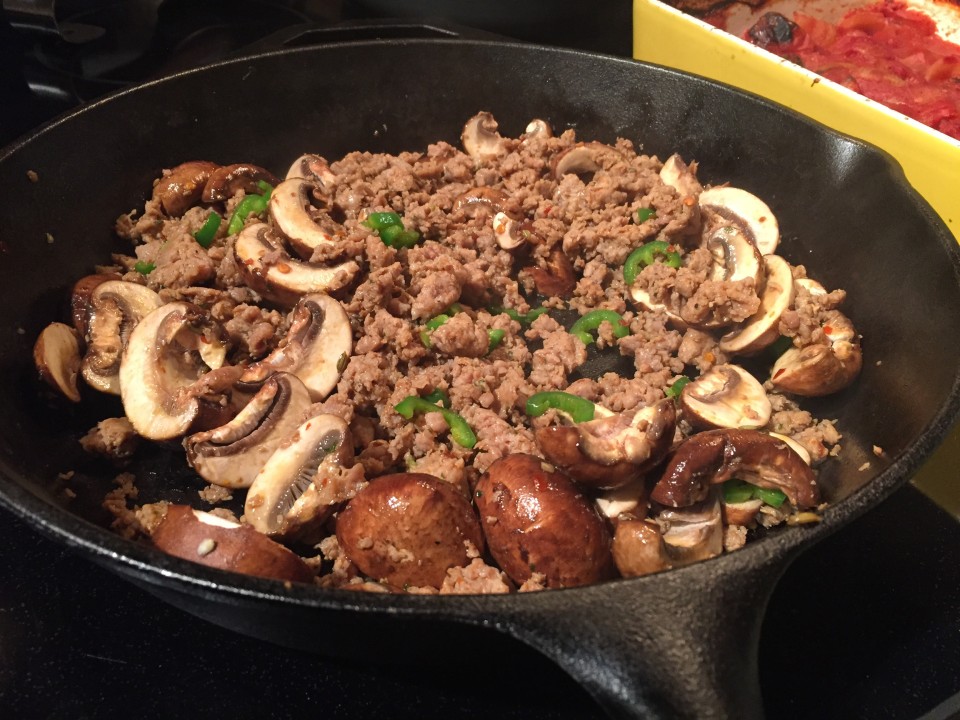 I am a big fan of one pot meals. I love our cast iron frying pan. It's a big 12 inch pan and is deep and holds a lot of food. Plus the beauty of cast iron is you can transfer from the stove right into the oven which makes dishes like this easy since there are less dishes to do. I started the Italian sausage for my husband. I browned that up until the meat was cooked all the way through and then added in some big chunks of cremini mushrooms.
The beauty of this dish is I don't like either. So at this point I put them to the side and started making the dish that I would actually eat. I didn't wash out the pan though because the sausage is spicy and left nice flavor in the pan. When I sautéed the garlic, onions and peppers for this dish the bits of flavor transfer through to the vegetables adding some heat and flavor. I also added in red pepper flakes to the vegetable mixture as well. Again, the point of this dish is to have a little spice. When we were in Italy one of our first nights in Sorrento I had an amazing penne arrabiata dish which is really just a simple tomato sauce amped up with red pepper. I was trying to have that type of flavor in my drunken rigatoni.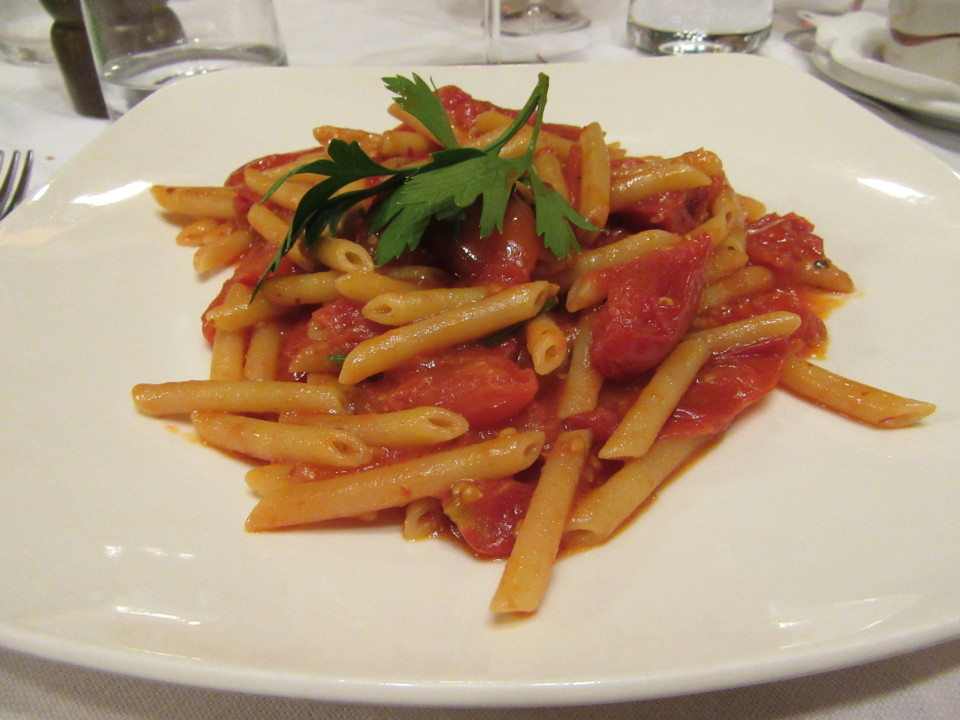 Growing up my mom made a lot of stuffed shells and lasagna and never used ricotta cheese. To this day I follow her lead whenever I make these dishes as well as any baked pastas by not using ricotta but cottage cheese instead. So I combined that with little mozzarella balls that I sliced in half and mixed it in with my veggies, pasta and sauce. I then topped my dish with a little parmesan cheese and put my entire cast iron one pot dish under the broiler to melt the cheese through for 5 minutes.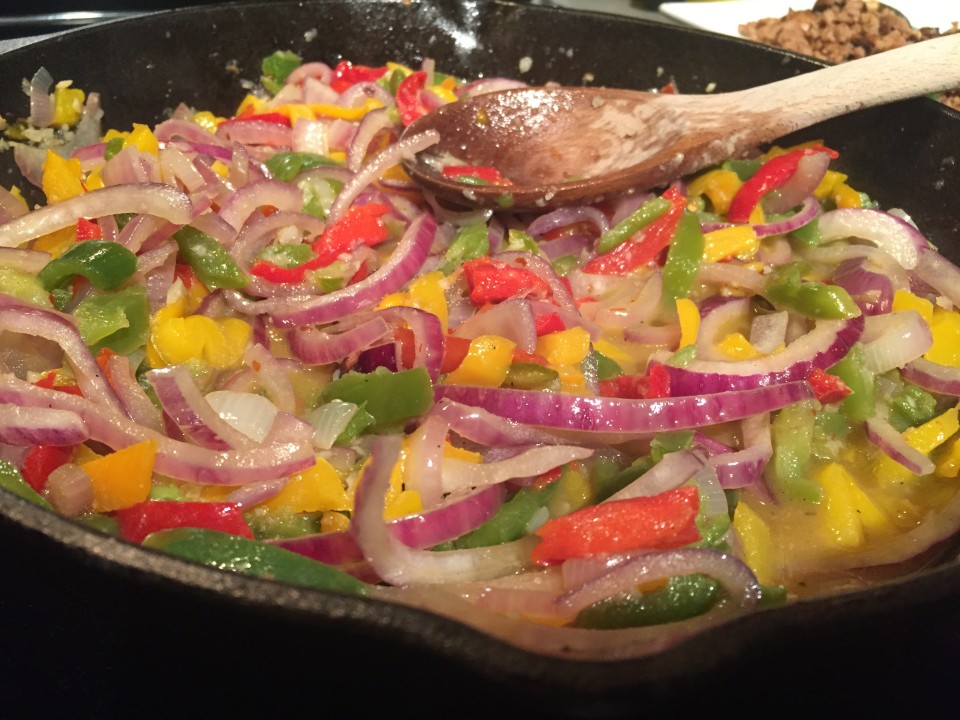 While this rigatoni dish was a hybrid of some inspiration between my grandma, mom, Pinterest and Sorrento it was exactly what I wanted. Creamy, druken and spicy pasta that completely hit the spot. It was even better the next day for leftovers when everything had more time to combine flavors and thicken up a little. It wasn't exactly like my grandma's but I had fun remembering hers in the process.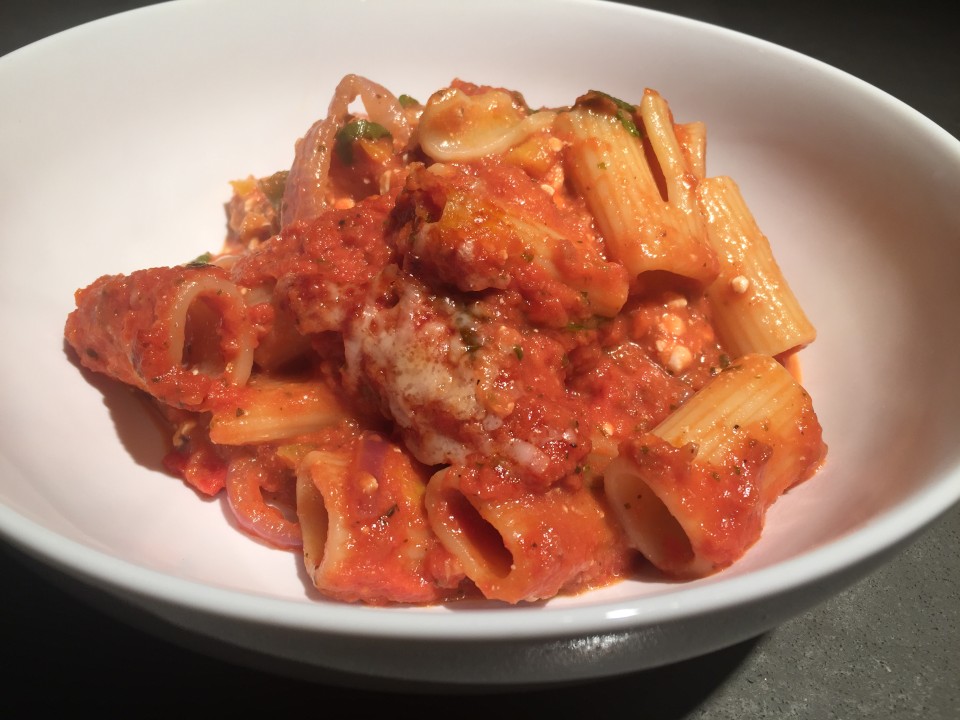 Print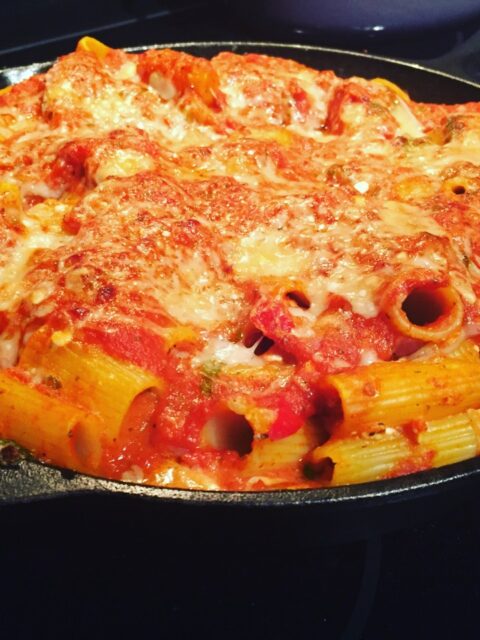 baked spicy rigatoni in creamy tomato sauce
---
Total Time: 1 hour 45 minutes
For the sauce
2 medium yellow onions rough diced
2 28 oz can whole peeled tomatoes (I love San Marzano)
1/2 bottle dry white wine
1 TBS olive oil
1 small package of basil (leave 1/2 left whole and the other half chiffonade/slice thinly)
2 TBS italian seasoning (my favorite is the McCormick grinder)
8 whole cloves of garlic
1–2 tsp crushed red pepper
4 TBS heavy whipping cream
For the pasta
1 lb of spicy italian sausage (turkey or pork or omit if you are vegetarian) out of casing
1 package of cremini mushrooms wiped clean, stems removed, sliced thin
3 bell peppers any color sliced thin (if you cannot find bell peppers due to the time of the year one package of frozen would work here as well)
1 large or 2 small red onions sliced thin (I cut in half and then thin slice the halves)
1 tsp red pepper flakes
1 lb of rigatoni
4 cloves of garlic minced
1 16 oz package of small mozzarella balls sliced in half (often labeled Ciliegine)
1 16 oz package cottage cheese
1 c grated parmesan
---
Instructions
Preheat oven to 450
In a baking dish combine all of the ingredients for the sauce except the heavy whipping cream and the chopped basil. Mix everything together. With a fork crush the tomatoes slightly so they do not burst in the oven. Bake in the oven for 45 minutes stiring occasionally. It's ok if the vegetables char up slightly, you actually want that for flavor.
In the mean time in a large skillet or cast iron pan if you have one, brown the sausage on medium-medium high heat until cooked all the way through. Add the mushrooms to the pan and brown up for a few minutes. Remove sausage and mushrooms and set aside. Turn the heat down to medium. (you might want to remove the pan from the heat for a few minutes to let the pan cool down) Add a TBS or 2 of olive oil to the pan and sauté the onions and garlic 5-6 minutes until the onions start to soften up. Add in red pepper flakes and bell peppers to continue to sauté. Season with salt and pepper. Cook for 5 more minutes until the peppers soften. I like my veggies to still have a little crunch to them. Taste your pepper mixture. If you like spicy food the point of this dish is to have a little kick. Add more red pepper flakes if necessary.
Bring large pot of water to a boil and cook your pasta. Cook the pasta shy of al dente, about 1-2 minutes less than package directions, it will continue to cook in the sauce in the oven.
Once the tomato mixture has cooked all the way transfer to a large soup pot. With an immersion blender blend the sauce through so it is smooth. If you do not have an immersion blender you can use a normal blender just be sure to vent the top to prevent explosions. Stir in heavy cream and remaining chopped basil. Taste your sauce at this point. If necessary season with more Italian seasoning, salt, pepper and more red pepper flakes. Your sauce will be quite thick which is ok. It will thin out from the veggie and pasta mixture. Again the sauce should have a little kick from the red pepper flakes.
Add your sausage mixture back to your cast iron pan. If your sauté pan is not oven safe or is not large enough you can transfer pepper mix and sausage to a large baking dish. Add in cooked pasta, cottage cheese, mozzarella balls and sauce. Stir to combine. Top with shredded parmesan. Place under the broiler 5 minutes to melt the cheese and brown up the top of the dish. Let cool for a few minutes and then serve. This dish is even better for leftovers!
Prep Time: 30
Cook Time: 75