This tomato rice soup with roasted chicken is not only easy to make but it's full of flavor. Juicy roasted chicken is complimented by tons of veggies in a tomato parmesan based broth.
So if you are new here you might not know this – but Soup Sundays are my thing. I love making a big pot of soup on Sunday nights for dinner and then lunches for the week. I kid around that I should start a soup business and mass produce whatever I am making. We eat soup winter or summer. And this week was no exception.
My standard veggie base is perfect for picky eaters
If you have made any of my soup recipes before you will notice that there are a lot of common elements in my soups. First off they almost always have a ton of veggies in it. Even veggies I don't like. I actually hate carrots. But I know they are good for me so I found a way to eat them and not notice – grate them. So the soup starts with celery, onions, and grated carrots.
Once the veggies are cooked I add in the tomatoes and MORE veggies. Zucchini is another veggie I sneak into most of my soups. Again when you grate it you can't even taste it. I used to even sneak it into my daughter's oatmeal. Then she got older and told me she didn't want the "green things" in her oatmeal anymore. It is another way to get more veggies into your meals.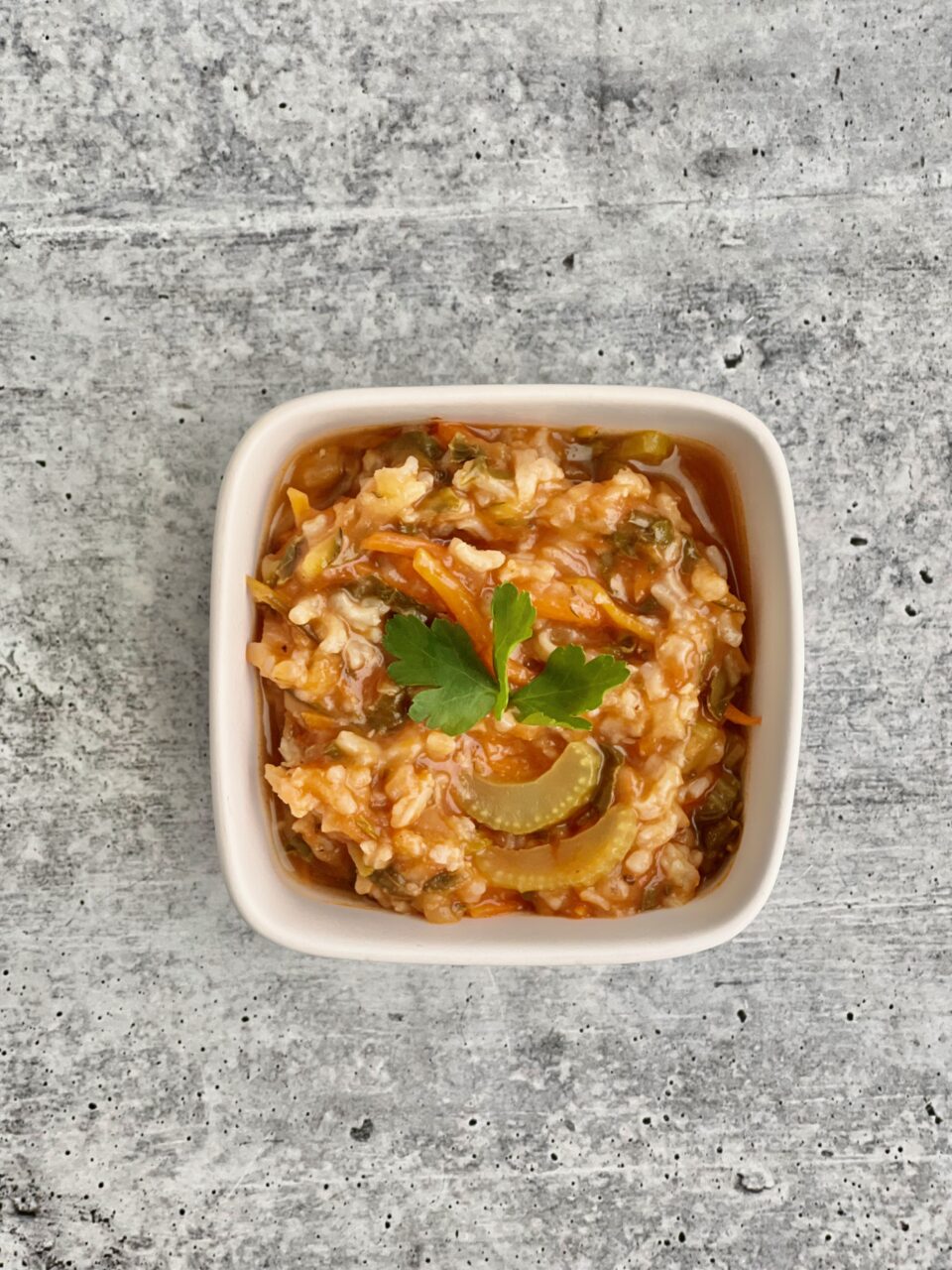 Broth that is full of flavor
For most of my soups I use chicken bone broth. I personally like the flavor better but if you are vegetarian use veggie broth. I have wrote a post before about my love of Thrive Market and how the one main staple that I save money on is my chicken broth. So we always have it on hand or I make it on the weekends which is cheaper than buying it at the store. The bone broth has a more concentrated flavor in my opinion.
Then to add even more flavor I add in parmesan cheese rinds. You can usually find these at the store with the fresh grated parmesan often near the specialty cheese cases. They are the ends of the cheese wheels and usually sold with two or three pieces for only a few dollars. Adding them to the soup while it's cooking adds a little salty nuttiness to the soup.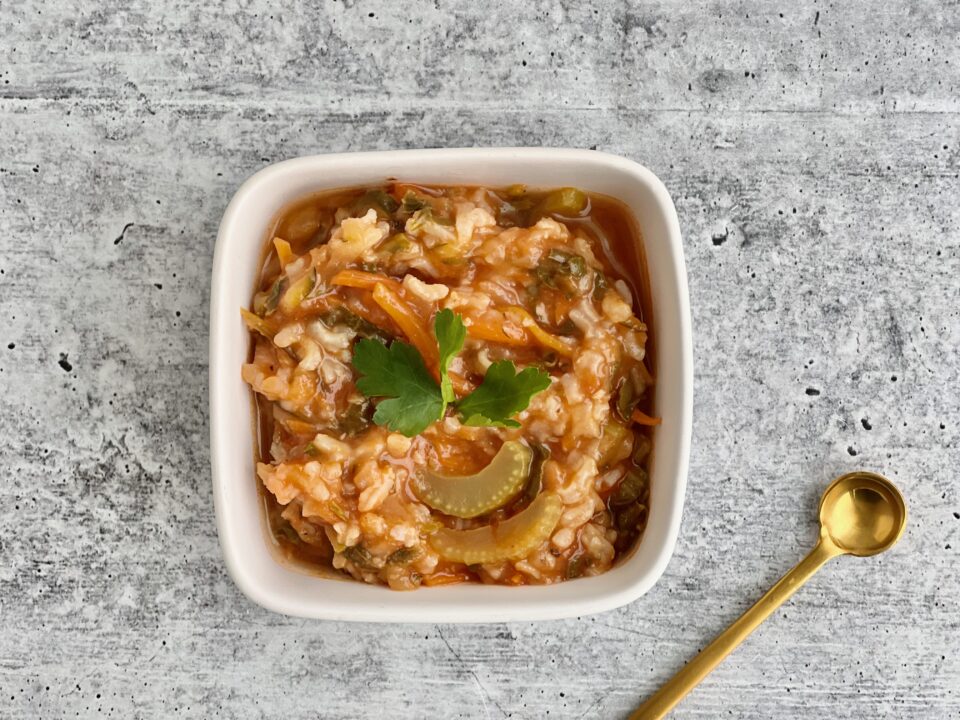 Please stop poaching your chicken!
For maximum flavor for chicken in soups I now solely roast my chicken. I saw Ina Garten do it on one of her cooking shows and was mad I hadn't been doing it before. Roasting the chicken in the oven makes the chicken juicy. I always feel like poached chicken is just kind of dry and rubbery even though it was cooked in liquid.
The secret for roasting the chicken is making it full of flavor BEFORE going into the oven. I always stuff my chicken with garlic and herbs. To stuff the chicken you simply gently loosen the skin from the chicken breast which creates a little pocket. Then I place my garlic cloves and herbs in between the skin and the meat. The garlic and herbs infuse the chicken while it's cooking.
Also don't forget to season the chicken skin as well. I drizzle mine with olive oil and LIBERALLY season with salt and pepper. I mean you want to see all the salt and pepper and know it's on there. Not just a little sprinkle. Since this soup is more Italian inspired I also used a little Italian seasoning.
Once you know this trick you can season your chicken to go with whatever soup you are making. Fresh rosemary, thyme and garlic are some of my go-tos.
Putting it all together
The beauty of this tomato rice with roasted chicken soup is the chicken can roast while you make soup. So by the time the chicken is done the soup will be too. I usually serve by ladling the soup into the bowl first and then topping with all the juicy roasted chicken. You most certainly can add the chicken to your soup pot if you want as well. Then I like to top it with a little grated parmesan cheese.
This soup is great for leftovers however the rice will absorb more of the liquid the next day. So if you want it more like a soup than a stew thin it out with some leftover broth or even a splash of water.
So the next time you are in the mood for Soup Sundays be sure to check this tomato rice with roasted chicken.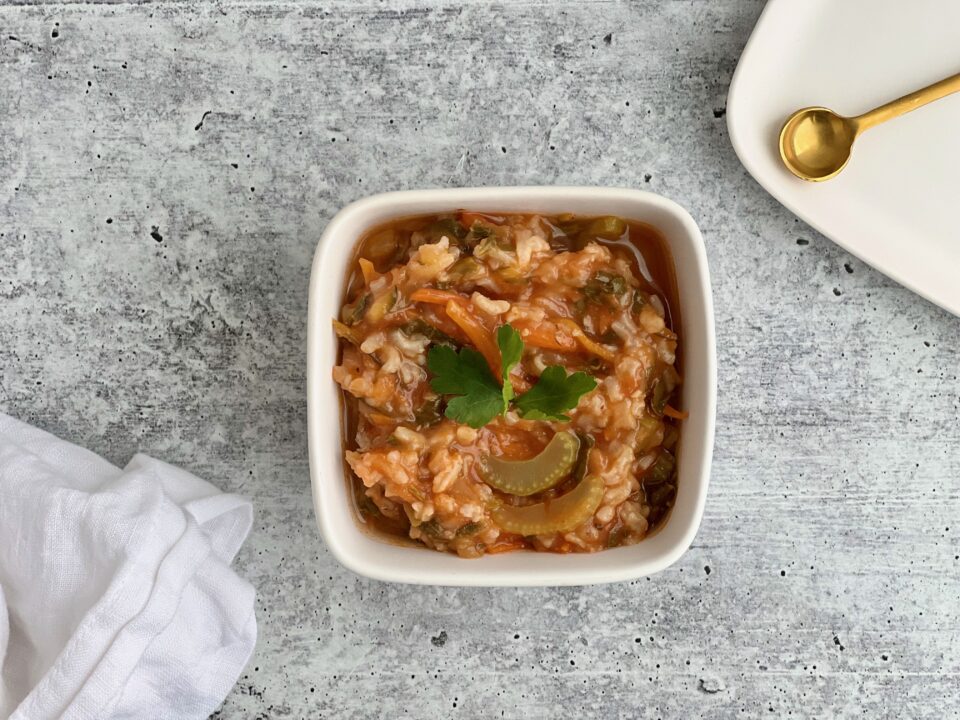 For more rice recipes be sure to try these:
This easy one pot Spanish rice is perfect for a weeknight meal
For another chicken and rice soup this wild rice version is the perfect comfort food
If you like stuffed peppers but not the work check out these unstuffed peppers
And remember, if you try this recipe be sure to rate it and leave a comment below and let me know how you like it. Or tag me on Instagram!
Print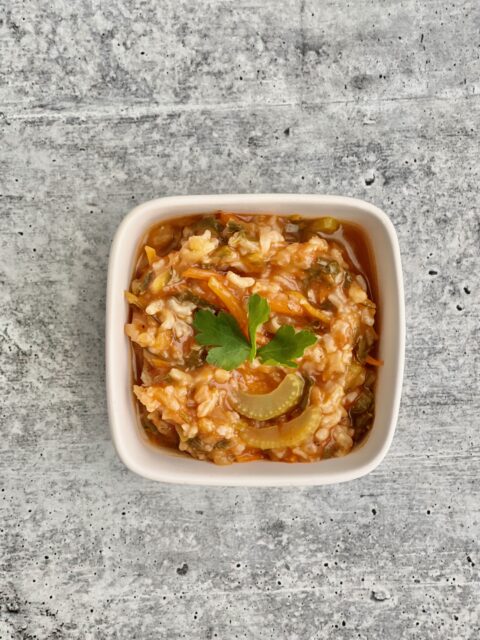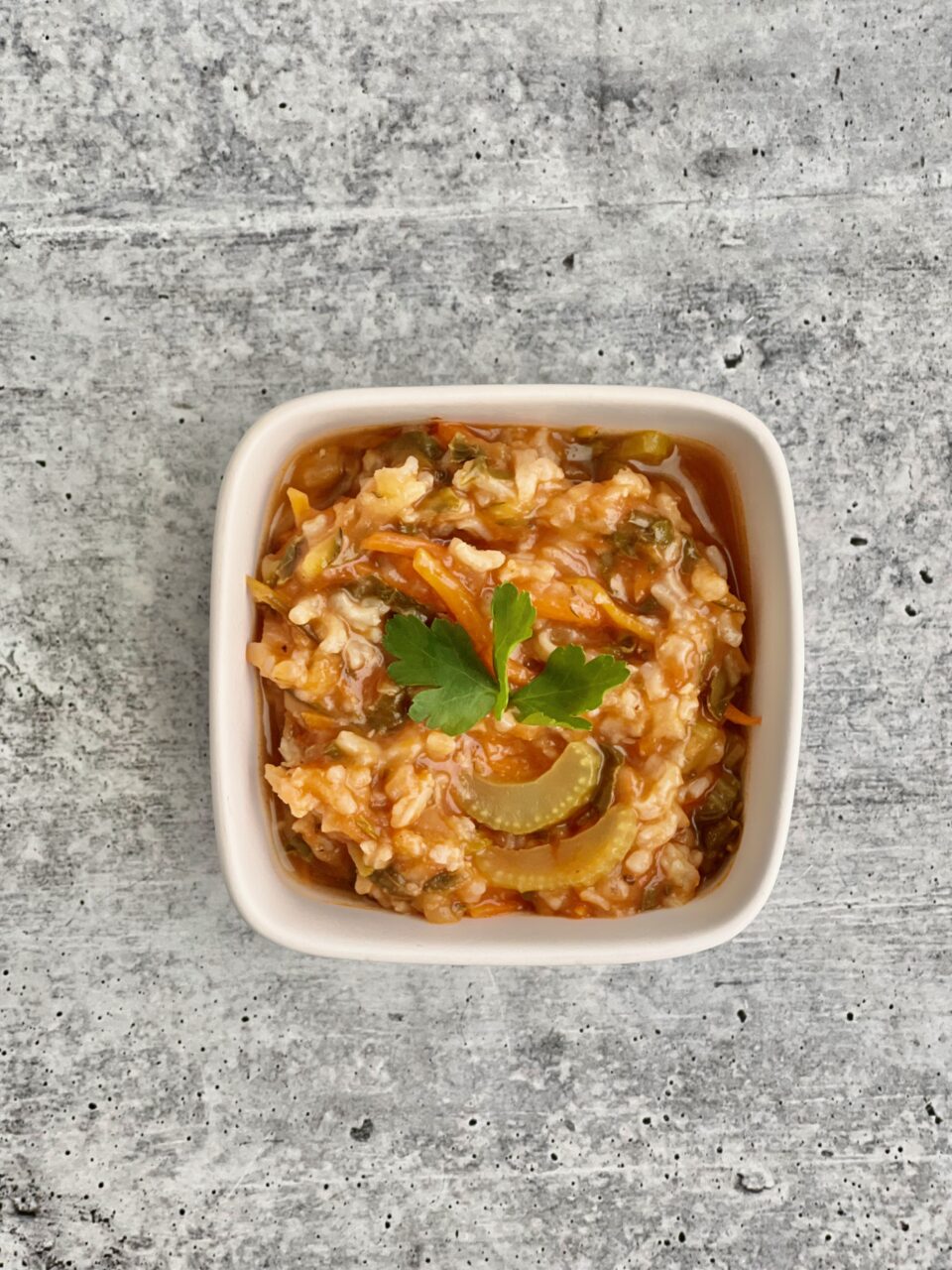 Tomato Rice Soup with Roasted Chicken
---
Author:

Karissa P

Total Time:

50M

Yield:

6

1

x
1

lb

bone on, skin on chicken breasts

6

cloves of garlic slice in half

6

–

8

ribs of celery (I use the whole bunch of celery), thinly sliced

1.5

c

grated carrots (or 4 carrots grated)

1

yellow onion, diced

6

–

8

cloves garlic, minced

2

bay leaves
1

28

oz

can crushed tomatoes

8

–

10

cups

of veggie or chicken broth (I personally like the taste of chicken broth better in general)

2

zucchinis grated

1

c

long grain white rice, rinsed (I used Jasmine)

1

5oz

bag

of baby spinach, chopped

2

parmesan cheese rinds

1

TBS Italian seasoning

1

large handful fresh Italian parsley, minced
grated parmesan to top with
---
Instructions
Pre-heat oven to 425
Slide the cloves of garlic cut in half under the chicken skin. Drizzle chicken with a little olive oil. Season liberally with salt and pepper. You could also do a few dashes of Italian seasoning and crushed red pepper flakes for more flavor.
Bake chicken for 30-35 minutes or until the internal temperature of chicken reaches 165. I usually start checking my chicken around the 25 min mark and then cook for for 3 more and check temp again and repeat in 3 minute increments. Reserve chicken once cooked.
While chicken is cooking, in a large soup pot sauté celery, onion, garlic, bay leaves and carrots in 1 TBS olive oil over medium to medium low heat for 10-12 minutes until softened
Add in crushed tomatoes, zucchini, parmesan cheese rinds, Italian seasoning, 8 cups of broth and bring to a gentle boil. Season with salt and pepper. If you are using full sodium broth make sure to use salt sparingly as the broth will be salty.
Next add in the rice and spinach once boiling, reduce heat to medium low and continue to stir occasionally so the rice doesn't stick to the bottom.
Once rice is cooked fully (anywhere from 15-20 minutes depending on variety of rice) stir in Italian parsley. If the rice has soaked up a lot of the broth add 1-2 cups more broth to thin the soup out.
Remove chicken from the bone and chop into bite sized pieces. Serve on top of the soup.
Top with grated parmesan cheese
Notes
Vegetarian version – omit chicken and use veggie broth
Vegan version – follow vegetarian edits and do not use the parmesan rinds or grated parmesan
The soup will thicken up the next day so have some broth on hand to thin out your leftovers
Prep Time:

10M

Cook Time:

40M

Category:

soup
Keywords: soup, tomatoes, chicken, rice