This Mexican noodle soup with veggies is cooked in a spicy tomato broth. Thin angel hair noodles are paired with lots of veggies for extra nutrition.
It was Sunday – so soup – and I was trying to figure out what I wanted to make. I was pursuing thru my Pinterest for things I have saved. If you are like me I save a ton of pins and then hardly go back to check them out. I came across a pin for Sopa de Fideos or Mexican Noodle Soup. The basics were lots of thin noodles in a tomato broth. But from there I had to make it my own.
More Veggies Please!
With any soup I make I try to pack in the veggies. And the traditional version of Sopa De Fideo didn't call for it. So I decided to add in all the usual suspects. I started by sautéing celery, grated carrots and a yellow onion. The key here is you want the veggies small or thin. I think the key to cohesive cooking is having everything similar in size. Since I would be using thin pasta (angel hair in my version) I didn't want to have huge chunks of veggies in the soup.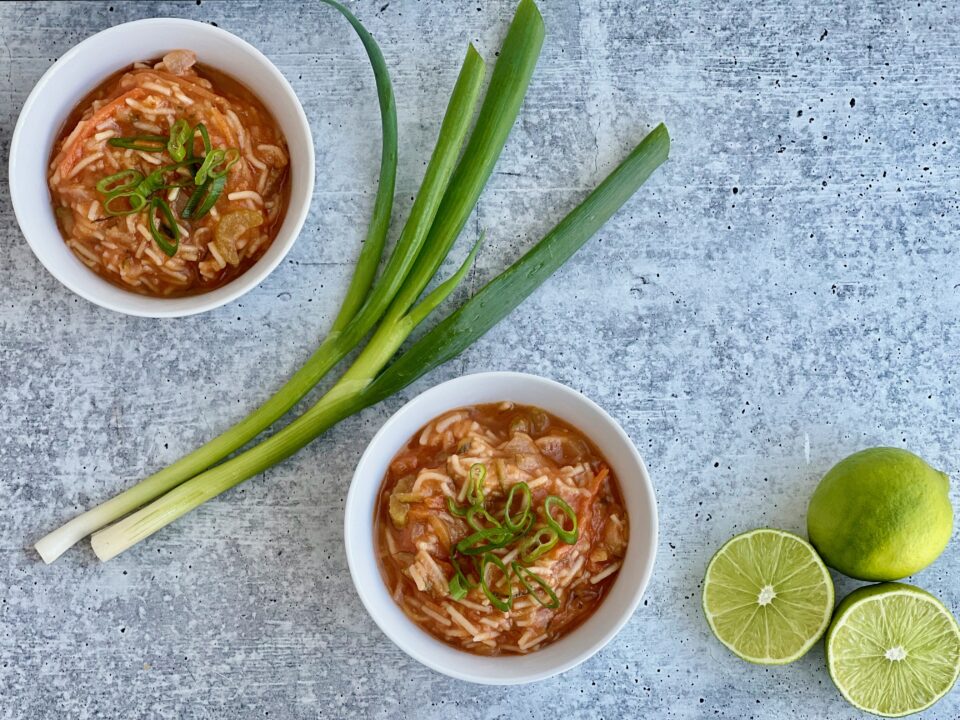 After the veggies sautéed I pushed them to the side of the pan to brown my pasta. Lesson learned. The liquid from the veggies gave me a hard time when browning my pasta. Browning pasta you might ask? Yes. It's similar to what you would do for a rice pilaf. Browning the pasta up brings out a slight nuttiness to it while it cooks. But BE CAREFUL. Brown can go to burnt VERY quickly so don't walk away from the stove during this part of the recipe.
The last veggie I sneak is in grated zucchini. I put that in when I added back the broth to the pot to cook with the noodles. Additionally if you like corn you could add that in. We don't eat a ton of corn in general. But it would be pretty for color.
Spicy Tomato Broth
From what I could find online, Sopa de Fideo is typically cooked in a tomato type broth. Usually it's some kind of tomatoes, onion and broth blended up. For my broth I decided to use crushed tomatoes instead of whole. Why? Crushed tomatoes tend to have little to no seeds in them. I do have a Vitamix so it does a good job of blending them but a regular blender I feel like doesn't get all the seeds ground down.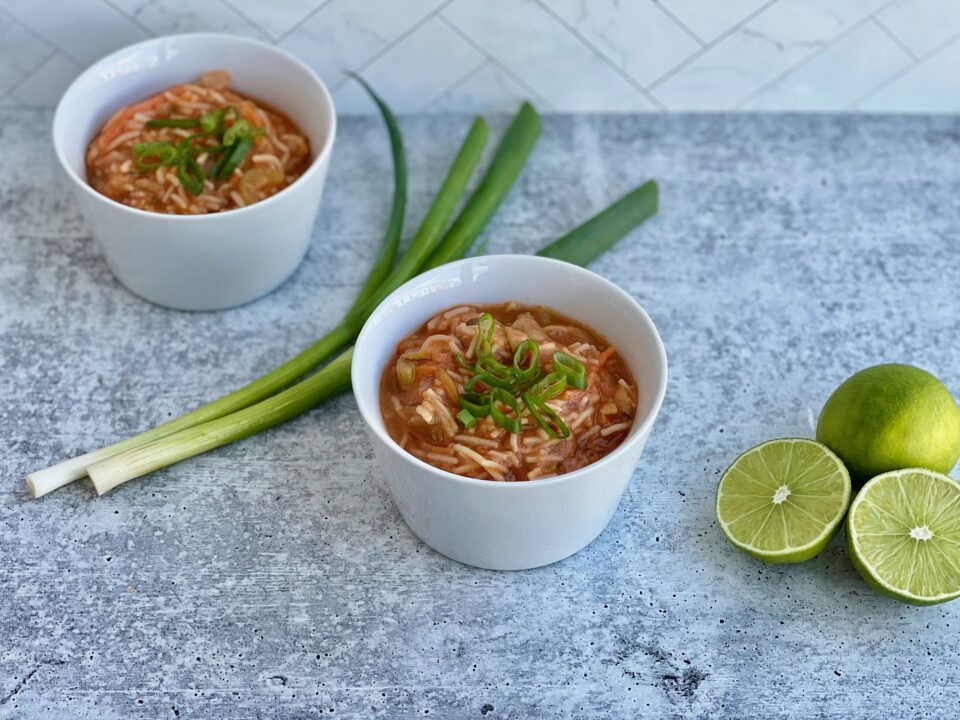 White onion is a staple in Mexican cooking so I used that. But then to spice it up I added some extras. First off in went a jalapeño. The jalapeño added just the right amount of spice. Next came some cumin. The cumin is not spicy in a hot kind of spicy way. It just adds a lot of really good flavor that I think the broth needed.
While we eat a TON of vegetarian in our house, when I make soups like this I use chicken broth. I just personally find that chicken broth has a lot more flavor. So if you are a flexitarian eater like us – use chicken broth. But vegetarian broth would work here for a vegan version of the Mexican noodle soup with veggies.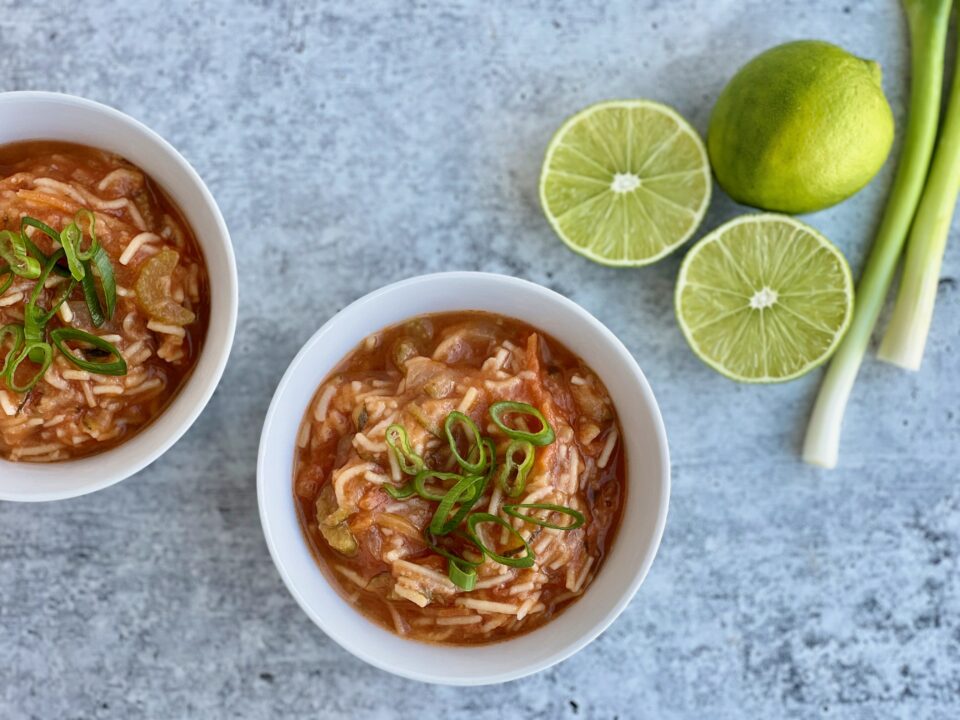 Super Easy, Super Quick
This soup does not take long to cook at all. The hardest part of making the soup is breaking up the pasta into smaller pieces. And maybe cutting the veggies up. So if you are looking for a quick soup that will not only feed you for dinner but lunch the reset of the week, this recipe is a good one.
If you have never had Sopa de Fideo – that's ok. And while this Mexican noodle soup with veggies is not the traditional version it is still delicious!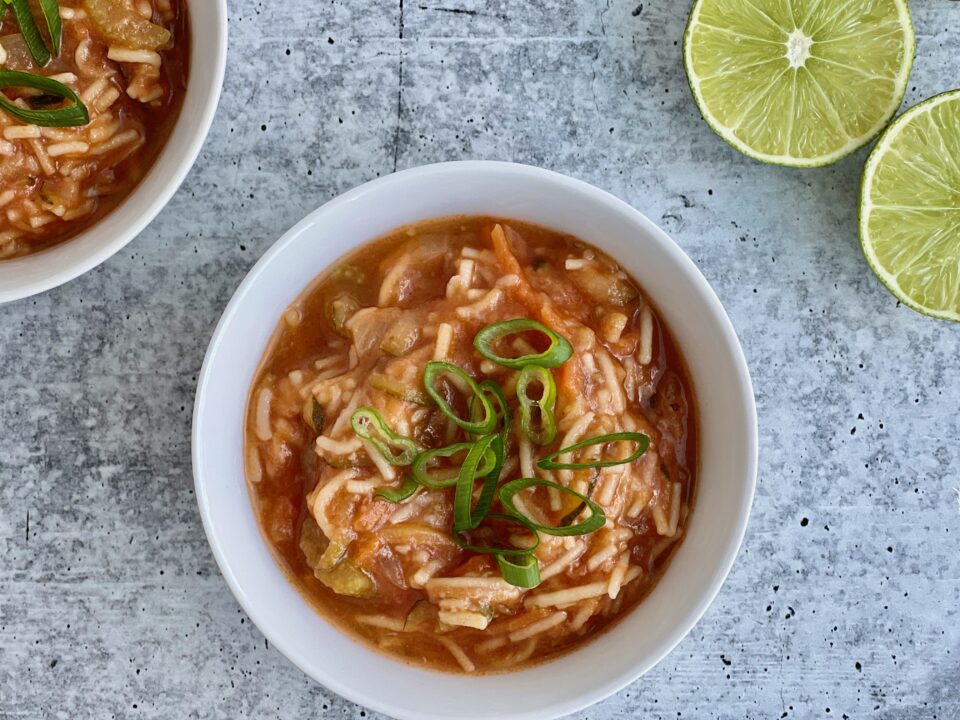 Print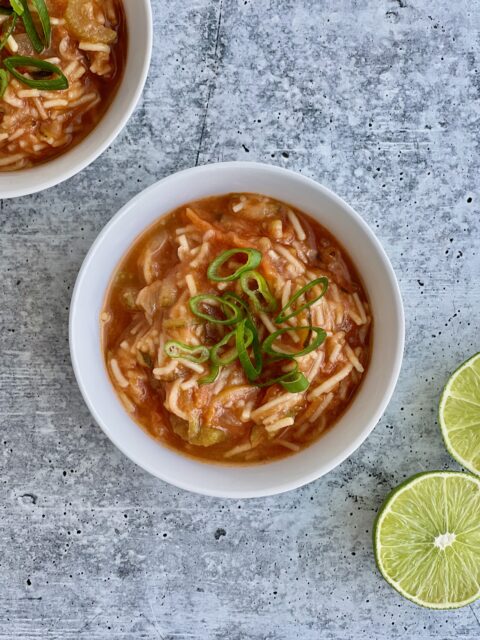 Mexican Noodle Soup with Veggies – Sopa de Fideos
---
1 28 oz can crushed tomatoes
1 white onion, rough chopped into quarters or large pieces for the blender
6 cloves of garlic
1 jalapeno
1 TBS cumin
8–10 cups of broth (chicken or veggie)
1/2 lb long thin noodles (angel hair, vermicelli or capellini work best) alternatively if you find actual Fideo noodles at a Mexican market use those!
2 bay leaves
6–8 stalks celery, thinly sliced
1 c grated carrots or 3 carrots grated
1 yellow onion, diced small
2 zucchini, grated
fresh limes
optional – avocado, jalapeño and cilantro for topping
---
Instructions
In a blender combine crushed tomatoes, white onion, garlic cloves, cumin, jalapeño and 2 cups of broth. Blend until smooth. Set aside.
In a large soup pot sauté celery, yellow onion, carrots and bay leaves over medium to medium low heat until slightly soft, 8-10 minutes.
Remove veggies from pan. Add 1 TBS of oil back to the pan. Break the pasta up into the pan. I hold a handful of noodles and just snap the ends off into inch size pieces. The thinner the noodles the easier to break. Let the noodles cook up and start to turn golden brown. Be careful – the noodles will go from brown to burnt very quickly.
Once the noodles are browned add in tomato mixture, sautéed veggies, 6 more cups of broth and the zucchini. Turn heat up to medium to medium high and let the soup come to a gentle bubble to cook the pasta.
Once the pasta is cooked (about 10-12 minutes, check the cooking instructions on your package) serve. If you find that the pasta soaked up a lot of the broth add the 2 remaining cups to the soup. If you like more of a stew like consistency the soup will continue to thicken as it rests.
Squeeze a fresh lime over each bowl when serving. Eat as is or top with additional toppings of your choice!