This lemon asparagus pasta with goat cheese is simple to make. In the time it takes to cook the pasta the meal is almost done. The sauce is combined with goat cheese for a creamy finish.
Spring is almost here and the springtime veggies are making an appearance. I LOVE asparagus. It is one of my favorite vegetables. I also love meals that don't take a lot of time to cook. So I knew this weekend I had to make my lemon asparagus pasta.
Time saving tips
For this recipe there is one thing that saves time. Since you need a pot of boiling water for the pasta there is no point in cooking the asparagus separately. What I like to do is throw my asparagus stalks in whole with the pasta. When the pasta only has a few minutes left to cook I place the asparagus in the cooking water.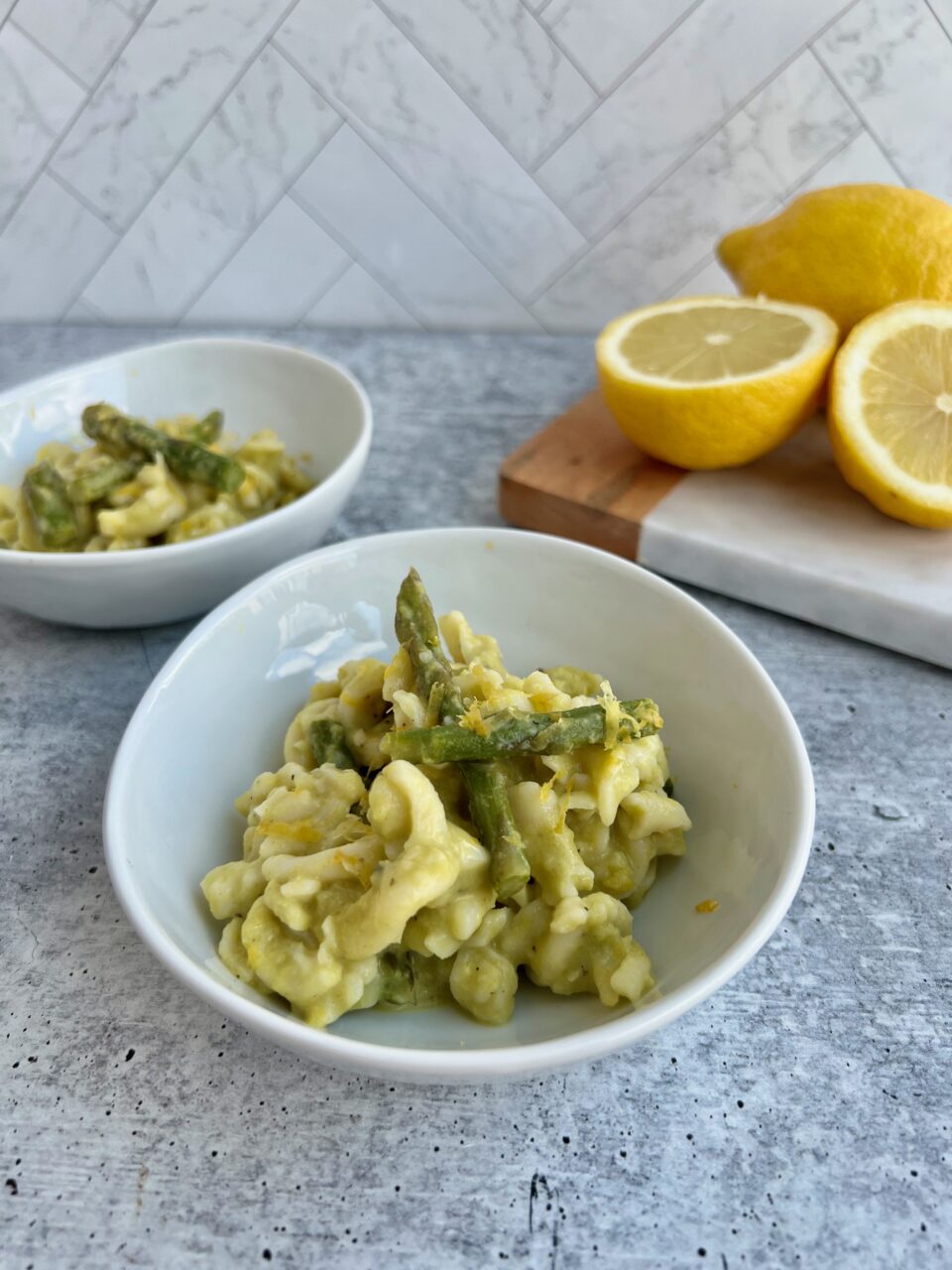 Now here is the secret – don't move the asparagus around. Why you might ask? Because it makes it easier to fish out of the water. I like to take a pair of tongs and when the pasta is done I scoop out all the asparagus and place to the side. Then I drain my pasta. BUT REMEMBER – we want to save some of the pasta water so make sure you take a few cups out before draining!
Simple yet flavorful sauce
The sauce for this pasta is so easy to make. You just need a blender or a Vitamix to puree everything. Once the asparagus is out of the water I cut the tips off and reserve them. Then the asparagus stems go into the blender with some lemon zest, broth, the goat cheese and a little pasta water. That's it!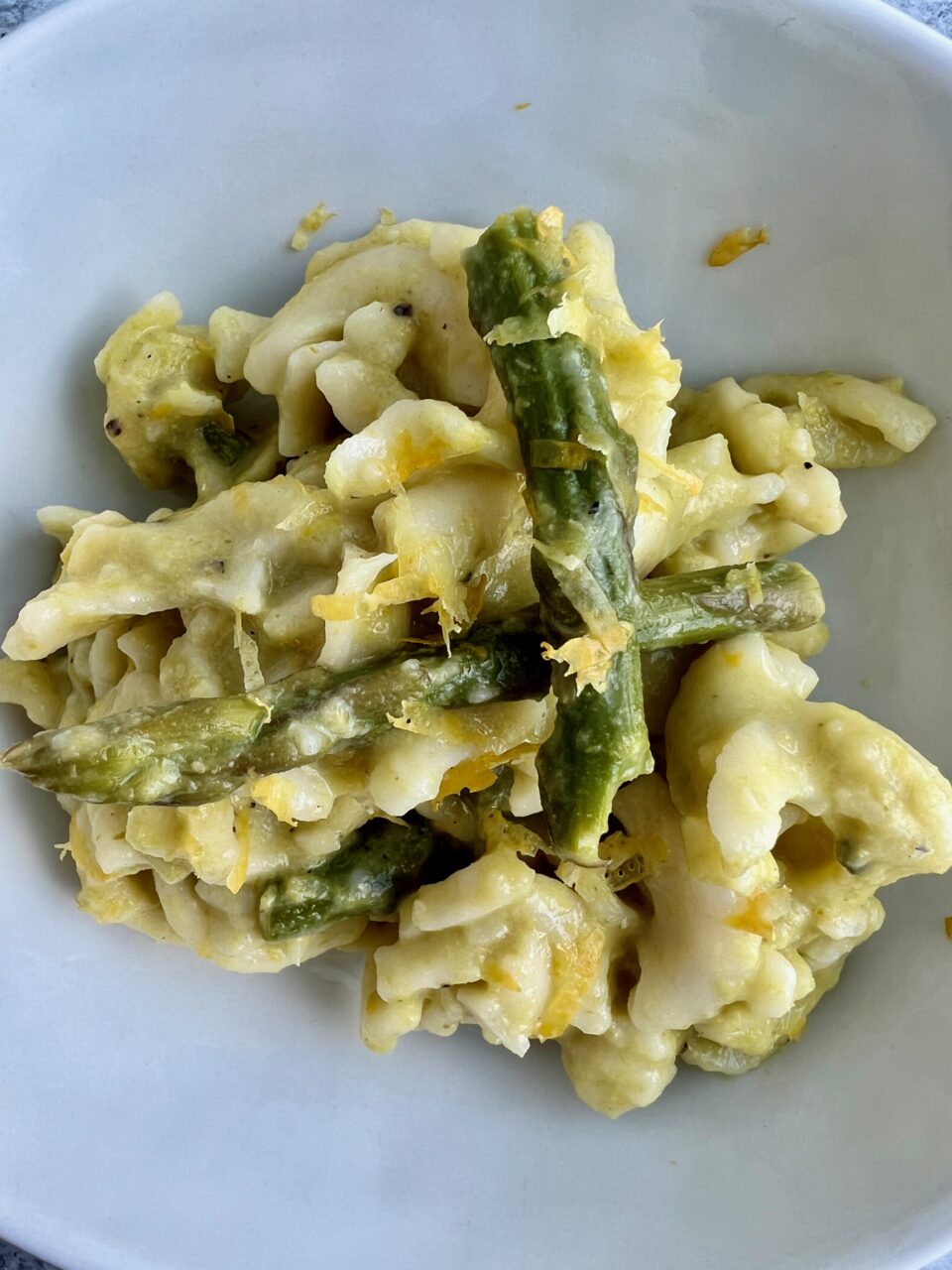 BE CAREFUL – your pasta water will have salt in it. Also so does the parmesan cheese that you will add in the end. So I don't season with salt until the very last minute and make sure I taste the pasta first. I do go pretty wild with the fresh cracked pepper though. I like the little bit of spiciness it gives the pasta. It reminds me a little of cacio e Pepe because I add so much. But if a lot of pepper is not your thing just add what you like.
Here is another tip. Once you add the sauce to the pasta the pasta will start to absorb the sauce. I like to serve this immediately. However if for some reason you can't that's why we save the pasta water. You can thin the lemon asparagus pasta back out with more pasta water or even more broth.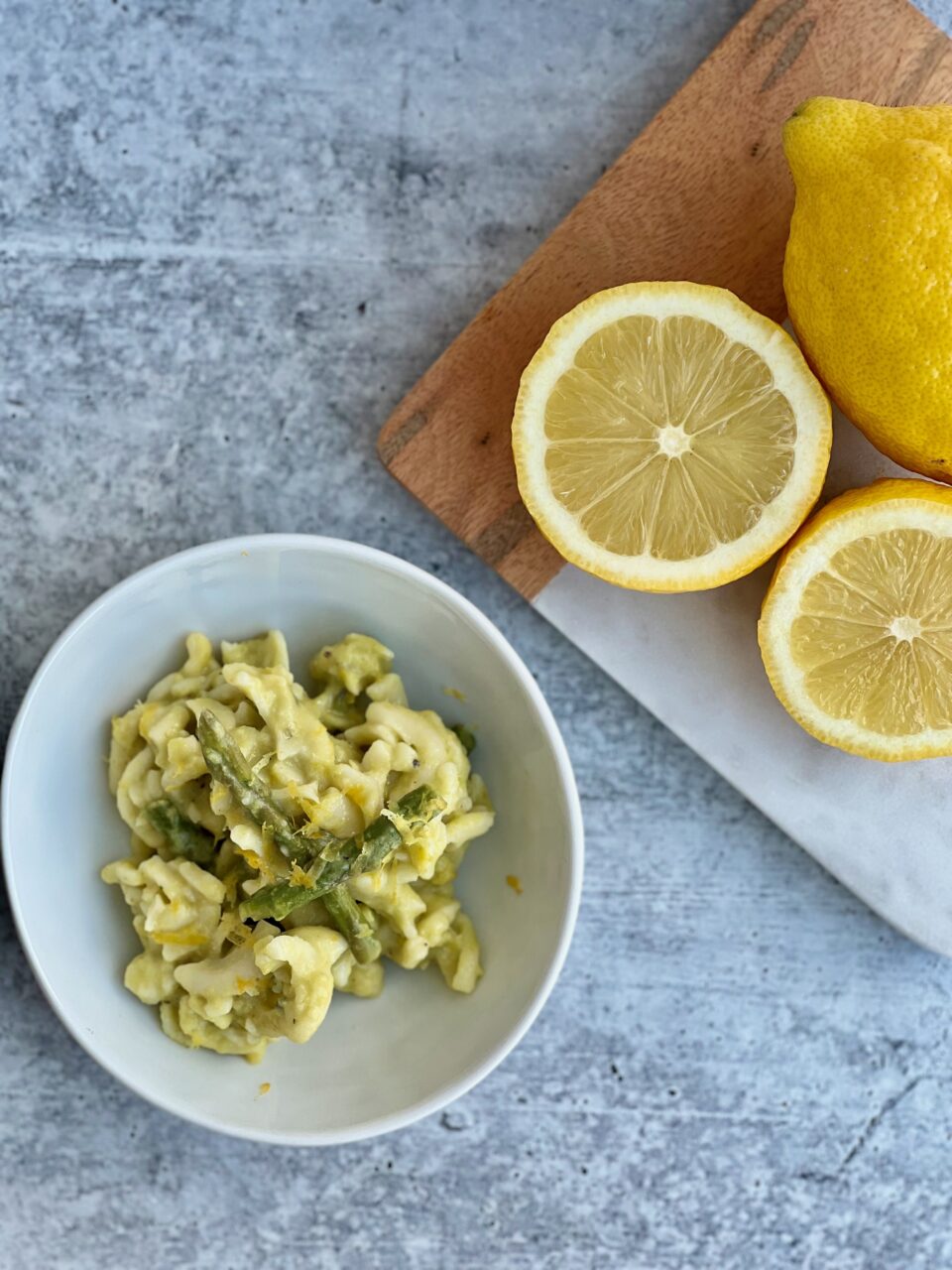 So if you are looking for a quick way to use in season spring veggies try this asparagus lemon pasta. If you are like me it will become a go to when you are in a hurry. Or if you just want a tasty new dish!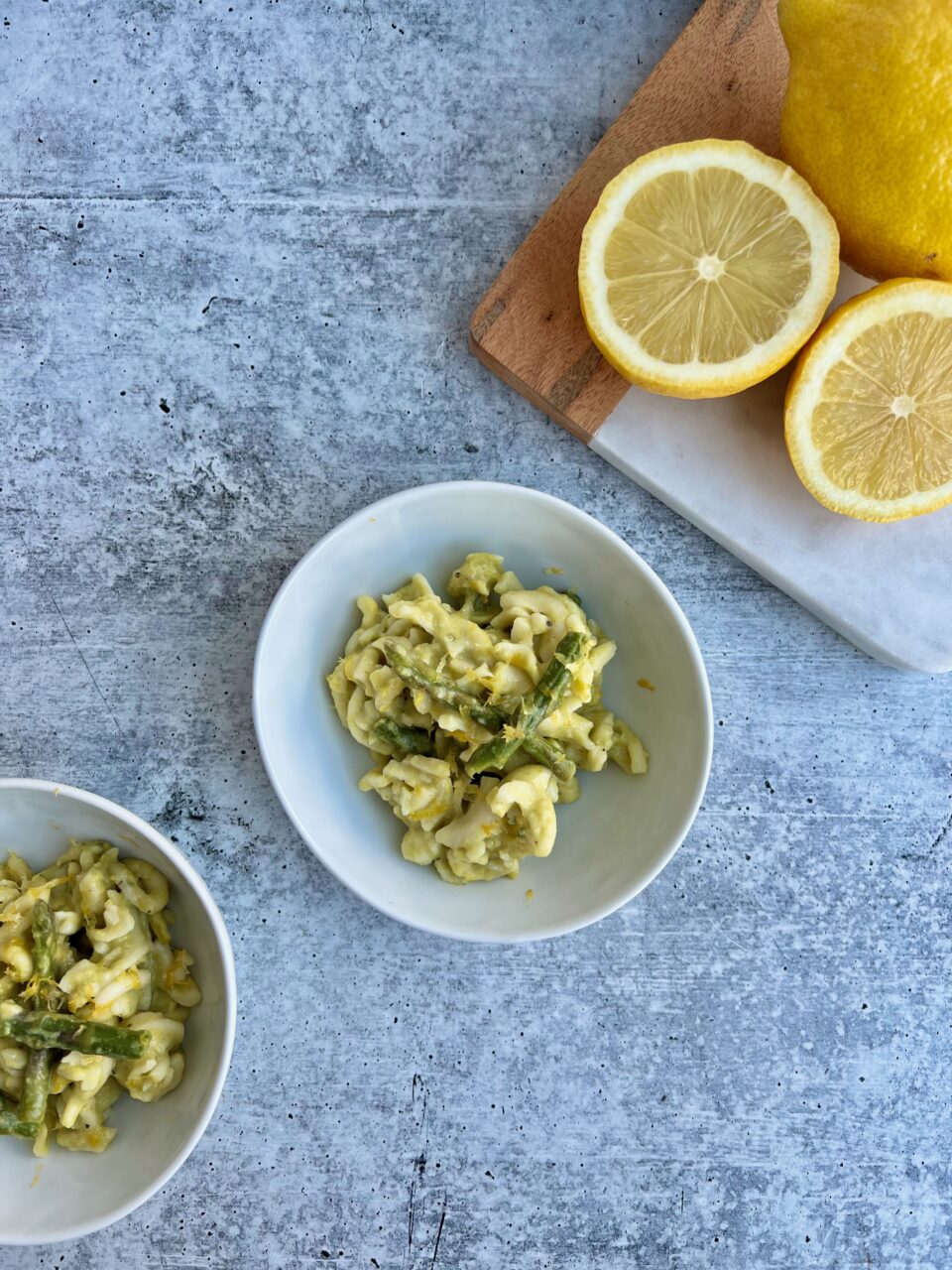 For more spring time recipes try these:
For another asparagus pasta dish try this one with bacon
Ramps are another in season spring vegetable and this soup is full of them
And remember, if you try this recipe be sure to rate it and leave a comment below and let me know how you like it. Or tag me on Instagram!
Print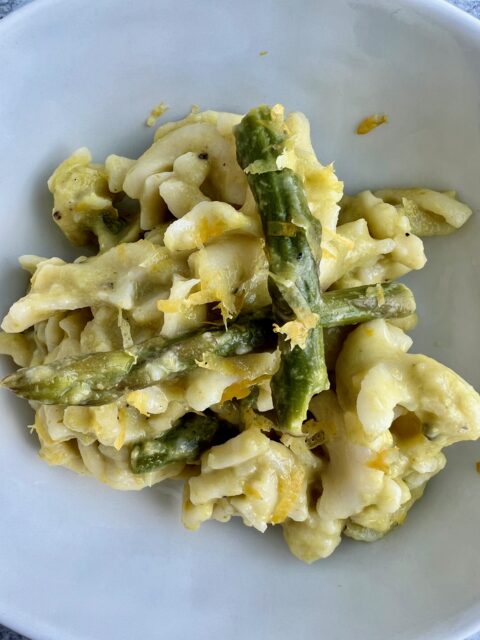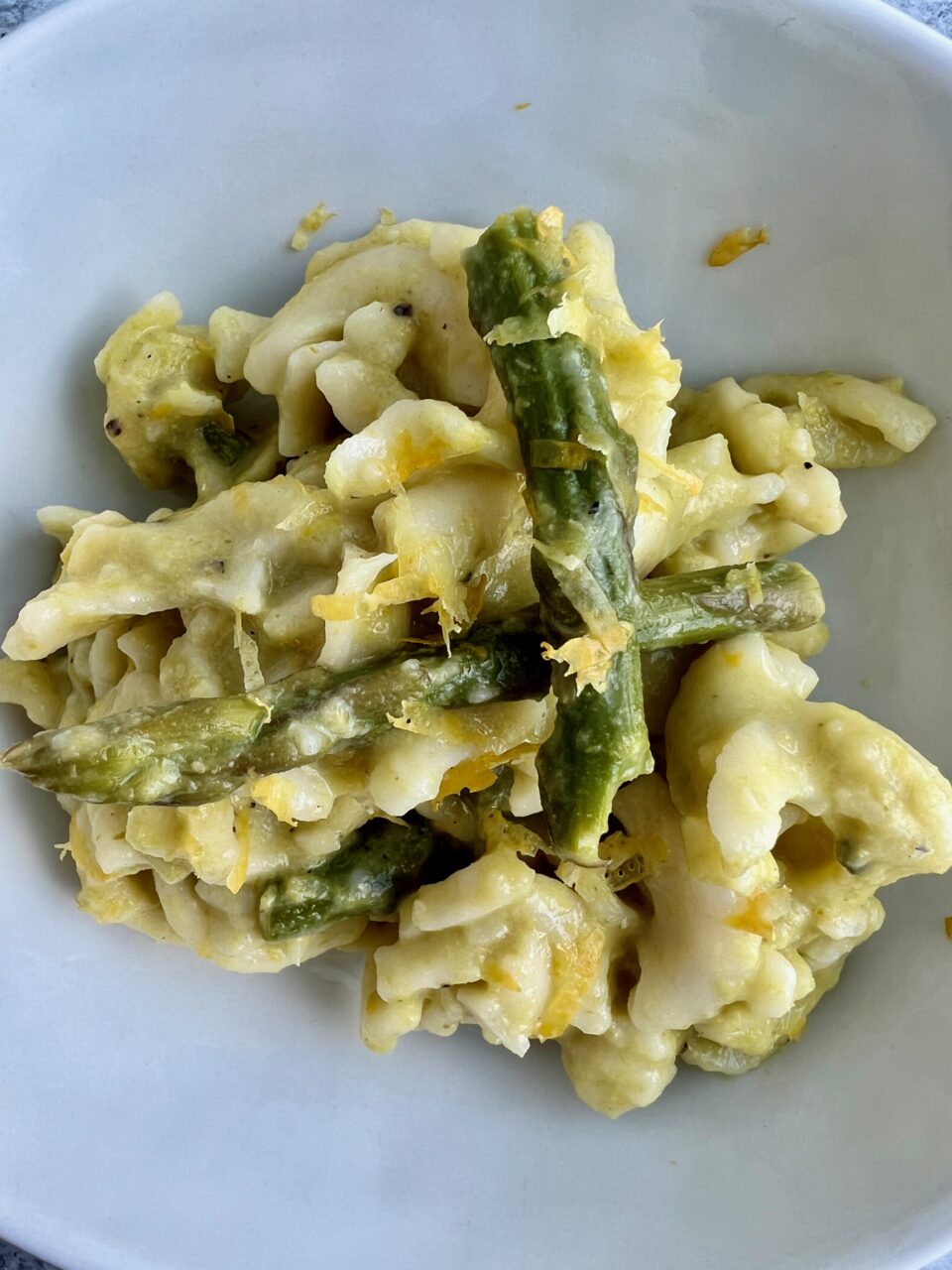 Lemon Asparagus Pasta with Goat Cheese
---
2 bunches of asparagus, tough ends trimmed (you will be blending this though so you don't need to cut off as much as if you were making to eat) – 1 to 1.5 lbs of asparagus
zest of 2 lemons
1 c chicken or veggie broth
4 oz goat cheese
1/2 cup parmesan cheese
1 lb pasta (penne, fusilli, orecchiette all work great)
---
Instructions
Bring a large pot of water to a boil. Be sure to salt the water to flavor the pasta.
Cook your pasta according to instructions. When there are 3 minutes left on the pasta put the asparagus spears in the water
Using tongs remove the asparagus from the water
Save 2 cups of the pasta water before draining the pasta
Cut the top one inch off the asparagus and reserve the spears
In a blender combine the asparagus stalks, goat cheese, chicken broth, lemon zest, and 1/2 cup of the pasta water. Blend until smooth to make a sauce.
Add the sauce and pasta back to the pot. If the sauce is too thick thin out the pasta with 1/2 cup more of the pasta water.
Add in parmesan cheese and asparagus spears and season with pepper. I like mine with a lot of fresh cracked pepper. Taste your pasta. Add salt if necessary (there will be salt from the pasta water as well as the cheese).
Serve immediately. If you wait the pasta will soak up some of the sauce so you can thin out again by using more pasta water or even more chicken broth.
Keywords: pasta, asparagus, lemon, goat cheese, easy