This lemon basil pasta is simple to make yet big on flavor. The sauce is made while pasta cooks so dinner is ready in less than twenty minutes.
The weekends are usually reserved for our heavier meals. During the week we eat lots of salads but on the weekends I love cooking pasta. I am not a believer of cutting food groups out of my diet (unless I was allergic) and pasta is my favorite carb. So usually on the weekends that tends to be on the menu. I have been inspired by all the spring vegetables lately and love pesto. But I had a friend coming over who was allergic to pine nuts so had to pivot.
If you can use a blender you can make this sauce!
I know a lot of people are intimidated by cooking. I hear people kid that they cannot boil water. This recipe really is not too much more than that. Boiling water for the pasta and using a blender for the sauce.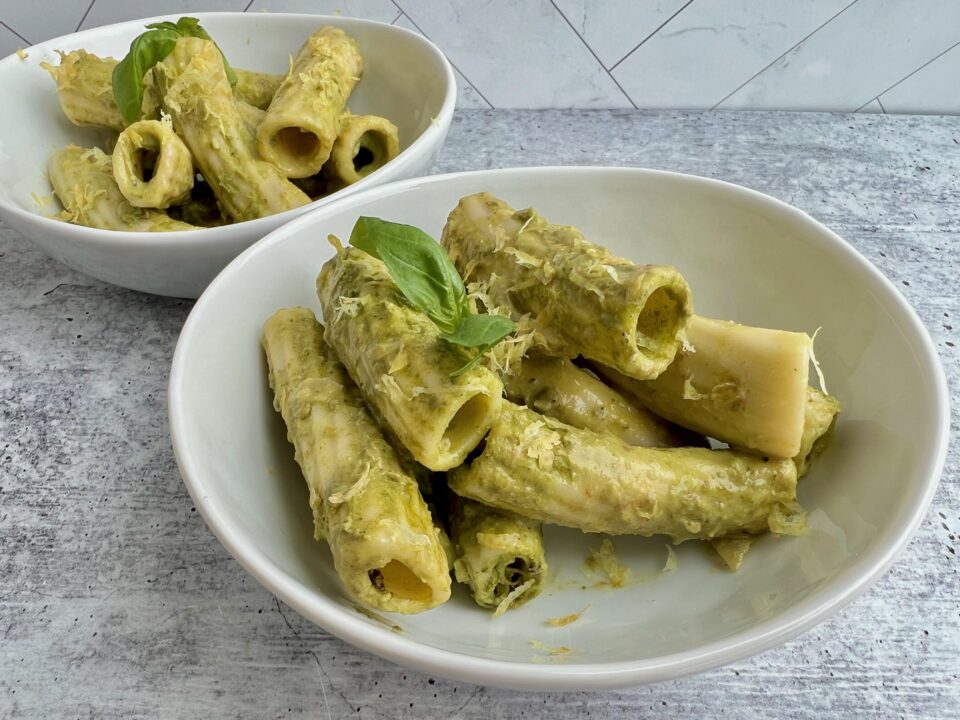 What I love about using a blender for sauces and soups, besides the ease of it, is it gives me a chance to add in some vegetables. In this recipe there really are no vegetables. However whenever I make a pesto I sneak in baby spinach. Baby spinach is the same color of the basil so once it's mixed together you can't even tell. So I decided to do the same thing for this sauce. The key here is always use fresh spinach. I find the frozen stuff doesn't taste good and you have to spend time thawing it, squeezing out the water – we don't have time for that!
Simple kitchen tools to invest in
So many of the recipes I create involve lemon zest. I love using fresh lemon zest, especially with pasta and ESPECIALLY with basil. The two go so well together. While lemon zest sounds fancy it is no more complicated than grating cheese! The key to zesting a lemon is to not get too deep into the pith (the white part of the fruit) as that is bitter. So when zesting a lemon you just want to lightly grate off the colored part of the flesh.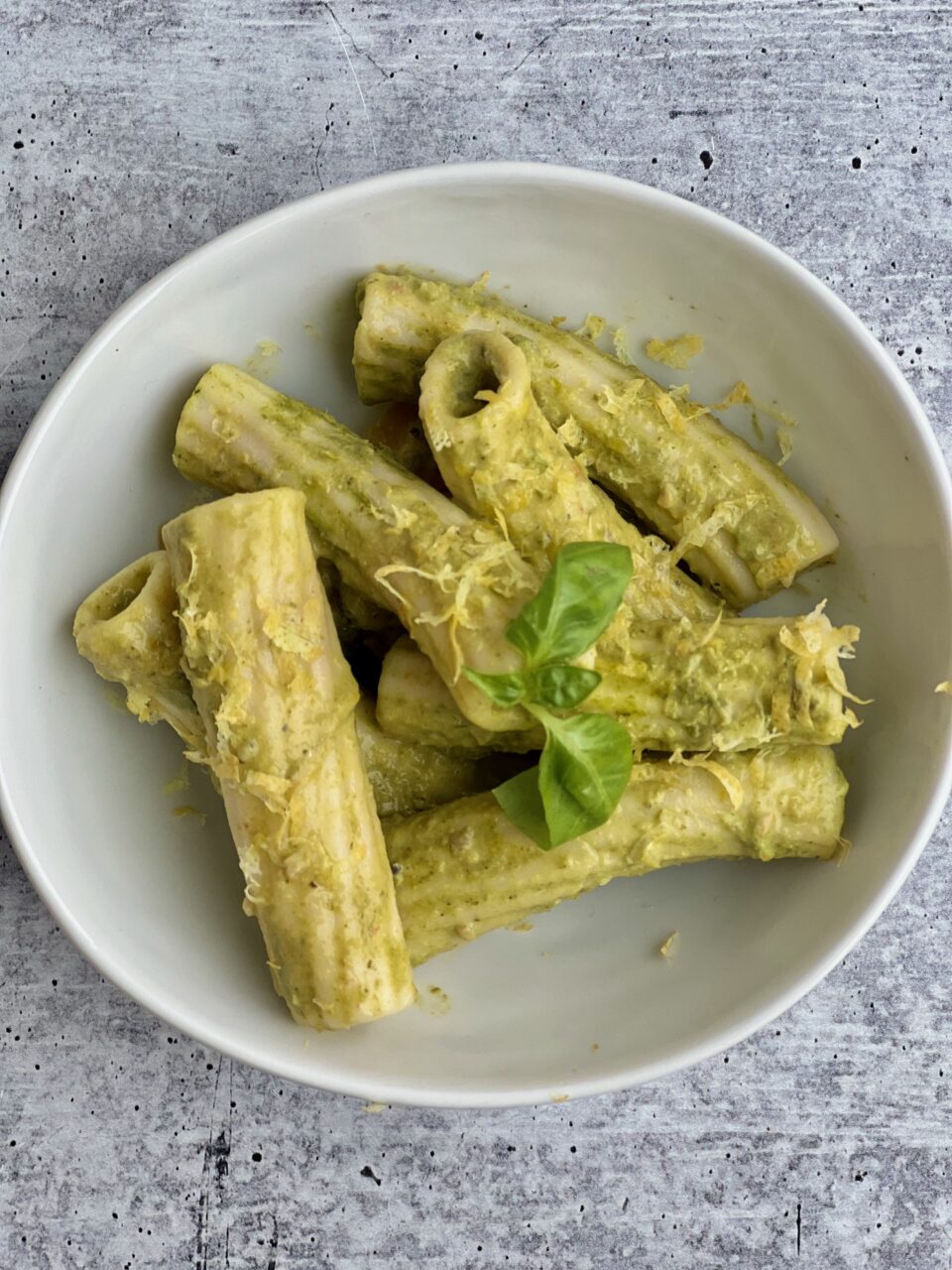 Zesters are not expensive either. You can find them in the kitchen aisles at stores like Target or Amazon. Or if you want to splurge on a nicer one you can look at specialty kitchen stores like the zester we have found here.
So the next time you are in the mood for pasta or pesto even, be sure to try this simple easy lemon basil pasta sauce! It's ALMOST as easy as boiling water!
For more lemony recipes try these:
This asparagus and lemon pasta is perfect for spring
For a lemony side dish (and the most visited recipe on this blog!) try this easy lemon garlic Parmesan rice
And remember, if you try this recipe be sure to rate it and leave a comment below and let me know how you like it. Or tag me on Instagram!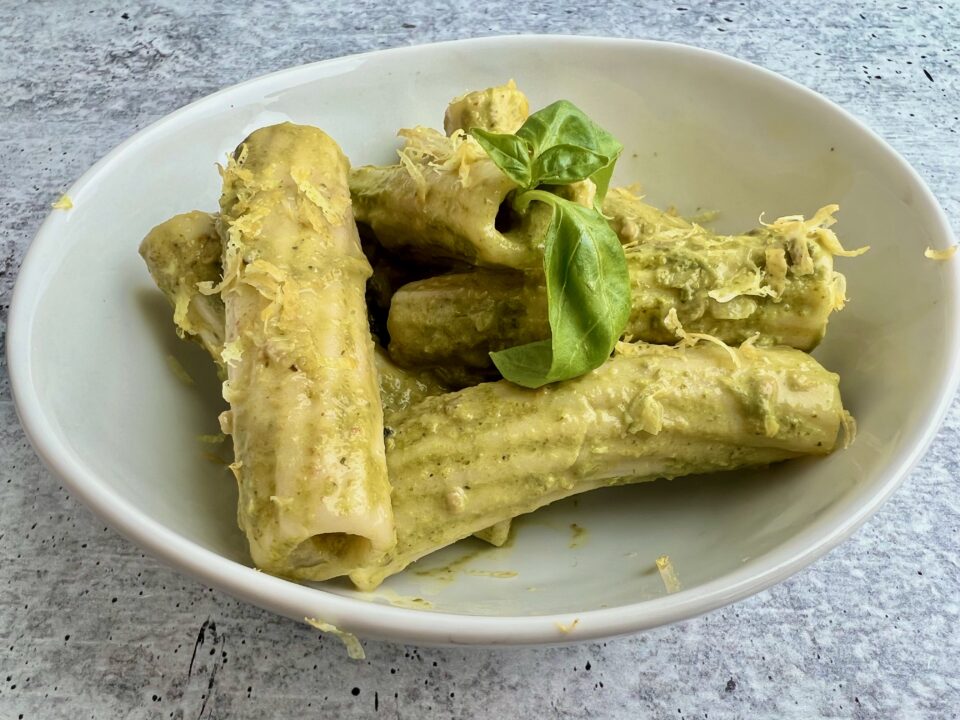 Print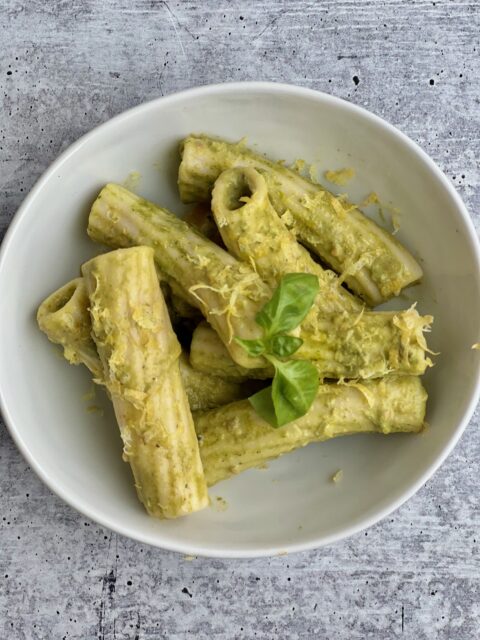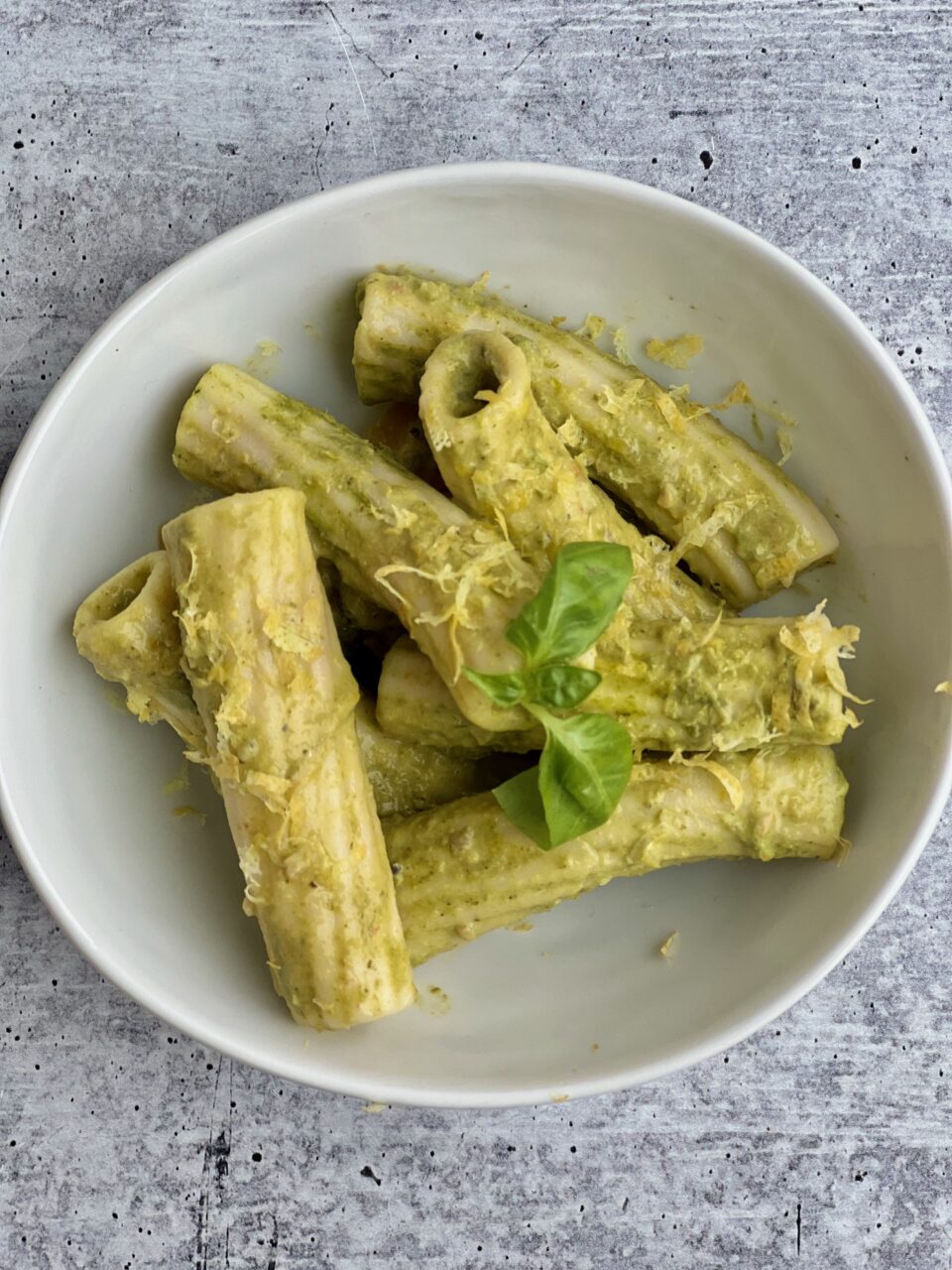 Lemon Basil Pasta Sauce
---
6 garlic cloves, minced
2 small or 1 large shallot, minced
4 oz fresh basil leaves
3 large handfuls of fresh baby spinach (I promise you won't taste it!)
2 TBS lemon zest + more to sprinkle on top of pasta
1.5 c parmesan cheese
1 c heavy cream
1 lb pasta
---
Instructions
In a large pot of salted boiling water cook pasta according to directions
Meanwhile in a large high sided skillet sauté garlic and shallots in the butter over medium low heat to soften. Be careful you don't want the garlic to brown
In a blender place lemon zest, spinach and basil. After the pasta has cooked half way add 1.5 c of the pasta water to the basil mixture. Blend until smooth and creamy.
Add 1 c of the parmesan cheese to blender. Blend for a few seconds
Add the heavy cream to the shallots and garlic mix. Stir around. Season with salt and pepper. Let cream heat up.
Add basil mix to the cream mixture. Stir to incorporate
When pasta is done cooking drain and add to the sauce. Add in remaining parmesan cheese to pasta. Serve with a sprinkle of lemon zest on top.
Notes
If you are not cooking pasta and you just want this sauce for meat, rice, zoodles etc. you can replace the pasta cooking water with 1 cup of veggie or chicken broth instead.