This tomato couscous soup is soup-er easy to make. Plus plenty of tips to load this soup with veggies for the pickiest of eaters included!
One of the easiest soups on my blog is this lemon couscous soup. I was looking for something different though. I wanted a tomato base and I thought, what if I combined everything I love with the lemon version and change it up a bit. So this tomato couscous soup was created.
Don't be intimidated by couscous
If you have never cooked couscous before don't be intimidated. Especially in this recipe. The cooking of it in this tomato couscous could bot be easier. You simply dump it in the pan with the rest of the soup and let it cook on its own. Could not be easier. TIP: make sure to stir your soup once you add in the couscous so it doesn't stick to the bottom!
For this recipe I love using Isreali couscous which is bigger than the little tiny grains of couscous you may be used to seeing. To me it reminds me more of a pasta which is perfect in this soup. My husband found a tri-colored couscous that was colored with spinach and paprika that worked really well in this soup. But you can always just the white stuff. Or you could even substitute with a whole wheat version if you prefer.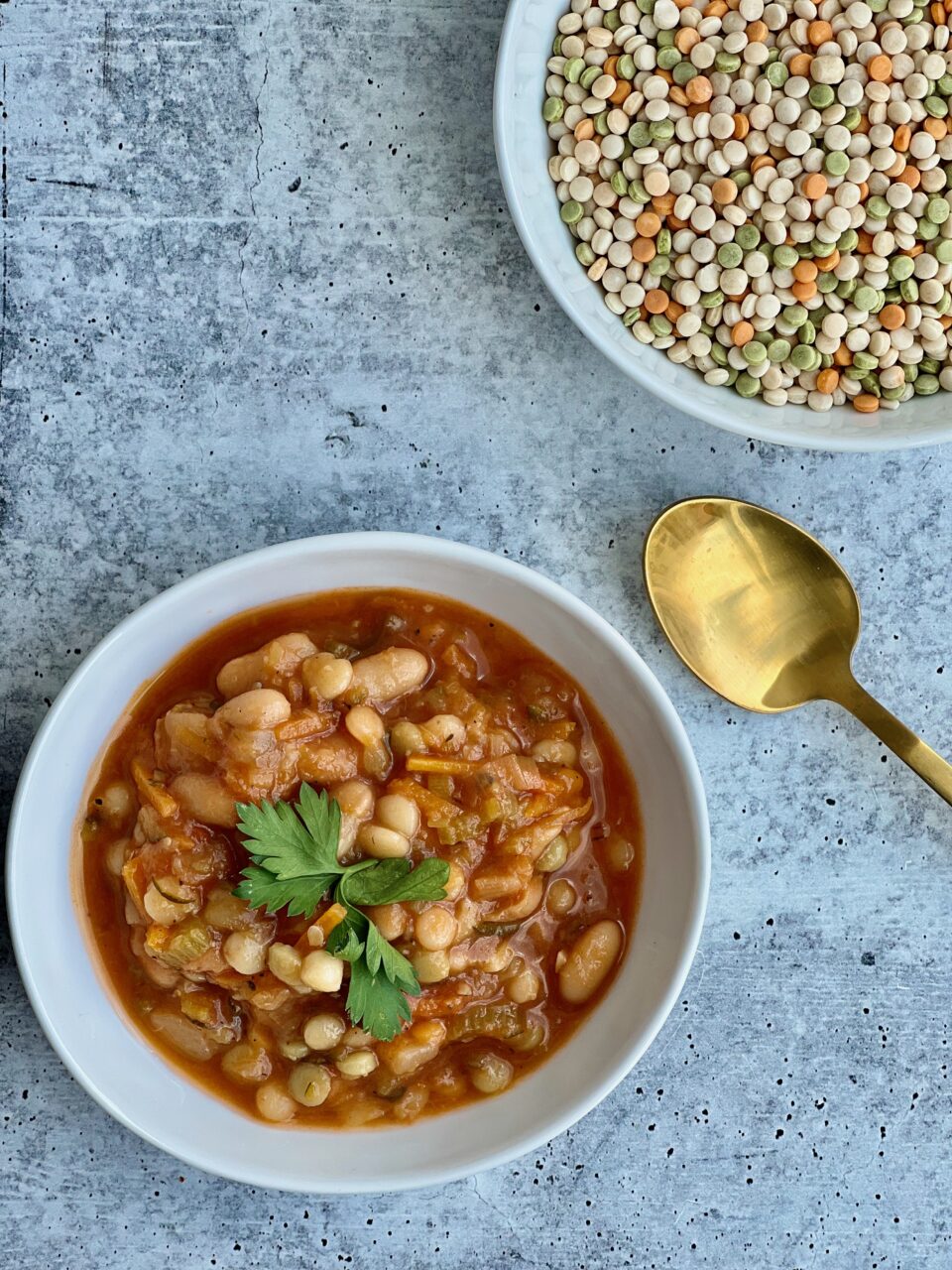 The more the better….. veggies that is!
Like any soup I make this one is no exception to the overload of veggies. I loaded the soup with carrots, celery, onions, leeks, zucchini, and spinach for a well rounded variety. My daughter winds up taking leftovers for lunch to school and then I know she is getting in extra veggies during her meal.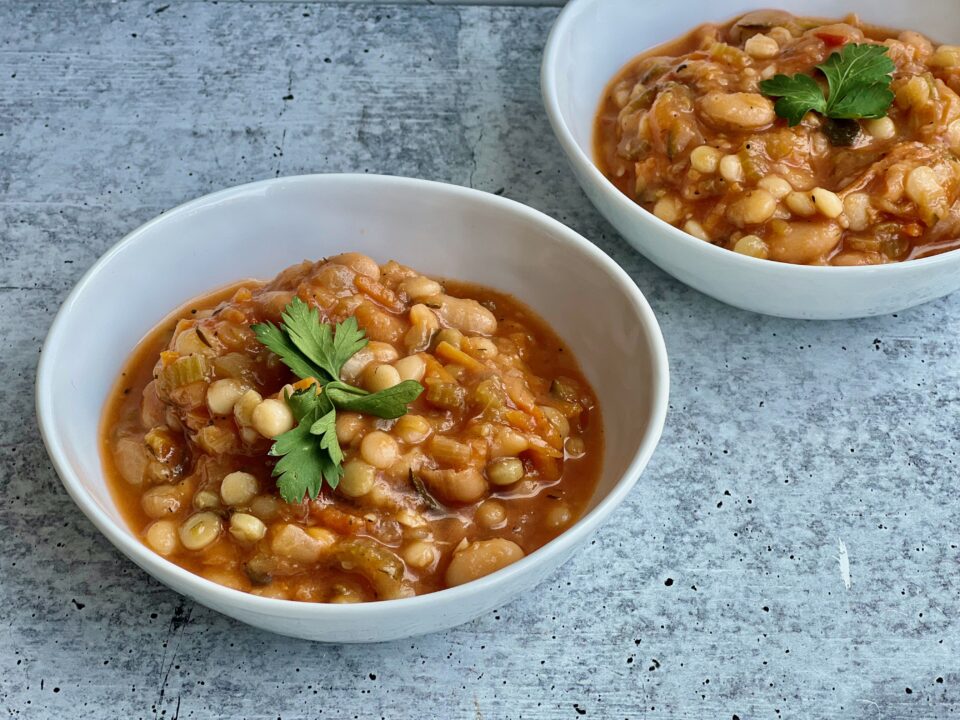 If you have picky kids (or spouses) here are some ways I have continued to sneak veggies into my meals over the years:
Grated carrots – I actually don't like carrots but if they are grated in a soup I can't even taste them
Thinly slice everything – my husband doesn't like celery but if I thinly slice it for the soup he can't taste them
Grated zucchini – I put grated zucchini in almost every soup I make. Zucchini is water based and doesn't have a ton of flavor on it's own so it soaks up all the flavors of what you cook it in. Plus if you grate it it's so small it goes unnoticed.
Finely chopped baby spinach – because I add in fresh herbs to my food I also finely chop fresh baby spinach and again, it wilts into the soup and you can't taste it. Just don't use the frozen stuff. I find that tastes SUPER spinachy!
Healthy doesn't have to be complicated
This tomato couscous soup is so easy to make. Most of the time spent for this recipe is chopping veggies and waiting for things to cook. It's perfect for a week night meal when you might need to multi task or even a Soup Sunday night. In less than an hour you can have a well balanced dinner on the table.
So don't be intimidated by couscous if you have never cooked with it. Or all the veggies for that matter! The next time you are looking for an easy meal try this tomato couscous soup recipe. And if you do be sure to give it a rating below or tag me on Instagram!
Print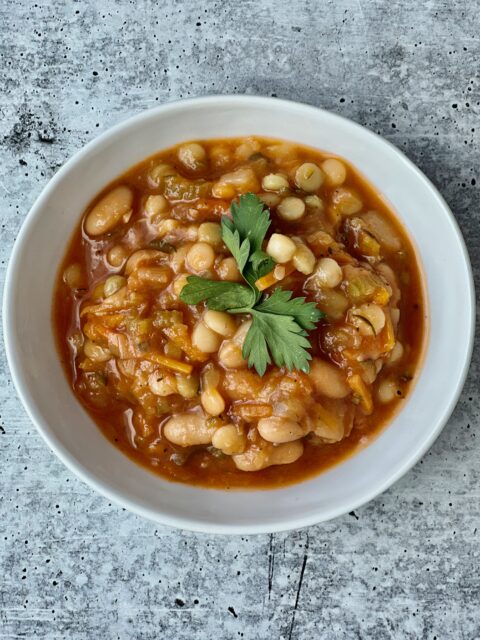 Tomato Couscous Soup
---
Author: Karissa P
Total Time: 45M
Yield: 6-8 1x
6–8 ribs celery, thinly slicked
1 yellow onion, minced
1.5 cup grated carrots or 3 whole carrots grated
2 leeks -light green and white part only, thinly sliced (be sure to rinse out your leeks once chopped to get all the sand out!)
2 bay leaves
6 cloves garlic, minced
1 28 oz can crushed tomatoes
12 cups veggie or chicken broth (3 32 oz boxes)
2 zucchini, grated
3/4 c Israeli couscous
2 cans cannellini beans, drained
2 large handfuls fresh baby spinach, finely chopped
1 large handful fresh Italian parsley, finely chopped
Optional parmesan cheese for topping
---
Instructions
In a large soup pot combine celery, onions, leeks, carrots, bay leaves and garlic with 1 TBS olive oil. Cook over medium to medium low for 12 minutes until veggies are soft. You do not want your veggies to brown so if your stove runs hot turn down the heat
Once veggies are cooked add in tomatoes and 8 cups of the broth, bring up to a gentle boil over medium high heat
Add in beans, couscous and zucchini. Turn heat down to medium and cook until couscous is done (read your package instructions should be about 10-15 minutes). Note – couscous will stay slightly al dente and won't be as soft as cooked pasta
Try your broth – season with salt and pepper. If you are using a broth that already has salt in it be careful not to add in too much salt. You can always add more, you can't take it back! I prefer low sodium broths for this reason.
Stir in spinach and parsley, let cook a few minutes until spinach has wilted into soup
Serve topped with parmesan cheese
Notes
This makes a big pot of soup but is perfect for leftovers or even to freeze!
Prep Time: 10M
Cook Time: 35M
Category: soup
Keywords: soup, veggies, couscous, tomatoes, vegetarian, vegan