This easy pesto pasta with roasted tomatoes is a perfect recipe for summertime. Quick to make yet full of flavor for a delicious dish. It is perfect for a side dish or paired with a salad for a main course.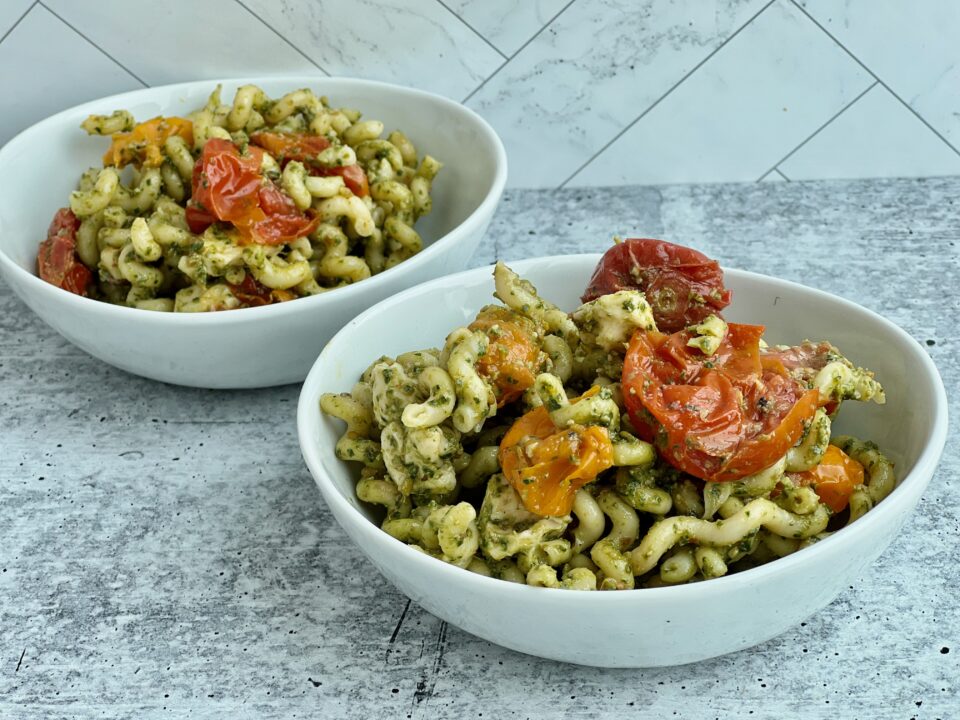 I love pesto! I used to be intimidated by it but once I bought a food processor I realized how easy it was to make. Pesto is a go-to in our house for pasta. Especially in the summer time when basil seems to be in abundance. And since tomatoes are starting to make an appearance I knew I had to experiment. So from my lab kitchen, this easy pesto pasta with roasted tomatoes was created.
Pesto is the best-o!
As I said, pesto is SO easy to make. So if you have a food processor definitely give it a try. I usually don't measure anything while I am making it either. What you need for a perfect Genovese pesto:
Basil
Pinenuts
Parmesan (or nutritional yeast for my vegan friends)
Olive Oil
Garlic
Salt and pepper
Additionally, because it's me and I sneak in veggies anywhere I can, I add in fresh baby spinach as well as a little lemon juice to keep the pesto fresh.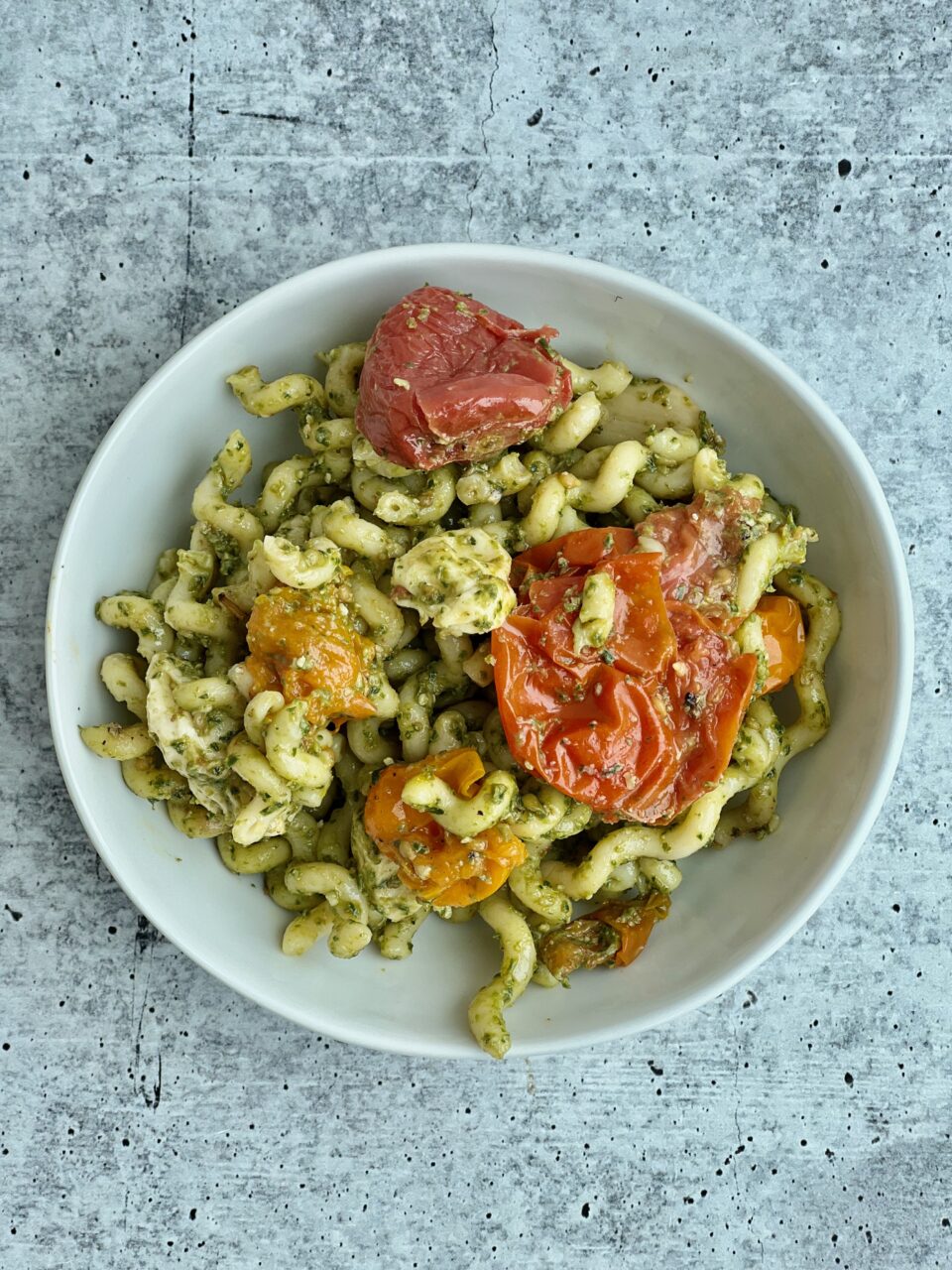 Another thing I do that is a little different than most is I don't like my pesto super runny. I like it on the thicker side. So I don't stream in as much olive oil as most recipes might call for. Eyeball it, when your pesto is a consistency you like, stop adding in the oil.
Easy oven roasted tomatoes
These oven roasted tomatoes are so easy to make. I use them in lots of my pasta dishes (be sure to try this orzo recipe next!) Yet the flavor they give off when paired with the pesto is like culinary magic. Smaller tomatoes like cherry or grape tomatoes tend to be sweeter than large tomatoes anyway. But once they are roasted in the oven they get a nice little char and then sweeten up even more. In a good way though, not in a "my pasta now tastes like dessert" way!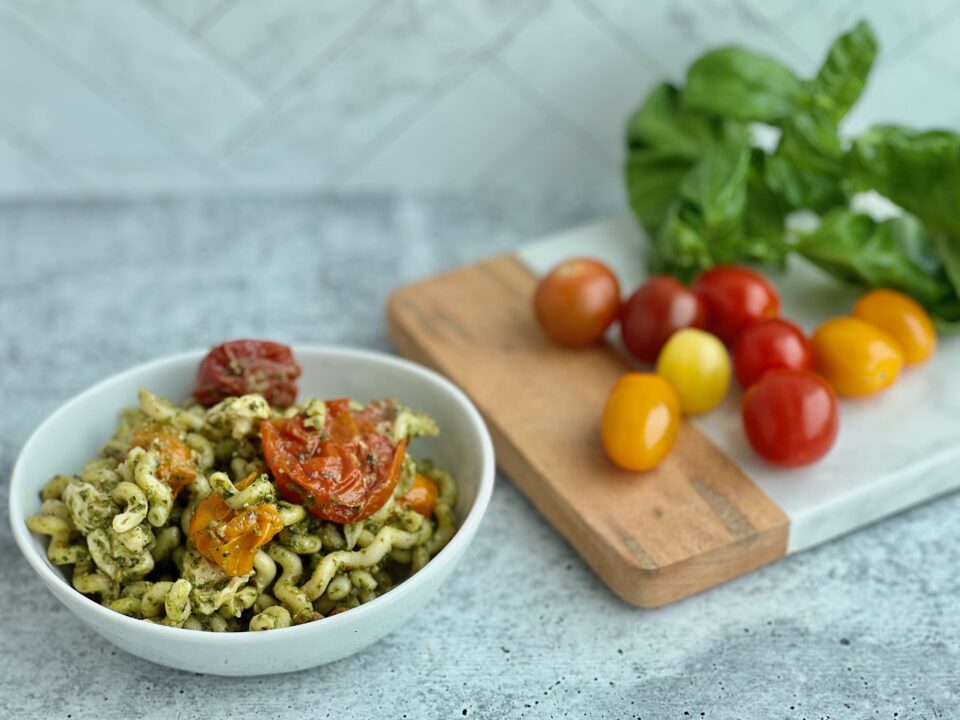 To roast the tomatoes in the oven I simply drizzle a little olive oil, season liberally with salt and pepper and then add a few whole garlic cloves. The roasted garlic also tastes great in the pasta. If whole garlic cloves aren't your thing (then you most definitely are not like my husband!) you can chop them in half lengthwise to make them smaller.
Red, white and green
At the end everything gets tossed together with pasta. As I tell you in all of my pasta recipes, PLEASE PLEASE PLEASE use good pasta. It is a few dollars more but I swear you can taste a difference. Here are some tips for good pasta (in my opinion):
Imported from Italy – I swear something about their wheat is better!
BRONZE DYED! No your pasta actually isn't DYED, it's the plates they use to extrude the pasta. It causes the pasta to have more texture which makes the sauce stick to it better
Organic if you can
No additives – look for pasta where the only ingredient is the wheat (unless you are making egg pasta then the ingredients will be eggs and wheat)
A few of my favorite brands of pasta are here:
And remember, if you make this easy pesto pasta with roasted tomatoes be sure to rate and comment below and tag me on Instagram!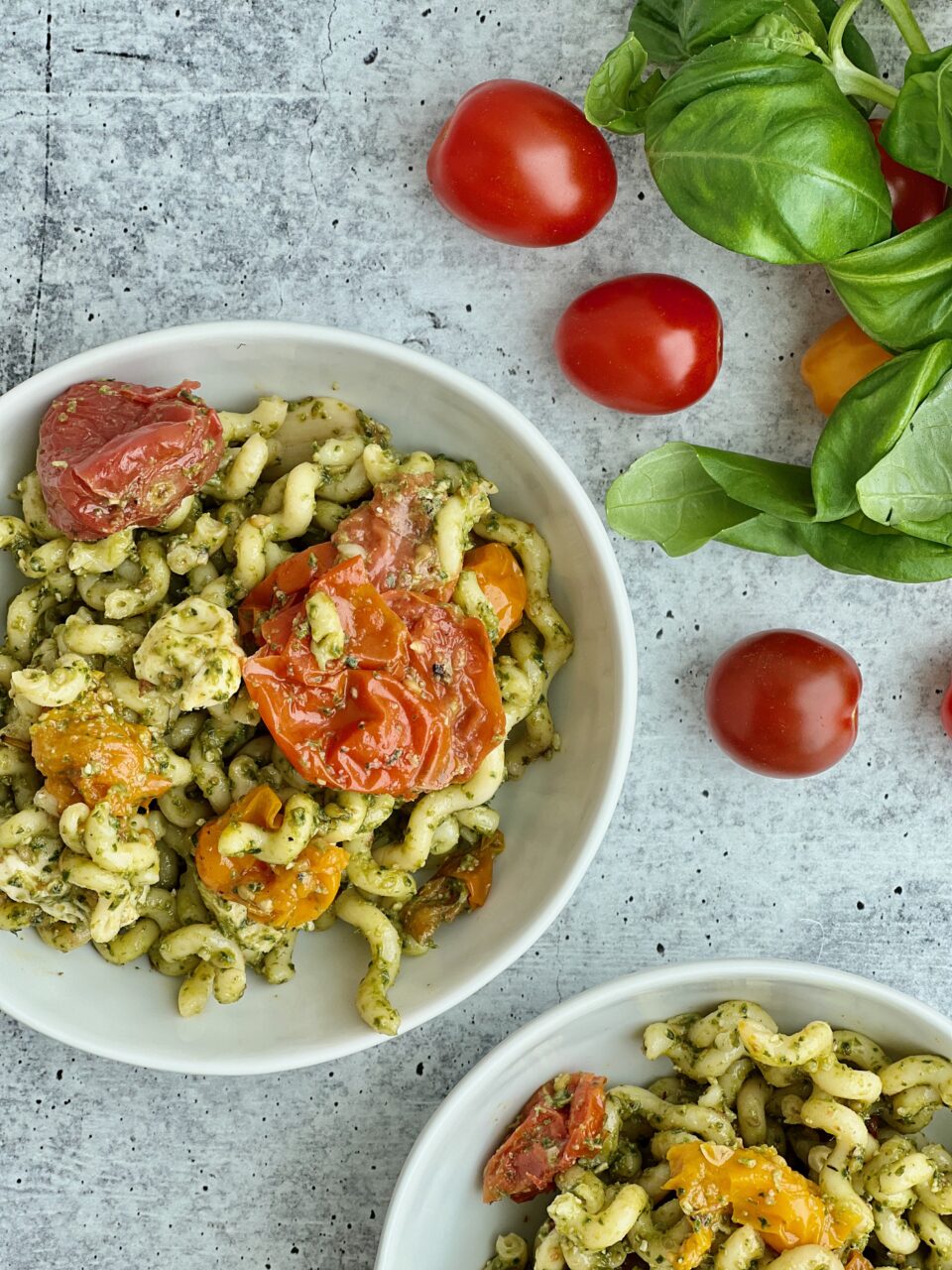 Print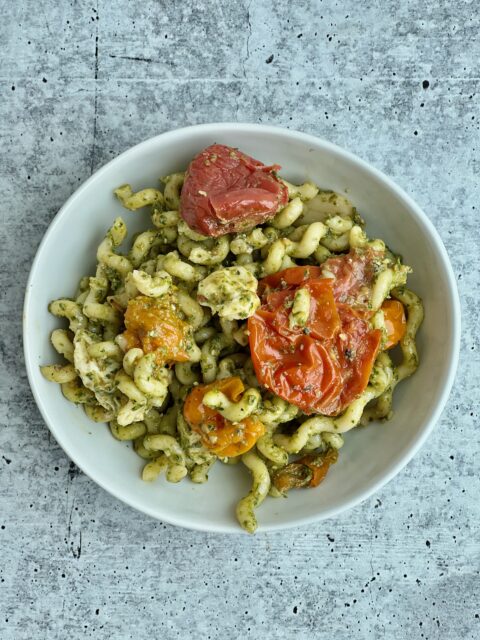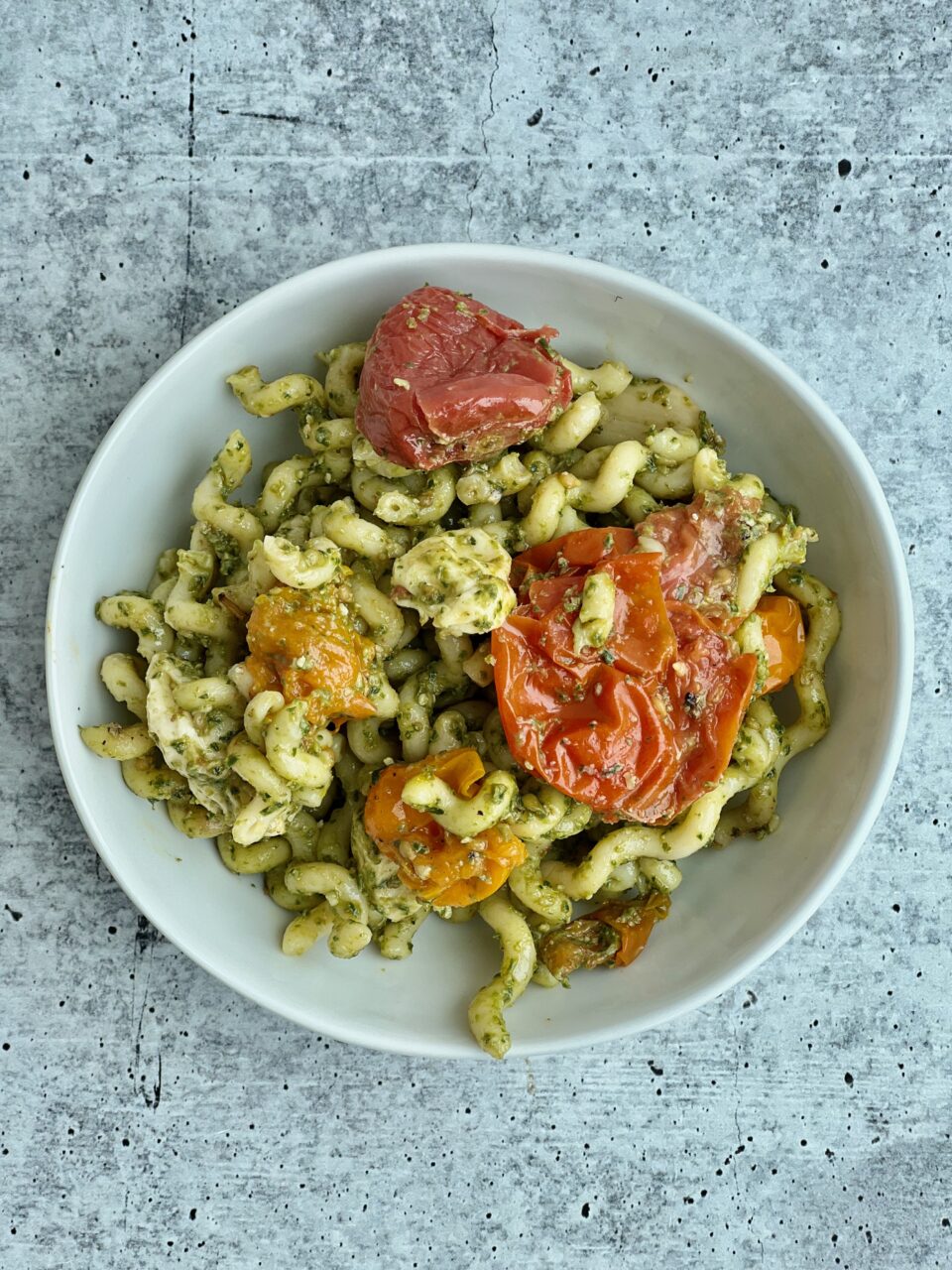 Easy Pesto Pasta with Roasted Tomatoes
---
2 pints of cherry or grape tomatoes
8 whole cloves of garlic
1 cup of pesto
8 oz pearl mozzarella balls
1 lb of your favorite pasta (spaghetti, orecchiette, shells all work good here)
Pantry items – olive oil, salt, pepper, crushed red pepper flakes
---
Instructions
Pre-heat oven to 425
Put tomatoes and garlic in a large baking pan, drizzle with 2 TBS of olive oil, season liberally with salt and pepper. If you like a little spice sprinkle a few dashes of crushed red pepper flakes.
Bake in the oven for 25 minutes stirring half way thru
Cook the pasta according to directions in salted water
Once pasta is cooked either in the pasta pot or the pan with the roasted tomatoes combine pasta, pesto, tomatoes, and mozzarella balls. Serve immediately.
Print
2 1 oz packages of basil (if you are growing fresh 2 big handfuls of basil)
1/4 c toasted pinenuts (I love buying from Trader Joe's they have them already toasted)
2 very large handfuls fresh baby spinach
2 cloves of garlic, if small use 3-4
1/2 c parmesan cheese
juice of half a lemon
salt and pepper to taste
1/4 – 1/2 c olive oil
---
Instructions
In a food processor combine basil, pinenuts, garlic, and spinach. Pulse until herbs are finely chopped
Add in the parm, lemon and a few cracks of salt and pepper
With the food processor on slowly steam in olive oil until your desired consistency. I like mine a little thicker so I use only about 1/4 c. if you like your pesto on the runny side stream in more
Taste your pesto! Add in more salt and pepper if needed!
Notes
I love the taste of the lemon in my pesto. If the half of lemon doesn't produce lots of juice start with half, taste your pesto and if you like a little more use the juice of the whole lemon.
Prep Time: 0M
Cook Time: 5M