[dropcap]F [/dropcap]or me my Monday – Friday breakfast is a smoothie. It's quick and easy and a great way for me to get a ton of protein, fruits, nuts and the benefits from seeds like flax, hemp and chia seeds. I don't spend time cooking a meal in the morning because I like to sleep until the last possible minute I can before getting ready for work. (I am sure my husband would make some sarcastic comment about me hitting the snooze button 3 times as well…). On the weekends when we are actually home I like eating something other than my daily smoothie. However, sometimes I don't feel like chopping a ton of vegetables and spending an hour in the kitchen. This past weekend it was so nice out all I felt like doing was having a cup of coffee on my balcony. Especially since we just bought a nice and comfortable couch out there so it makes lounging on our little urban balcony relaxing.
I used to eat oatmeal EVERY.DAY. I would make it at work because there was a gym in our building so the routine was work out, shower, head upstiars to my office to go to work. I didn't go home in between because I was commuting an hour, so I had to make something at work for breakfast and oatmeal was easy. I probably ate the same Kashi Go Lean Truly Vanilla oatmeal with fresh organic raspberries for every work day for 3 years. I think I got burned out finally and switched to yogurt and berries and did that for 3 years. Now I am onto smoothies and am going strong for a few years now…. So when I need other things to make at home that are quick oatmeal is out.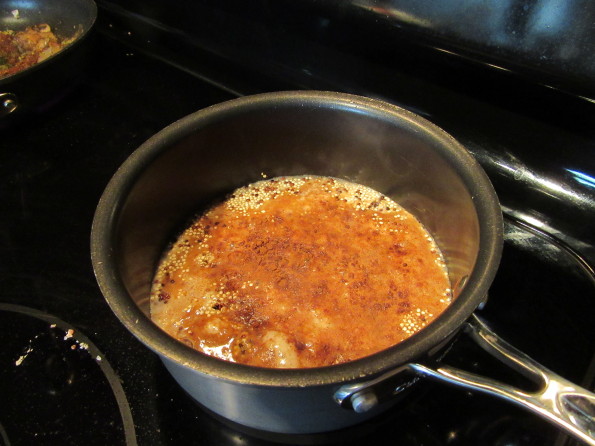 Enter in quinoa. I didn't really know about quinoa until my husband and I started dating and he made it for me. Of course he made some southern version of it with spices and hot sauce. I started using quinoa a lot. I would replace it for anything I made with rice. I would mix it in with lots of veggies. We eat it in salads. It is a great grain that is packed with protein. It doesn't have a ton of flavor on its own so you can really do a lot with it. Like make yourself a breakfast version.
For my breakfast quinoa I used almond milk (you can use whatever milk you prefer, I don't drink real milk and always have almond milk on hand for smoothies but cashew milk, coconut milk, soy, etc all would work here) cinnamon, vanilla extract and a little sugar to cook my quinoa. I also have recently discovered coconut sugar which is made from…. coconuts and has a lower glycemic index than normal sugar.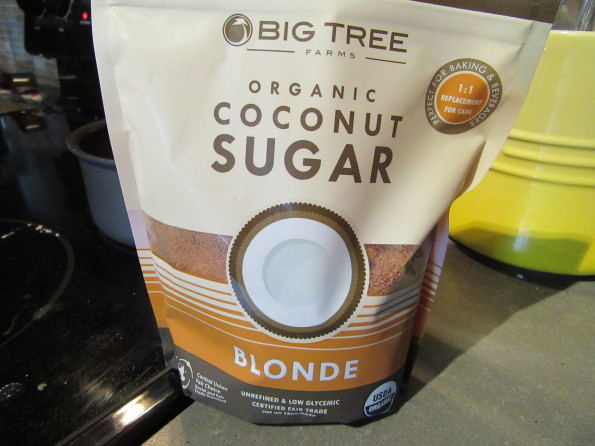 ***WARNING*** this dish is a messy one to cook. No matter what I do my milk ALWAYS boils over while I am cooking my quinoa. Once the milk and quinoa come up to a gentle boil and I put the lid on and turn the heat up the milk still bubbles up. This is definitely a dish you want to stand near the stove and watch the quinoa and when the milk starts to bubble up lift the lid of your pan so it goes back down and doesn't boil over.
While my quinoa cooks I take sliced almonds and toast those up on the stove top. If you like raw sliced almonds you can use those as well. I prefer mine toasted, they get a nice nutty flavor. Some stores might sell them already toasted too which will save you time.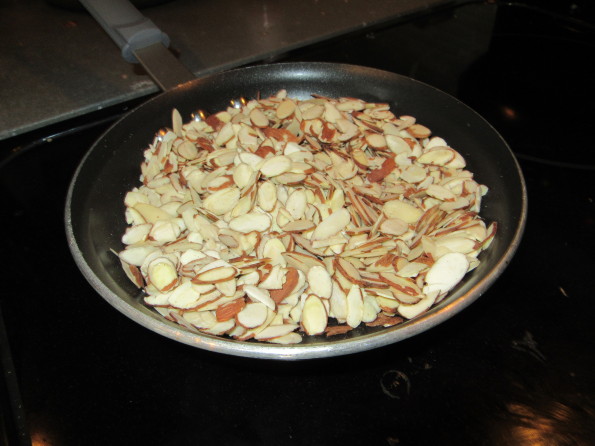 Once the quinoa is done cooking I add in a little butter just to give it a creamier texture and add in more cinnamon and sugar if needed. I then top with sliced bananas, fresh blueberries (if they are not in season you can use frozen blueberries and add to the pot of quinoa to warm through for a minute or two) and the toasted sliced almonds. This a great alternative to your typical breakfast of oatmeal. You can substitute your favorite nut (walnuts and pecans would be great in this as well) and fruit (strawberries, raspberries etc).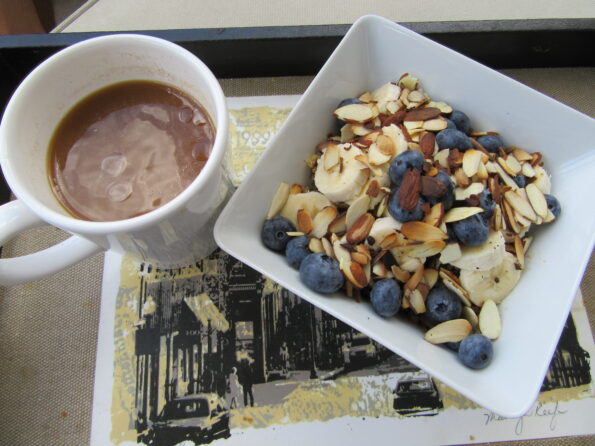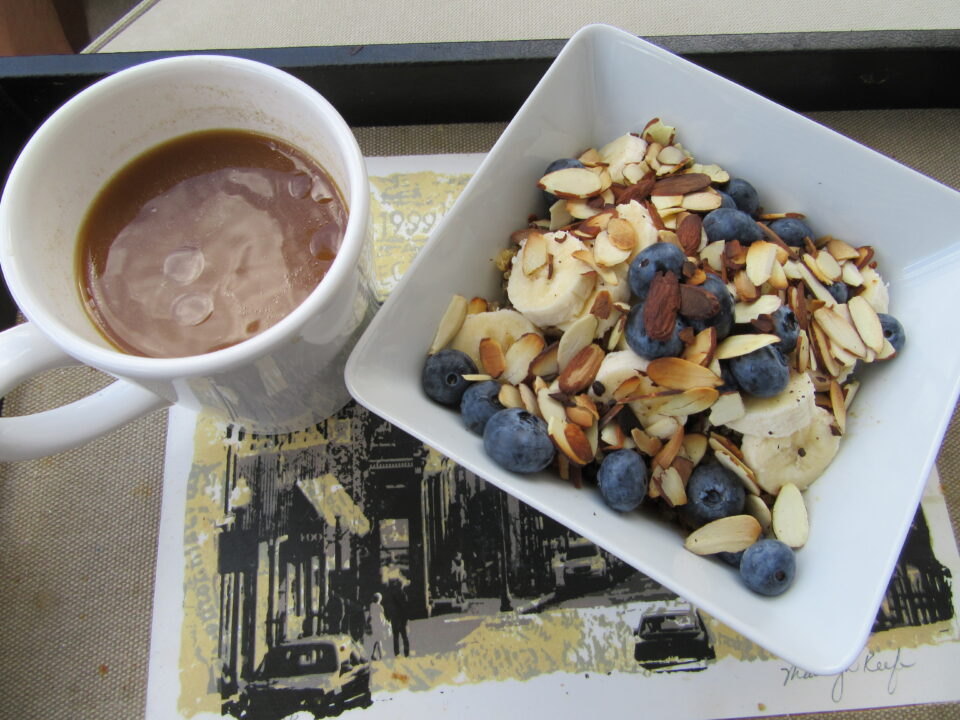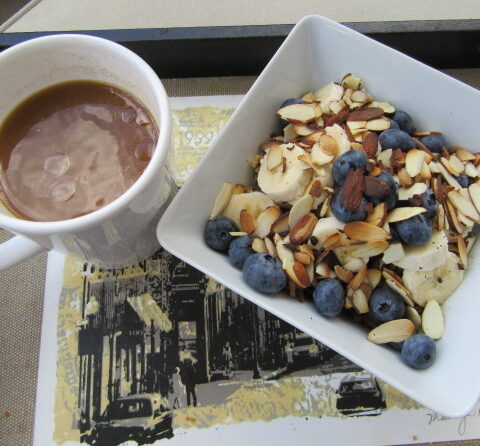 blueberry breakfast quinoa
Prep Time:

5

Cook Time:

25

Total Time:

30 minutes
---
2 cups

dry quinoa

4 cups

milk (soy, almond, cashew all work here as well)

2 tsp

pure vanilla extract

2 tsp

ground cinnamon plus more for sprinkling on quinoa

2 tsp

sugar (brown, coconut, white, your sugar of choice) plus more for sprinkling

2

bananas slice

1

c. sliced almonds raw (skip the directions to toast almonds if yours are toasted already)

2

TBS butter

1

–

2

cups blueberries (fresh or frozen)
---
Instructions
In a large sauce pan that has a lid add quinoa, milk, vanilla, cinnamon and sugar. Heat over medium high and bring to a gentle boil. Once quinoa is bubbling, place lid on and turn heat to low and cook according to directions. (Usually 10-15 minutes or until all liquid is absorbed). STAY NEAR YOUR STOVE, MILK WILL BOIL OVER. Watch the quinoa at all times as the liquid will rapidly start to boil over. When this happens lift lid for a second until the liquid goes back down then recover.
While the quinoa cooks, if you are using raw almonds in a small frying pan place almonds in stove and heat on medium low stirring almonds occasionally. Nuts should slowly turn a nice golden brown. Don't turn the heat up too high as the nuts will burn.
Once quinoa is cooked through, add in butter and stir. If blueberries are frozen add to quinoa and stir to incorporate to warm blueberries. Serve quinoa in bowls and top with sliced bananas, blueberries if fresh, almonds and sprinkle with cinnamon and sugar if desired.
---
---