[dropcap]P[/dropcap]otatoes are my favorite carbs on earth. I could probably give up bread, pasta maybe, but never potatoes. I am a sucker for a really good french fry (not fast food, think gourmet, thick cut, seasoned well with with a speciality ketchup) but there really isn't a type of potato I am not a fan of. Most of the time my weekday meals are boring. We eat a ton of salads, veggie soups, proteins and vegetables and pretty low carb in general. If we have a carb during the week it tends to be quinoa. By Friday usually I am craving a carb and cheese. Sounds odd but those are my guilty pleasures. You can keep your cake and ice cream, when I splurge on the weekends it's carbs and cheese.
Typically we stay in on the weekends. There are a few reasons for this. First off, we are both picky (yes, WE! I am not the only high maintence eater in my household). When we stay in and cook dinner we can control what is going into our food. We both say we cook better meals at home than half of the restaurants anyway. (my friends will attest to that but eating before 9 is probably out of the question). Also it saves money to stay in. By the time you go somewhere that has good quality food, have a bottle of wine and some appetizers you could stay in for half the price. For my husband and I cooking is an outlet for us. I was cooking for myself for a long time before I met him. It was very strange for me to have to share my kitchen. It's a smaller kitchen (that's what happens when you live in an urban loft) so when we cook together it's intimate. It's way more fun cooking together, bumping into each other, and being close over the stove versus sitting across from each other at the dinner table. Cooking together on the weekends have become our date nights.
Typically my husband grills the meat. Our "house warming" present when he moved in was a new Weber grill. I also feel like I have not really got to use our "present" ever because he grills all the time. So that leaves me to the sides. He makes the meat and I am left to the rest.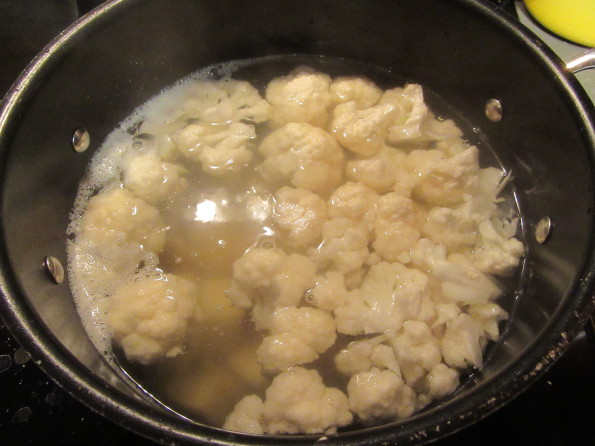 The other night, like in typical Friday fashion, I was ready for some cheese and carbs. When I cook I try to cut calories and fat and add vegetables into everything I can. I hear of lots of parents saying their kids do not like vegetables. I hope that never happens to me when that day comes but I have learned tricks that can combat that. Hiding vegetables in food has become something I do. To me it's not to "hide" them but it's to incorporate more vegetables in my meals to get more nutrients and make things healthier. When cooking potatoes that are mashed, cauliflower is the perfect vegetable to add to the dish and never really even know it.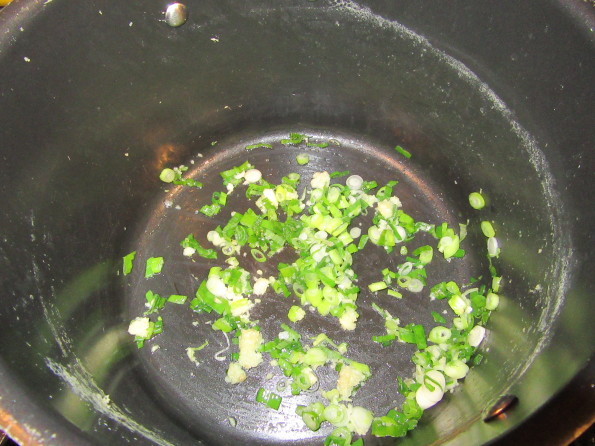 Mashed potatoes are one of those things you can do anything with. You can use russets, Yukon Golds, red-skinned potatoes and mix in any kind of cheese, sour cream, roasted garlic, broccoli, chives, green onions, chicken broth, butter…. the list is endless. In my potatoes I rarely use milk to make them creamy. We don't drink real milk at home, I am not sure how almond milk would be in potatoes but I am not ready to find out. I always swap in chicken stock for milk. It adds a great flavor and saves fat grams. We also use Greek yogurt instead of any sour cream. If you like sour cream though, by all means, use it. Both are a little smoky and compliment each other quite well. You can really start to play around with variations of mashed potatoes. They are pretty hard to screw up. The one thing that can go wrong is adding too much liquid. No one likes a soupy mashed potato. Or in my case, you can go to open a brand new bottle of sea salt and have it explode all over your kitchen, into your pot of mashed potatoes.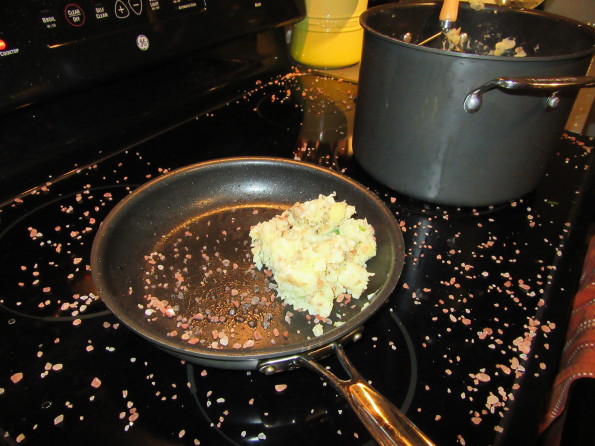 I personally love the combination of gouda cheese and bacon. In this version of my smashed potatoes I combine both of these items with Yukon Golds, chicken stock, scallions, garlic, cauliflower and Greek yogurt. I also cooked the scallions and garlic in a little reserved bacon fat to add another dimension of smokiness. This makes the perfect side dish if you are like me and crave cheese and carbs after eating super healthy Monday – Thursday!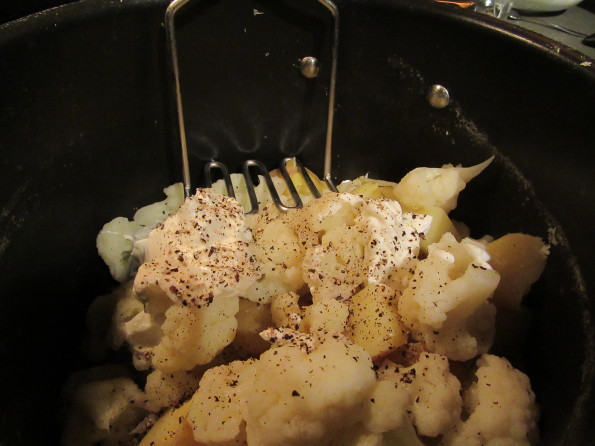 Print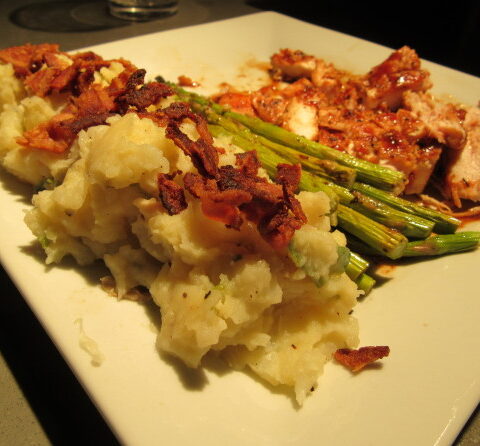 loaded smashed potatoes
Prep Time:

10

Cook Time:

25

Total Time:

35 minutes
---
1.5

lbs yukon golds, skin left on

1

head of cauliflower cut into florets

4

pieces of bacon

4

–

5

scallions chopped

4

cloves of garlic minced

1

TBS butter

1

6 oz container plain non-fat Greek yogurt (or sour cream)

2 cups

chicken broth or stock

1 cup

shredded gouda cheese
---
Instructions
Fill a soup pot with COLD water (this allows for even cooking time with the potatoes) and add potatoes in. Heat over high heat until potatoes are boiling. Cook potatoes for an additional 7-10 minutes after water is boiling. For the last 5 minutes of potato cooking time, add in the cauliflower florets to cook. Once potatoes are done, drain the cauliflower and potatoes in a colander and set aside.
While the potatoes are cooking in a frying pan brown up bacon. Cook to your desired level of crispiness. Take bacon out of pan and place on a plate with paper towel to drain off grease. Set pan with bacon grease aside.
In the soup pot you cooked the potatoes in add 1-2 tsp of the bacon grease and cook scallions and garlic over medium low heat for 3-4 minutes until scallions become tender. At this point add the potatoes and cauliflower back to the pot. Add butter and 1 cup of chicken broth/stock to start and Greek yogurt. Season with salt and pepper to your liking. With a potato masher start to smash potatoes and cauliflower. If your mixture is too thick add more chicken stock 1/4 cup at a time. If you do not like your mashed potatoes chunky you can alternately use a hand mixer to make potatoes super creamy. Once potatoes are mashed add in gouda cheese. Stir to incorporate cheese until it is melted through. Season with more salt and pepper if desired. Top with the reserved bacon pieces.
---
---