This baked feta and garlic pasta recipe is a new spin on the Tiktok viral classic. Greek staples like olives and oregano are added for added flavor.
We went to get feta at the store one night for Greek salads and it was sold out. Apparently we missed the memo that baked feta pasta had gone viral on social media courtesy of the recipe from Finnish blogger Liemessa and her recipe for Uunifetapasta. It had everything we loved including burst cherry tomatoes and basil so we knew we had to give it a try.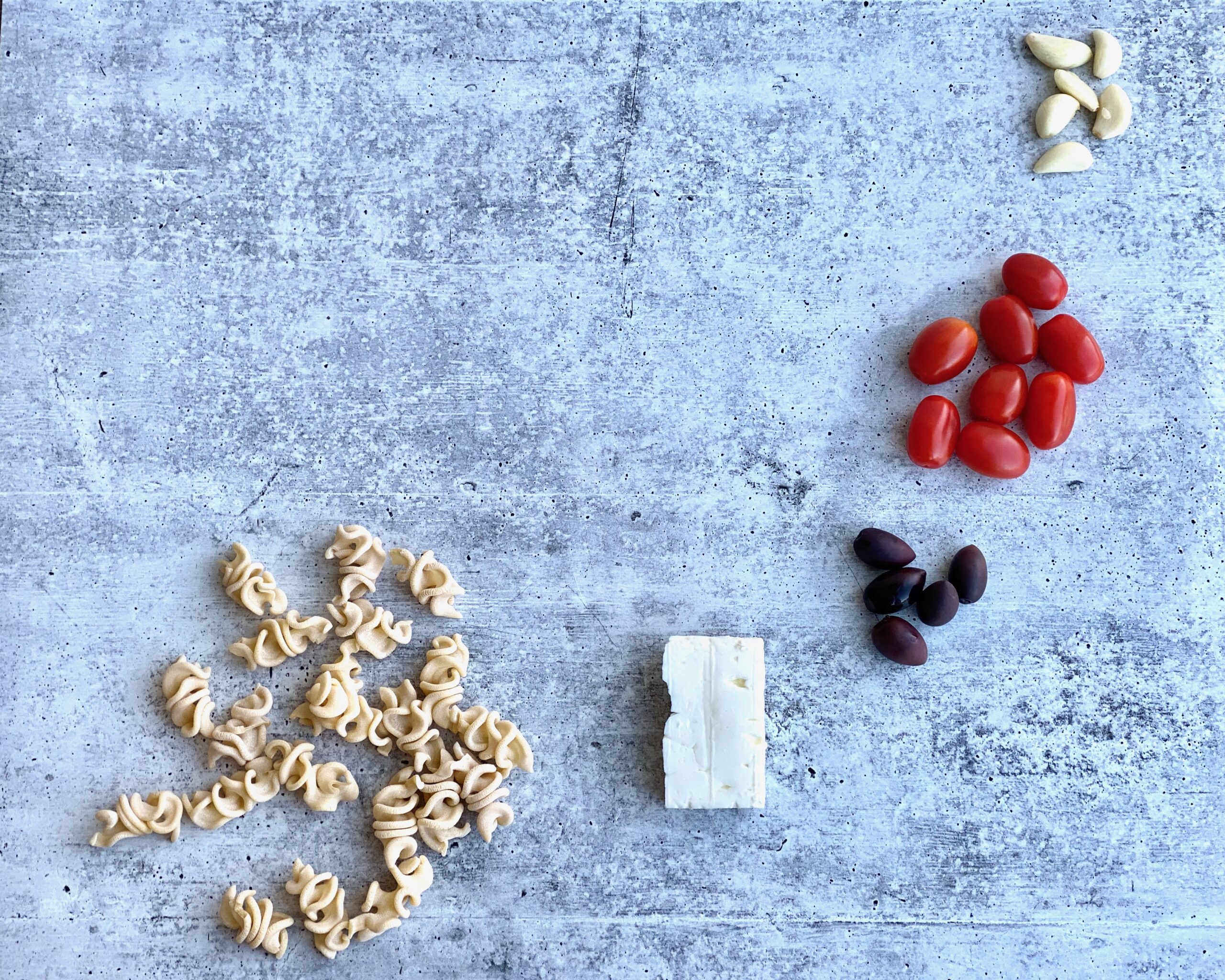 Adding more Greek ingredients
The first time I made the baked feta pasta I kept the original recipe but then I knew I had to put my spin on it. Feta cheese always takes me back to our trips to Greece where the food is fresh and the veggies are in season. My staples when recreating any dish with a Greek inspiration are kalamata olives and oregano. Greek oregano is so flavorful. Every time I know someone is going to Greece I always ask if they can bring me back some because the flavor doesn't compare to what we buy here at the store. So I topped my tomatoes and feta with oregano while it was baking in the oven.
I wait until the very end to add in the olives. The briny, salty kalamatas pairs nicely with the saltiness from the feta. Because both are so salty I didn't really have to add any additional salt to the dish. Plus the pasta water is salted so the pasta will already be seasoned. I would caution you to taste the food before you add any salt. You might be surprised that the dish actually doesn't need much.
Don't forget the garlic
My husband and I love roasted garlic. Often times we will roast a bulb of garlic and smear it on a cracker for a snack. Garlic and tomatoes go so well together so I decided to add a ton of garlic to this recipe. If you buy pre-peeled garlic it is a huge time saver to this dish. The garlic will roast up along with the tomatoes and feta. Then the key is to mash the garlic cloves down so the flavor infuses and melts into the mixture. I just used the back of my spoon to mash the cloves and melt them into the tomatoes.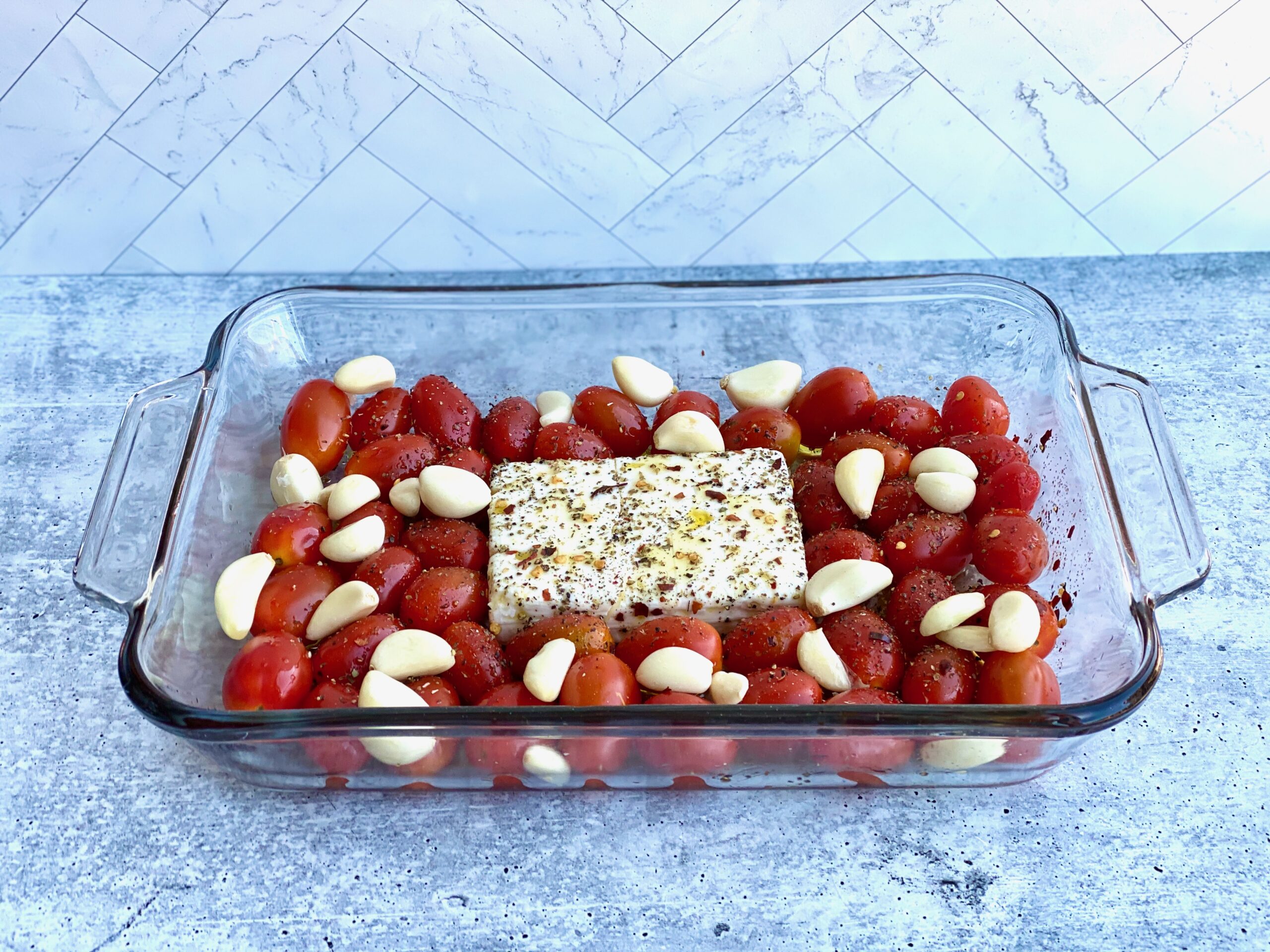 The last change I made to the dish was to add chicken broth. To be honest it was a mistake. I forgot to reserve some pasta water and the sauce was really thick. I needed to thin it out and I had some chicken broth on hand. So I added that to the pasta mix and it turned out great. The broth gave the pasta another layer of flavor and also lightened it up slightly.
While the original recipe is obviously a huge hit I definitely prefer adding my twist to the original. This version of baked feta with roasted garlic pasta is equally as easy to make and just as flavorful. So if you have already tried the original be sure to try this version the next time for some variety. And if you somehow have not seen the recipe all over the internet run to the store ASAP and put this on your to-cook list – before the feta sells out again!
For more easy pasta recipes be sure to check these out:
Herb Lemon Pasta with Breadcrumbs
Orecchiette with Tomato Cream Sauce
And remember, if you try this recipe be sure to leave a rating and comment and let me know how you like it or tag me on Instagram!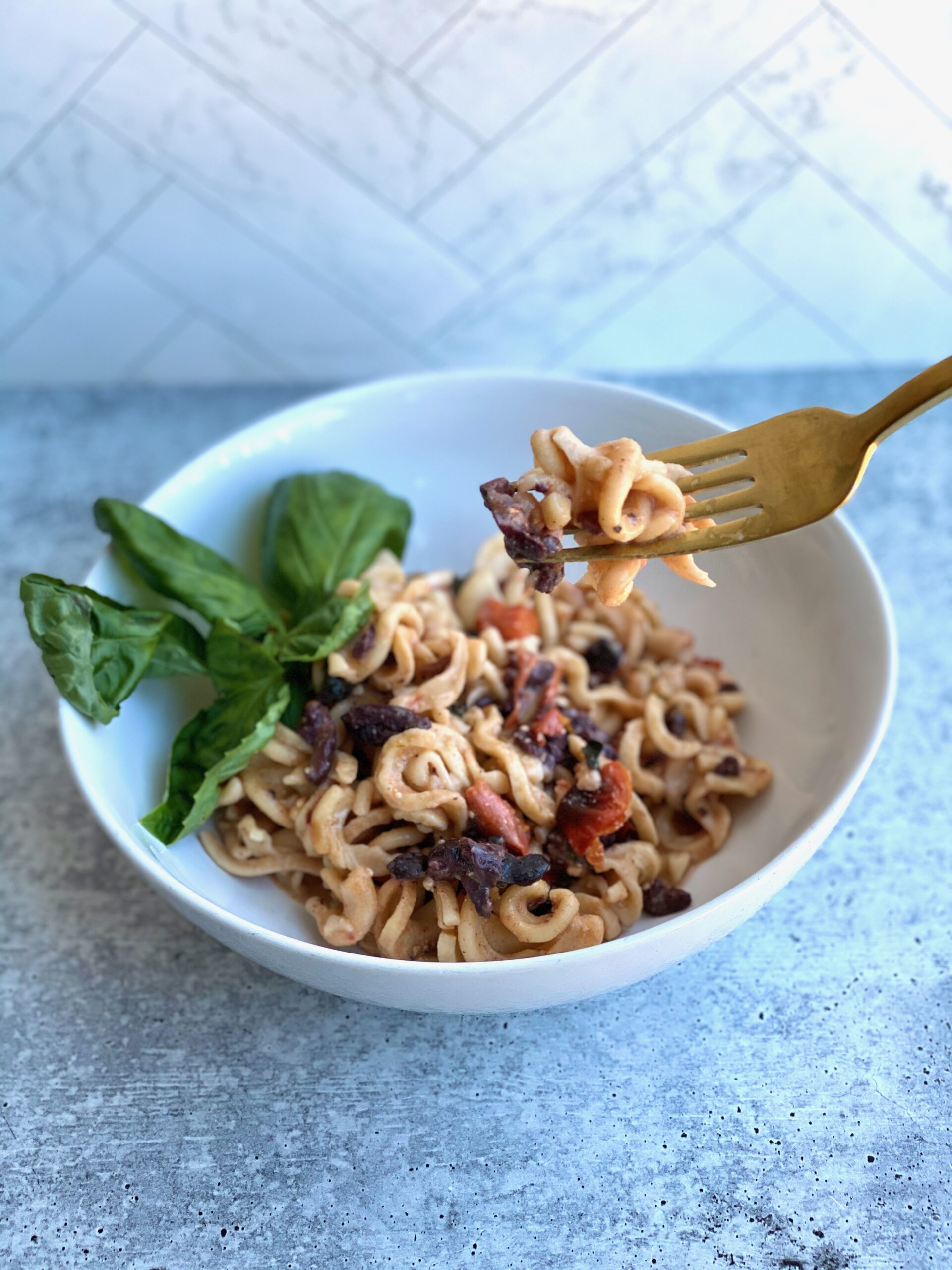 Print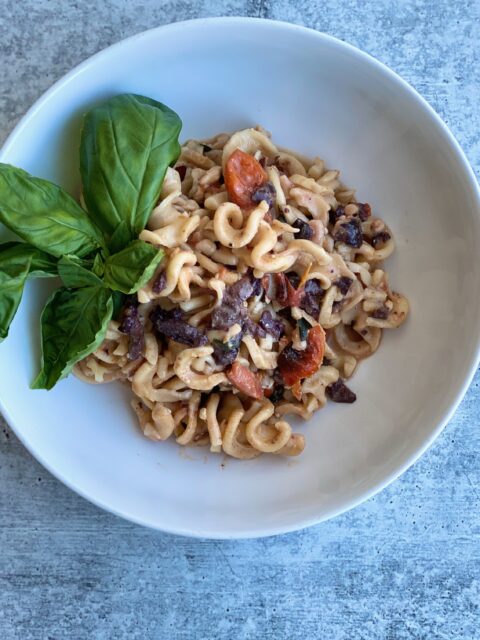 Baked Feta Pasta (with Roasted Garlic)
---
Author: Karissa P
Total Time: 35M
Yield: 4-6 1x
Description
This baked feta and garlic pasta recipe is a new spin on the viral classic. Greek staples like olives and oregano are added for added flavor.
---
1 lb cherry tomatoes
1 TBS dried oregano
1/2 c olive oil
Crushed red pepper flakes to taste (omit if you don't like spicy food)
20–25 cloves of garlic, peeled
1 7oz brick of feta
1 c chopped kalamata olives
Large handful of basil, minced
1 lb of pasta (a shorter shape works well here like fusilli, penne, gemelli, or campanelle)
1 c chicken broth (can use veggie broth as well)
Parmesan cheese for topping
---
Instructions
Pre-heat oven to 400 degrees
In a large baking dish place feta in the center, surround feta with tomatoes and cloves of garlic
Drizzle the tomatoes and feta with the olive oil. Season with salt and pepper then sprinkle the oregano and crushed red pepper flakes all over.
Bake for 30 minutes until tomatoes burst and feta turns golden brown.
During the last 10 minutes of the feta cooking, cook pasta according to the directions on the package. Make sure to salt your pasta water!
When the feta is done cooking in the baking dish mix feta and tomatoes together. Smush down the roasted garlic cloves so the paste incorporates into the feta mix. At this point the mix will be thick – that is ok!
Add pasta back to the pasta pot with the feta mixture, basil and kalmata olives, stir well.
At this point the pasta will seem a little dry. Add the broth a little at a time until the you have more of a sauce like consistency.
Top with parmesan cheese and serve immediately.
Note: a sauce like this by nature thicker. If you wait too long to eat it the pasta will soak everything up and seem dry. If this happens add more broth to dish to loosen the sauce back up.
Prep Time: 5M
Cook Time: 30M
Category: pasta
Keywords: pasta, feta, greek, olives, tomatoes