[dropcap]I[/dropcap]f you read the "about me" section you will already know I am a super picky meat eater. It's not that I don't EAT meat and I'm a vegetarian it's that I am very selective. Lunch meat grosses me out. I don't care if it's nitrate free, organic, grass fed or anything else I just am NOT a fan. I think it's the meat all smashed together that grosses me out. Chicken nuggets also REPULSE me. (Sorry Mindy!!!) I don't like pork but love bacon… I am just weird. It's ok. I have accepted it. My husband has accepted it. The rest of you can just call me "weird'.
Moving on… because I am so "selective", when I was single I found it a pain in the butt to cook meat for one person (oh yeah, I don't eat meat leftovers, meat in the microwave – vomit) so I cooked lots of vegetarian dishes. My husband could eat meat at every meal (so could most people I suppose) so I have slowly weaned him off of EVERY dinner with meat in it. He also travels for work. So I find myself back in my kitchen solo a few times a month. Last night was one of those nights. I also try to pack my lunch to work. For several reasons. Money is not the first one believe it or not. By packing my lunch I know what is in the food I am eating. I know how much salt I use. I know that my food is MSG free (I am sure it will come up at some point in more detail but I had MSG poisoning, yes look it up, it can happen and I assure you, it's AWFUL). Since I knew I didn't have anything to take to lunch, I need to whip up something quick which I decided would be burrito bowls.
This past week it has FINALLY felt like summer. Yes, in July. Sad? We do grill all year. I live in a loft. My grill is one step out my sliding glass door on a balcony. However, it is MUCH more pleasant to grill in July vs. January. Last night I decided I wanted to grill almost my entire meal.
I usually make my own pico and then started thinking about something my husband said the night before. "Salsa down south is ALWAYS served warm, so are the chips". I then thought "I wonder if I could make a grilled salsa?" not that anyone would stop me so I figured what the hell and tried it. Worst case I don't eat it right?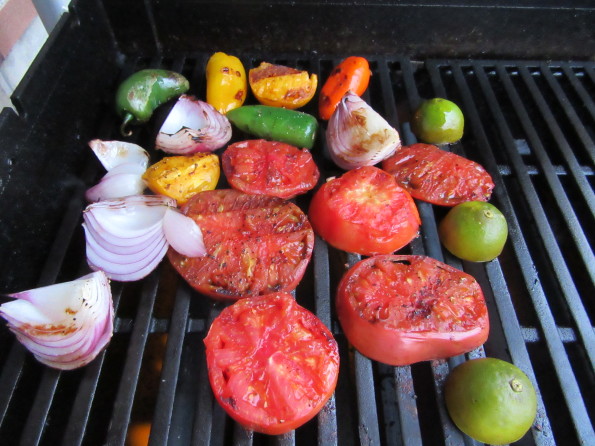 I grilled heirloom tomatoes, red onions, jalapenos, baby bell peppers and limes and charred them up so they had nice grill lines in them. The trick here is to slice your tomatoes thick so they hold up on the grill if you are going to put them directly on the grates. Also season liberally with olive oil and salt and pepper. If you have a grill pan that would also help them stand up because once they get hot they start to get a little mushy.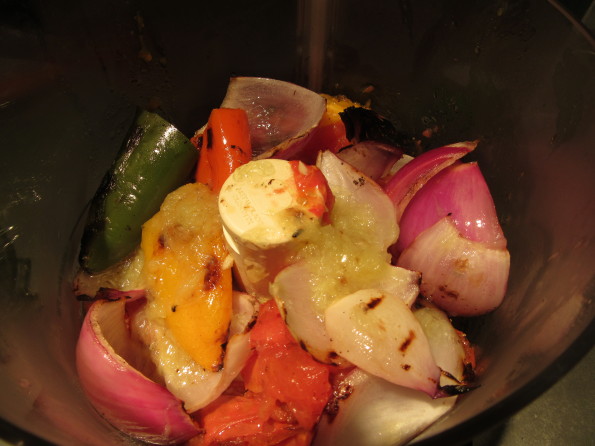 Once I took them off the grill I put everything in the food processor (I chopped the stems off the peppers but that was it, the seeds and ribs went in and all) and added whole cloves of garlic, salt and pepper. I just pulsed the salsa because you want a little chunkiness to it (if you don't, blend the hell out of it!). I grilled two jalapenos but only used one. If you aren't into super spicy food I would start with one pepper and if it's not hot enough add one more.
Lately I have been CRAVING corn on the cob. I love it in the summer. I don't think I had ANY last summer which makes me a little sad. Like I said, my friends call me a fruit cake. The more I learn the worse I get. GMO Corn FREAKS ME OUT. I am getting so bad that I avoid ordering corn chips at restaurants and I ask for "no corn" on salads if they put it on there.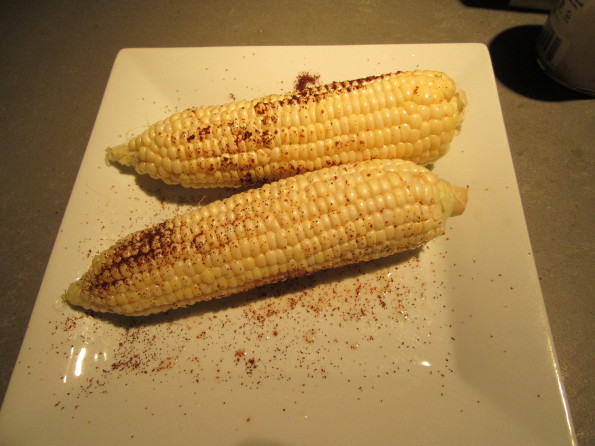 Anyway, yesterday was the first time all season I saw organic white corn at Whole Foods. I used to make corn in the oven all the time. It hands down was the best tasting corn I have had. You put it on the oven rack IN THE HUSKS for 20 minutes and when it's done let it sit 5 minutes to cool off and you can peel all the silk off so easily. Last night I started it that way for about 15 minutes and then rubbed it with a little butter, lime juice and chili powder and grilled it the rest of the way with the rest of my grilled veggies.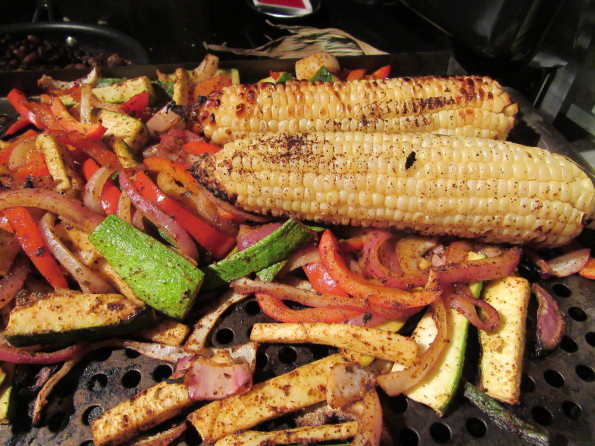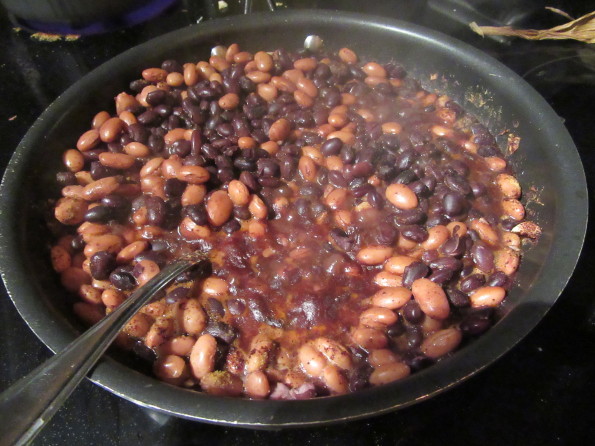 Canned beans are a lifesaver. I wish I had the time to make beans from scratch (that will happen soon though, we had the best beans in Florence I am dying to re-create). I started buying the organic beans that come in a box (so you don't have to worry about the BPA lined cans) with no sodium added when available. There isn't a ton of flavor in these beans though. I drain them (but don't rinse because you want a little of that juice as well) and season liberally with fresh chopped garlic, cumin, chili powder, salt, pepper and fresh lime juice. I toss them in a frying pan on the stove on low to medium heat to let everything merry together.
This dish was then pulled together by adding cooked quinoa, fresh chopped heirlooms, avocado chunks, a little shredded pepper jack and of course – topped with lots of the grilled salsa.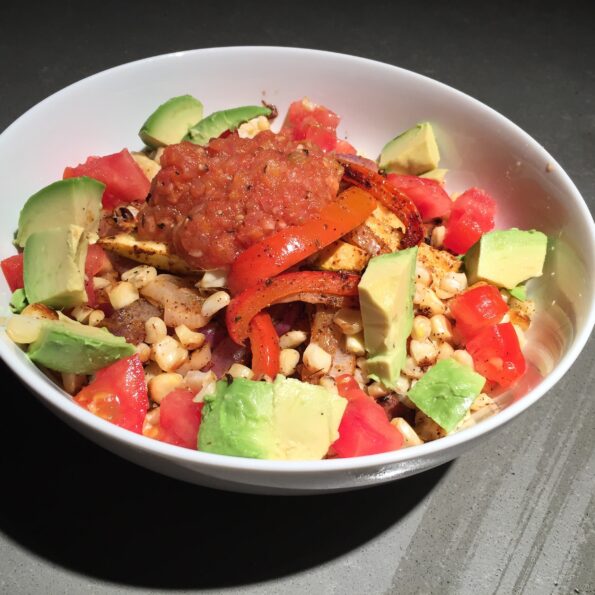 Print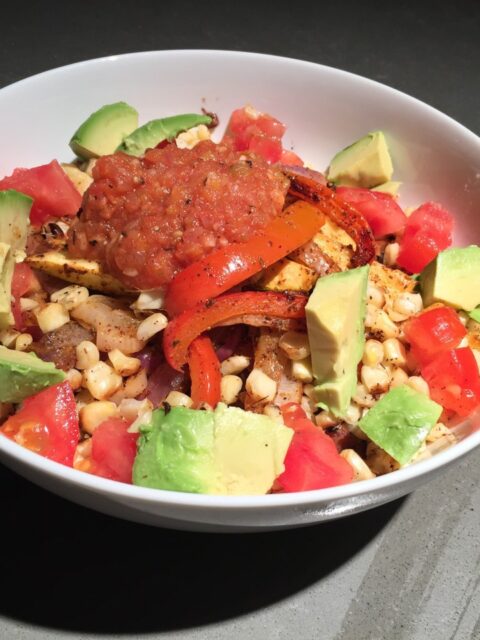 veggie burrito bowls
Prep Time:

30

Cook Time:

30

Total Time:

1 hour
---
2

red onions – one sliced julienne, one rough chopped into big chunks

3/4

lbs of fresh tomatoes (I used heirlooms but you could use any hearty tomato like romas or beefsteak) sliced thickly (reserve

one

tomato to dice to top your bowl with if desired)

2

ears of fresh corn

2

bell peppers any color julienned (sliced in strips)

2

zucchinis sliced in strips

2

baby bell peppers (you can just use

one

more regular bell pepper if you can't find the baby ones)

2

jalapenos

6

–

7

cloves of garlic 3 left whole the rest finely chopped

2

–

3

boxes or cans of beans (I used

2

boxes of black and

one

box of pinto) drained but not rinsed

1

c. of quinoa cooked according to directions (I like to replace the water with chicken or veggie broth to add more flavor)

4

–

5

limes cut in half

3

–

4

TBS cumin

3

–

4

TBS chili powder

1 tsp

oregano

1

avocado cut into chunks or slices however you prefer
Optional additional toppings: scallions, sour cream or greek yogurt, pepper jack cheese, cilantro (in my opinion, the herb that tastes like dirt, you either love it or hate it, I am the hater)
---
Instructions
Pre-heat oven to 400 degrees, pre-heat grill
Season tomato slices, baby bells, jalapenos, 2 limes cut in half and rough chopped onions with olive oil, salt and pepper.
In a bowl combine the sliced bell peppers, sliced onions and zucchini. Drizzle with olive oil, 2 TBS of cumin, 2 TBS of chili powder, the oregano, the juice of one lime, salt and pepper to taste
In sauce pan or large frying pan combine beans, remaining cumin, remaining chili powder, minced garlic and juice of one lime. Heat over low to medium heat to merry all flavors together.
Place corn in oven for 15 minutes, remove and let cool for 5 mins or until you can handle. Peel husk and silk from corn. Rub with butter and squeeze the juice from half of a lime. Sprinkle with chili powder and/or cumin.
Place everything on the grill. I grilled the salsa ingredients and corn on the grates directly and then the peppers, onion and zucchini on my grill pan. Grill salsa ingredients until they get nice char lines on them. It's ok if the onions and peppers are not cooked all the way through. Grill corn for another 5-7 minutes rotating. Grill the rest of the veggies until tender about 12 minutes depending on how hot your grill is.
Remove the stems of baby bells and jalapenos. Combine all salsa ingredients in a food processor. Squeeze the juice of the 2 grilled limes. (some pulp might come out as well, that's ok) Add 2 cloves of garlic, salt and pepper. Pulse a few times so your salsa gets a rough chop.
Remove corn from cobs by slicing down the ear
Assemble your bowl with cooked quinoa, beans, grilled veggies and corn. Top with lots of salsa, avocados, diced tomatoes and any other fixings of your liking.
---
---