[dropcap]I[/dropcap]love having extra time off of work and long weekends. Who doesn't? The one thing I don't love about being on vacation for an extended period of time or being out all weekend is I honestly get sick of eating out. Or get sick of not having a "good" meal. My birthday is July 3rd which always results in having a long weekend which results in going out to eat, adult beverages, 4th of July parties with snack-type food, and usually BBQs with burgers and hotdogs which for this picky meat eater results in me not eating much at all which is equally as bad. (I haven't had a hotdog since 7th grade and I am TOTALLY ok if I don't ever have one again!) By the time we got back from our long weekend I was ready to make something good and healthy, and easy to clean up.
Enter the grill. I love grilling. When I was single I used to grill pretty much everything. I was a big fan of making my complete meal on the grill. As a single person throwing one piece of meat on the grill was super easy and I LOVE veggies so I could just do it all at once. There would be no pots and pans to wash. I didn't have to turn the oven on in the summer. It was great. I was just telling my husband since he moved in I feel like I am losing my skills! He grills all our meat. He used to be awful at grilling chicken (sorry baby!) so I would always do that at least. But now that he has watched me enough he definitely has that down now too so I feel helpless. He grills the meat, I make the sides. So the other night I told him I wanted to make everything.
Chicken gets boring. I feel like it's a great go to but there is only so much chicken I can eat without getting sick of it. Whole Foods had a GREAT deal on sea scallops ($10/lb off!!!) so I bought some of those (that still is one thing my husband can't make as good as I can!). I also was reminiscing about being in Greece last summer. I was thinking while we were out on the lake for the 4th how it had been almost a year since we went away and he proposed to me. Which then reminded me of all things Greece including the food. I love the freshness of Mediterranean cooking. Lots of fresh herbs and lemons. I could put lemons on everything. So I decided that's what I was going to do, lemons on absolutely everything.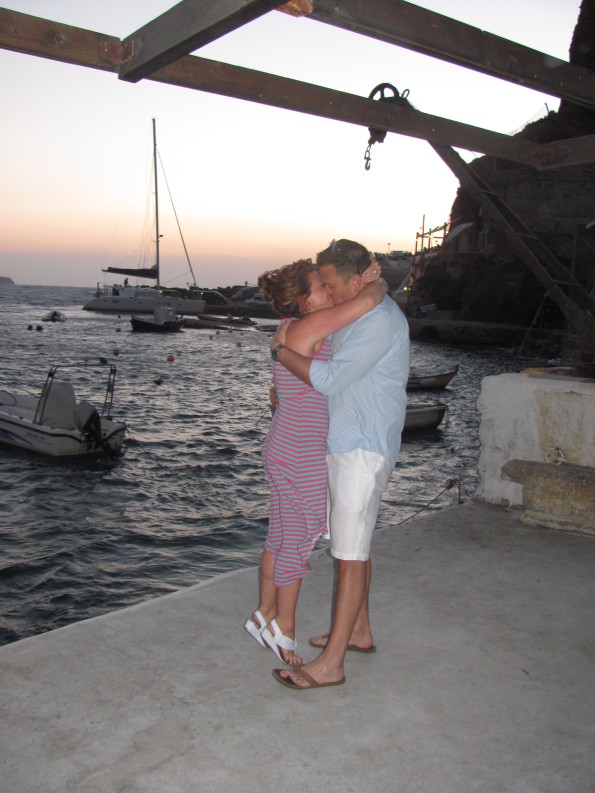 The key to cooking with lemons is having good lemon tools. I have gone through so many zesters. I have never really found one that I absolutely love. There were a few that the handles would snap off or they wouldn't grate without a whole lot of wrist strength. Finally I sucked it up and bought a good one which is double the price of the crappy ones I have had but in reality had I bought that off the bat I would have saved money because I would have never replaced it. If you are interested in a good zester I bought mine at Williams Sonoma (click here)
I also got sick of juicing lemons by hand. Yes you can roll them around the counter with some force from your hand to "loosen up the juice" but to hell with that. I can use NO FORCE, never have to pick out seeds, or deal with lemon juice stinging the micro cut you didn't know you had on your hand until the very moment you squeezed that lemon and had it burn you…. I found a great lemon juicer also at WS (found here). No, no advertising dollars coming my way from these plugs, which Williams Sonoma – I am not opposed to! My husband also likes making homemade margaritas and my mother LOVES drinking them. When we go visit them she winds up squeezing 30 limes by hand (mom – buy this thing!) so you can definitely use it for a variety of things.
I took my Greek inspiration and made a really simple and tasty meal full of lemons. Scallops intimidate a lot of people but you just have to keep it simple. I used olive oil, S&P, Trader Joe's Everyday Seasoning Grinder (LOVE this for so many different things) and fresh lemon zest.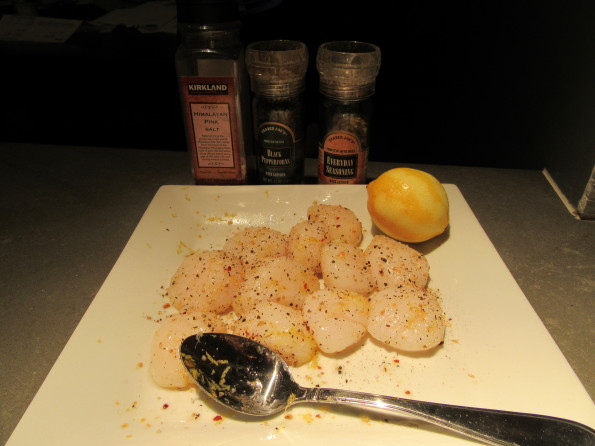 Carrying through the lemon theme I did my veggies really simple as well. I cut up bell peppers, red onions, zucchini and used a whole box of baby heirlooms and seasoned with olive oil, oregano (that we brought back from Italy!), S&P, lemon juice and lemon zest. If you care, baby tomatoes and bell peppers are "Dirty Dozen" veggies and tend to soak up a ton of pesticides. Zucchinis are rapidly becoming a large GMO produced vegetable. While they aren't Dirty Dozen they are dirty in their own way. So if you are like me you may want to buy these organic. I mostly buy everything organic but some people are on a tight budget. If you are try to buy at least the Dirty Dozen organic and the rest of your produce you can soak in water with a TBS of white vinegar which helps eliminate the pesticides on your food.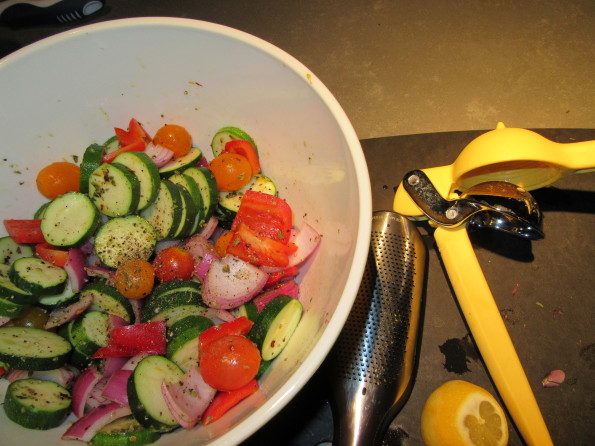 The rice I made probably took the most time out of all this meal and that took 20 minutes at best. I was kind of feeling a pilaf style rice so I browned up some orzo pasta with some olive oil and a few small pats of butter and a few whole cloves of garlic for that subtle flavor. YES. BUTTER. Real butter. Not some "buttery spread" or margarine or anything like that. Half of those containers you can't read what most of the ingredients are! We found a butter that is grass fed and organic (so no GMO feed to the cows) and if you use it in moderation that is ok.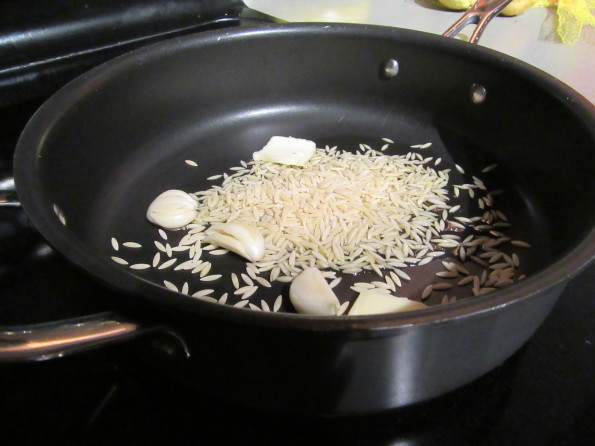 Once the orzo was brown I added in some nice Italian white wine and cooked that out. The key to cooking with any alcohol is you will cook all the alcohol out and be left with an enhanced flavor of what you are cooking with. If you don't think it tastes good in a glass it will not taste good in a pan. They make really decent wines for $6-8. My new favorite Pinot Grigio is $7.99. So you don't have to spend a fortune. If you don't want to drink the rest of the bottle of wine or don't drink at all just leave it out. After the wine cooked out I added in the jasmine rice, lemon juice, oregano, S&P and cooked it in chicken broth. Once the rice was complete I zested more lemon and added more juice to give it a citrusy burst.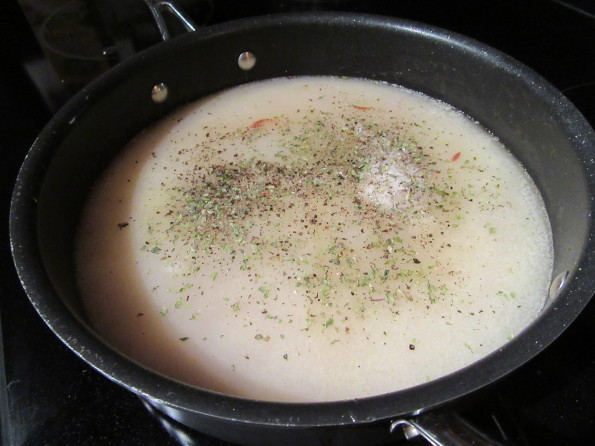 I love making foods that take me back to places filled with memories, love and laughter.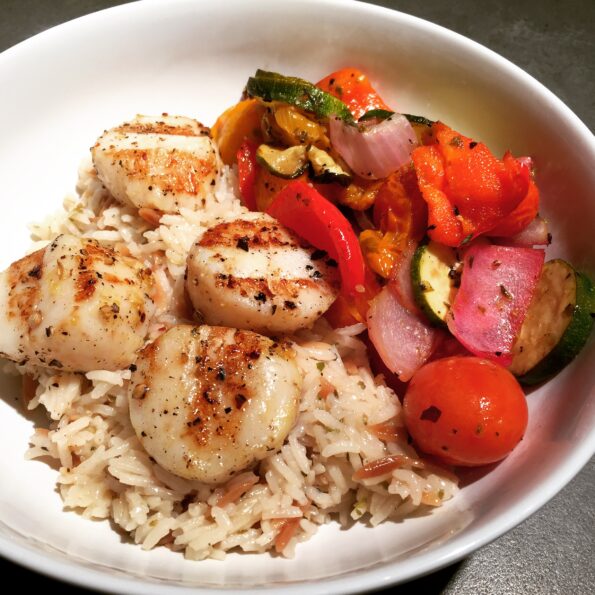 Print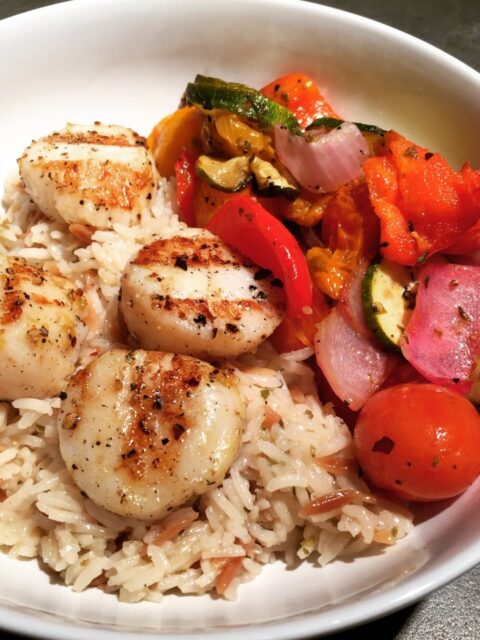 lemon grilled scallops with veggies and rice pilaf
Prep Time:

20

Cook Time:

20

Total Time:

40 minutes
---
1

lb sea scallops (foot removed, rinsed and patted dry)

4

–

5

lemons

1 ½

c. jasmine rice

1 quart

chicken broth/stock

5

TBS olive oil

1

TBS butter

½

c. white wine (I prefer Pinot Grigio when cooking so it is not too sweet)

¼

c. orzo pasta

3

cloves garlic (left whole)

4

TBS oregano

2

zucchini cut in half and then sliced into half moon shapes

2

bell peppers (any color) cut into chunks

1

red onion cut into chunks

1

container cherry or grape tomatoes
Everyday seasoning (I like Trader Joes but other brands will have something like this)
---
Instructions
Preheat grill
In sautee pan coat the bottom with 2 TBS olive oil and butter add in orzo and garlic cloves. Heat over medium until orzo is golden brown. Turn temperature up to medium high and add in white wine. Cook until wine reduces until it's almost gone. 4-5 minutes. Add in 2 TBS of oregano, salt and pepper, rice and 3 cups of the chicken broth. Cover with lid and turn temperature down to medium low.
In a large bowl combine all vegetables with 3 TBS of olive oil, the remaining oregano, salt and pepper, the zest of one lemon and the juice of 1 ½ lemons. Using a grill pan turn grill heat to medium and cook vegetables for 12-14 minutes stirring them occasionally. Check the tenderness and cook longer if desired.
While veggies are cooking, coat scallops with olive oil and season with salt, pepper, every day seasoning (just a dusting on the scallops, you don't have to go over board) and the zest of a lemon.
Once vegetables are cooked place scallops on the grill. They only need about 2 minutes a side. Flip after 2 minutes. The scallops should pull away from the grates easily. If they do not, don't force them, wait another 30 seconds and try again (it is a signal meat is not ready to be flipped when it doesn't pull off easily).
Check rice. If the rice is not quite done add remaining cup of chicken broth and cook until liquid is absorbed. Once the rice is cooked to your liking (I am starting to like it more al dente these days) zest 1-2 lemons (depending how big they are) and add the juice of one lemon. Stir to combine flavors.
Serve everything together. You can place the scallops on a bed of the rice with vegetables on the side for an appealing looking plate. Salute!
---