These vegetarian Korean bowls are packed with veggies and spice. Lentils are added for a unique base for the bowl.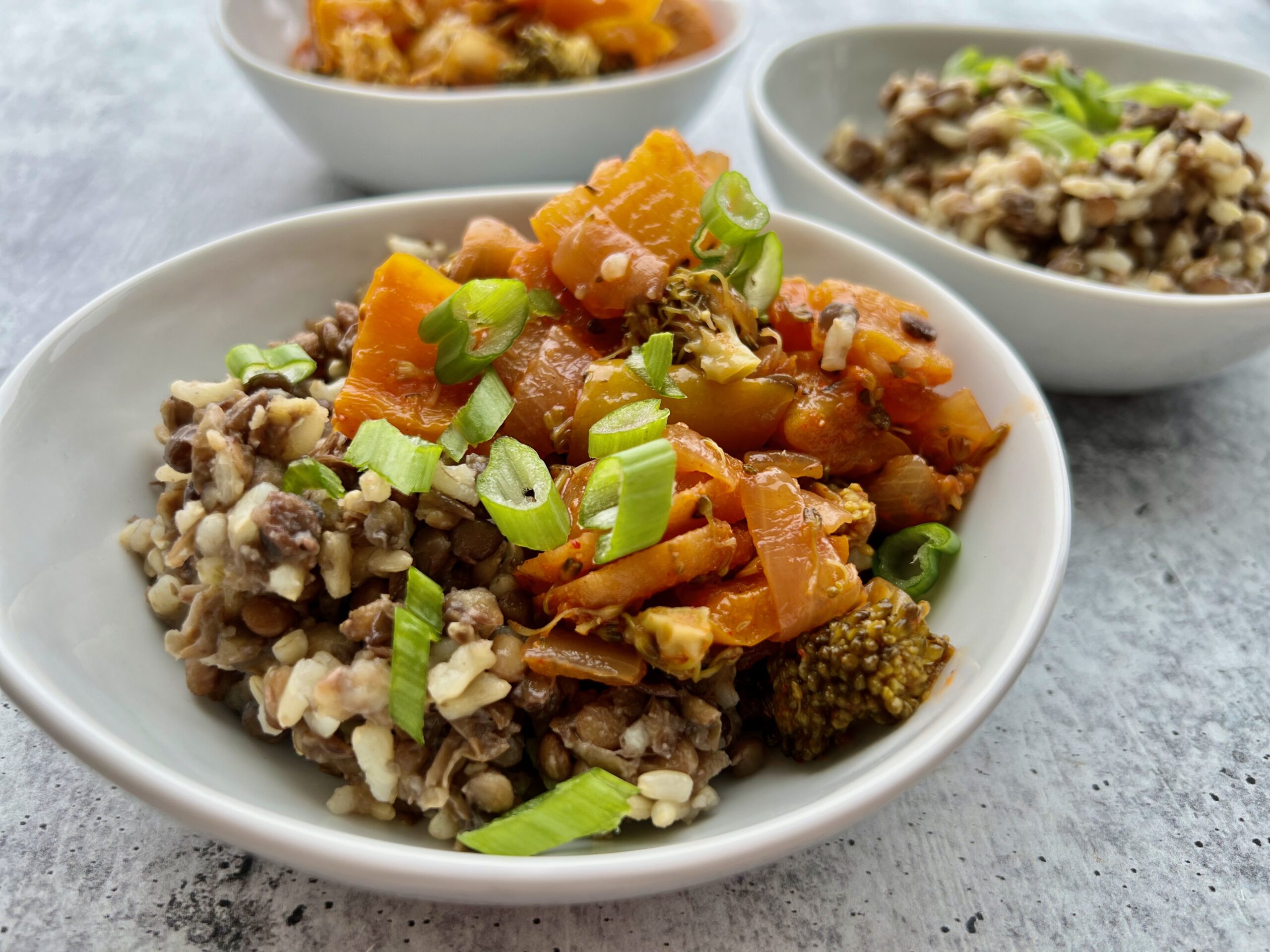 I have posted before about how I have a MSG sensitivity. My body does not like MSG. Which pretty much eliminates me getting takeout from Asian places. So because of that I have experimented in the kitchen more with Asian flavors. We make a lot of stirfrys and ramen and I am always looking for more inspiration.
On Sundays I plan out our meals for the week. I usually am turning to Pinterest for inspiration or ideas. I was searching for something to do with the lentils I had in my fridge and stumbled across this recipe from Crumbs and Caramel and thought what a great concept. But I decided to make it my own.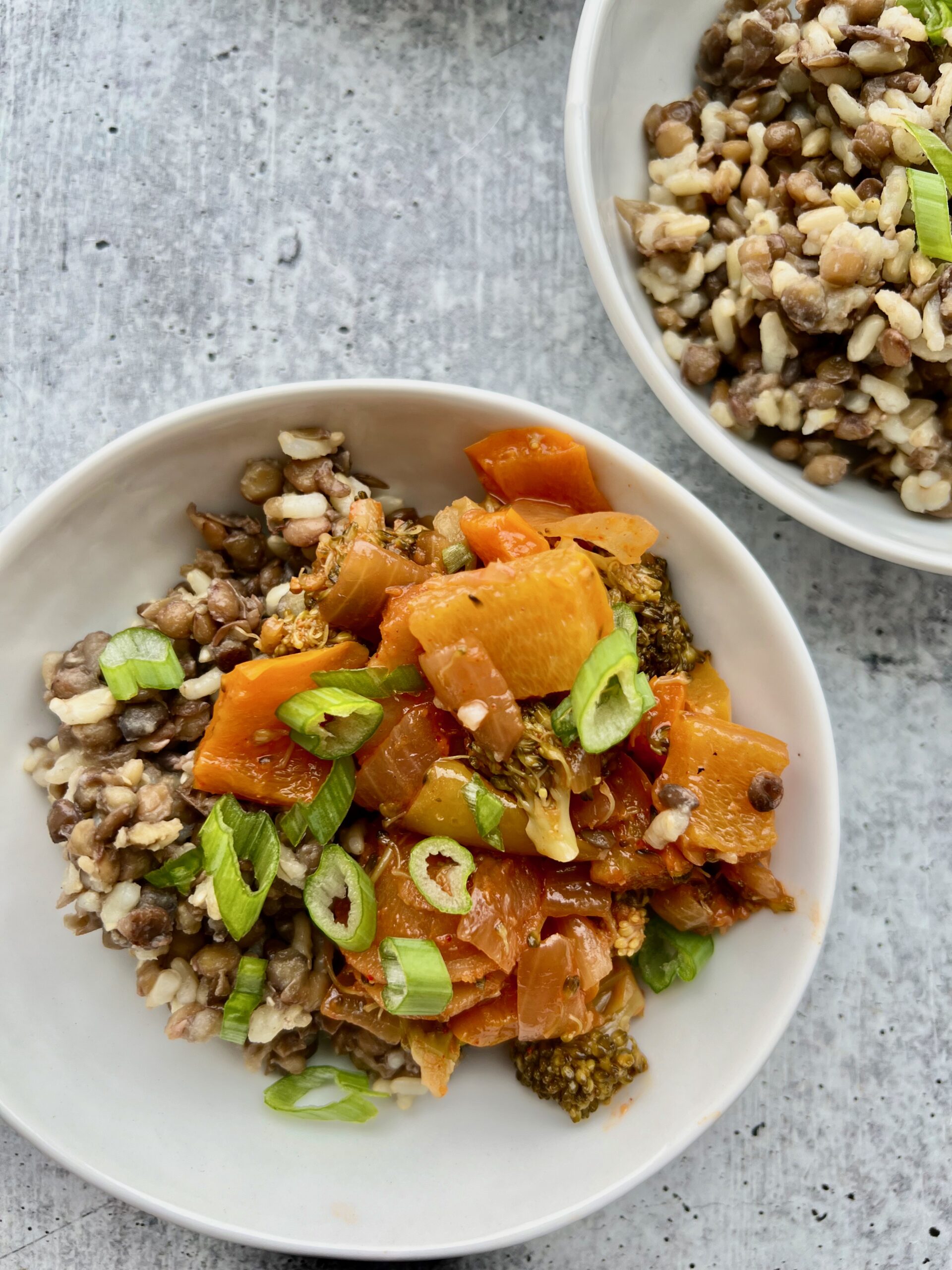 Korean Inspiration
The first time I ever really played around with Korean food is when I made beef bulgogi. Beef bulgogi is thin slices of meat that sits in a marinade to tenderize it. The sauce it is marinated in is usually a sweet and spicy sauce with soy sauce, sugar and grated pears. The sugar helps caramelize the beef when it is grilled.
However I wanted something spicy. So I took the basic concept of bulgogi sauce and made it my own. I love gochujang. I don't know where I first had it but it is delicious. Gochujang is a spicy fermented chili paste. Also it's becoming more and more popular so you can usually just find it in the Asian section at your grocery store. You don't need to seek out a specialty market for it. We buy this one a lot which is a little more saucy and this one which is more of a paste.
The rest of the sauce is pretty simple:
Soy sauce or Tamari – use low sodium to control your salt
Sesame oil – I prefer toasted over regular for a stronger sesame flavor
Rice wine vinegar – for a little extra tang
Grated fresh ginger – never use dried, a ginger paste would also work here
Grated garlic cloves – helps the garlic melt into the sauce versus having chunks of it
The sauce is simply whisked together and set aside.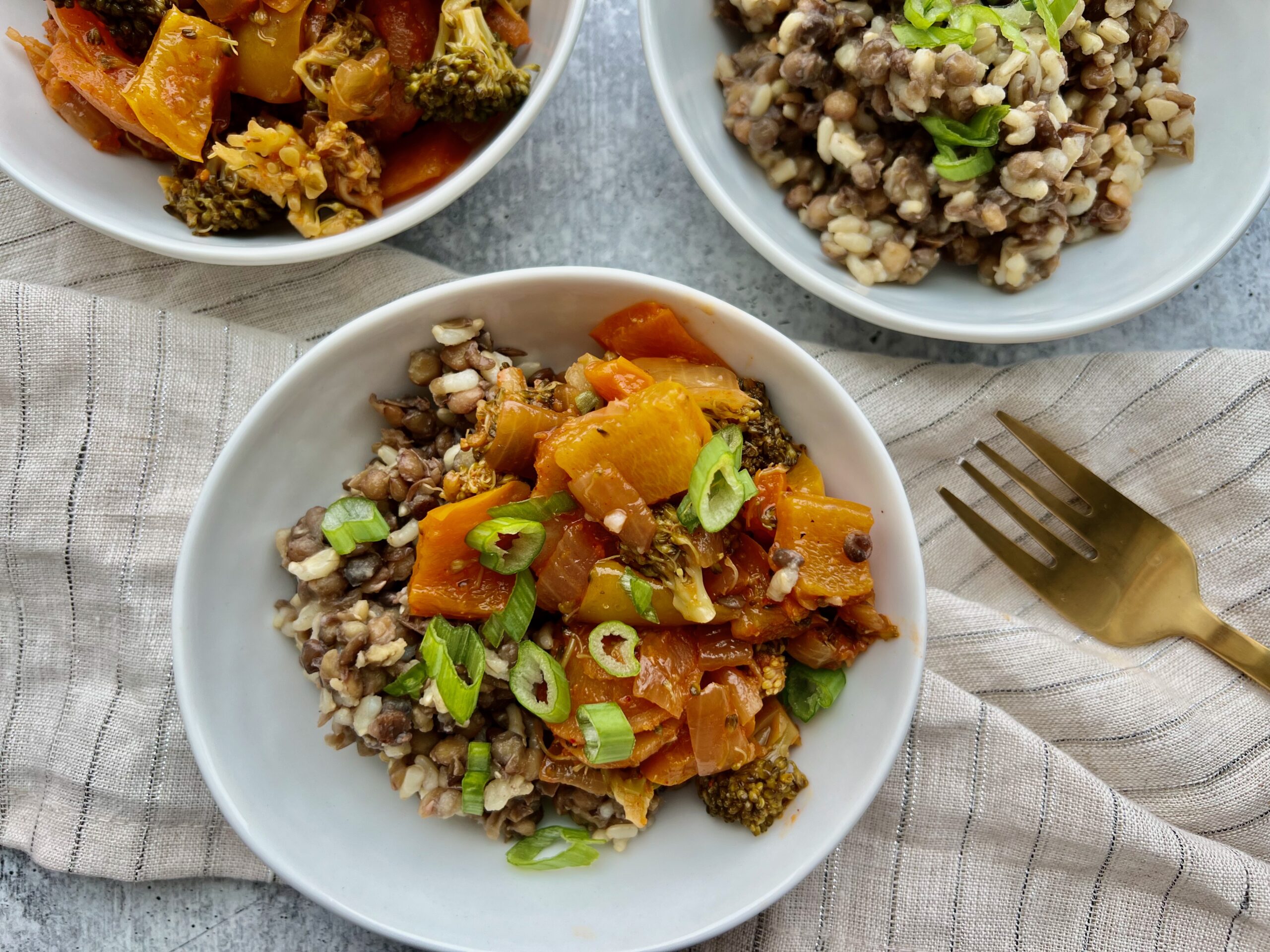 Easy Bowl Base
Recently I have been obsessed with lentils. I have posted before but Trader Joe's has these lentils in the fridge section that are already cooked which is a huge time saver. Since I had some in the fridge I decided I wanted to use them up.
But I wanted to add something to the lentils and also didn't feel like wasting more time cooking. So I cheated with another ingredient – frozen brown rice. You can often find frozen cooked brown rice in the freezer section of most grocery stores these days. Brown rice takes longer to cook. Buying already cooked rice saves at least thirty minutes of cooking time.
Creating the bowl
The veggies and lentil/rice mixture all cook at the same time making this meal come together in all of ten minutes. Then all you have to do is put it all together. This recipe is a loose idea of what you could do with these bowls.
Here are some ideas to get creative:
Veggie mix – add more veggies to what I have in the recipe. Pea pods, baby bok choy, carrots, bean sprouts, mushrooms would all be great here
Lentil/Brown rice base – not feeling these? Swap out basmati rice or cauliflower rice if you are going low carb. Ramen noodles would be really good in this recipe as well.
Meaty version – if you don't want to skip the meat you could brown up a half to a full pound of your favorite ground meat (pork, chicken or turkey). Keep consistency in flavors here and use seasame oil to cook the meat in. And make sure to BROWN the meat. Those little golden bits are flavor bombs. Once the meat is browned reserve it to the side, cook your veggies and add it back with the sauce.
Toppings – this is the fun part. Top the bowl with sesame seeds, scallions, avocado, sliced jalapeños, or cilantro.
Putting it all together
These bowls are not so much about the ingredients but the balance of them. The lentil and rice base is a great base of carbs and protein. The veggies are loaded with nutrients. The sauce is what ties it all together. Finally, the toppings add texture to finish the bowl off.
This vegetarian Korean bowl is not so much about following a recipe to a T. It's about taking this concept and making it your own. Just be sure to use the sauce from this recipe. That's where all the flavor lies!
So the next time you are looking for some Asian inspiration make these vegetarian Korean bowls. These bowls take less time than ordering takeout! And remember, if you try this recipe be sure to rate it and leave a comment below and let me know how you like it. Or tag me on Instagram!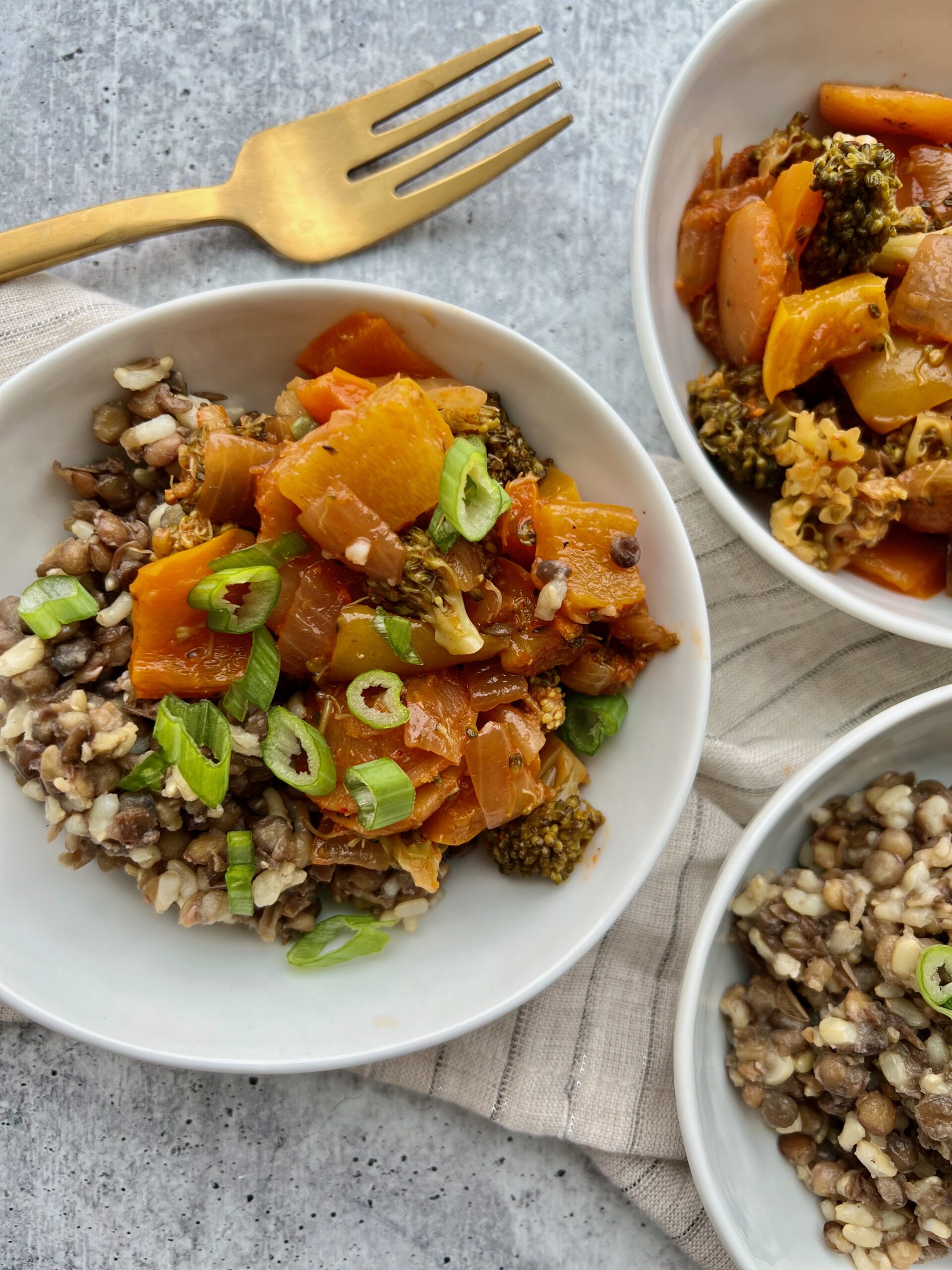 Print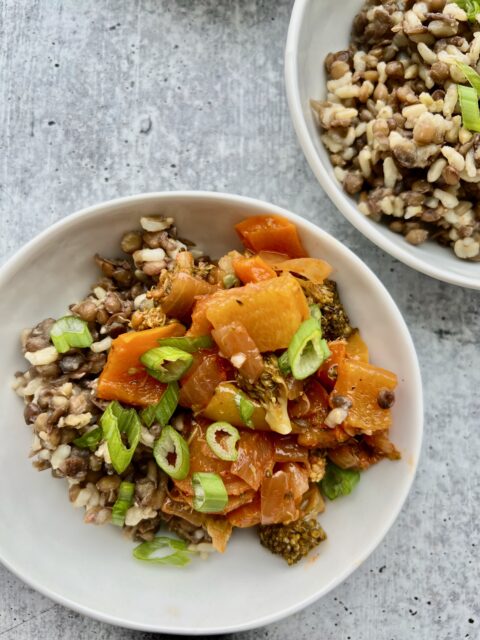 Vegetarian Korean Bowls
---
Author: Karissa P
Total Time: 30M
Yield: 4 1x
Description
These vegetarian Korean bowls are packed with veggies and spice. Lentils are added for a unique base for the bowl.
---
3 bell peppers, large dice
1 white onion, large dice
2 c broccoli florets, hard stems trimmed (I buy pre-cut florets to save time!)
1.5 c frozen brown rice
2 c cooked green or black lentils (I LOVE the Trader Joe's brand!)
1 TBS sesame oil
1/2 c veggie broth or water
Optional toppings – sesame seeds, scallions, avocado
For the sauce:
1 c soy sauce or Tamari (use low sodium)
4 TBS sesame oil
4 TBS rice wine vinegar
2 TBS gochujang (if you do not like a lot of spice start with 1/2 TBS at a time and check the heat level)
1 inch fresh ginger, grated
4 cloves garlic, grated
---
Instructions
In a bowl whisk all ingredients together for the sauce, set aside
In a large pan or skillet sauté veggies with 1 TBS of sesame oil over medium high heat stirring occasionally so they don't burn. Cook for 6-8 minutes until veggies have softened but still have a little crunch to them
While veggies are cooking in a large sauce pan add lentils, rice and veggie broth. Season with salt and pepper. Heat over medium so the rice thaws and the lentils cook.
Once veggies are cooked add in most of the sauce to the veggies.
Serve the veggies over the rice/lentil mix. Top with toppings of your choice and spoon a little more sauce over the top.
Notes
You can use any veggies you want here. Baby bok choy, bean spouts, water chestnuts, grated carrots, and pea pods would all be good additions.
For a meaty version 1/2-1 lb of ground pork, chicken, or turkey in 1 TBS of sesame oil over medium high heat. You want your meat to brown and get caramelized. Remove from pan then sauté your veggies. Once veggies are cooked add the meat back to veggie mix with the sauce.
Prep Time: 10M
Cook Time: 20M
Keywords: asian, rice, lentils, veggies, vegetarian,