This vegetable noodle soup is a perfect way to sneak in veggies. Veggies are blended up and combined with little pasta which even the pickiest of eaters will enjoy.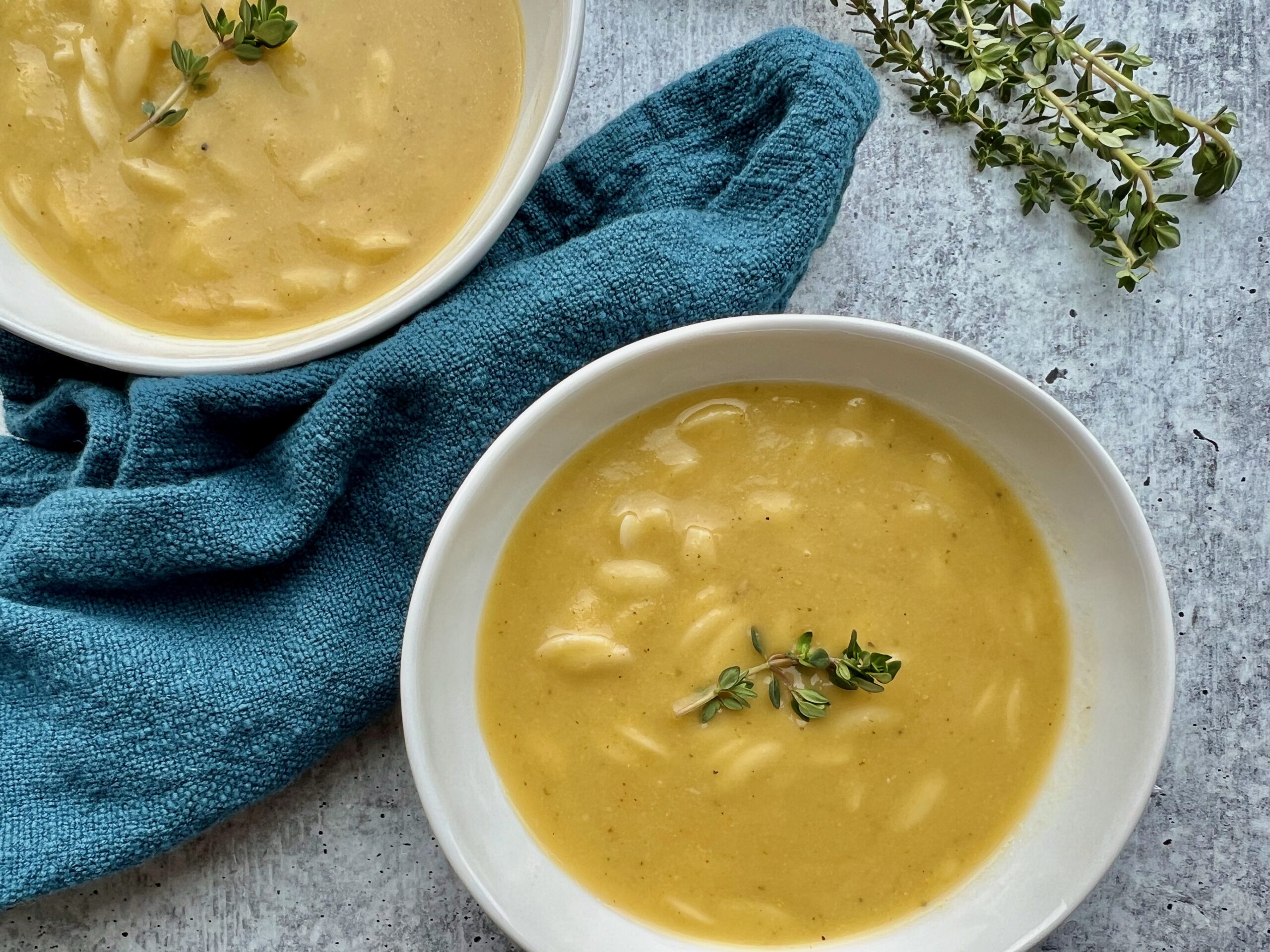 My daughter usually likes vegetables. Her favorites are green beans and broccoli so I take that as a win. But lately when I make soup she has been picky. Celery and onions are a big no. As in she won't even eat it if she sees it in there. So I needed to come up with a way to still make soup for us but be able to get her to eat it as well.
Italian Inspiration
Typically on Sunday I plan out the meals we are going to eat for the week and make a grocery list. However, I usually start that process by browsing Pinterest or one of my many cookbooks. I kept stumbling across Italian Pastina (little pasta) soup. Essentially you make a quick chicken broth by boiling the chicken in water with vegetables. However, instead of discarding the veggies they are blended up and added back to the soup.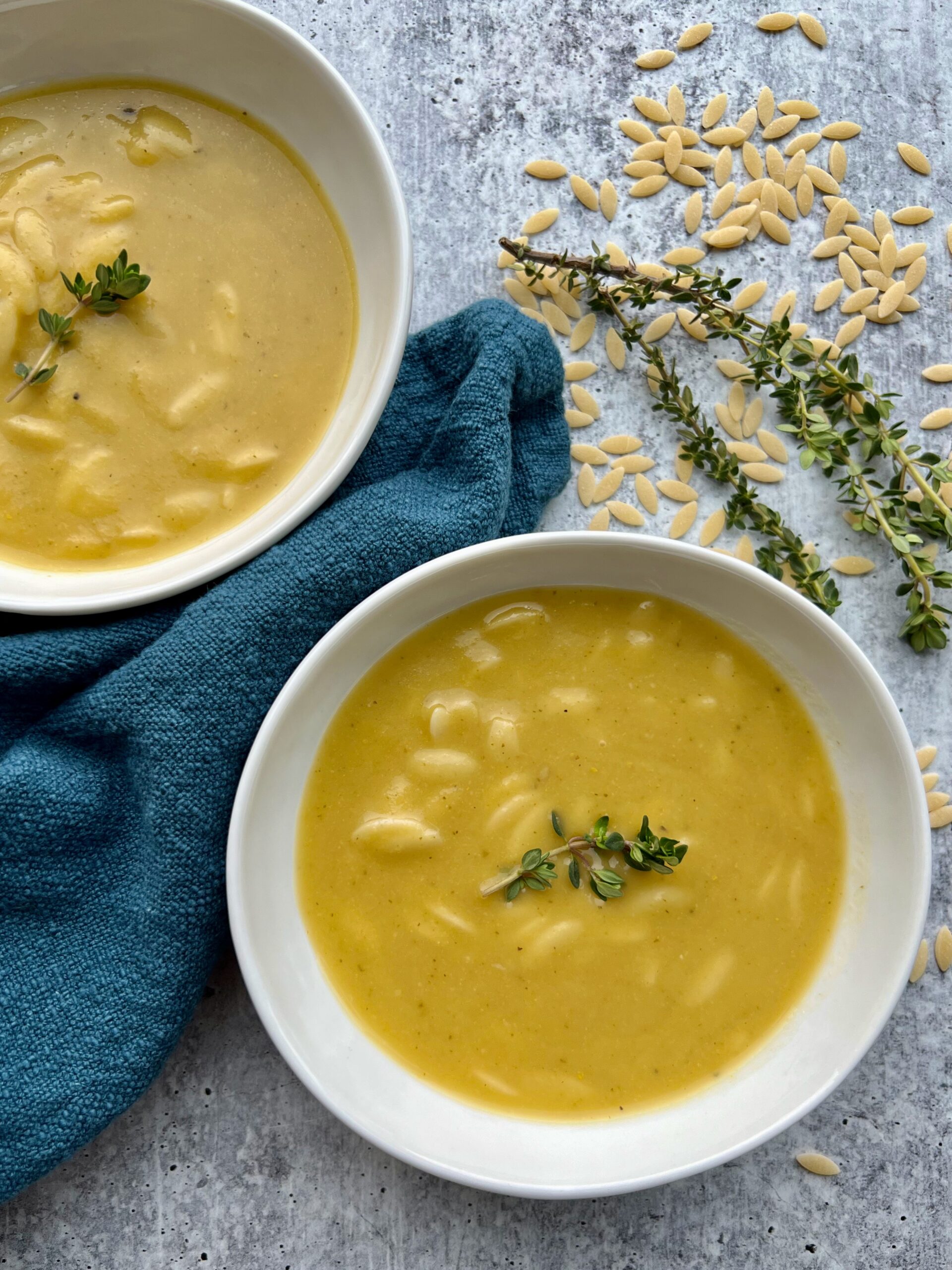 I decided I was going to use this method to create a soup I knew my daughter would like. But I didn't feel like dealing with chicken. So I mixed it up a bit. I used store bought chicken broth so I could still get that rich flavor. If you are vegetarian a veggie broth works great here as well.
The veggies sauté first and then cook in the broth and then are blended. Which means my daughter didn't even know that there was celery in the soup.
Veggies, veggies and more veggies
If you have been to this site or know my cooking, you know I love veggies. The more the better. So I went crazy with this soup. Why stop with just celery, onions and carrots when you could sneak in even more?
The beauty about cooking this soup is that you are going to blend everything up. So you don't have to worry about cutting everything nicely. Additionally I took some help from the store as well and saved even more time. Here's what I snuck in:
Celery
Leeks
Onion
Garlic – I never use jarred because I don't like the flavor but we buy already peeled to save time
Carrots – I always use grated to save time
Zucchini
Frozen cauliflower – another time saver
Fresh thyme leaves for flavor (these are removed before blending)
Parmesan cheese rind for some umami
My daughter had no clue she was eating all of that! So if you have a picky eater this vegetable noodle soup is going to be a hit!
Putting it all together
Pastina just means little pasta. So the last step in the soup is the pasta. I pretty much always have orzo on hand so that is my go-to for small pasta shapes. Other shapes that would work well here would be:
Ditalini
Acini de pepe
Little stars
Elbows
Baby shells
Alphabet
Cooking the veggies takes less than twenty minutes. Then to somewhat multi-task when I know the soup is almost done I get started on my pasta. Because the pasta will absorb a lot of the liquid I cook the pasta separate and serve the broth over the pasta at the end. Whatever pasta is left I do combine with the soup and put in the fridge. But be sure to have a little extra broth on hand to thin it out the next day.
At the end I like to top the soup off with some parmesan cheese. It's a perfect "comfort meal" without the typical use of heavy cream. While it satisfies like a comfort food it is actually a really healthy option.
So the next time you need to feed a picky eater or just want more veggies in your life be sure to try this vegetable noodle soup. And remember, if you try this recipe be sure to rate it and leave a comment below and let me know how you like it. Or tag me on Instagram!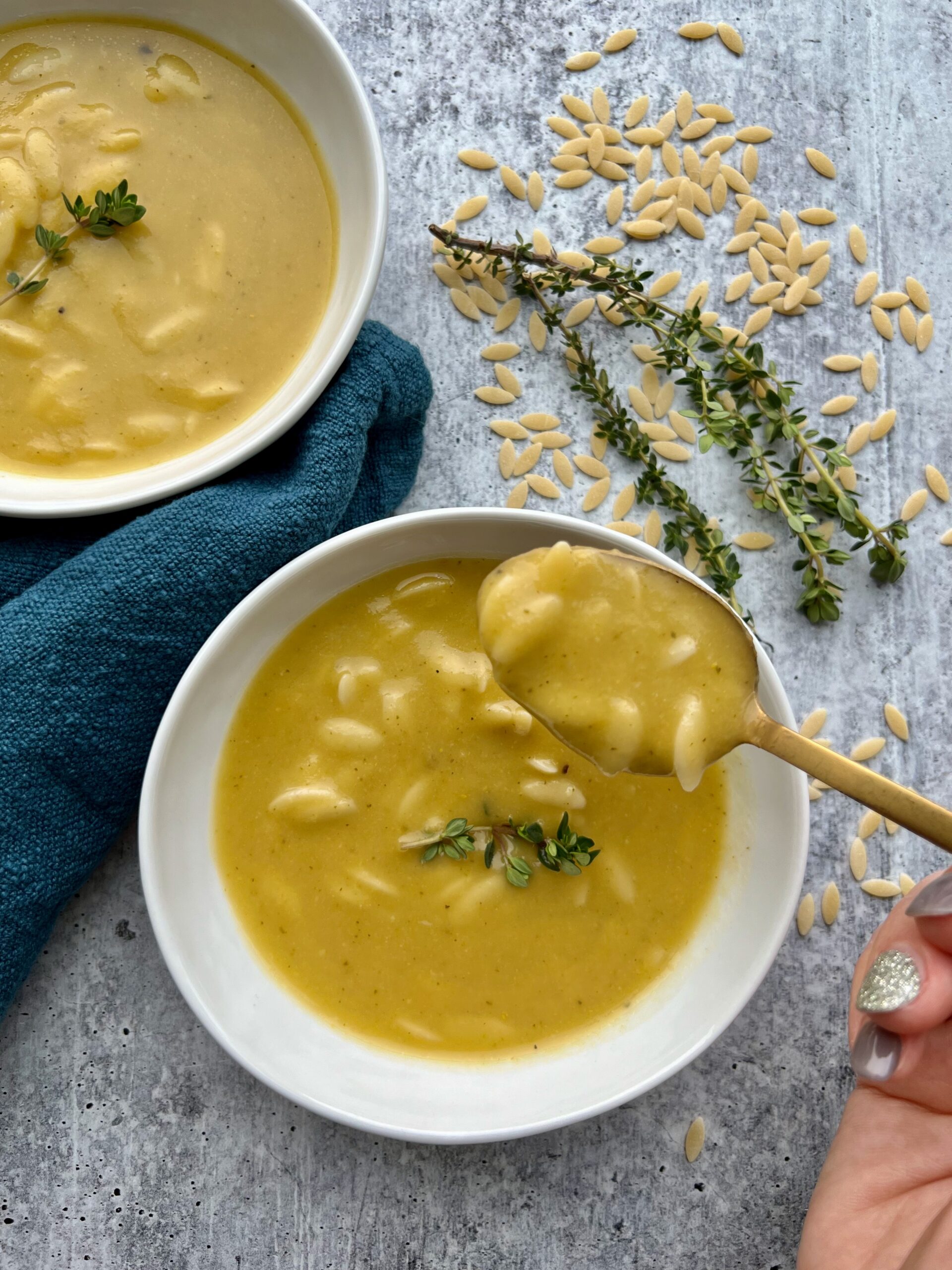 Print
Vegetable Noodle Soup
---
Author: Karissa P
Total Time: 35M
Yield: 4-6 1x
Description
This vegetable noodle soup is a perfect way to sneak in veggies. Veggies are blended up and combined with little pasta for an easy recipe.
---
yellow onion, diced
2 carrots, diced or 1 c grated carrots
6 stalks of celery, diced
1 leek (light green and white parts only) sliced thin and rinsed
2 bay leaves
a few sprigs of fresh thyme tied together with kitchen twine
6 cloves of garlic
2 small or 1 medium zucchini, cut in half length wise then slice in half moons
2 c frozen cauliflower florets
8 cups broth (I prefer chicken but you can use veggie too)
parmesan cheese rind
1.25 c small pasta (orzo, Ditalini, elbows all work)
Grated parmesan cheese for topping
---
Instructions
In a soup pot, saute celery, onions, carrot, leeks, garlic and bay leaves in 1.5 TBS of olive oil over medium to medium low heat for 10-12 minutes until softened
Season soup with salt and pepper. Add in parmesan rind, zucchini and cauliflower. Add in just enough broth to cover the veggies (should be 5-6 cups of broth), turn heat to medium high. Cook 5 minutes until zucchini and cauliflower are tender
Once veggies are done bring a pot of salted water to a boil and cook your pasta according to directions. If you aren't serving the soup immediately drizzle a TBS of olive oil over your pasta so it doesn't stick together. Additionally you can make the broth ahead of time and cook the pasta right before serving.
Turn heat off. Fish out thyme, bay leaves and parmesan rind out of soup. In batches puree the soup in a blender or Vitamix. Be careful when pureeing hot liquids. Add the blended soup back to the pot and turn heat on low.
Add in 2 more cups of broth to thin out the soup. Check your seasonings and add more salt and pepper as needed.
To serve place a scoop of pasta at the bottom of the dish, ladle soup over it. Top with parmesan.
Notes
If you have left overs before you put the food in containers you can combine the pasta with the soup. The pasta might absorb some liquid so you can thin out with more broth the next day.
Prep Time: 10M
Cook Time: 25M
Category: soup
Keywords: soup, vegetable soup, noodle,