When my husband goes out of town for work my desire to cook myself dinner becomes essentially non-exisistent. I lose all my domestic skills instantaneously. It's ironic that even though I was single for years and cooked myself dinner all the time, but once he leaves and it's almost like I'm helpless. One of the last times he was gone I decided to put away my damsel in distress attitude and be a big girl and make myself dinner.
I decided to make soup for dinner since they can be quick to make. I had been thinking a lot about our past trips to Italy. One of my favorite things we had there were the cannellini beans. While we were having dinner one night we were talking to our server about the food. He said "come with me" and actually brought us back into the kitchen. The chef showed us these huge pots of beans that had been cooking all day long with Italian sausage and tons of herbs including rosemary. So I decided to use those beans as inspiration for my quick meal.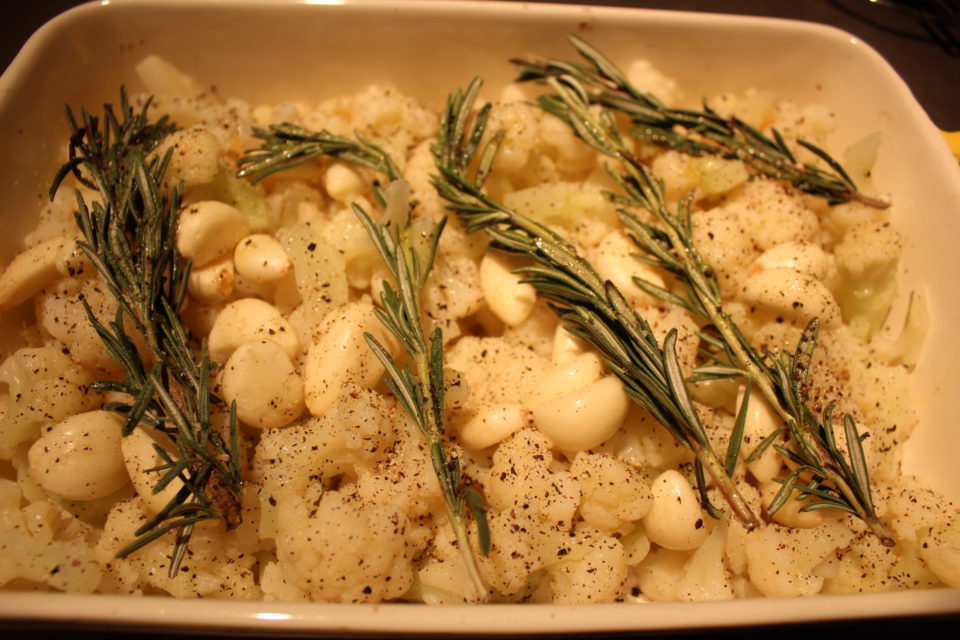 The base of this soup are the beans and rosemary. But to give the soup a little more substance I added cauliflower. Typically I buy heads of cauliflower and cut them into florets. This however, takes time. To save time I bought two packages of frozen cauliflower. It made this meal quicker to make. It saved so much time. Additionally, to make the soup even easier to make I threw the cauliflower in the oven with a ton of garlic and rosemary – the entire sprigs of rosemary. I found out accidentally one time when I was roasting whole heads of garlic cloves with the rosemary that the toasted rosemary gives off such a great flavor. The rosemary dries out in the oven and becomes almost nutty.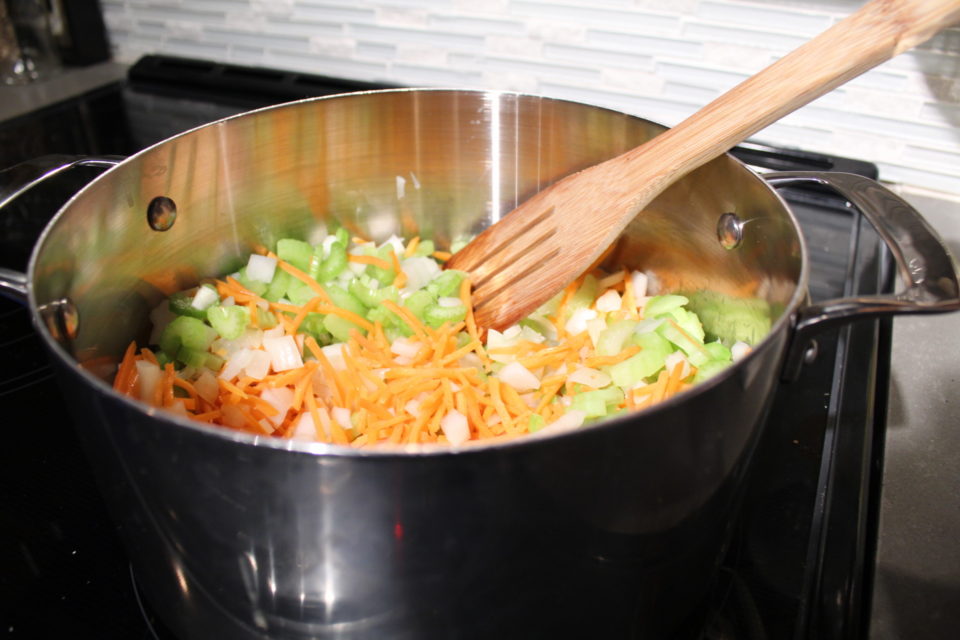 While the cauliflower is roasting I start to cook my other vegetables. The size of the veggies doesn't really matter since the soup will be blended completely. One of my favorite kitchen gadgets is my immersion blender. It is a wand with a blender at the bottom that you can use to blend soups and sauces. So it makes pureeing anything an easy task. Furthermore, the blender detaches from the wand which makes cleaning it a breeze.
Once the cauliflower is done cooking, it's added to the soup pot with the veggies. So are the leaves of rosemary. Finally, the beans and broth are then added the pot and then everything is blended together to make a rich and creamy soup that doesn't have any cream!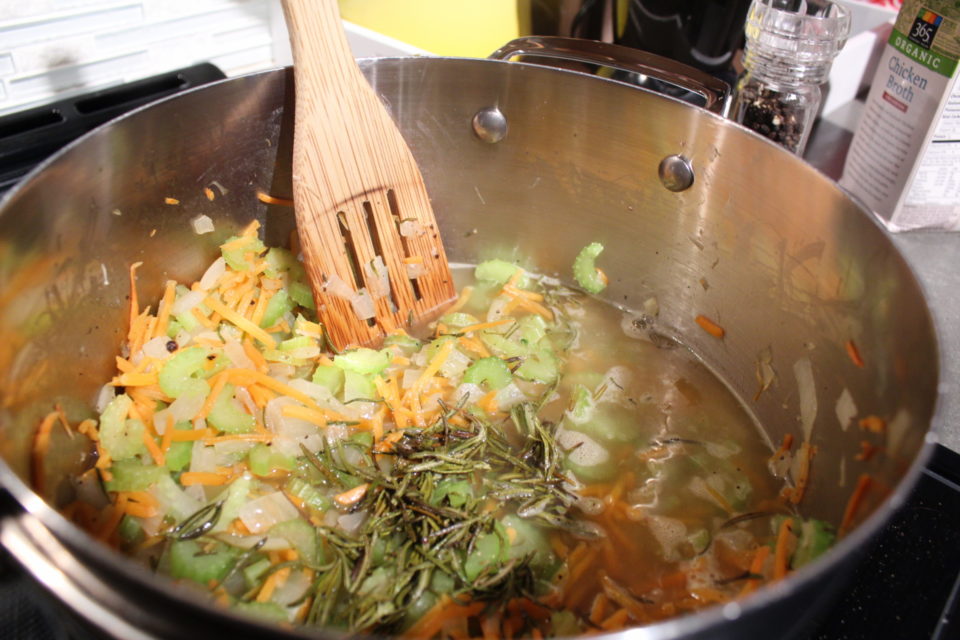 While the beans in Florence had spent all day on the stove cooking, this soup comes together in just thirty minutes. However the quick cook time does not result in a lack of flavor.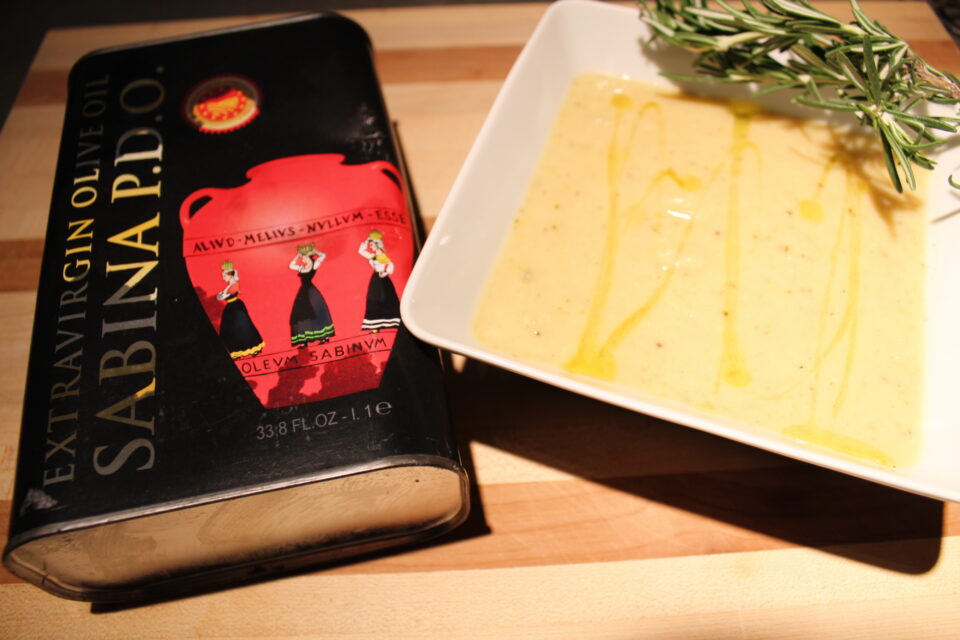 Print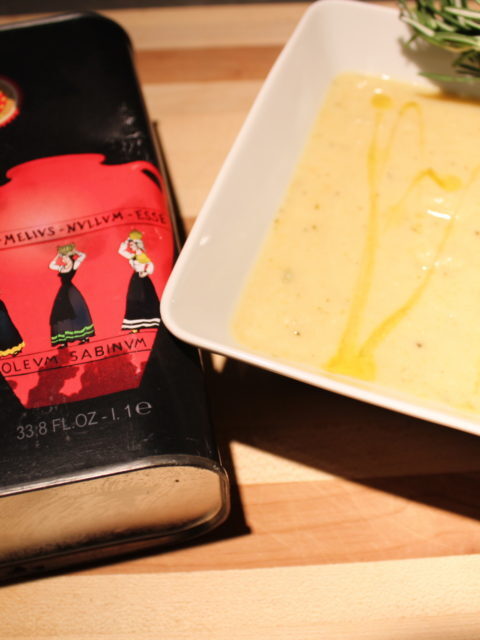 tuscan bean soup with roasted cauliflower
Prep Time:

10

Cook Time:

30

Total Time:

40 minutes
---
2

16 oz bags of frozen cauliflower florets

3

cans of cannellini beans

6 cups

of chicken or vegetable stock

10

–

12

cloves of garlic

4

–

5

sprigs of fresh rosemary

6

stalks of celery, thinly sliced

1

yellow onion diced

1

c shredded carrots
salt and pepper to taste
good olive oil for drizzling
---
Instructions
Pre-heat oven to 425
Place cauliflower in a colander. Run some warm water over it to thaw a little. Let water drain.
In a large baking dish combine cauliflower, rosemary (leave the full sprigs we will remove the leaves later) and garlic. Drizzle with a little olive oil and season with salt and pepper. Roast for 30 minutes stirring occasionally.
While the cauliflower cooks, in a large soup pot sautee celery, onion and carrots over medium heat until they are tender. Once cauliflower is done, strip the rosemary leaves from the stems and add to the soup pot. Discard woody stems. Add cauliflower and roasted garlic to the pot. Next add in beans and 4 cups of the broth. With an immersion blender puree the soup.
I find that cauliflower can have a grittier texture if not pureed completely so I spend about 5 minutes pureeing to make the soup smooth. (make sure you don't run your immersion blender this whole time or you will burn out your motor) If using a regular blender puree in batches and vent your lid of the blender.
If your soup is too thick (more like mashed potatoes than soup) you can thin out with the remaining 2 cups of broth.
To serve drizzle the soup with a good quality olive oil. You can also top with some parmesan cheese as well.
---
Notes
Use vegetable stock for a vegan dish
---