These summer veggie grain bowls are made by pairing in season veggies like corn and tomatoes with pre-cooked grains to save time.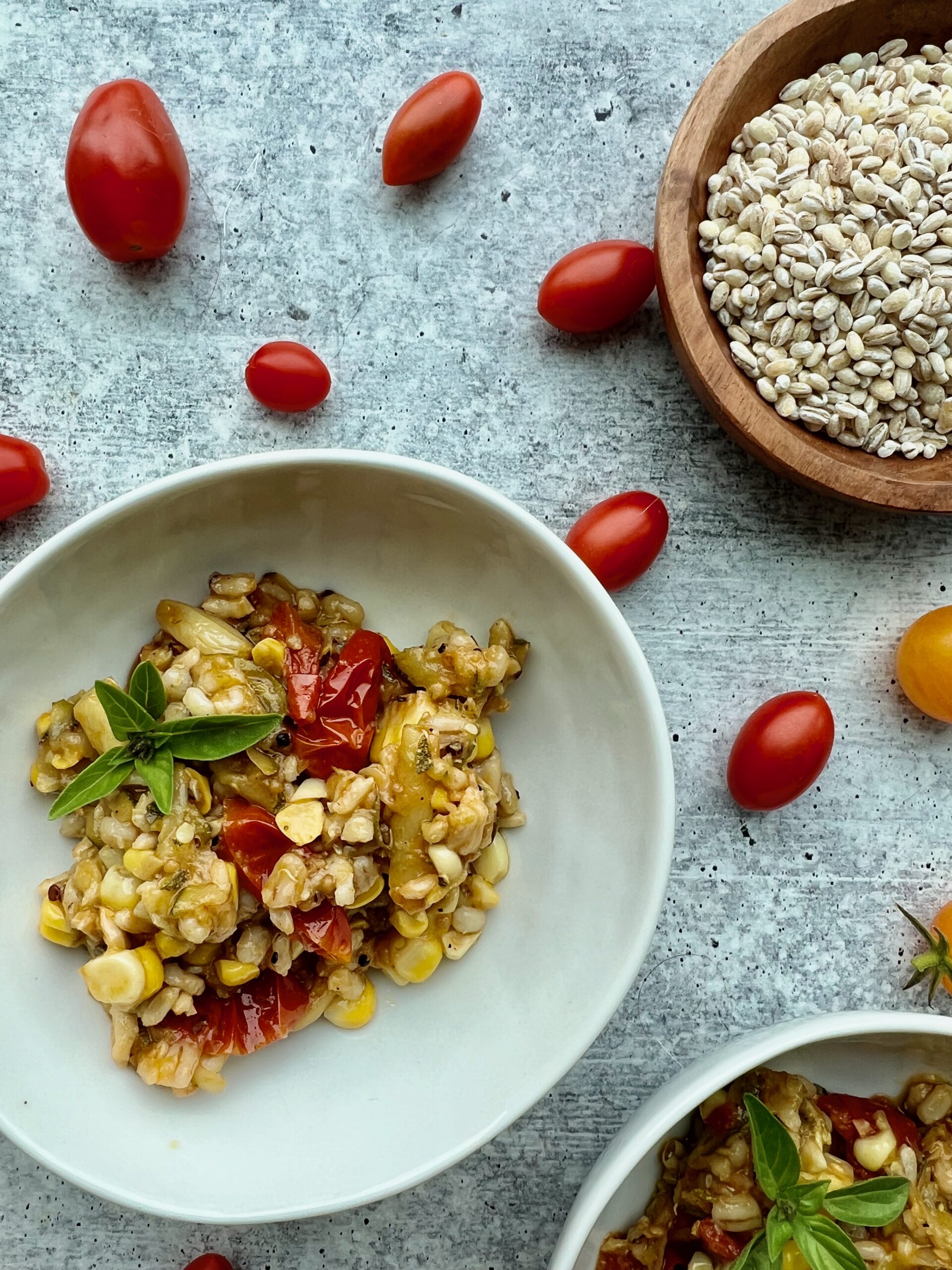 During the week I am usually looking for two things in a meal. One – they need to be easy to make. Between working, picking up my daughter, feeding her, doing bed time it leaves not a ton of time to be in the kitchen. Two – something packed with nutrients and usually veggie heavy. I started thinking about what I could do simply and brainstormed this summer veggie grain bowl recipe.
In season veggies
I love summer veggies. I also love using what is in season as much as I can when I cook because then I KNOW it will be fresh. There are veggies I know I will only be able to get in the summer like corn on the cob so I try to take advantage when it's around. Corn can get a bad rap but I love the sweetness it gives summer recipes and additionally it's fiber dense which can help fill you up. Here is my secret to cooking the best corn on the cob – roast it in the husk!
It might sound strange but there are so many benefits of keeping it in the husk while cooking. First off the cleaning of the corn is SO much easier after it's been cooked. The silk and husks just peel right off. Secondly when you cook the corn in the husk versus boiling it in water it keeps more of the nutrients in the corn.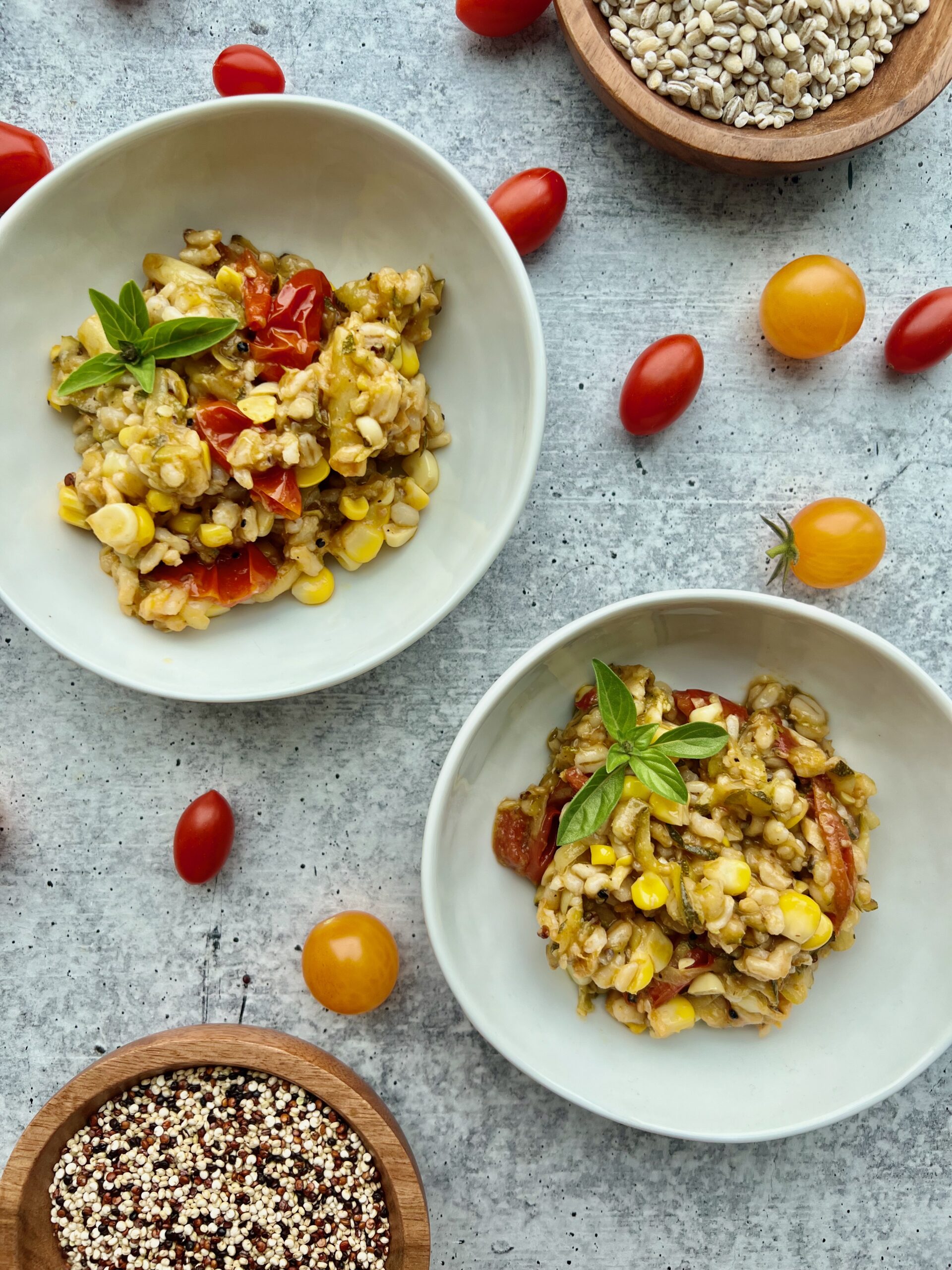 Here is how I roast my corn:
Make sure your corn is damp, soak it in water for 15-20 minutes prior to roasting – this will ensure the husk doesn't catch on fire
Cook your corn for 20 minutes in the husk either in the oven (I put mine at 415 degrees) or on your grill. Roll the corn to the other side half way thru.
Let the corn cool before handling
Remove husks and silk and eat or at this point you can remove the kernels off the cob
Good for you grains
When I think about making a bowl I always go to "what base will I use". There are so many healthier versions of a grain that you can pick from for the base of the bowl. Additionally in vegetarian dishes grains can also be an unexpected way to add protein to a dish.
These bowls are versatile because you can use anything you might already have on hand like:
Quinoa
Wild Rice
Brown Rice
Farro
Barley
Buckwheat
Wheatberries
Non-grain base – cauliflower rice or zucchini noodles
Also for a time saver we buy a lot of precooked grains. Frozen already cooked rice is one of our go-tos in our house. I frequently use it to cook dinner for my daughter. For this summer veggie grain bowl I used a little help from the store and bought a pre-cooked pouch of brown rice and quinoa and then I also cooked up some barely to pair with it. The sky is the limit with these bowls.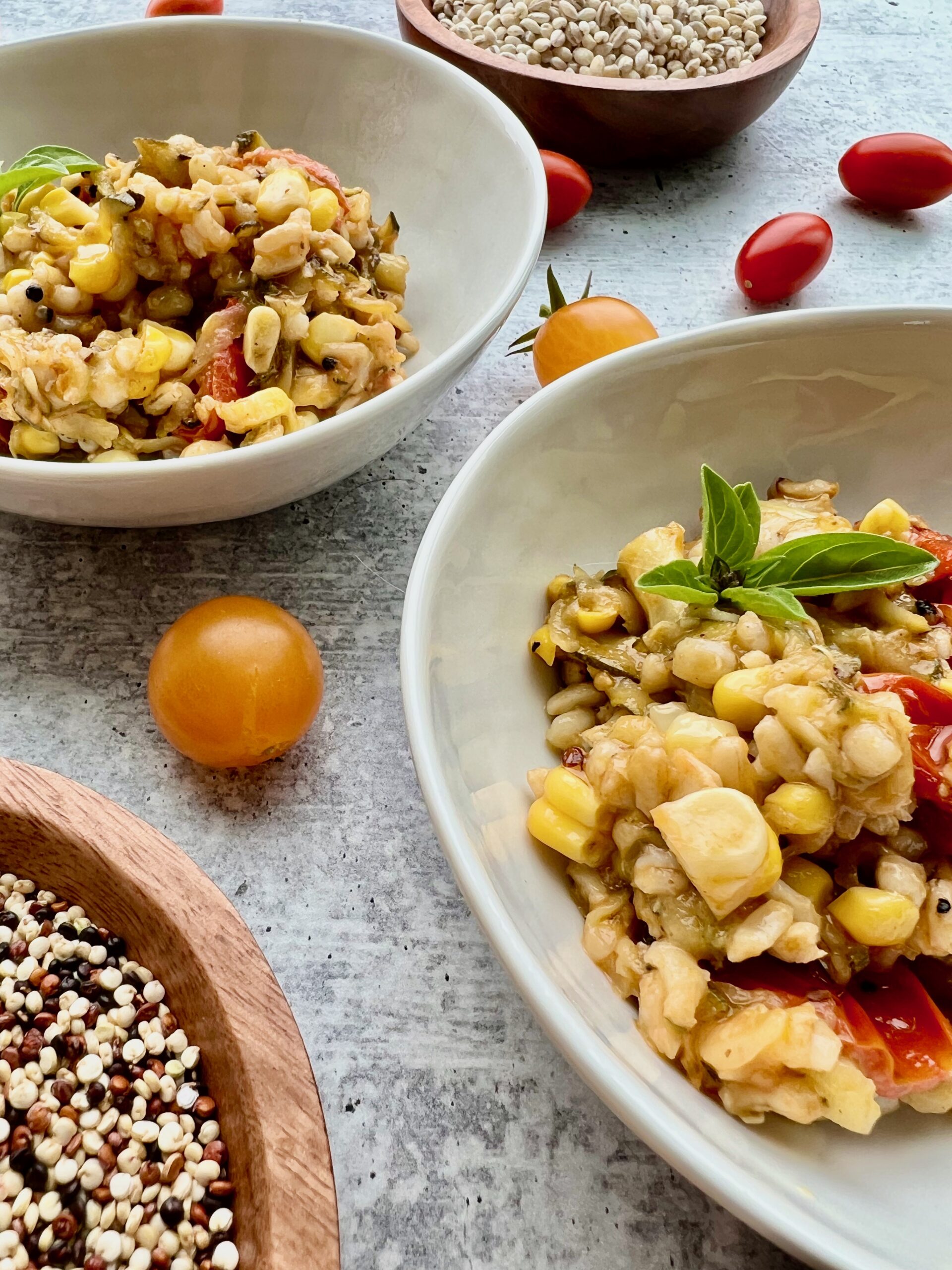 Putting it all together
These summer veggie grain bowls are easy to make. Veggies are cooked up rather quickly. The tomatoes and zucchini cooking release juices which makes a natural sauce for the dish. Then the precooked grains are added to incorporate everything.
Multi-tasking comes in hand with this dish. While the veggies are cooking you can sear you your Halloumi cheese. If you can't find Halloumi cheese you could use mozzarella medallions and pop under the broiler for a few minutes to get golden brown.
Once you try the recipe you can experiment with the veggies and the grains you use. In the fall you can swap out summer veggies and use in season butternut squash and collard greens. Whatever you use it's sure to be tasty!
The next time you are looking for an easy nutritious meal be sure to try these summer veggie grain bowls out. Also remember, if you try this recipe be sure to rate it and leave a comment below and let me know how you like it. Or tag me on Instagram or #eatbreathelove!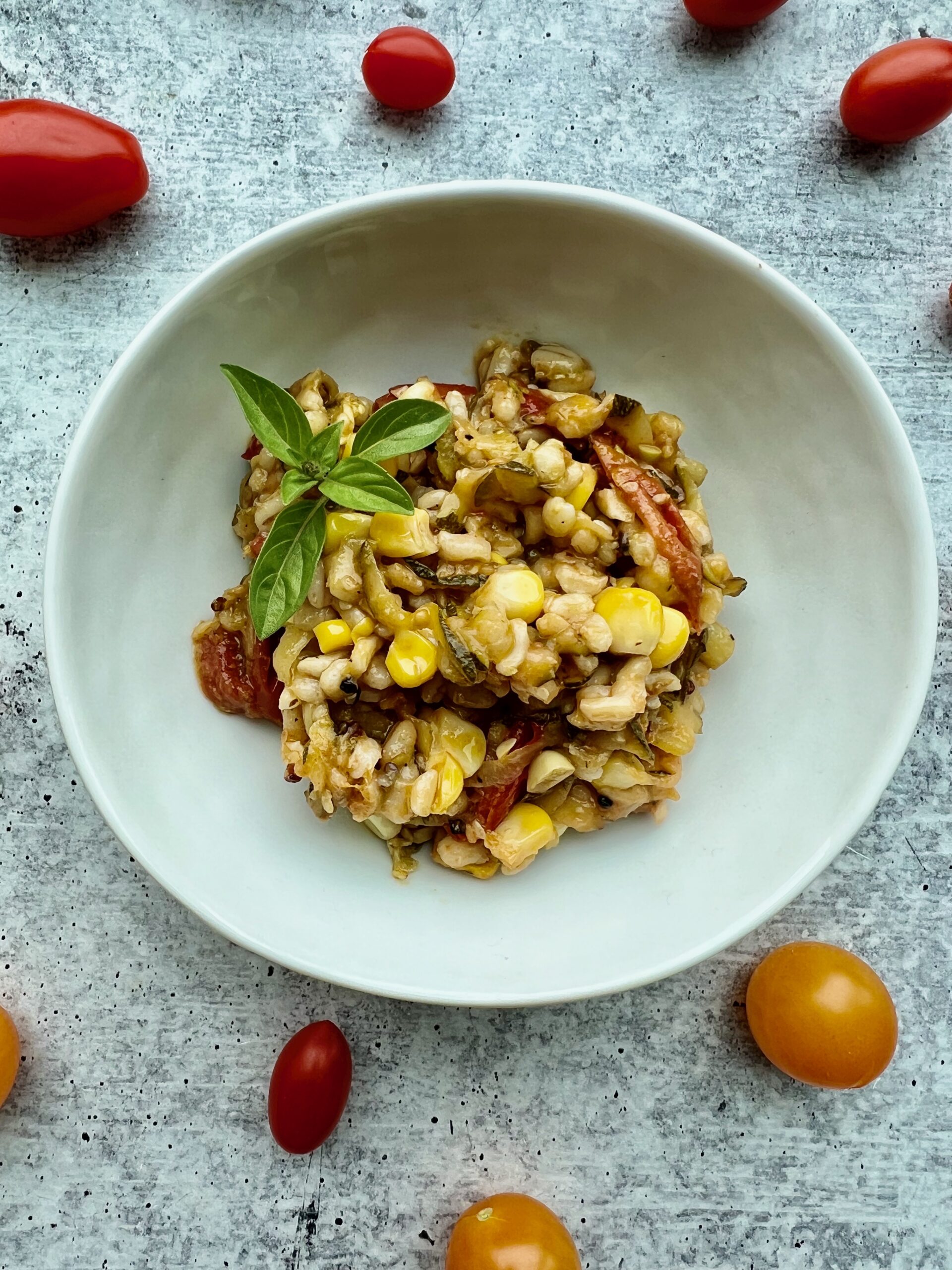 Print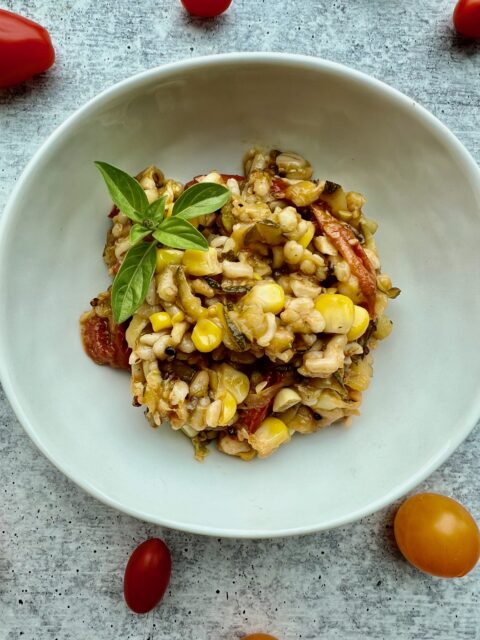 Summer Veggie Grain Bowls
---
Description
These summer veggie grain bowls are made by pairing in season veggies like corn and tomatoes with pre-cooked grains to save time.
---
2 quarts cherry, grape or any small tomato of your choice, cut in half
2 medium zucchini, grated (I like to salt my zucchini and place in a strainer over a bowl and let sit for 15–20 minutes to release some of the liquid. If you don't have time for this that is ok!)
2 ears of corn, cooked, corn removed from cob or 1 cup frozen corn
2 large handfuls fresh string beans, ends removed, cut into 1 inch pieces
6 cloves garlic, minced
1/2 c veggie or chicken broth
2 c pre-cooked grain of your choice (brown rice, quinoa, barley, wheat berries, farro etc) I used a combination of pre-cooked brown rice/quinoa and then added in a cup of cooked barley
8 oz halloumi cheese sliced into 1/4 inch slices patted dry
Handful of fresh basil cut in thin slices
---
Instructions
In a large skillet sauté tomatoes with 1 TBS olive oil over medium low to medium high heat until juices start to release about 2-3 minutes
Add in beans and broth, season with salt and pepper, cook 3 minutes until beans start to soften
Add in zucchini, cook 2-3 minutes until zucchini softens
Stir in cooked corn
Add in cooked grains, stir to incorporate. Let grains warm thru and absorb some of the cooking liquid. Check seasonings. Season with more salt and pepper if needed
In a non-stick frying pan heat up 1 TBS olive oil. Once oil is hot add Halloumi cheese. Cook 1-2 minutes a side until the cheese gets golden brown. If the cheese releases some liquid this is normal. Sop it up with a paper towel to help the cheese get crispy.
Serve the cheese and basil on top of the veggie mix and enjoy
Prep Time: 10M
Cook Time: 20M
Keywords: vegetarian, grain, veggies, summer meals, halloumi,