When people ask me where my favorite vacation was hands down it was Greece. My best friend is first generation American and his family is from little villages in Greece. He often goes back, so often that my friends usually tag along on his trips. I was fortunate enough to do so in the summer of 2014 and it was an amazing experience/adventure. From the busy city of Athens loaded with rich history and ruins to the sunsets in Santorini to the clubs on the party island of Mykonos it was all fantastic. To go along with the beauty of the country and the islands came some pretty amazing foods.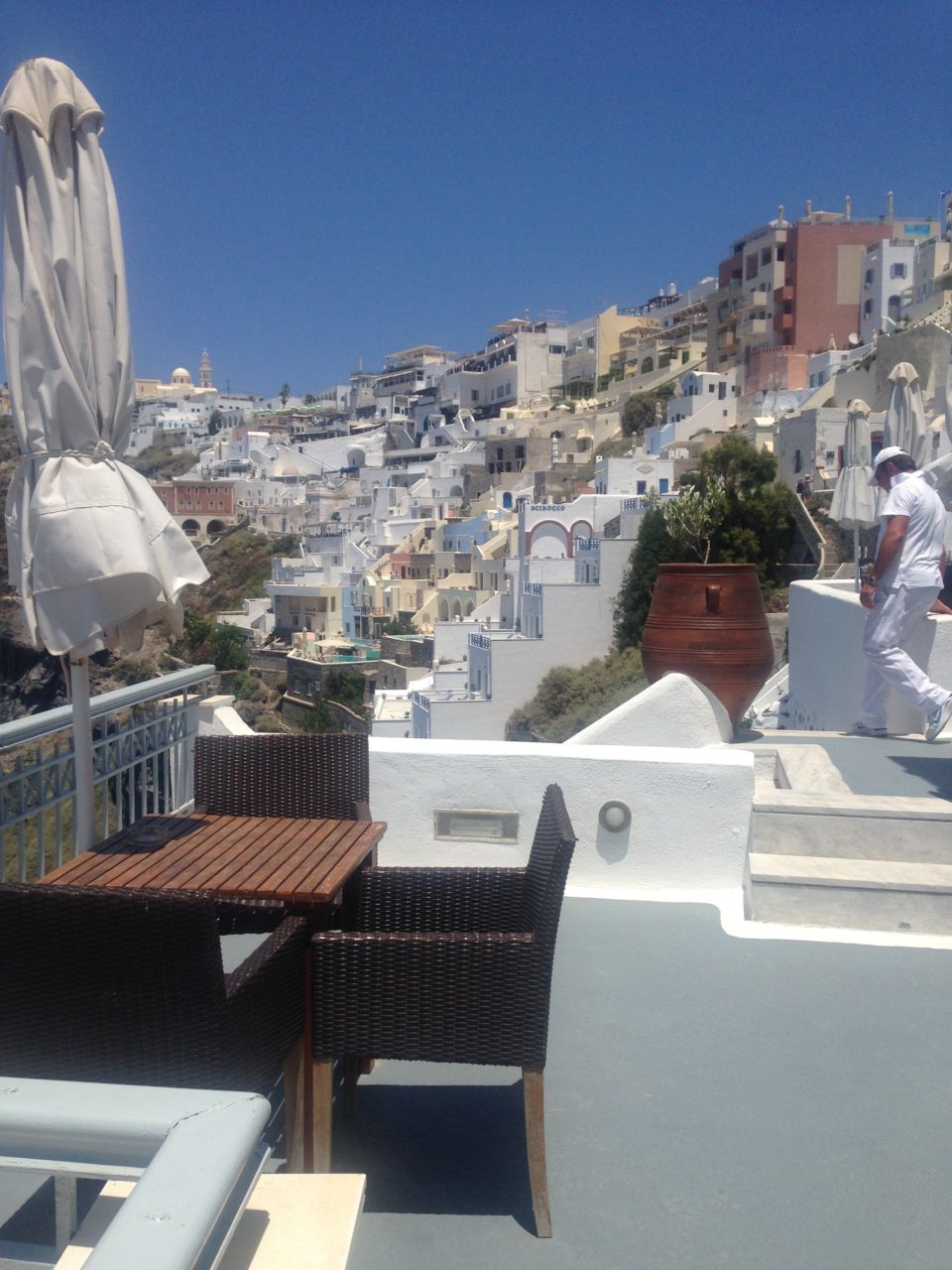 We ate fresh fish pretty much every other day while we were there. My husband and I were at a little restaurant on the hills of Athens having lunch one day and we asked what kind of fish they had that day (since it is all fresh). Our waiter who was probably old enough to be my grandpa, pulled me from the table and said "come" where he took me into a back entrance of the kitchen and opened up the fridge and started showing me all their fresh catches. After I picked one out when he came to our table with the cooked fish (head on of course) and proceeded to amaze us and de-bone a whole fish in under 2 minutes. When I travel, especially to Europe, it so wonderful to bring back these memories of meals and food and be able to re-create them and share with others.
One thing we found out there is that a Greek salad is not what you get here. You will not find any romaine and ESPECIALLY not any iceberg lettuce in a Greek salad. It is made only with the vegetables – tomatoes, cucumbers, green bell peppers, red onions and kalmata olives. The salads are dressed simply with olive oil (Greek of course!) and red wine vinegar. They usually sprinkle some oregano on the salads and then top it with a nice brick of fresh feta cheese. We ate these salads every day – both lunch and dinner.
The flavors of the Mediterranean are simple but FULL of flavor. From herbs like oregano to fresh lemon to the fruitful olive oils – the simplicity is not underdone by a lack of flavor. The people in Greece really have a healthier style of eating, plus all the walking around helps you stay in shape! Now that it's finally warming up in Michigan eating light is more appealing. I find that when I am in warmer weather the last thing I want is a heavy meal.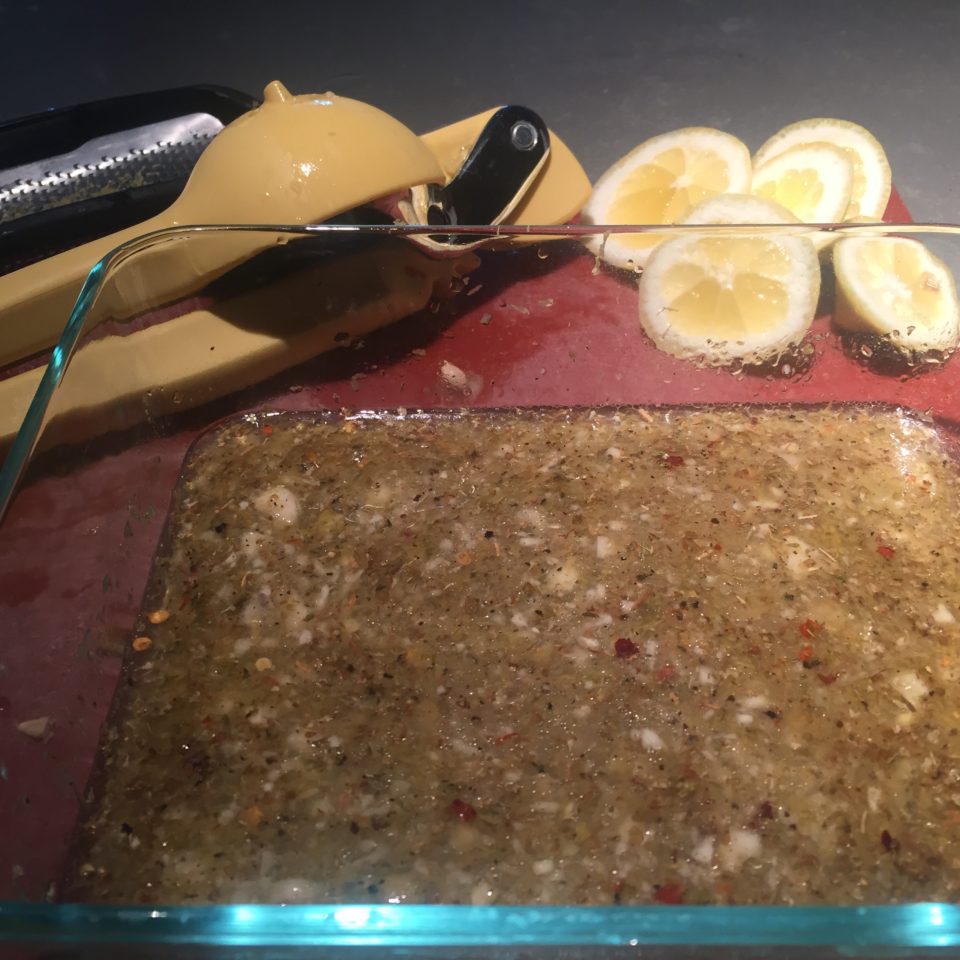 Typically my husband cooks a lot of our salads. He kidded around with me that I probably don't even remember how to grill chicken. I started thinking about what I could make for an entree salad since he was cutting back on carbs. We are fortunate enough to be heading BACK to Greece this summer and had been doing a lot of trip planning recently so Greece was on my mind. I decided I was going to take us back to the country we are so fond of and make a Greek inspired salad.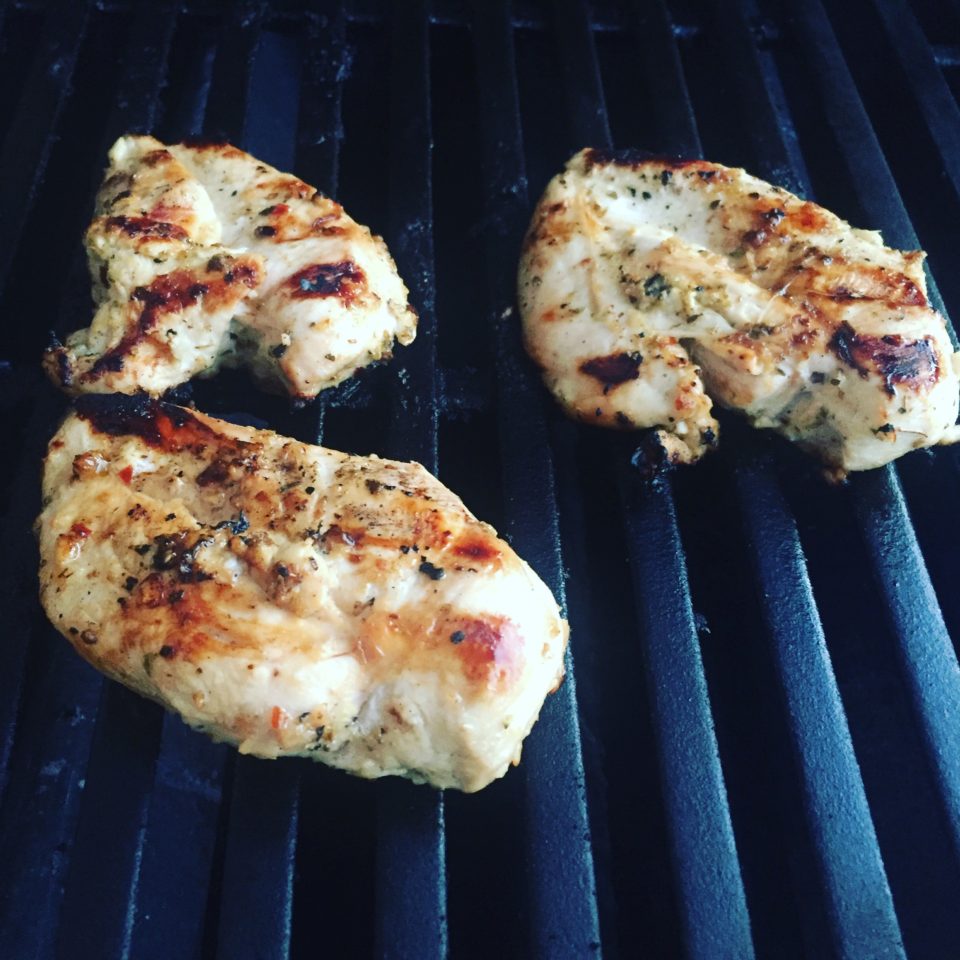 I will disclaim that since it is an entree sized salad tonight I will be using lettuce (Christopher – don't curse me out!) The salad remains simple though. Everything in the traditional salad with romaine added to give it more volume. I decided to marinate my chicken with a go-to combination I typically use for shish kebobs which is simply lemon juice and zest, garlic, oregano, red pepper flakes, sat and pepper and olive oil. I luckily had a few hours to let the chicken sit and soak in all that flavor of the lemon. The citrus acid really penetrates into the meat and helps keep it nice and juicy while grilling. I replicated these flavors in my light dressing as well.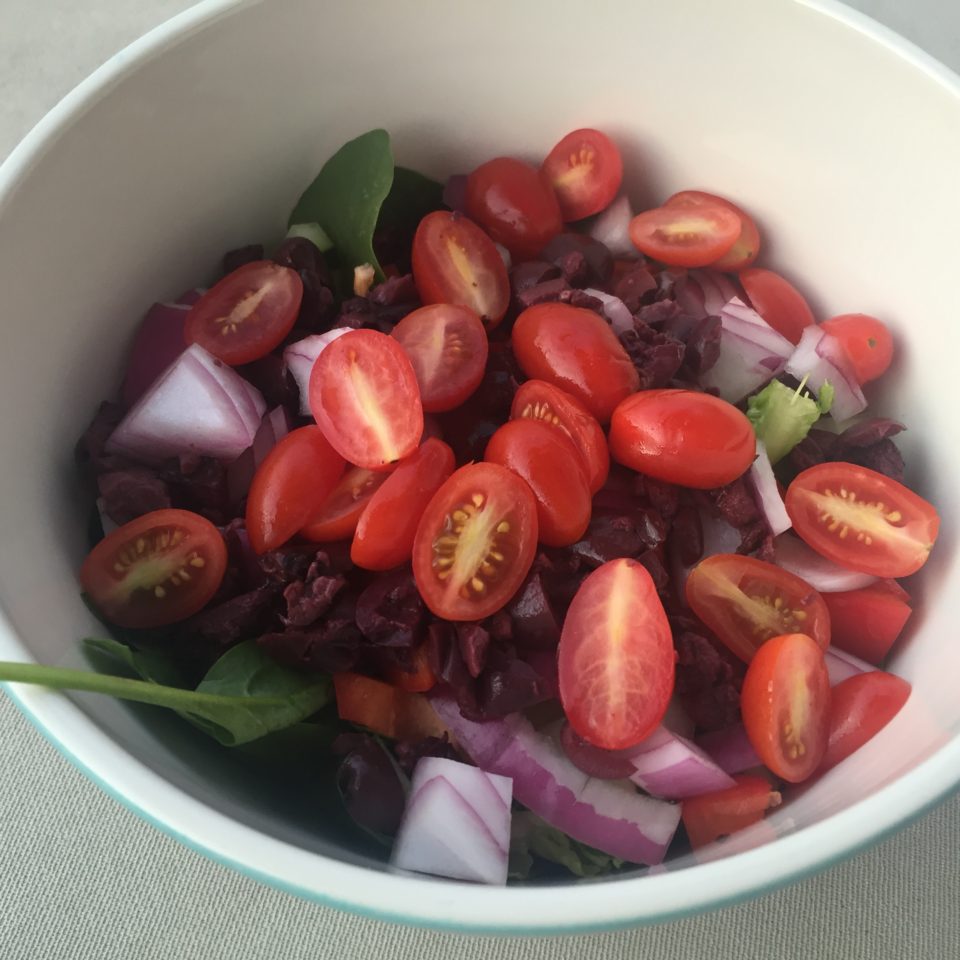 Since the salad remains fairly basic I splurged on a good organic brick of feta. You can use the crumbles if that is all you have but I encourage you to try the brick that is packed in water that you can crumble yourself. It might be a little more expensive but the difference in flavor is worth every penny.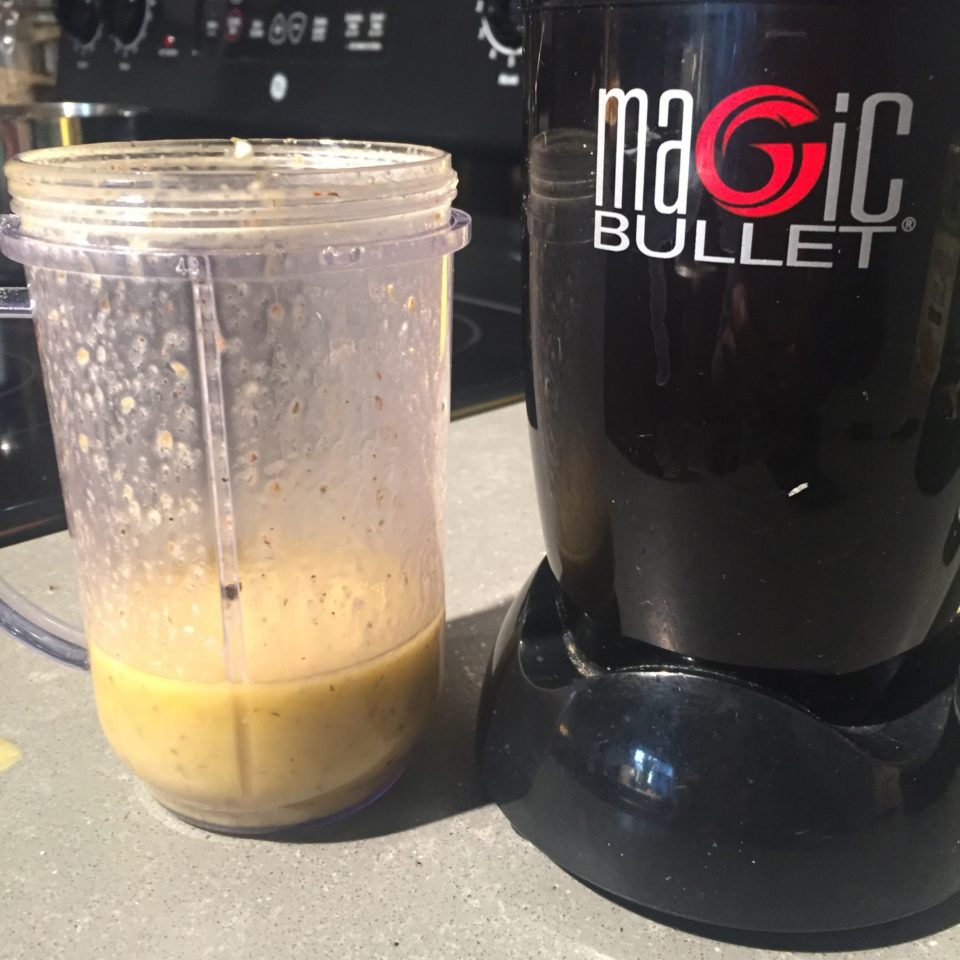 While this meal is not accompanied with the view of the Aegean sea or the most beautiful sunset you have ever seen the flavors alone will make you think you are on (or back) a Grecian island. Yamas!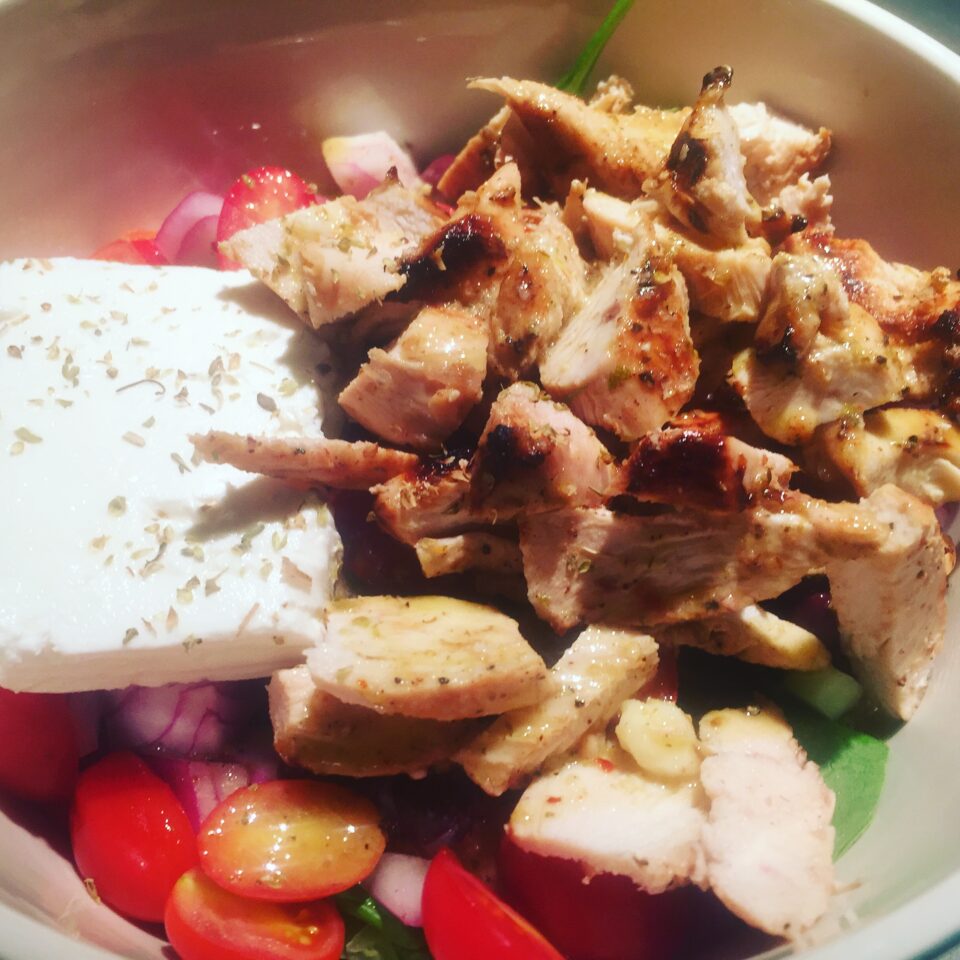 Print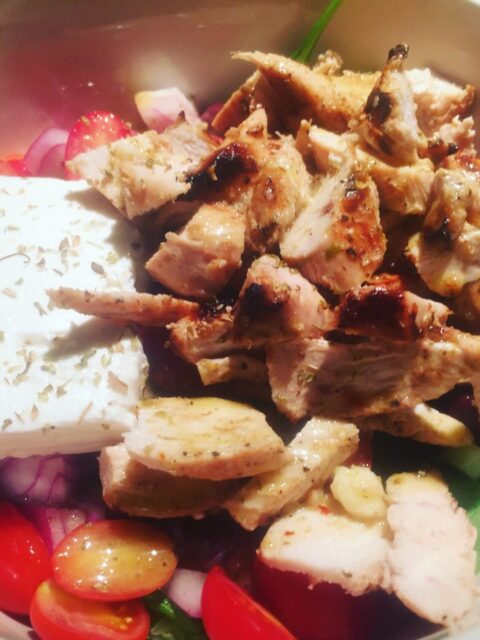 lemony grilled chicken greek salads
---
for the salad
2–3 heads of romaine, washed, DRIED (I have found that I try to wash my lettuce hours before eating so it dries out completely so your salad doesn't turn soggy)
1 pint of cherry tomatoes (or 2 tomatoes cut into a large dice)
2 bell peppers sliced thin (typically in Greece they use green but I love the sweetness of red peppers as well)
1 red onion sliced thin
1 cucumber cut into quarters and then sliced
15–20 Kalmata olives sliced (you can leave whole if they have the pit, just warn whoever is eating the salad)
1 brick of feta packed in water
optional: one can of chickpeas rinsed and drained
for the dressing
1/2 c olive oil
1/4 c red wine vinegar (you can also use 1/8 c red wine vinegar and 1/8 c fresh lemon juice)
salt and peper to taste
1 tsp oregano
for the chicken
3 lemons – the juice of all of them and the zest of 2
6–8 cloves of garlic minced
1/2 tsp red pepper flakes
3 TBS olive oil (if you want to get authentic use Greek)
1.5 TBS oregano
liberal amounts of salt and pepper
1–1.5 lbs boneless skinless chicken breasts or thighs (for 2 people I buy 2 chicken breast at the meat counter, if you want leftovers buy a full pound for 2 people) if breasts are thick pound out to 1/2 inch thickness to allow even cooking
---
Instructions
Marinate the chicken as long ahead of time as you can. Mix all the ingredients together in a large dish that has a lid (I use a shallow Pyrex) and whisk so everything incorporates. Add chicken and mix around and turn so meat gets coated. Place in fridge for 2-4 hours. If you are leaving your meat for a few hours (which I recommend) flip your meat in the marinade half way through.
Pre-heat grill to medium high heat. Grill chicken breasts 5-6 min a side (if 1/4-1/2 inch thick) meat should pull from the grill grates easily when ready to be flipped. If using boneless skinless thighs 4 minutes a side should be enough. After meat is cooked let your meat REST for 5 minutes before slicing. We put ours in the microwave (don't turn the microwave on! it just keeps the heat in).
Assemble your salad by adding all the vegetables and lettuce in a large salad bowl (or individual bowls). Top salad with feta and chickpeas and sprinkle with a little oregano.
In a small food processor or mini-blender combine all ingredients for the salad dressing. You can also just whisk by hand (I use my Bullet that I make my smoothies in for dressings).
Slice chicken thin and set on top of salad. Dress the salad lightly with your dressing.
Prep Time: 25
Cook Time: 15