[dropcap]L[/dropcap]ately in our house carbs are scarce. My husband has been on a carb-cycling plan so he isn't eating as many. It hasn't been too bad. I actually have eaten less by default as well. If he is following his plan strictly it's pretty much 2 days with very little carbs, one day with them, 2 without, 1 with and then a cheat day. Sundays are good "cheat days" because we are actually home most of the day. It's easier to make meals that take a longer time to cook as well.
Through out the week we eat lots of salads or even vegetarian meals. My husband used to eat red meat a few times a week now it's more of a treat. He was craving steaks so he wanted to grill. When he grills I usually make everything else. It actually is perfect because we both enjoy cooking so much that we both get to contribute and then it becomes something we do together. During the week we don't have as much time to spend long amounts of time in the kitchen but on the weekends we can turn music on and take our time and actually enjoy the process (as well as each other!)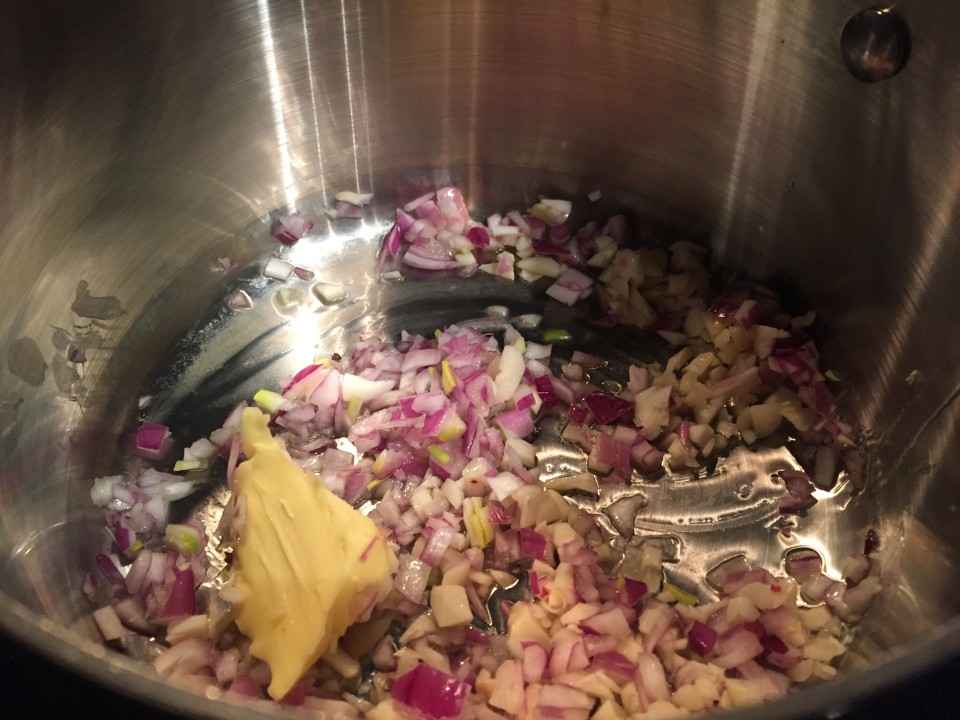 I was craving carbs because we hadn't had many in awhile so I wanted to make some kind of potato dish. I also really wanted bacon which I wound up incorporating into these sides several times. Bacon is getting such a bad wrap these days because it CAN be processed. If you go to a good butcher or a typically organic store (Whole Foods is my go-to) you can buy organic bacon which is nitrate and preservative free and is not processed, it's not the bacon that is bad for you. It's all the crap that they add TO it that is bad. Back to the potatoes….. Scalloped potatoes are good but something I don't make a lot because they can be so heavy. Most of the time the sauce for the potatoes are made with milk and heavy cream. Then you add in cheese so all in all it winds up being a pretty fatty dish.
I knew I could make a lightened up version of this dish similar to how I lighten up mac and cheese and other dishes that call for milk in it. I made a faux béchamel sauce with chicken broth instead of milk. To incorporate a little of the bacon into my sauce, I used some of the reserved bacon fat I had for my roux instead of using all butter. The bacon fat gave off this nice smoky flavor. (if you are vegetarian you can skip this step, but meat-eaters don't miss it! It adds a whole extra layer of flavor). I also added in a little paprika and dijon mustard to my sauce to enhance the smokiness. Skipping the milk and heavy cream in the sauce makes me feel better about the cheese in the dish.
We recently got married and I had been in my own home for awhile which made our wedding registry tricky. I also cook all the time so the things you might register for when you are 22 versus when you are 32 and already established winds up being a little different. I didn't need pots and pans, I already had knives that were good quality, so we got to upgrade some things and register for the fun tools that cooks love. We didn't have a mandolin so that went on the registry.
I remember my dad always saying how he would never get a mandolin or a deep fryer. He always said that is where a lot of kitchen accidents happen. I think that always freaked me out. However, the mandolin is perfect for scalloped potatoes because you can thinly slice them and they are all uniform. You just have to be careful. They do make the mandolin's now with safety features to avoid cutting yourself. Honestly, I have had worse luck with my stand up cheese grater then I have with my mandolin. I used it to slice not only my yukon gold potatoes but my onion as well.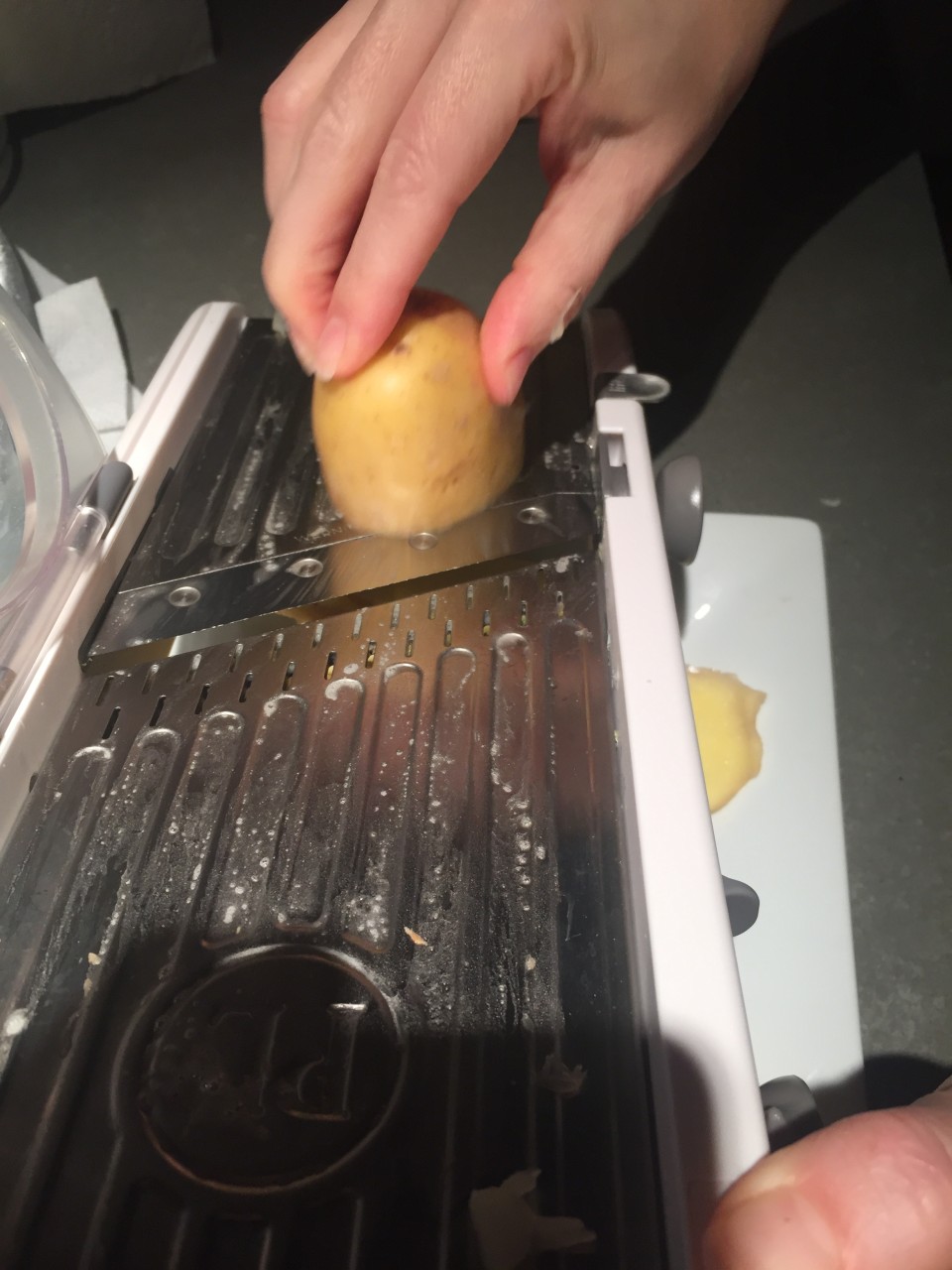 When I use cheese in a dish like this I don't skimp on cost. I love GOOD cheeses. I was making this dish more savory and incorporating the bacon and using chives so I bought a nice Cotswold cheese which tends to be an English hard cheese with onions and chives in it. Gouda goes with potatoes and bacon so I used that as well. You can really use any melting cheese of your liking but if you are looking for something new to try I highly recommend these.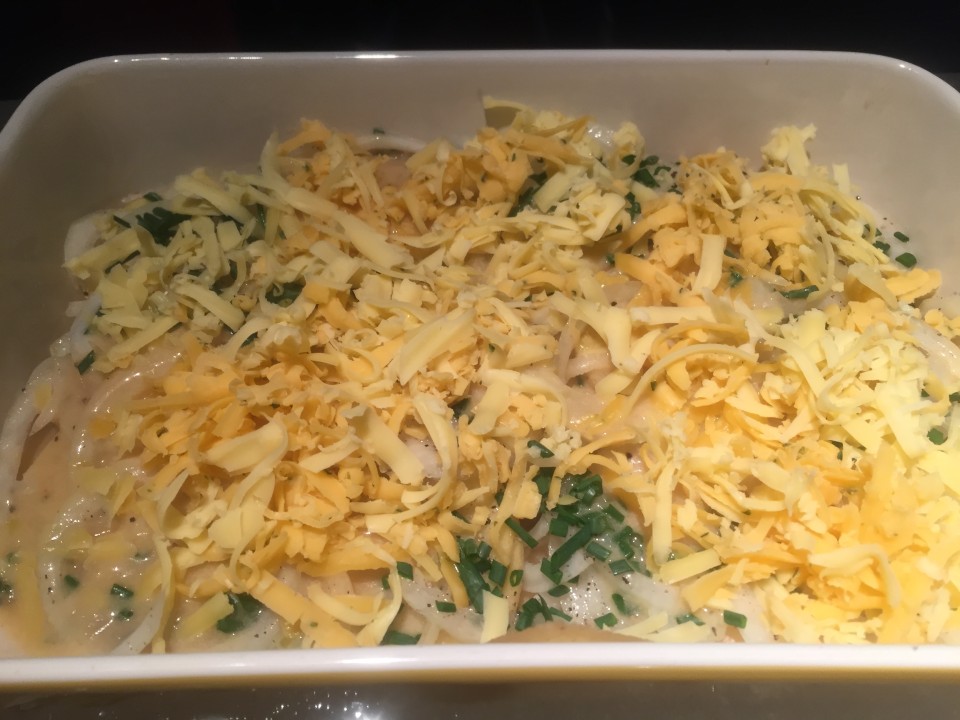 To make the rest of my sides I wanted to keep it simple. I think people tend to over season vegetables. Personally I like the flavor of the vegetable themselves. I kept my green beans really simple and tossed them in a baking dish with some of the bacon fat and salt and pepper. Roasting them in the oven gives the beans this nice caramelization and crispiness to them. It's so easy that it takes more time to cook them than prepping them. You can also throw them on a grill pan if you are using your grill that night.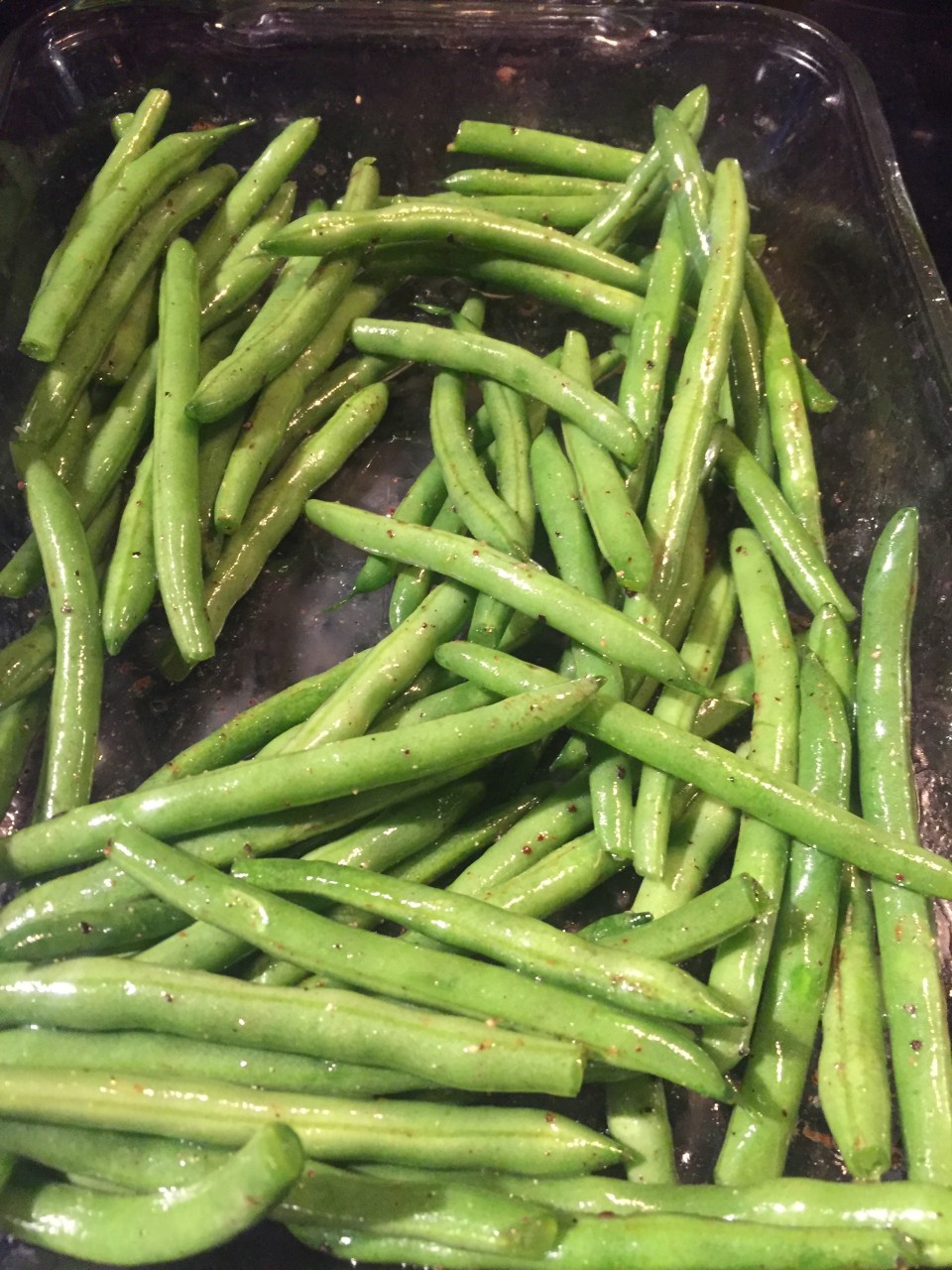 You don't have to be a grill master to be able to contribute in the kitchen. The next time someone wants to grill meat you now have 2 great dishes to bring to the table (literally!). Plus let's be honest – everything is better with bacon!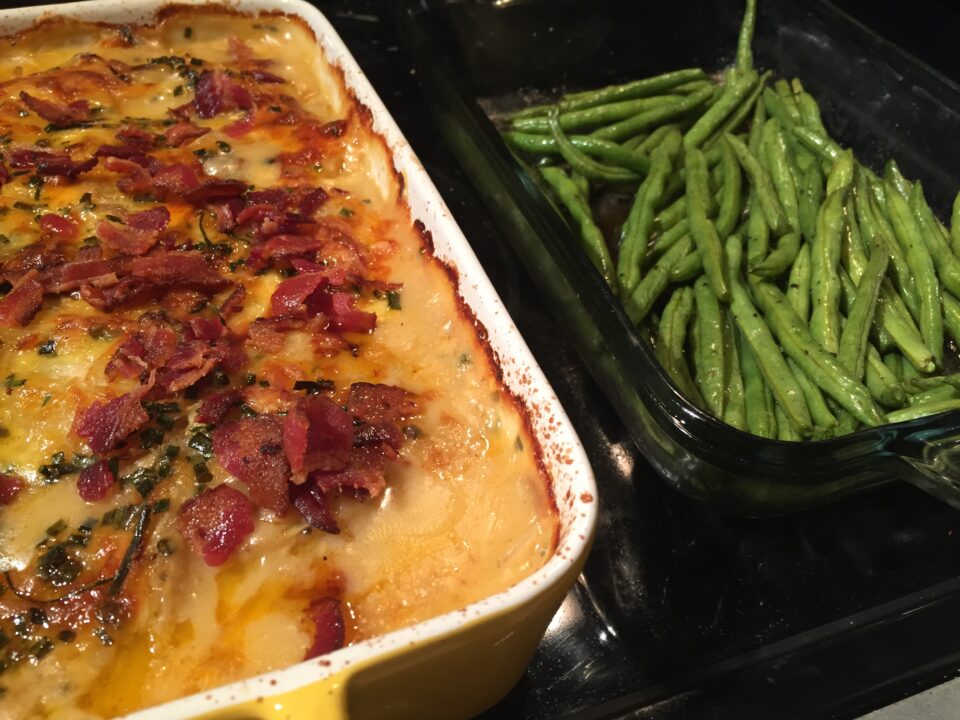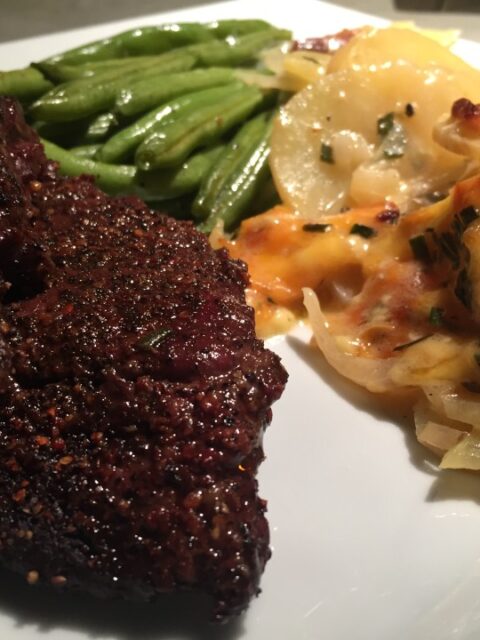 oven roasted bacon-y green beans with lightened up scalloped potatoes
---
Total Time: 1 hour 55 minutes
for the potatoes
6 slices of bacon
1.5 lbs of yukon gold potatoes – sliced very thin (use a mandolin if you have one)
1 yellow onion – sliced very thin (you can use the mandolin for this too)
4 cloves of garlic minced
1 shallot minced
1 TBS Dijon mustard
1.5 tsp paprika
salt and pepper
1.5 TBS unsalted butter
3 TBS flour
3 c chicken broth (can use vegetable broth as well)
1 package of chives minced
2.5 c grated cheese (I used a combo of gouda and Cotswold)
for the green beans
1 lb green beans (fresh) washed with ends snapped
salt and pepper
---
Instructions
Pre-heat oven to 420
On a cookie sheet line with parchment paper (if you don't have any you can bake right on your tray) and place bacon on it. Cook for 10-12 minutes or until the bacon is cooked to your liking. I check and flip my bacon every 4 minutes or so. Place on a plate with paper towels to sop of the grease. Set aside. Do not throw bacon grease away! Leave the pan off to the side.
In a sauce pan add 1-1.5 TBS of bacon grease, shallots and garlic. Cook over medium low heat for 8 minutes or so until the garlic and shallots are nice and soft. Add in butter and once melted add flour and turn heat up to medium. Mix around and cook 2-3 minutes to cook flour. Turn heat up to medium high, add in chicken broth and whisk to remove flour clumps. Season with salt, pepper, paprika and stir in mustard. Once the sauce comes up to a gentle boil your sauce will start to thicken. Continue to whisk and let cook for 5 minutes. After 5 minutes you can turn your sauce down to medium heat for 5-10 more minutes to get flavors cook together. If your sauce is still very runny, in a small frying pan melt one TBS of butter and stir in 1.5 TBS of flour and cook a few minutes (like you did before) and whisk into your sauce. The sauce should coat the back of a spoon nicely.
Turn oven down to 375. In a 9×12 baking dish layer half of your potatoes, followed by half the sliced onions. Season liberally with salt and pepper and top with half the chives. Cover with half the cheese. Repeat the potatoes, onions, chives and salt and pepper. Pour sauce over the potatoes. Top with remaining half of the cheese. Bake covered for one hour. For the last 20 minutes turn the heat up to 400 and bake uncovered so the cheese browns up and gets bubbly. Remove from the oven and let side and bind while the green beans cook. Crumble the bacon you cooked over the top.
Turn oven up to 420. In your pan that you cooked the bacon in toss the green beans with the remaining bacon fat left in the pan. Season liberally with salt and pepper. Roast in the oven 12-15 minutes stirring half way through. Try a bean and see if it is done after 12 minutes. If it is still too crunchy or raw for your liking cook another 3-5 minutes.
Serve the potatoes and beans with grilled meat of your choice!
Prep Time: 35
Cook Time: 80
Save
Save