After being gone for a week from vacation sometimes all you want is a home cooked meal. However, in my case, I had one day for that to happen before I was turning around to jet set again. I was working from home on our first day back and really did not want to go grab something for lunch. We had no groceries in the house and I was trying to think of something quick I could make while I worked. I was craving soup (not surprising, I could seriously eat soup every day). I didn't want to spend time in the kitchen chopping vegetables though. I had a week's worth of emails and work to catch up on.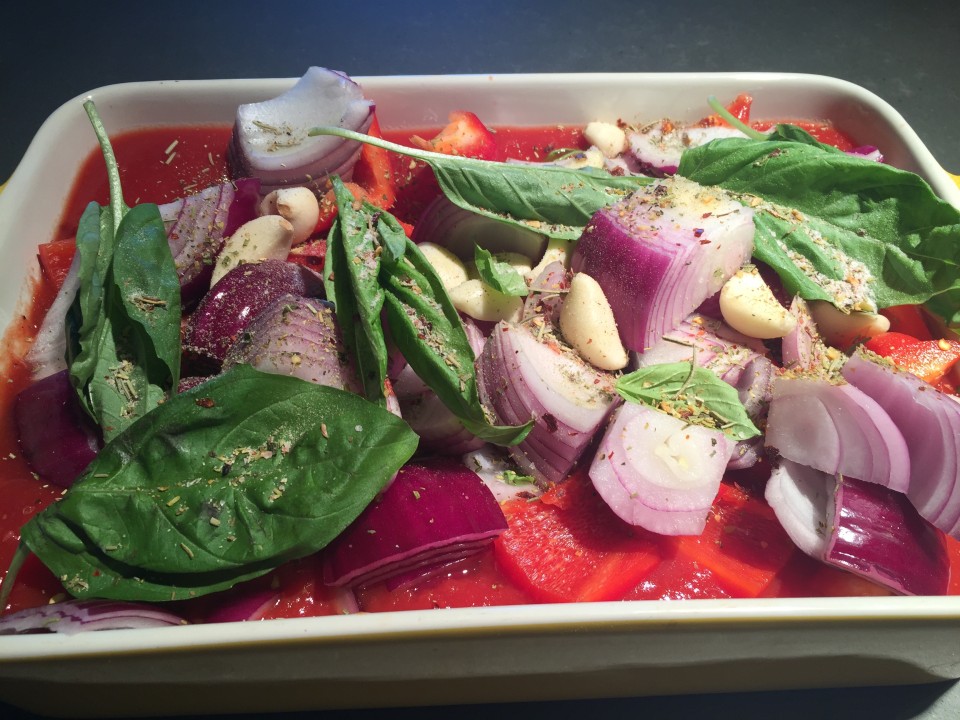 The tomato soup I make when I roast vegetables in the oven and puree the soup is very easy to make, (Roasted Tomato Soup) but I wanted more than just the creamy pureed tomato soup. I wanted vegetables. I decided to take that version of my soup and alter it. I remember seeing recipes for zucchini tomato soups and thought zucchini would be a good addition to this. That seemed rather boring so I figured I would add in some cannellini beans and spinach as well.
After I took my vegetables out of the oven from roasting them I put them in a big soup pot to puree with my immersion blender. The mix was really thick and saucy. I tried it. It would have made the perfect spaghetti sauce if that is what I was going for. It wasn't, but I thought to myself this would be a cool concept for the blog. I could write a post about using 1 recipe to make 2 meals. You can either make a spaghetti sauce or a soup. Or you can even double the recipe and once you have the sauce all made, reserve half and then turn the other half into soup and you have 2 meals made for you.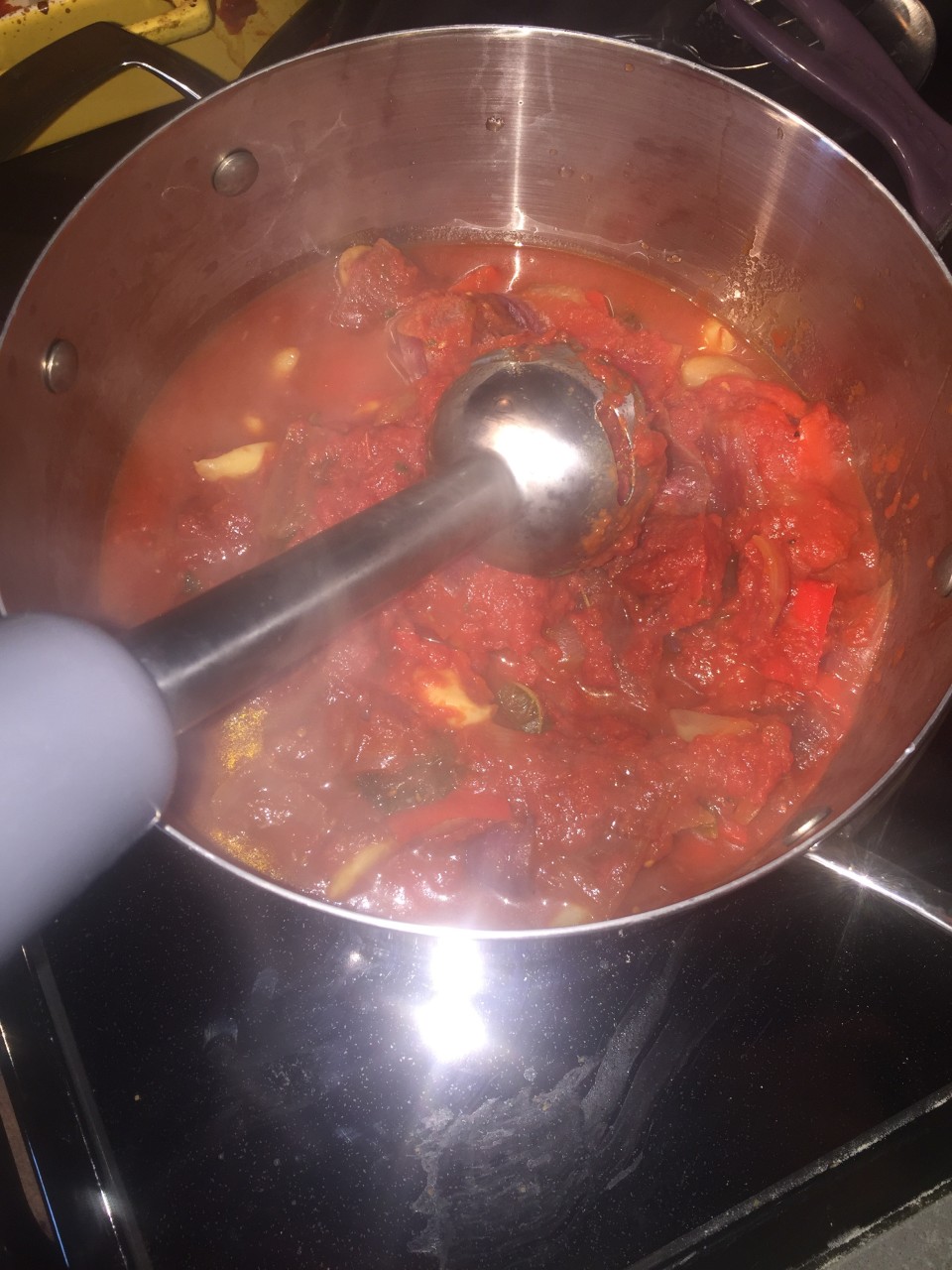 To turn my sauce into a soup I thinned it out with chicken stock (you can use vegetable if you want to keep this vegetarian) and then added in my other ingredients. This meal was so easy to make. I probably spent more time pureeing the soup than chopping the vegetables.
Not all meals have to take forever in the kitchen to be good. Especially when you are getting two meals with the time and effort (and cost!) to make one!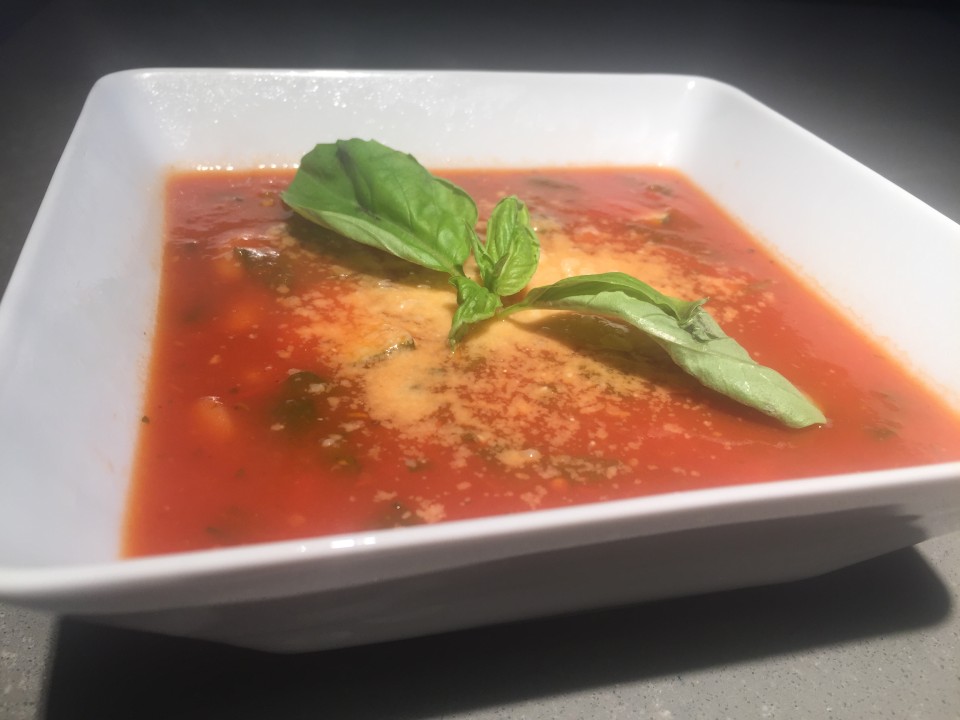 Print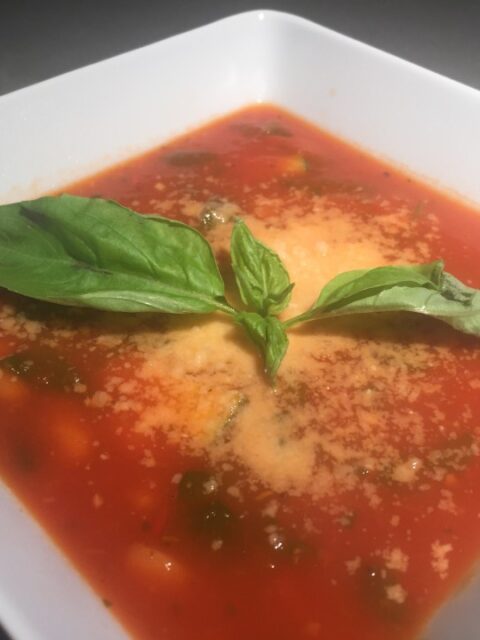 spaghetti sauce turned tomato veggie soup: 2 recipes in 1
---
2 28 oz can whole peeled tomatoes
2 bell peppers cut in big chunks
1 – 1 1/2 small red onions (mine were small if you get a large onion one will be fine) rough chopped into big chunks
10 cloves of garlic left whole
1 small package of basil
1/4 – 1 tsp crushed red pepper flakes (depending on if you like spice)
2–3 TBS Italian seasoning
salt and pepper for seasoning
****If you want to make sauce AND soup, double the ingredients above********
6 c chicken or vegetable broth or stock
3–4 small zucchini, cut in half length wise and then in small half moons, if your zucchinis are larger cut in quarters length wise and then slice
2 cans or boxes of cannellini beans, liquid drained (don't worry about rinsing)
2–3 c of fresh baby spinach, rough chopped
Parmesan cheese for garnishing
---
Instructions
Pre-heat oven to 475
In a large baking dish combine tomatoes, peppers, onion, garlic, ¼ tsp red pepper flakes, basil leaves, 2 TBS of Italian seasoning and salt and pepper. Cook for 1 hour stirring every 20 minutes or so. You want the top of your veggies to get a little char to them.
Transfer veggie mix into a large soup pot. With an immersion blender puree vegetable mix until smooth. If you do not have an immersion blender you can use a normal blender. Blend mix working in batches and be sure to ventilate the top of the blender. Taste your mix once pureed. I seasoned my mix with more Italian seasoning, red pepper, salt and pepper. If you are making sauce AND soup reserve half of your puree, this becomes your sauce.
If you are making soup, with the remaining puree, heat over medium heat. Add in the broth, zucchini, beans and spinach. Cook 20-25 minutes or until the zucchini is tender. If your soup is too thick you can add more broth to thin it out even more. Top with a sprig of basil and parmesan cheese.