[dropcap]I[/dropcap] have definitely mentioned that I love to travel. My husband and I were in a long distance relationship for the first year and a half we were dating. I was in Michigan, he was in Louisiana. In the beginning most of our travels were back and forth to those states with an occasional trip to Texas, where he was from, and Chicago since it was a close drive. Vacation days were rationed for being able to meet up with each other. We did get to travel to Greece together in the summer of 2014 which is where he proposed. We came home from that trip and that week he had received a job offer in Michigan. In one month we were engaged, he had a new job and we lived in the same state. We then could actually take more trips for pleasure since our vacation days weren't burnt traveling to see each other.
We are fortunate that we have the resources to be able to travel. We do not have any kids, we have decent jobs and do not have a ton of expenses which enables us to save. I am not a shopper. My "shopping" is spent on vacations. Europe has been one of our favorite destinations. When we went to Italy for our wedding last spring we were there for 2 weeks. For 2 weeks it was pretty non-stop. There were so many historical sites to see that we didn't have much down time.
Chase and I talked about how Italy was amazing, but we didn't really get a "honeymoon". We didn't get to just chill out and relax. Michigan can be awful in the winter. This year hasn't been terrible but in the fall I knew I would be wanting to get out of here. We decided we would start planning a beach vacation somewhere. I started looking and a Caribbean island vacation was going to cost us the same amount for 7 days as 2 weeks PLUS a wedding in Italy. I was getting so frustrated. I gave up. I stopped looking at islands. A few weeks later we were randomly looking up something and I saw a deal on St. Maarten. That was one island I hadn't looked at. It looked great. It was a 7 night all inclusive resort on the Dutch side. It was also half the price of all the other vacations we had been looking at. We only had an hour before the deal expired. We quickly looked up flights and within 20 minutes had our trip booked.
Then the research started. We are HUGE foodies (obviously! I have a food blog….) We knew through research that the island had great restaurants. It has a French side and a Dutch side so there is diversity in cultures. There are lots of people from other islands that live on the island as well so you also get a ton of Caribbean influence to the cuisine. Being the finance girl that I am though, I wanted to get our money out of our resort. I assumed we would eat breakfast and lunch at our hotel and maybe go out for a few dinners. After eating at our hotel for one day that plan quickly changed. I hated the food there. So from day 2 on, we ate out every meal and pretty much defeated the purpose of our all inclusive, live and learn right?
When we left on the plane ride back to (cold) Michigan, we discussed all the things we would do differently "next time". I am here to share with you tips and advice on traveling to this amazing island. You can hopefully learn from our mistakes (and save some money along the way!) and have as great of a time as we did. I kept Googling "a foodie in St. Maarten" or "where do foodies eat" and I was surprised at the lack of suggestions that came up. I am hoping to be able to fill that void. In St. Maarten I thought of an idea for a future series of posts based on our travels to give people like us a reference point. I plan on continuing this "series" for the blog when we travel. "Eat, breathe and fall in love in-" is designed to give suggestions for the restaurants and all the things we fell in love with during our travels. Enjoy!
the 5 must-dos to travel to st. maarten:
DON'T stay all inclusive – The island has way too many good restaurants to miss out on. The island is super safe. It is not an island where you want to stay at your resort and never leave because you are afraid of crime and what would happen if you leave your resort. Had we done it over we decided we would get a house through Airbnb or VRBO. We started looking (and depressing ourselves) and we found houses, on the ocean, with private pools for $200/night that would sleep 4-6. This was about 1/4 of what we paid for our resort.
Rent a car – The island is so easy to get around. There is pretty much just one big main road that goes all the way along the island. For us to get to the north from the south where we stayed it was about 25 minutes. I am not going to say that people don't drive a little crazy but it's nothing you can't handle. Also if you are confused about roundabouts look them up before you go. There are tons. They help control traffic and due to that I did not see one stop light there. There is so much to see don't limit yourself to being stuck in one part of the island.
Go to Pinel Island – This little island is a small island off of the north east tip of the island on the French side. It has a nice white sandy beach and two restaurants (more to come on that) and that is it. There are a ton of trails that lead you to the back of the island where there are little private beaches and big waves because it is on the Atlantic side. We rented a 2 person kayak and paddled to the island (for $30) from the mainland. There is also a ferry that comes and goes from there as well, but doing something outdoorsy made it more fun.
BEACH HOP – St. Maarten/St. Martin has 37 beaches on the island and they all are unique in their own way. They can be secluded or packed with tourists. They might have a restaurant where you can rent chairs or be so quiet it is just you and your beach towel. I think we knocked out 12 of them while we were there. I can't wait to go back and weed out the ones we weren't crazy about (the overly touristy ones) and try the ones we missed!

The famous Maho Beach where you can see the planes land right over your head

Don't eat like an American – Please, please for the love of God, please do not order a hamburger when you are on vacation, especially in a foreign country! We saw so many people doing this while we were there. The food is fantastic on the island. Save your burger and fries for when you are back home.
where to eat in st. maarten/st. martin:
These were our top 5 restaurants that we went to on the island. Some of these restaurants we ate at more than once (or almost every day in the case of one of them!) These are in no particular order of preference as they are all so unique.
Aglio e Olio – You probably read the name and thought ?? if you know any Italian. Yes, that's right, one of our favorites was an Italian spot in Grand Case (north end of the island, tends to be the food mecca of the island, next time we will be staying in that town for that reason). We drove by this place a few times and I thought it looked cute from the outside. The name of course reminded me of being in Italy. After almost a whole week of eating seafood I needed a break and wanted something different.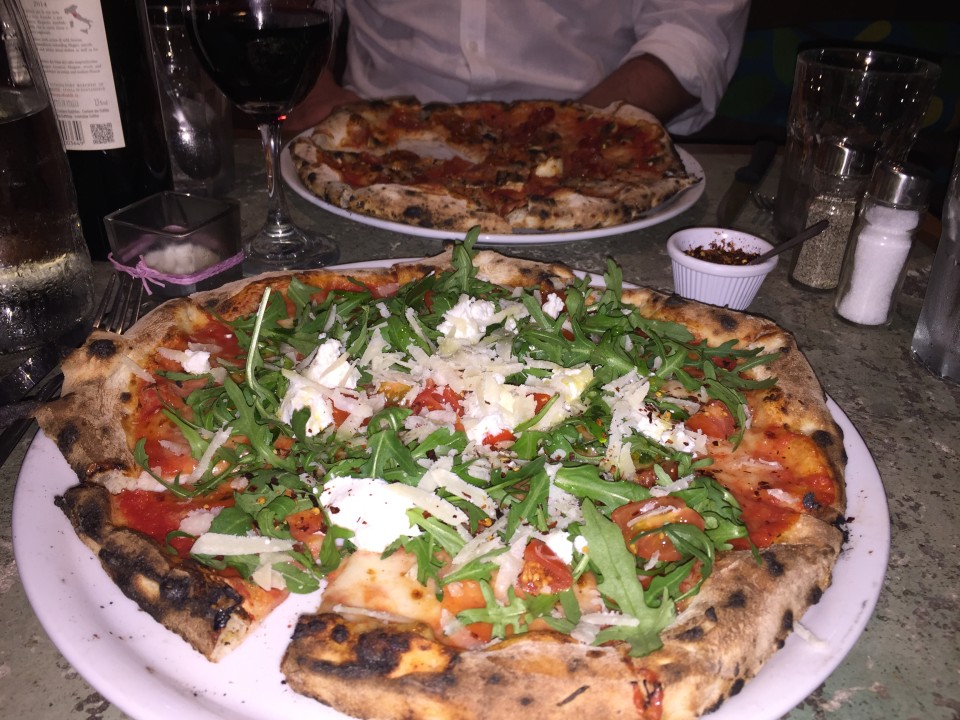 We checked out their menu online which included wood fired pizzas, salads and gnocchi. I was sold. We went and had dinner outside and were greeted by our waiter and the owner. That is the staff for the place, just the 2 of them. We chit chatted with the owner that night, he was from the town of Palermo which is on the Amalfi Coast and very close to where we got married. His pizza was BETTER than the pizza I had in Italy. We started chatting about our trip to Italy and instantly hit it off with him. Vincenzo goes in every morning and makes the dough, the gnocchi and gelato all from scratch. The wine selection was great and beyond reasonably priced. We wound up going back the next night for gelato and he had closed early but invited us in and we sat and ate gelato and had wine and learned more about the him and the restaurant. One of my favorite parts of our trip. I can't wait to go back for a visit and maybe even get a gnocchi lesson.
2. Talk of the Town – Before we left for our trip I had tried to read about restaurants on the island. The island is known for lolo's which are outside barbecues. Of course you hear the word barbecue and you think American BBQ chicken. Smothered with a sticky, sweet sauce. That's what I was thinking. I was completely wrong. They just call it barbecue because it's grilled. Don't expect to get any BBQ sauce on your food. But if you want grilled fish, seafood or chicken that is so fresh and tender, this is your spot. Most of the meat comes with a few sides. We ate there a few times. Collectively we had the mahi, chicken, shrimp and snapper and all of it was great. If you are looking for a "sauce" try one of the Caribbean hot sauces, they do not disappoint (and are usually made with Scotch Bonnet peppers). Be sure to get the beans and rice. They are amazing. Oh, and try a Pain Killer (or in my case two) if you are looking for a nice afternoon island cocktail!
3. Karibuni – This is one of the 2 restaurants on Pinel Island. I had heard about this place before so when we kayaked over to the island we were on the opposite side of the restaurant. I almost sat down by the chairs closest to us at the other place but would have been so sad if I had missed the meal we had. Two words for you – GRILLED.LOBSTER. This could not get more fresh. They have their lobster traps sitting in the sea about 5 feet away from shore where they are kept until you order. The lobster gets grilled and comes split in half already. The tail pulls right out. If you want to work for your food, be sure to crack the legs too. That is some of the most tender meat of the lobster. Don't worry about your manners, you are eating outside on the beach. It's ok to use your hands. We also had a really good salad too but the lobster is where it's at.
4. Vesna Taverna – My husband is a saint. I hate drinking hot coffee when it's 80 degrees out. I love iced coffees in the summer. After our first day of crappy resort food he told me the next morning to get ready. I always ask a million questions and try to pry surprises out of him (however, I am not as bad as my sister) and he told me not to worry about where we were going. So we pull up to this place on Simpson Bay (which has some of the biggest boats yachts I have ever seen in my life) and sit down and he said "I Googled best iced coffee in St. Maarten, this came up" (yes, he's a keeper). So of course I order iced coffee.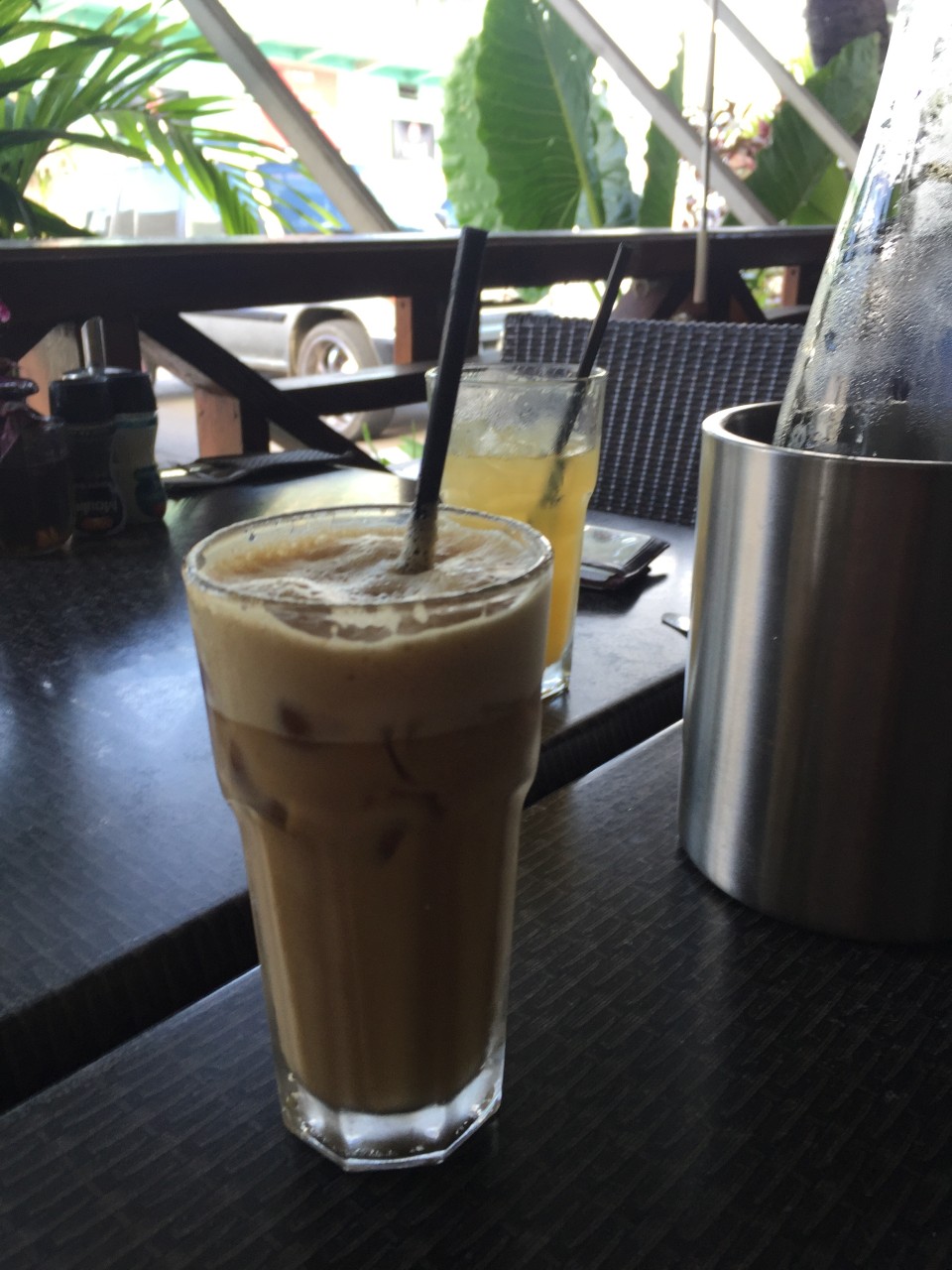 The iced coffee reminded me of the iced frappes we drank every day on the Greek islands. It was so good. Come to find out after talking with the owner (Vesna) one night she was half Greek so of course it WAS Greek style coffee I was drinking! The breakfast was great. We ate there every day for breakfast after that. The lady that pretty much runs the place in the morning, Sally, was hilarious. She talked to us every morning. By the time we left the island we said good-bye to her and it felt like we had made a new friend. Not only was their breakfast good we went back for dinner one night. The fish is fresh and none of their seafood is frozen. They even fly their salmon in from Canada a few times a week. We had the snapper and grouper and both were fabulous. The Greek salad was real deal Greek salad (which if you have been to Greece or know Greek people you will know that a REAL Greek salad does not have lettuce, just the vegetables). This was a great find!
5. Ocean 82 – The reason we went to this restaurant is totally random. Over Christmas break I was on Istagram and I follow Mario Batali. He was in St. Martin and posted a picture of an amazing looking lobster from Ocean 82. I figured, if Mario ate here and recommended it I think we are in for a good meal. Grilled lobster and a thumbs up from a famous chef? Done. We went there for dinner and it did not disappoint (minus my terrible pick on the wine, which my husband didn't let me hear the end of all week). I had the French Onion soup which sounds strange but we were at a FRENCH restaurant so I wanted to try it. It was some of the best I have ever had. Typically FO soup is very broth and runny every time I have had it. This soup was thick and rich. They cooked the broth down so much that the beefy flavor was concentrated almost like a demi glace and it was wonderful. My husband ordered grilled mahi which the hostess recommended and was fresh and delicious. I had just had grilled lobster the night before so I ordered the lobster risotto which had huge chunks of lobster on top of it. However, I saw the people next to me order the grilled lobster and I wish I would have ordered that instead. Oh well. We will just have to get that the next time we go!