I had lived in the suburbs of Detroit for the first 5 years I lived in the Detroit area. I was hanging out and working in the city all the time and wasting time and gas driving back and forth. Finally I decided I was going to move downtown. This was before Detroit had really started coming back. Our building only had a 30% occupancy rate at the time. Since then we are at 100% and can't keep a place on the market for more than a week – good things are happening in this city! I started meeting people in my building who were just like me, in their 30's, single, young professionals. I soon met some AMAZING people and who became my really close friends.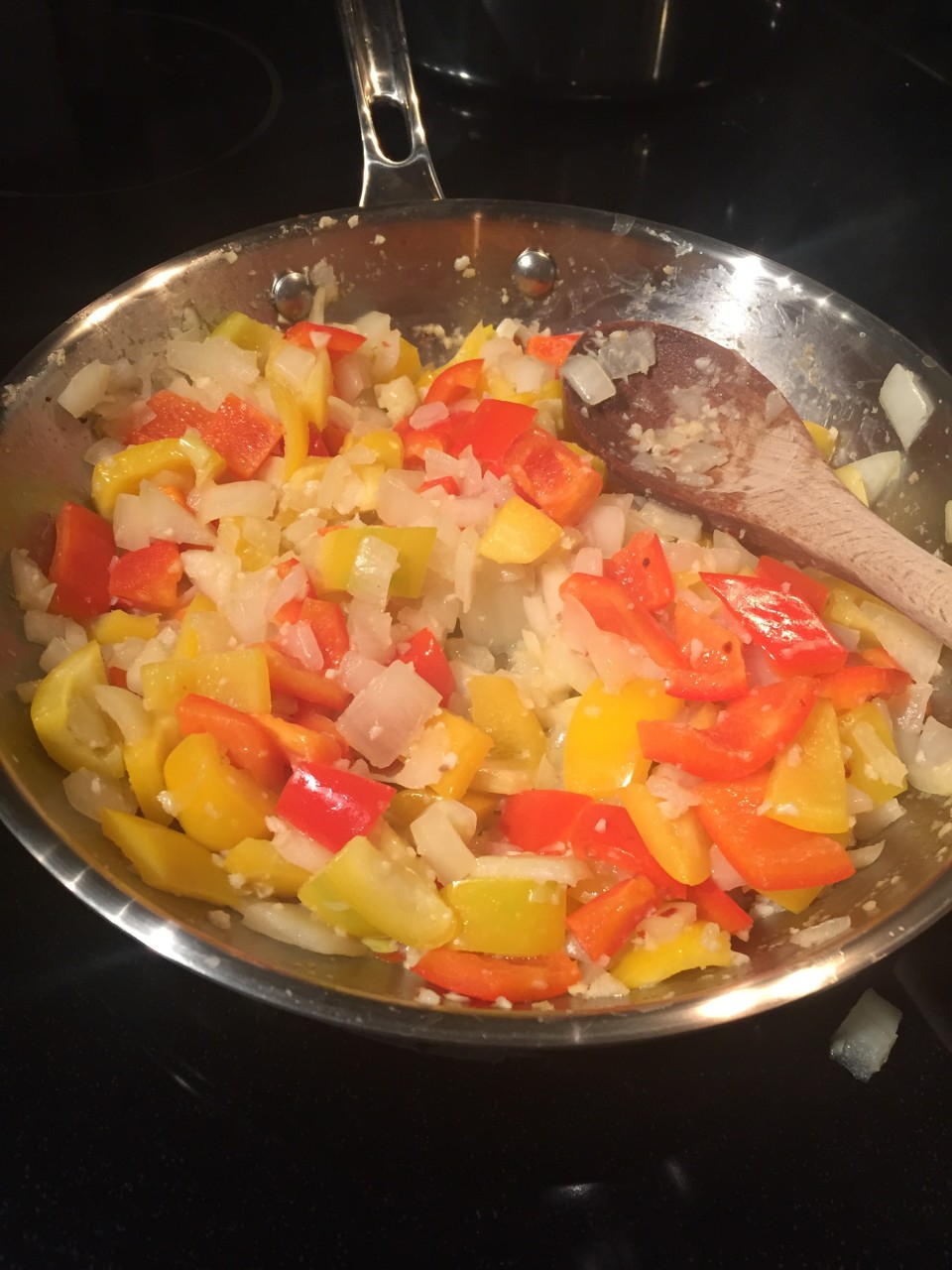 My "Detroit Girls" and I became very close. We have road tripped, gone to Europe, laughed and cried and became this tight knit group of girls. I used to spend all my time with them. Then I met my husband. For the first year and a half we were dating and he lived in Louisiana, it was ALMOST like I was single because he wasn't here so I still saw the girls all the time. Once he moved here my "girl time" is not what it used to be. That's what happens when you grow up and get married. I still see them and we do lots of things in our large group of friends but for the handful of us to be together uninterrupted is rare.
So when my husband had to go out of town for a motorcycle show for work I seized the opportunity for some great company and lots of laughs. We decided instead of going out we would stay in and cook (well….I was "volunteered" to cook, right Mindy?!?!) and have some wine. My friend requested I make baked chicken pesto pasta. Which I had not made it in a long time so that sounded really good.
I have always made my own pesto because it's really easy to make. Secondly I usually bake my chicken pesto pasta so when I make it myself I don't put much oil in the pesto because I find it separates and makes your pasta oily when you heat it up in the oven. I also like being able to add some greens to my pesto by throwing in some spinach and arugula. This pesto can take on many variations. You can add in sundried tomatoes or roasted red peppers to mix it up. You can try walnuts or hazelnuts instead of pinenuts. For a vegan version, skip the cheese.
Baked pastas tend to very cheesy. To make a "healthier" version of a baked chicken pesto pasta my go-to is cottage cheese. It's really high in protein and low in fat and calories. My mom never used ricotta when we were kids so I grew up with cottage cheese in our lasagna. It was really the only way I knew how to make a baked pasta. Fresh mozzarella slices are a perfect addition to top the pasta, especially when you put it under the broiler and it gets a nice golden brown and bubbly on the top.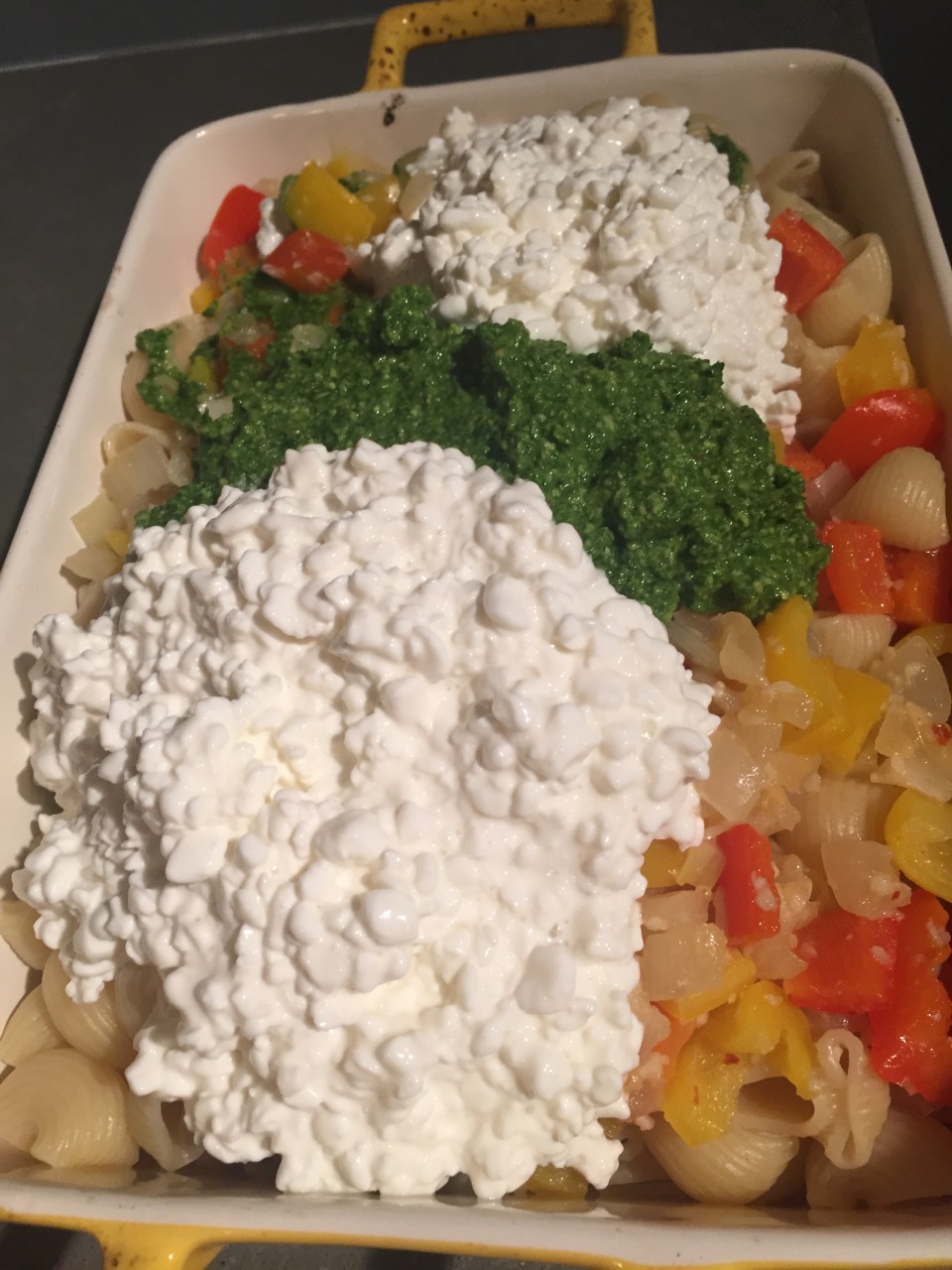 Since there is a lot of cheese in this dish I try to make it healthier by adding in vegetables. I sauté peppers and onions with a lot of garlic on the stove top and mix it in when I combine my pasta and cheese. I then top the dish with diced tomatoes for a little more substance.
The grilled chicken in this dish is seasoned really simple with lots of Italian seasoning and salt and pepper. I like to liberally season my chicken so when I grill the meat the spices almost form a "crust" of sorts on the meat. Since my husband moved in I feel like I never grill anymore since he always makes our meat so it was nice to have the girls over and make sure I don't forget how to use the grill!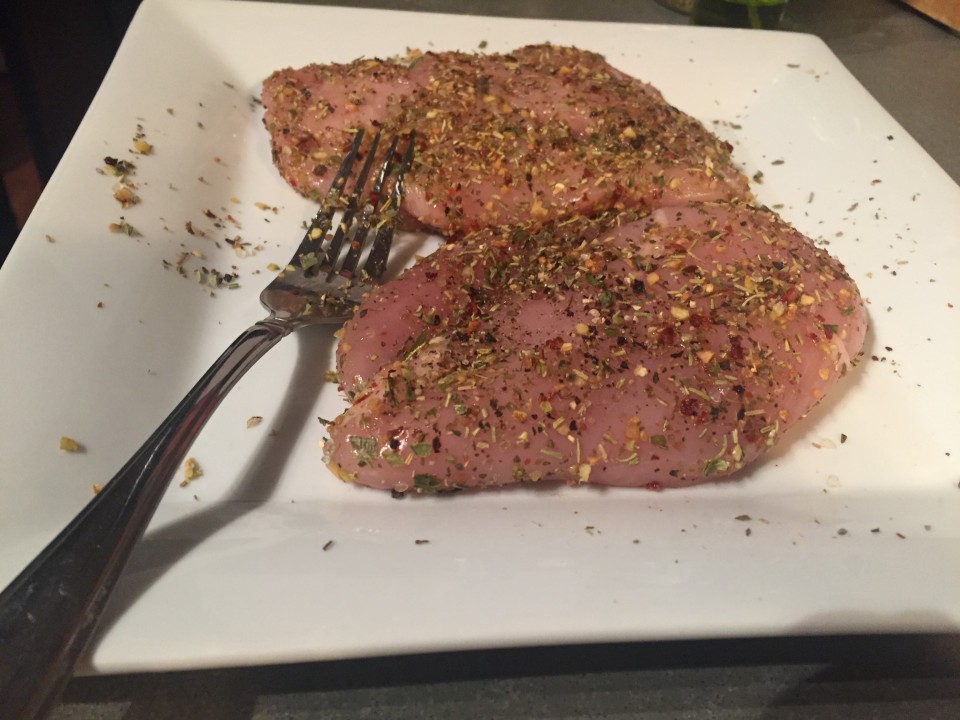 Girls night in was a great way to eat food that we can control the ingredients, pay 1/3 of the price for the wine and laugh until you cry (all in your yoga pants!). Whatever group of people you entertain for, this baked chicken pesto pasta recipe is sure to be a hit and soon your friends will call you and ask to make it!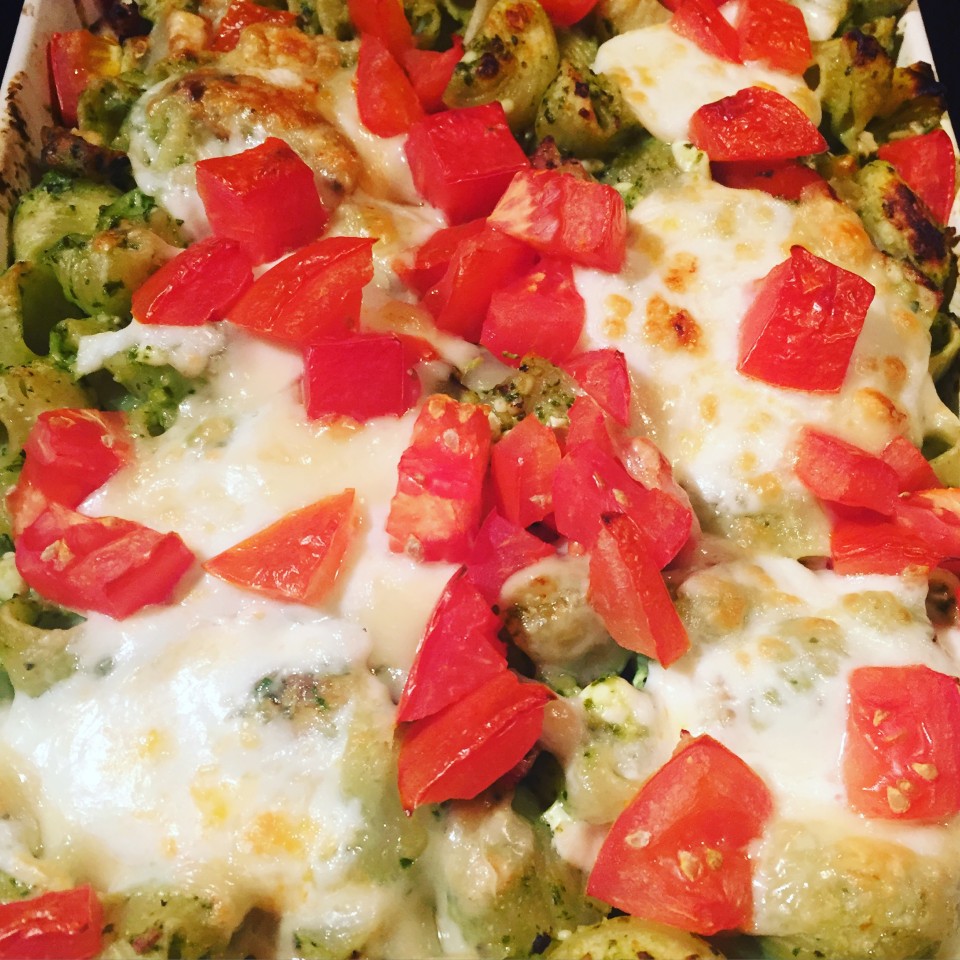 Print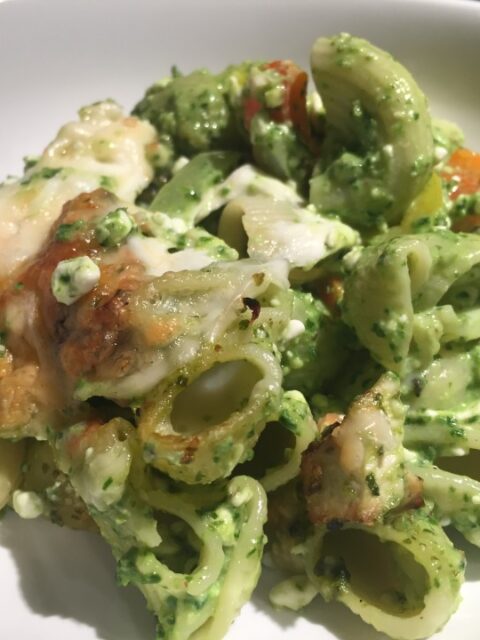 grilled chicken pesto pasta
---
1 lb. chicken breasts pounded to 1/4 inch thick
2 1 oz packages of basil (if you are growing fresh 2 big handfuls of basil)
1/4 c. toasted pinenuts (I love buying from Trader Joe's they have them already toasted)
2 c. baby spinach/arugula (I buy a blend that comes in a salad bag)
6 large cloves of garlic – 4 minced, 2 left whole
1/2 c. parmesan cheese plus more to top the pasta with
1 16 oz container of cottage cheese
1/4 c. olive oil
1 ball of fresh mozzarella cut in thin slices
Italian seasoning
salt and pepper
1/4 – 1/2 tsp crushed red pepper flakes (depending how spicy you like it)
1 lb. pasta (shells, rigatoni, fusilli work well in a dish like this, my favorite are lumache or "snail shells")
2 bell peppers, diced
1 yellow onion, diced
2 roma tomatoes, diced
juice of 1/2 lemon
---
Instructions
to make the pesto
In a food processor combine basil, spinach/arugula mix, 1/2 c. parmesan cheese, 2 whole cloves of garlic, pinenuts, the juice of 1/2 lemon, and salt and pepper to taste. Pulse until completely combined. Drizzle in 2 TBS of olive oil and quick pulse to incorporate.
for the rest
Pre-heat gas grill (or grill pan on stove top)
Season chicken with a drizzle of olive oil and season liberally with Italian seasoning, salt and pepper
In a large sautee pan with a drizzle of olive oil over medium-low heat sautee the remainder of the garlic and the onion with the crushed red pepper. Cook for 12-15 minutes until the onion is tender. Add in the bell peppers, cook until soft (another 5 minutes or so)
Bring a big pot of water to a boil, cook pasta according to package directions to al dente
Over medium heat on the grill, cook chicken 4-5 minutes a side. Let sit for 5 minutes. Once the meat has rested, slice into thin slices.
In a large oven-proof baking dish (9×11 or a large lasagna pan work best) combine cooked pasta, pesto, sautéed vegetables, cottage cheese, mix thoroughly. Top with sliced mozzarella, parmesan and chopped tomatoes. Place under the broiler on high heat until the cheese is golden brown and bubbly on top 5-7 minutes. Keep and eye on it, I find once it starts browning it can burn quickly. Remove, let stand a few minutes and then serve.
Prep Time: 25
Cook Time: 30