On the weekends we usually don't have a ton of extra time. Having a three year old who is active doesn't enable hours in the kitchen for breakfast. But the other day we were up early and had time so I decided to take the extra time and whip up a Mexican hash brown quiche.
The hash brown crust
I have seen other recipes for egg dishes with hash brown crusts before. Let's just say they take your brunch game to the next level! And it's relatively easy to do – it just takes a little extra time to make with a few extra steps. But it's not hard!
The first key to a hash brown crust is to thaw your hash browns. You can do this either over night or the morning of. If you are thawing the morning of I put the whole unopened bag of hash browns in a warm mixing bowl of water and let them thaw out for a half hour or so.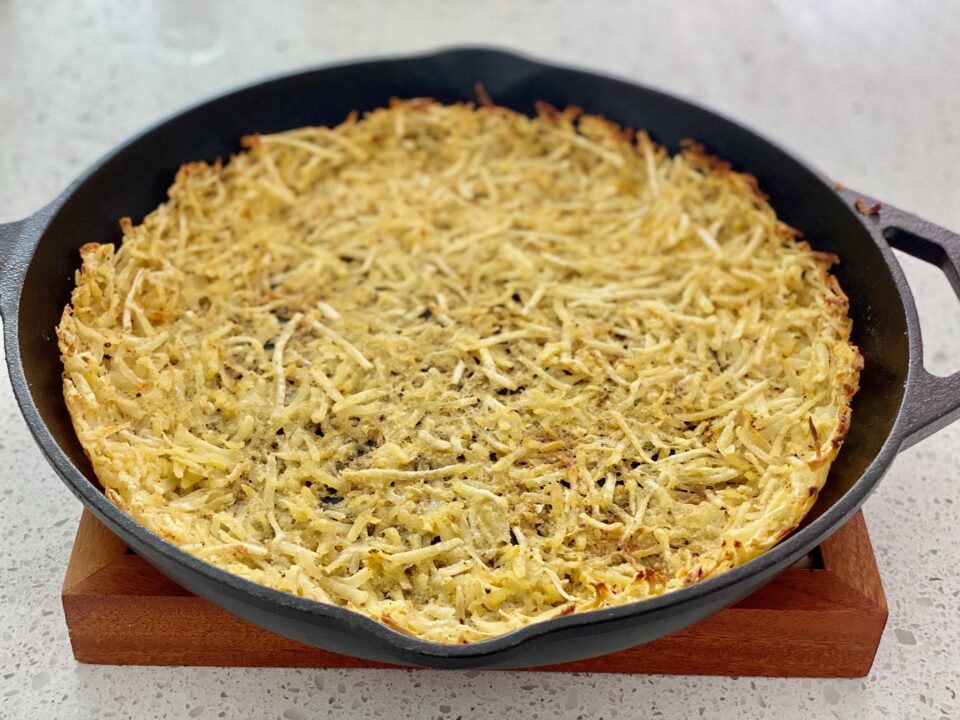 Next, you must remove the water from the hash browns. If you don't the crust never becomes crusty. I take a clean dish bowl and place my thawed hash browns in it. Then I squeeze all of the water out and wring them out in the towel. You could use paper towels as well I just know that my kitchen towel doesn't run the risk of breaking open like paper towels do.
Then once that is done I season the potatoes with some spices and a little oil and start patting the hash browns down into my cast iron pan. I work them up the sides of the pan as well since you don't want the crust on the bottom. Then this goes into the oven for about 25 minutes for the potatoes to crisp up and get golden brown.
Eggs, veggies and beans oh my!
Making the filling for the quiche is the easiest part. I like to have a balanced mix of veggies with my eggs. Maybe it just makes me feel better about eating a hearty breakfast or maybe I love how veggies taste!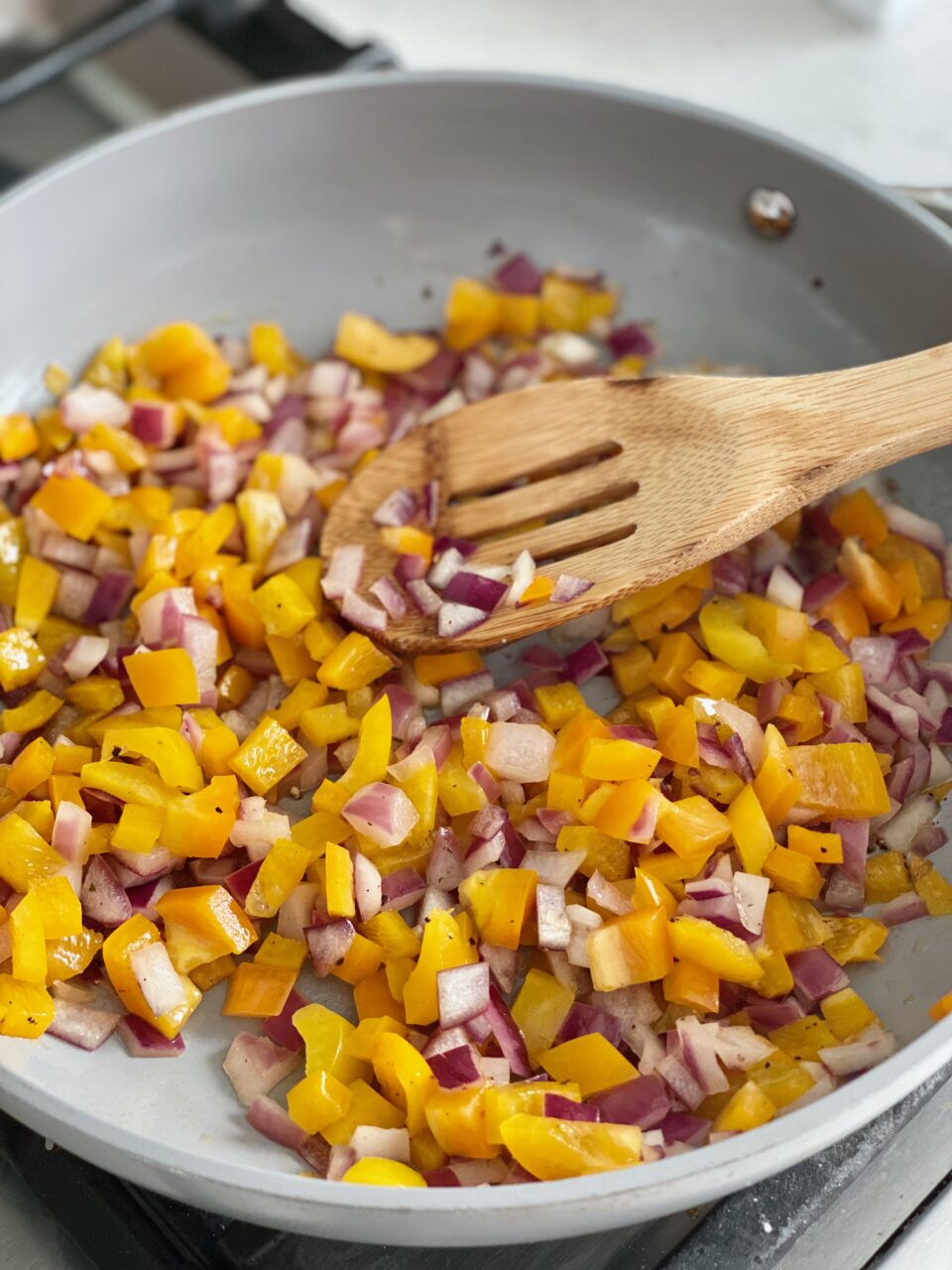 While the hash browns are cooking I sauté peppers and onions in a pan and then let them cool off before adding to my egg mix. Not only do I add veggies to the eggs but also black beans AND the most surprising ingredient – Mexican rice.
Growing up as a kid my grandma always added rice to her scrambled eggs. It made the eggs really fluffy. One year my sister and I tried to make my mom and dad breakfast in bed and we used grandma's technique. With raw rice! Whoops. Even our dog wouldn't eat the eggs. So obviously you want the rice cooked. I had made my Mexican rice the night before so I had some leftover that I threw in the dish. If you don't have any rice already cooked and leftover you can omit but if you do, try and add it for something different.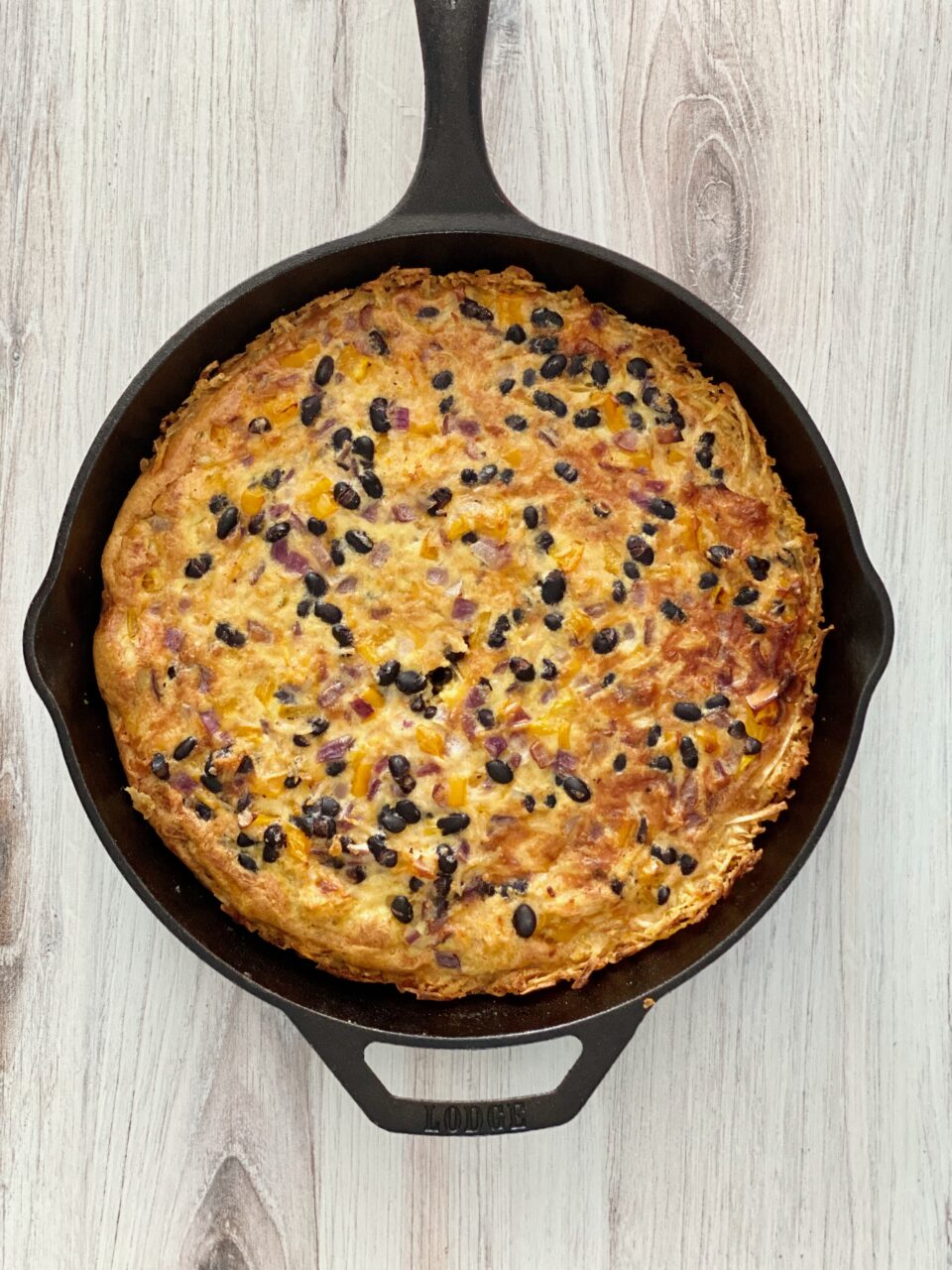 The egg mixture cooks another thirty five minutes or so. So while this Mexican hash brown quiche is not hard to make, the cook time is long. For time savers you could sauté the veggies the night before and thaw the hash browns. You could even beat the eggs and keep in an airtight container over night as well as rinse the beans and store in the fridge so everything is set to just be thrown together.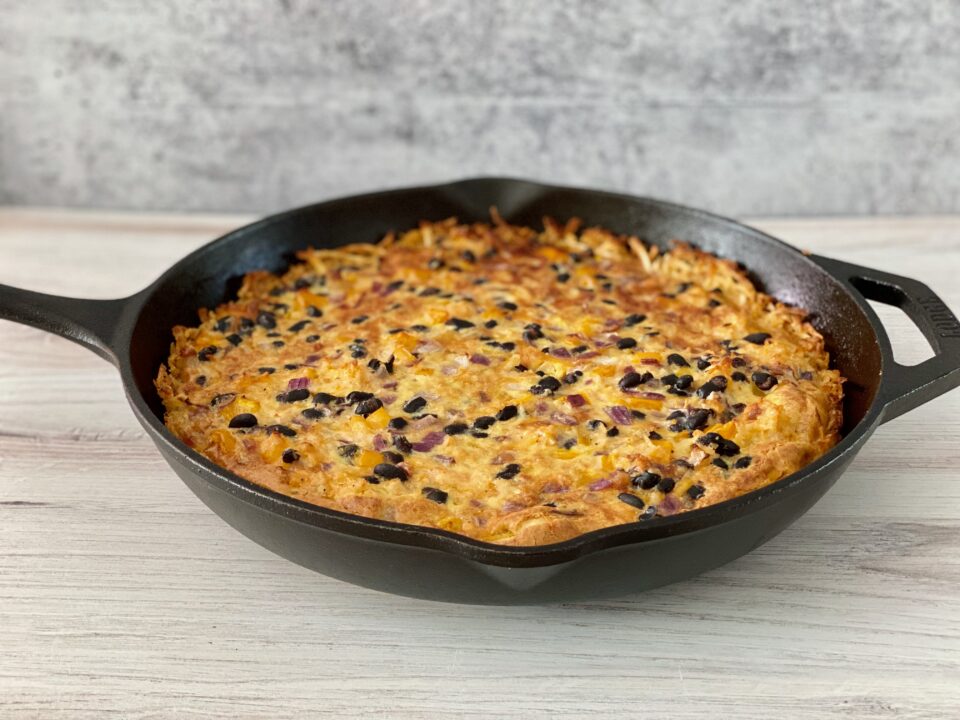 So the next time you have some time on your hands for breakfast or brunch be sure to try this Mexican hash brown quiche!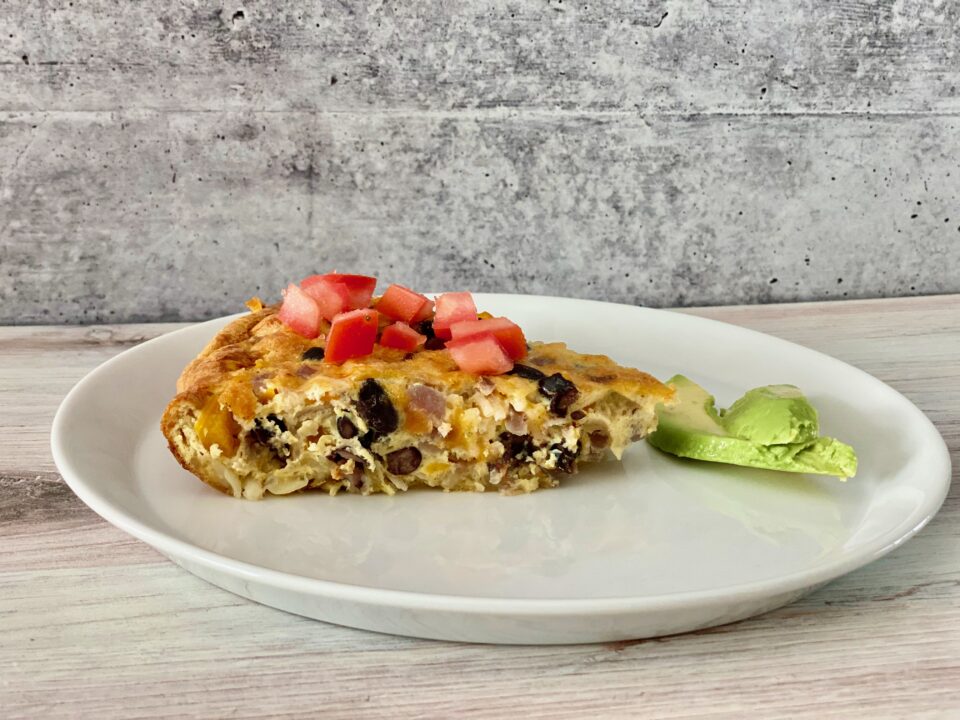 Print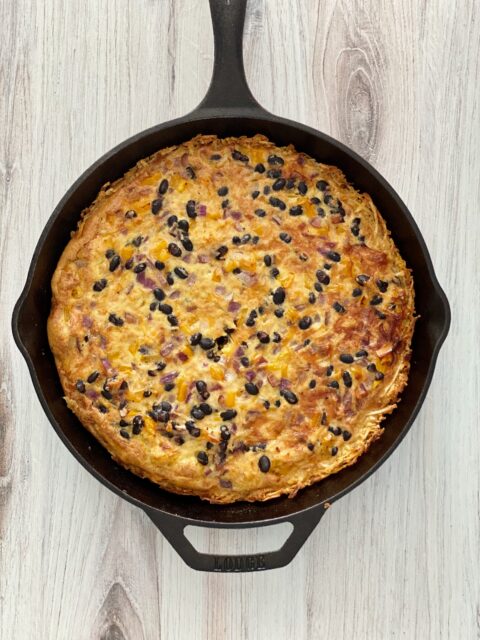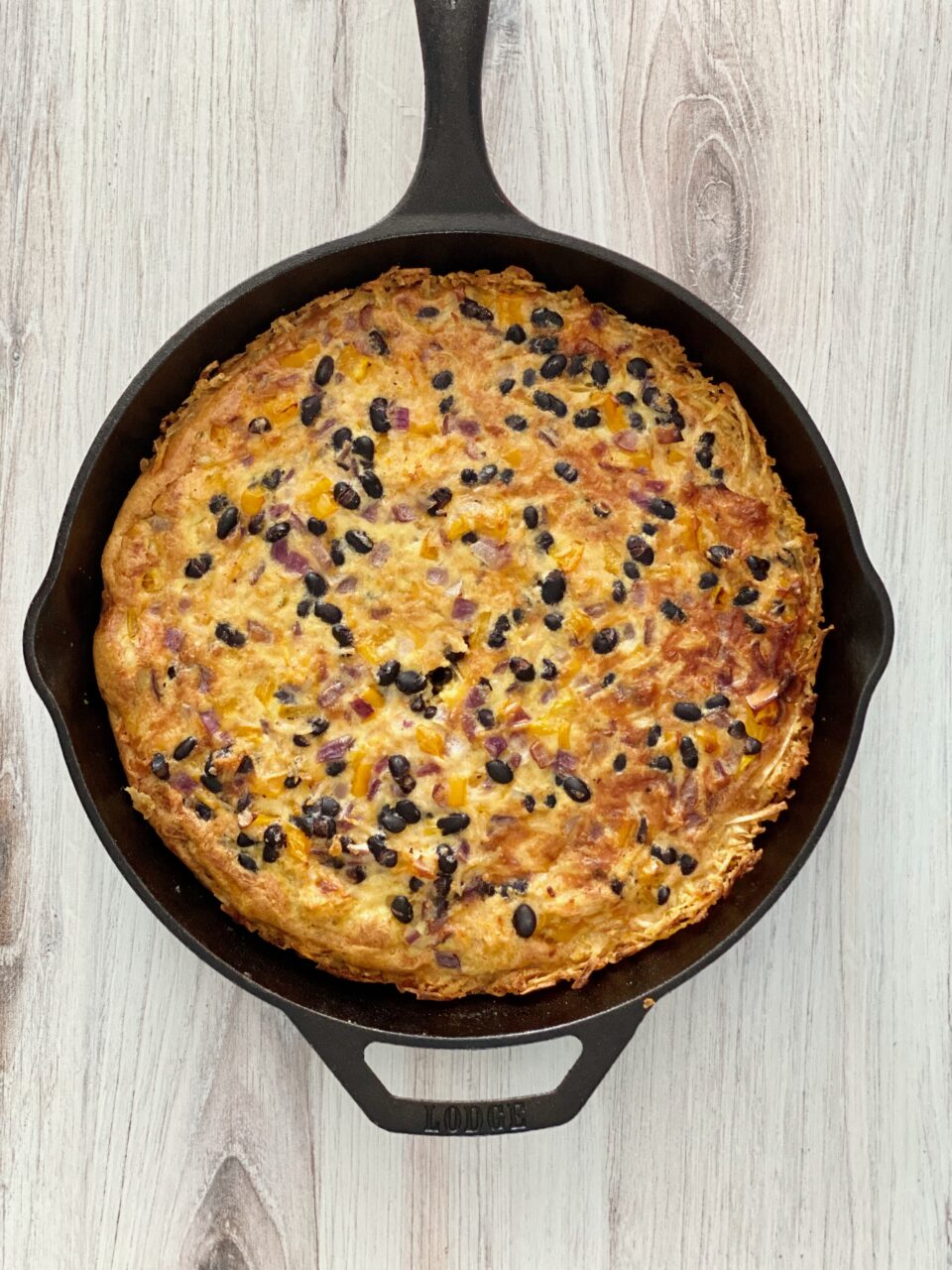 Mexican Hashbrown Quiche
---
Author: Karissa P
Total Time: 26 minute
Yield: 6-8 1x
1 lb frozen hashbrowns, thawed, all water squeezed out
2 TBS butter, melted
1 bell pepper, diced small
1 small red onion, diced small
8 eggs
1 cup shredded Mexican cheese blend
1 can black beans, rinsed and drained
1/2 c cooked rice (if you don't have you can omit)
1/8 c heavy cream
Pantry Items: garlic salt, pepper, olive oil, cumin, paprika
Optional Toppings: avocado or guacamole, scallions, sour cream/Greek yogurt, hot sauce, fresh jalapeños, salsa
---
Instructions
Pre-heat oven to 425
In a mixing bowl mix hash browns and melted butter with garlic salt, pepper and 1 tsp paprika
Place 1 TBS of olive oil in a large cast iron skillet and spread around to grease the pan (if you don't have a cast iron skillet an oven proof frying pan will work or a round cake pan)
Spread hash browns around and pat into a thin layer working your way up the sides of the pan (remember you are making a "crust")
Bake for 25 minutes until has browns start getting golden brown
While hash browns are cooking sauté red onions and bell peppers in a small amount of olive oil (1-2 tsp) over medium to medium low heat for 5-7 minutes until softened. Let cool until it's time for the eggs to go in the oven.
In a large mixing bowl mix eggs, cheese, and heavy cream. Whisk together. Season with salt, pepper, 1 tsp of cumin.
Once the hash browns are done add beans, veggies and rice to the eggs. Mix up and pour into the hash brown crust.
Bake for 30 minutes until eggs are cooked (I use a fork to check the center to make sure the eggs are cooked)
Top with any toppings of your choice
Notes
To save time in the morning you could sauté the veggies the night before and mix eggs, cheese and cream together and store in an air tight container. Also take the hash browns out of the freezer the night before and place in the fridge in a bowl of water to thaw.
Prep Time: 10M
Cook Time: 55M