[dropcap]W[/dropcap]ith our one year anniversary approaching I have been missing Italy more and more. Soon after my husband proposed we started talking about wedding plans. I immediately got stressed out thinking about them. I always thought I would want to get married in Detroit and get married outside. There are not a ton of venues in the actual city. It would involve event tents, caterers, tables and chairs being rented, hiring music, seating charts….. AGHHHHHH! NO THANK YOU. I remember the night after he proposed thinking about all this stuff and already starting to freak out. I never saw myself having a wedding in a wedding hall, it's just not for me.
We both really wanted to go to Italy for our honeymoon but to spend thousands on a wedding and then thousands more on a honeymoon also didn't make sense. So we killed two birds with one stone and did both there. We planned two weeks in Italy starting with our wedding so we could be with our guests in the beginning and then part ways and head onto our honeymoon. We visited Sorrento, (hands down one of the best places a girl could get married!) Rome, Florence and ended in Venice. Each city had it's perks but the one we loved probably the most or said we would definitely go back to is Florence.
We had been working with a travel agent (Amazing Vacations by Lynn, and she is AMAZING!) to help us plan our trip for us and our guests and we told her we didn't want to pack up our itinirary too much. We had a travel routine down by this point. When we traveled together we usually woke up by 8 or 9, figured out what we wanted to do for the day, came back to our hotel by 5 or 6, took a shower and a cat nap and then usually headed out by 8 for dinner and whatever else the night led too. We didn't want to much rigor and planning. I like being able to explore cities on our own. So for Florence when we left the United States all we had booked was our train ticket.
Florence is an old city with so much culture. When we first arrived we checked into our hotel and immdiately started to wander. We stayed about a mile outside of the city center and walked into town. We chose to walk along the River Arno which had great views of the city. There were several bridges across the river (going into our trip I thought there was just "THE" bridge – the Ponte Vecchio) but soon found out there were several.
We wandered around and stopped and got gelato and wine and just strolled for the day checking out the city. We knew we had to check the sunset out so we went back to our hotel to shower and get ready and then head out to catch the sunsets. The sunsets in Florence are beautiful. What sunsets aren't? The sun starts to set and dips down below the bridges and turns this bright dark orange color making for the most picturesque views. We did not miss a sunset the whole time we were there.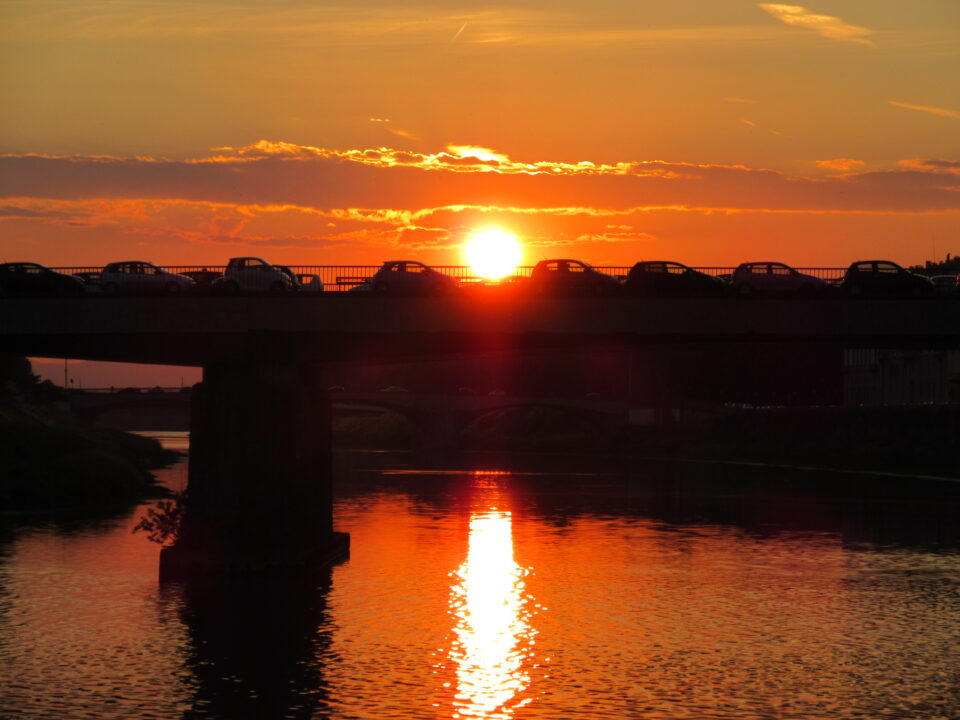 We did some of the touristy things that you would do in Florence. We went to the Duomo (dome) which is the dome atop of the Florence Cathedral. Not only did we go in but we climbed up. We got to go all the way to the top and walk around the inside of the dome and see all the beautiful murals that are painted on the ceiling. We then kept climbing through small hallways and staircases (I am not going to lie, I was super claustrophobic) to the outside observatory where we could see the whole city. The views were unbelievable. You could also hike the stairs to the top of the bell tower as well but after climbing to the top of one huge building enough was enough and we probably capped the trip with a glass of vino somewhere.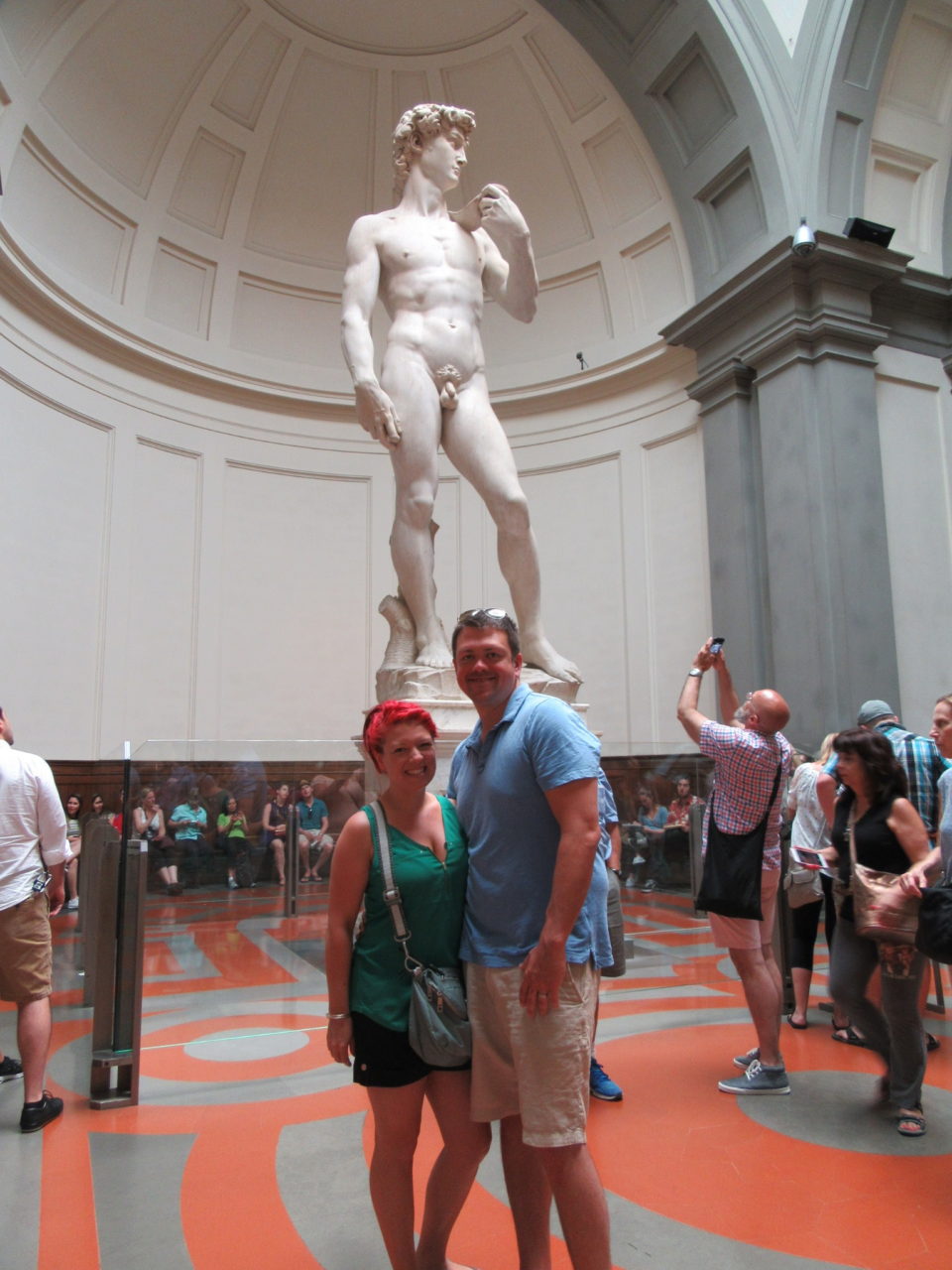 One of the coolest excursions we did on our whole trip was the one we did in Florence. We rented vintage Fiat 500's and had a guided self-drive tour up through the hills of Chianti and then back to a private vineyard where we had wine and Aperol Spritz' and got to watch the sunset from the pool of the private villa. It was such a cool excursion that I have recommended to anyone I know going there. The tour guide was great. He was in his late 20's, really funny (ladies – really good looking if you are into handsome Italian men…) and had great insight on the region. He actually informed my husband and I that only tourists used balsamic vinegar, the true Italians never use it more than in desserts. Check out the tour we did here.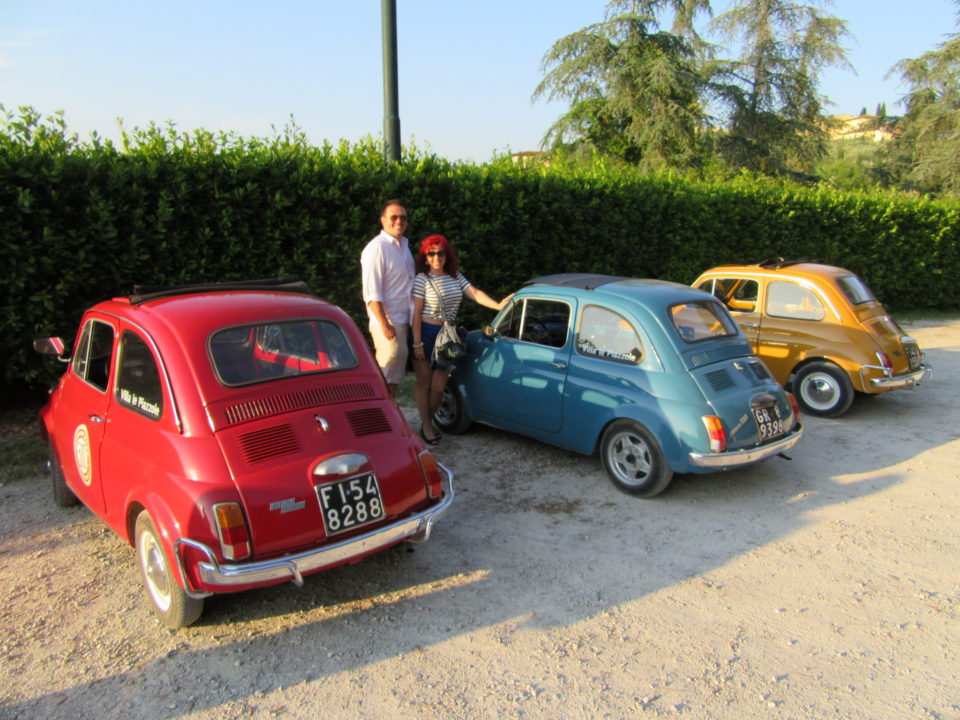 The food there was fantastic. You would think, of course, you are in Italy, however, I would not say the food in Venice was "fantastic". One of the specialities in Tuscany is the bistecca alla fiorentina. The steak is a t-bone steak that is grilled (we found while we were there it was always on a charcoal grill) and simply seasoned usually with rosemary. The beef comes from Chianina cows which are large white cows and actually are one of the oldest, largest and heaviest breeds of cattle. We had steak almost every night we were there. The one interesting thing we noticed in Florence is the bread is not that great. We looked it up and we found out why. In Florence they typically don't use salt in their bread recipes. No wonder it tasted so bland.
Another thing we learned quickly in most of the cities we visited in Italy, vino della casa (house wine) is usually always good! You can save yourself the money of buying expensive bottles of wine and opt for the house wine and you most likely will not be disappointed. Most times it is cheaper than your bottle of aqua!
Florence truly is one of those cities in Italy that broods romance. From the old architecture, to the sunsets, to wine country and the deep rooted history this is NOT a city to miss if you plan an Italian adventure!
5 to-dos in florence:
See the sunset, EVERY NIGHT! As I said before the sunsets are gorgeous. The first night we watched the sunset from one of the bridges. We noticed a lot of people (locals) climbing down to the river bank (below all the bridges) and hanging out. Most of them had coolers and blankets, some had school books and were studying. My husband and I decided that the next night we would too go under the bridge for the sunset. We stopped at a grocery store and bought meat, bread, pesto, cheese and wine and had our own apertif under the bridge to watch the sunset. It was a really cool experience and you didn't feel like such a tourist.

"Under the bridge" sunsets

Take an interesting tour. Yes you MUST see the statue of David and visit the Duomo, but do something different. Our Fiat 500 trip was one of the highlights of our trip. We booked a lot of tours though Lynn who turned us on to Viator which is a great travel site especially when abroad. Be sure to check out their skip the line tours to avoid hours waiting in line. You can also book directly from the 500 Touring Club as well.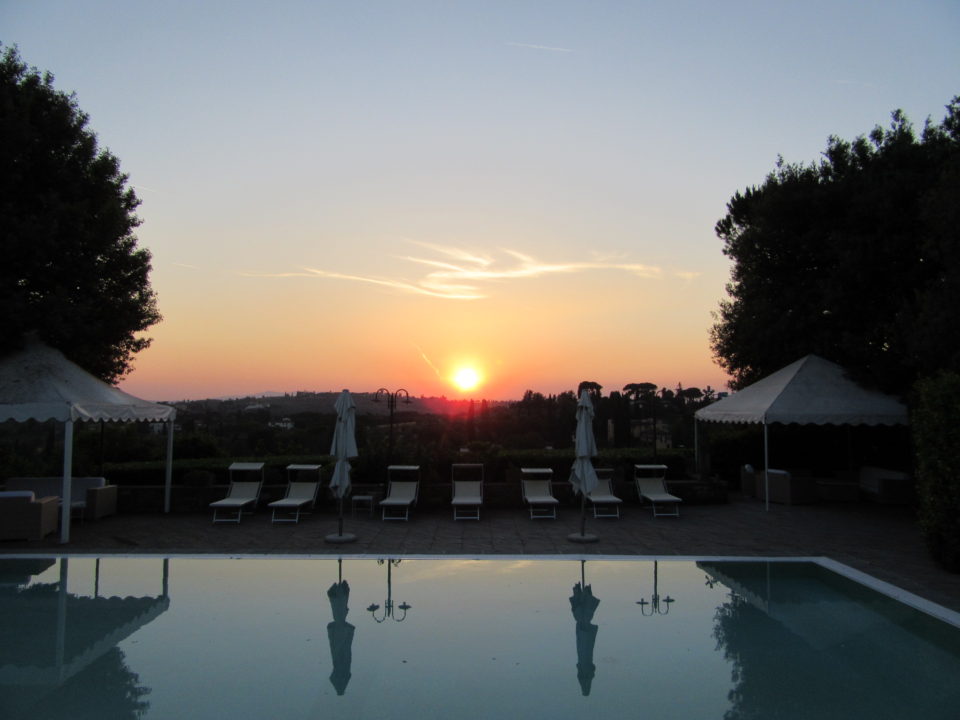 See the city in it's entirety. There is not a better way to view the city than from above. Not only did we get to see the Duomo but we got to see the panoramic of the city from a top. This definitely isn't an excursion for someone who has health problems or is not in shape as it involves a lot of climbing and being in small spaces. The ticket to the Duomo gives you access to all 5 monuments associated with the Duomo. You might have to wait in line so having a bottle of water or 2 handy is something we learned. https://www.visitflorence.com/florence-churches/climbing-to-the-top-of-duomo.html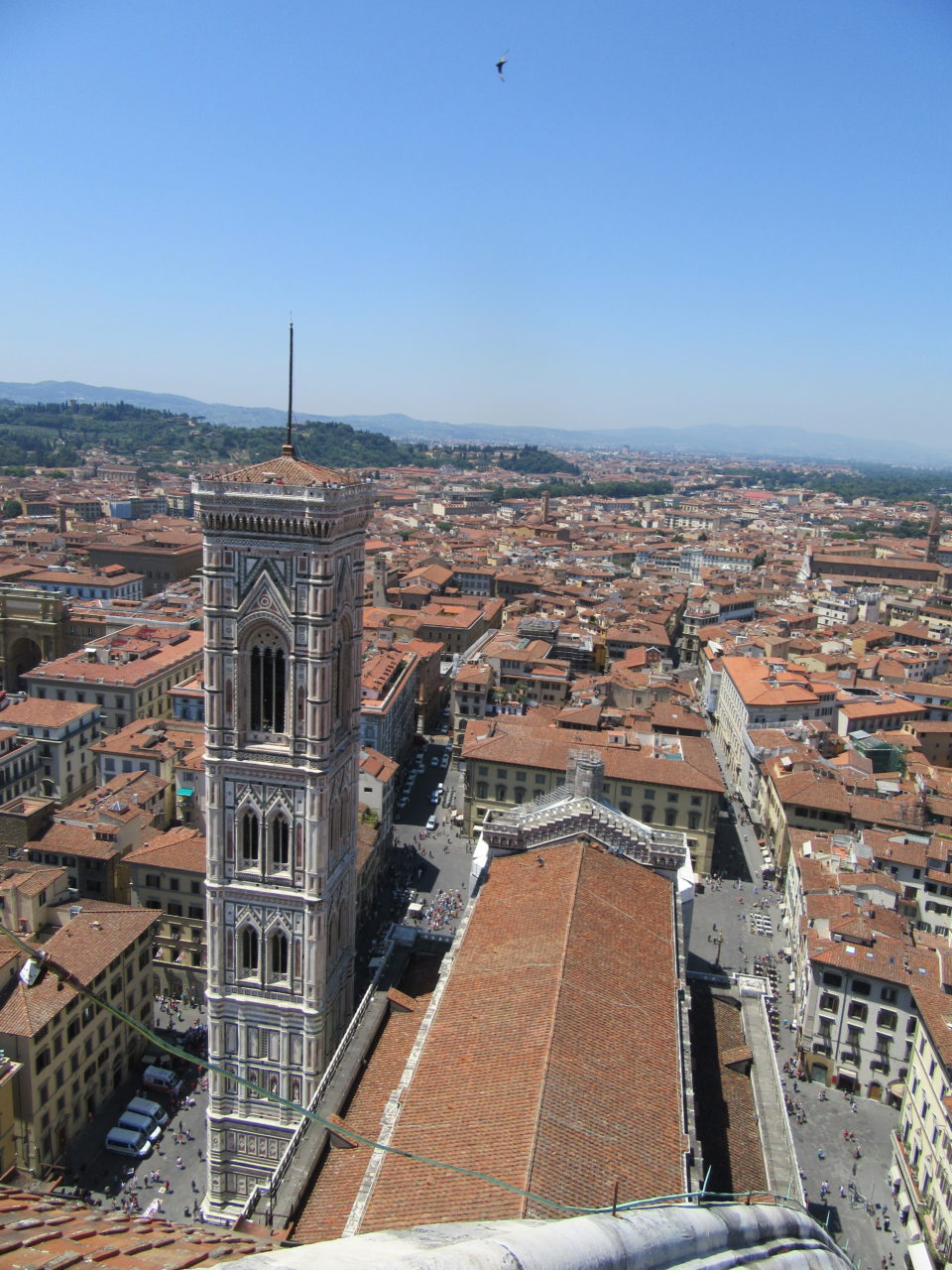 Check out the markets. We stumbled upon the Mercato Centrale when I was on a hunt to find a leather jacket. This market had not only outside vendors but a two story inside market as well full of local food, meat, cheese, olive oils, wines etc. We were hesitant about eating near such a busy place, I tend to shy away from restaurants in area like that as they typically cater towards tourists and the food tends not to be that great but we did find a good lunch spot, Da Garibardi. If you are looking to buy leather goods, Massimo Leather is a great store. I wanted leather that was actually made and produced in Florence versus imported and just sold there. The jacket I found was too long in the sleeves so Massimo sent us out to lunch and told us to come back and their seamstress had the jacket altered for me in an hour!
Eat like a local. If you DO eat red meat do not miss out on the Bistecca. Ask your servers what they like or what local dishes are. We one night had Peposo which is a beef stew that didn't have any vegetables. It is cooked in red wine and a TON of black pepper. This is an old Florence dish. Our waiter told us that back in the day they used such a heavy dose of pepper because when there were no refridgerators all of the pepper masked the taste of the meat spoiling (no this is not an appetizing thought but the dish was incredible!). Get to know about the food you are eating especially in a country like Italy where food is central to their culture.
where to eat in florence:
L'Osteria di Giovanni – As a starter they brought us fried bread (which was the best bread we had in Florence, as stated above, they don't use salt traditionally!). We had a goat cheese salad that had grilled eggplant, cherry tomatoes, lettuce and flatbread. It was different than the standard capreses we had been having almost daily and a nice change of pace. You MUST get the pappa al pormodoro which is a thick tomato soup usually made with day old bread. Our server asked us if we wanted it served "the right way" which meant topped with olive oil and fresh cracked pepper, of course we did! The star of the meal was no surprise – the bistecca. It was served with pan fried tomatoes that were simply seasoned with salt, pepper and rosemary. They told us they pan fried the potatoes first and then finished them off in the oven so they stayed crisp but cooked through.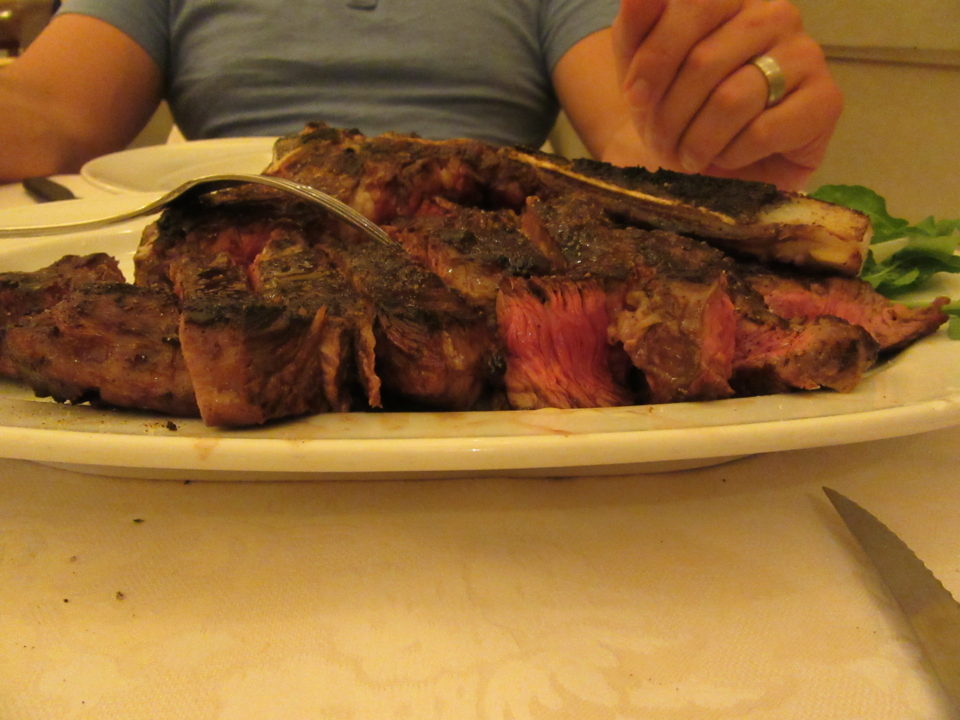 Da Garibardi – this was an unexpected find in the middle of a super touristy area. Near the market there are several restaurants with people standing out front trying to get you to come to theirs. We actually went to a different restaurant first and after we sat down and waited almost 20 minutes without even a hello we left and went next door to Da Garibardi. We sat outside at some tables where the decor was really cute and simple, fresh herbs in tin cans. My husband and I split our lunch and got the pasta pormodoro melanzana which was a rigatoni with tomato sauce, fresh basil, garlic and eggplant parmesan. We ordered a side of fagioli which are another staple Tuscan dish. The cannellini beans are cooked with garlic and sage and are nice and thick and creamy.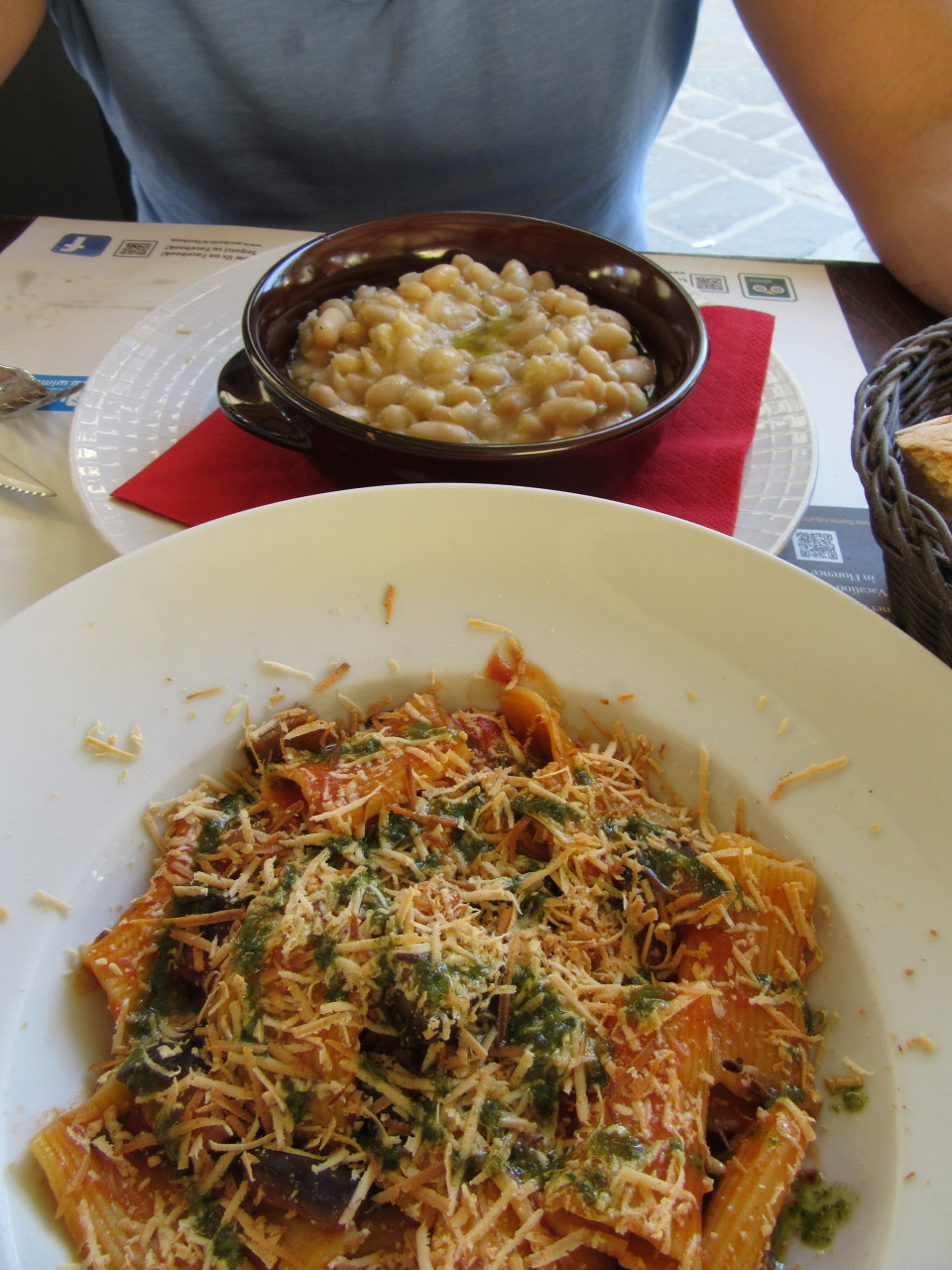 Papero e Rosso – This restaurant was off the beaten path. We walked by it a few times to and from town from our hotel. Papero e rosso means the red rooster. We sat outside and started with the pesto penne. The pasta was served with potatoes and cherry tomatoes. Which sounds weird, carbs with carbs but it was great. They used black and green basil in their sauce. This gave the pesto a different flavor than we are used to. The meatballs were a great starter. They were served solo, only the meatballs on the plate. I didn't see "spaghetti and meatballs" once while we were in Italy. They were served very simple with a house made marinara sauce. The main course was the peposo which I described above. Slow cooked beef stew in lots of wine and black pepper which gave it a little heat but in a very flavorful way.
L'Art Bar – We found this place by accident and I am glad we did (well, my husband was more excited). We found in foreign countries is they are not as good as making mixed drinks as we are in the US. Wine in Italy is a staple. Getting a good vodka drink tended to be a challenge. We walked into this place which was small, almost saloon like. The old man behind the bar was such a great bartender. I saw a bellini on the menu and he told me these were the first of the season. The peaches were finally ripe. This bellini was amazing. Fresh and sweet from the peaches, not like the canned stuff you get. Every drink was garnished with a ton of fruit. I think our bartender spent more time garnishing our drinks than making them. We went back every night we were there.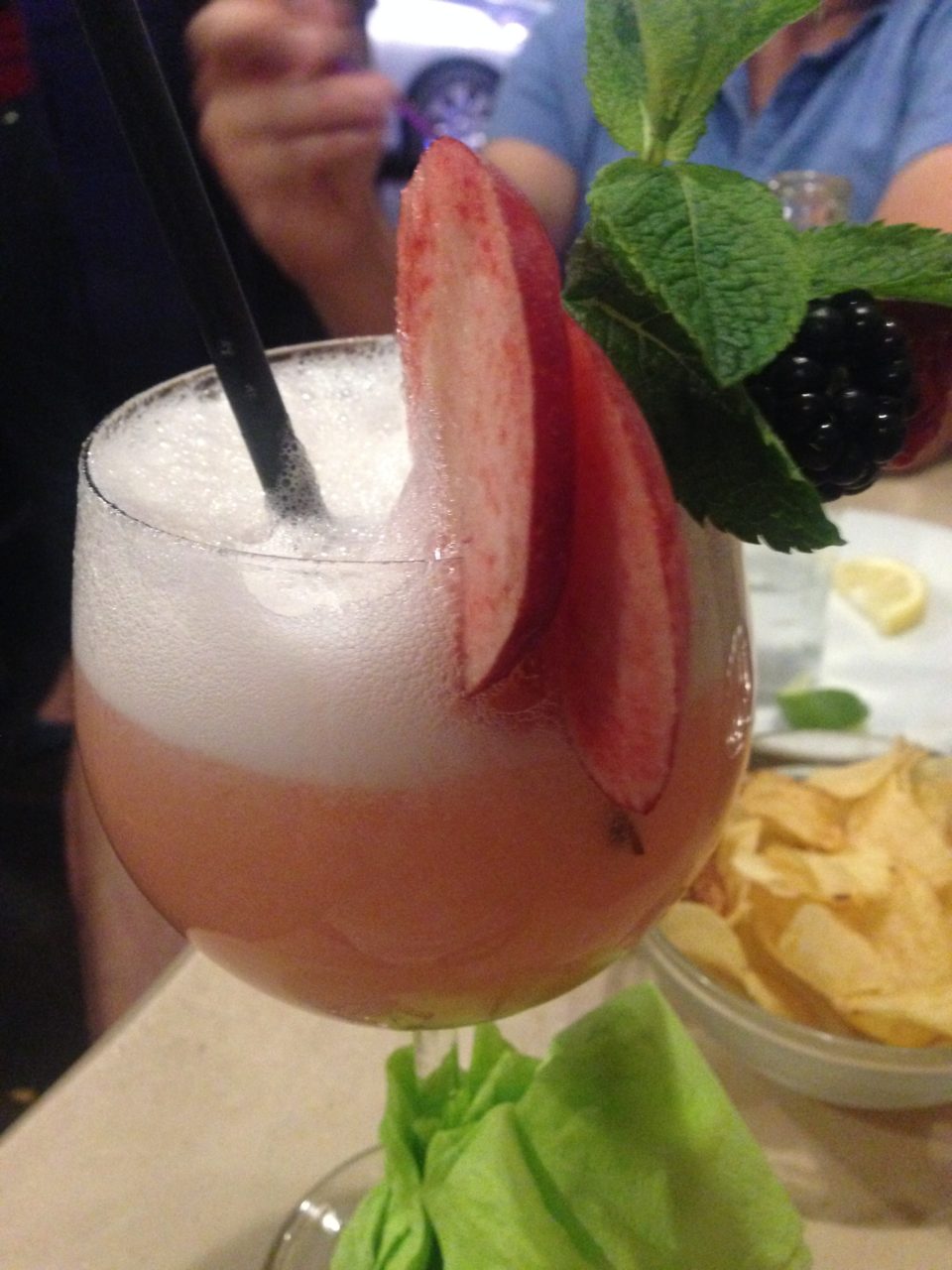 Il Latini – After having SEVERAL people tell us "Il Latini" when we would ask "where is your favorite place to eat" we tried it out on our last night in Florence. We were seated and I immediately ran to the WC (water closet or bathroom if you are American) and when I came back I asked where our menus were. My husband said there weren't any and that they were "bringing us food". As a SUPER picky eater this was NOT.GOOD. What kind of food am I going to get? I don't eat cured meats. So my luck it's going to be salami and pancetta and a bunch of stuff I wouldn't want. He told me to stop worrying about it so I tried to have an open mind. They brought us out aperitif to start which did have some meat on it but I picked around the plate and ate the things I knew I would like. Our main course was again, bistecca which came with a few sides. We found the typical side with the bisteccas were always potatoes of some sort. But they also served us more cannellini beans which were the best I had while we were in Florence. While we were talking to our waiter, I asked what they put in the beans. He asked if we were chefs (probably because we were talking food and knew what we were talking about). We said no, we just loved to cook. He said "come" so he took us back into the kitchen where we met the chefs. They had a huge charcoal grill full of hot coals where they cooked the steak. They had large industrial sized pots filled with food including the beans. He said they cooked the beans fresh every day and they cooked all day long. The flavors were incredible, the beans cooked all day with tomatoes, sausages (that were whole just to give off flavor), sage and spices. They let the beans soak overnight, then cooked them the next day. If you are like me and worry about not being able to order what you like, don't be. This meal will not disappoint.