[dropcap]O[/dropcap]pening Day of baseball season in Detroit is seriously the equivalent of a National Holiday. I can't even begin to explain it to people not from here or not from a baseball centric town but it is NUTS. Thousands and thousands of people flock to the city to start tailgating early in the morning. Fox Sports Detroit has even coined "April in the D" because it's baseball season, the end of hockey regular season (which for 25 years strong leads us to hockey playoffs) and the end of basketball season. Three sports in full force. While April can be hit or miss weather wise – it's guaranteed to be a party – rain or shine.
I remember coming to Opening Day before I moved to the city but it definitely made it more challenging to fully indulge. Parking was a nightmare, drinking and driving is out of the question, public bathrooms are lacking unless you paid $20 to get into a bar for the day, so needless to say moving across the street from Comerica Park has made Opening Day a little less of a hassle. We have had many parties in the lofts. When all of us neighbors first met each other they were pretty crazy. Over the years it's tamed down a little but still no lack of fun.
My husband was gone for work this year so our Opening Day turned into a girls day. There were 5 of us who don't have a chance to get together all at the same time so we used it as an excuse to celebrate and catch up. The girls drove down early so we knew breakfast would be a must. My typical breakfast is a smoothie, sometimes a meal of food on the weekends but we seem to run short of time lately so quick meals have been a staple. I do miss the days of lounging around on the weekend and making breakfast though. I didn't want to scramble around in the morning to cook on Opening Day so I decided to make a go-to which can be prepared the night before – French toast casserole.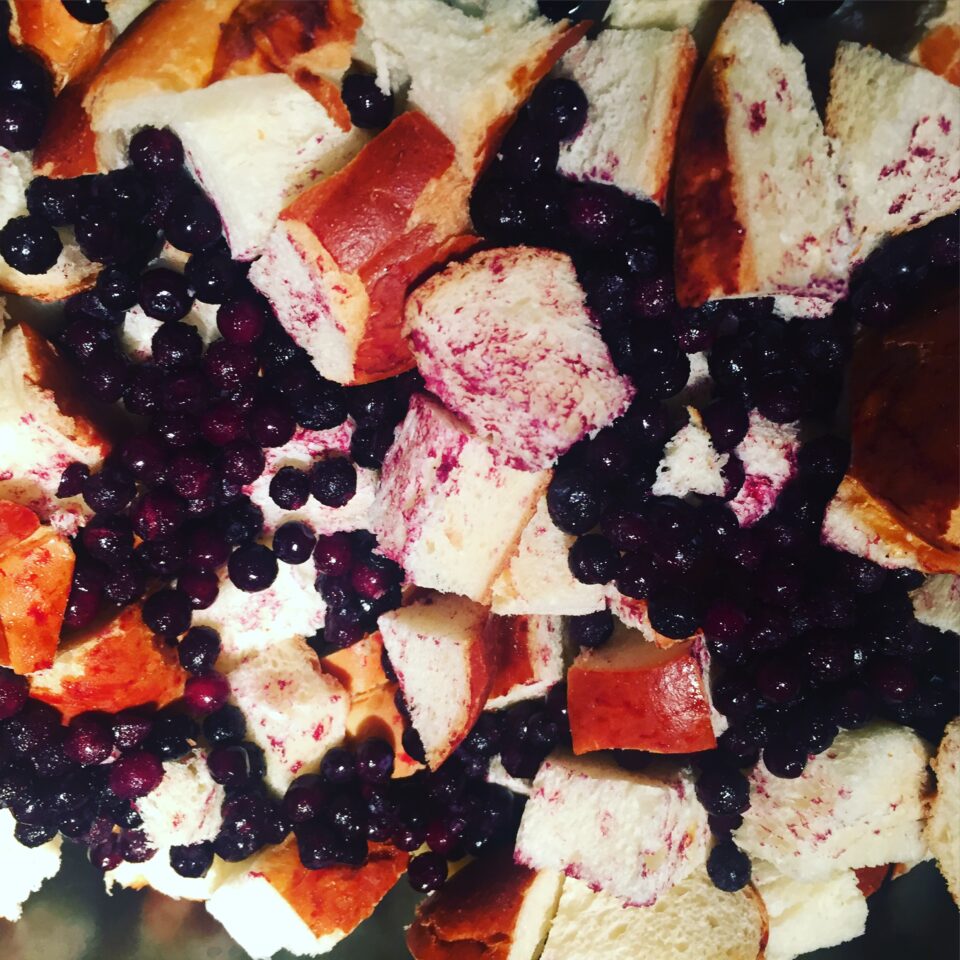 French toast is quite easy to make but it's even easier when you prep it the night before and throw it in the oven in the morning. I think the prepping that takes the longest is cubing up the bread. For French toast I like a good bread and love how challah tastes normally and figured this would be great in this recipe. It is semi sweet, light and airy so it really absorbs the liquid mixture well. I love fruit in sweet breakfast dishes and blueberries are easy to throw in and hold up to being baked in the oven. To enhance this dish I used not only the zest of the orange but the juice from it when I made my egg mixture. It provided just that little extra to the dish, that hint of flavor in the background that sets it apart from your run of the mill french toast. Orange and cinnamon are also a natural combination so there is an abundance of cinnamon in the dish as well.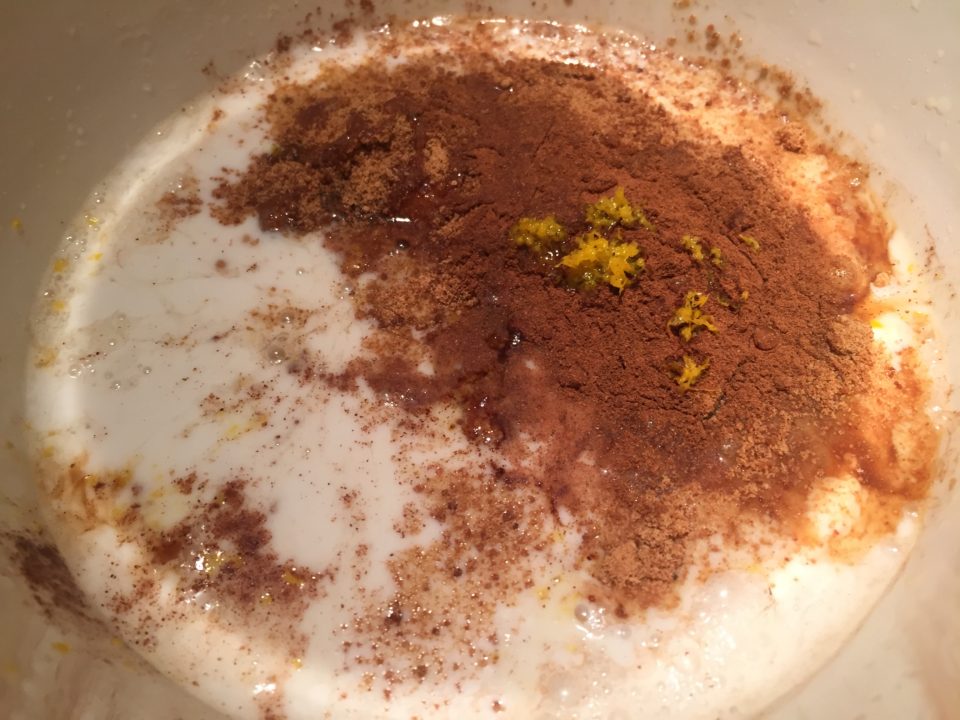 To keep with the fruit theme I decided to amp up my syrup game. My Grandpa used to always make us pancakes as a kid. He would stand in the kitchen with a big mixing bowl of batter and the griddle going. It was one of those griddles that you can plug in. He would usually make one or two pancakes at a time and bring them over to us girls one by one. After we ate, he would then sit down with his own plate. I say "when we were little" but I still call him up and ask him to cook me breakfast when I am back home. The one thing I will take away from him was his syrup technique.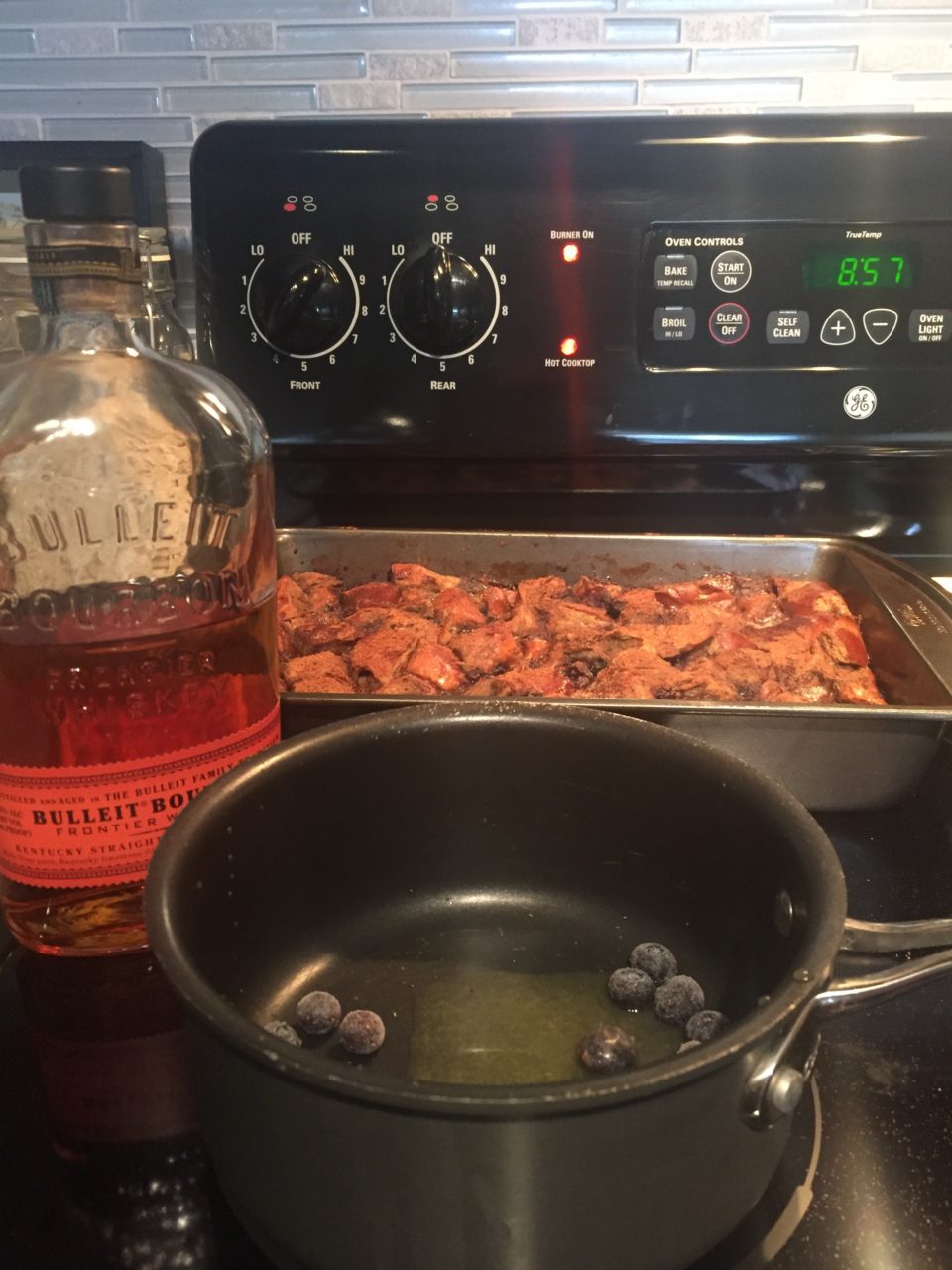 He would heat up maple syrup in a small sauce pan on the stove and put the butter right in it. The butter would melt into the syrup and create this nice foamy layer on top. It's actually genius when you think about it. How many times have you tried to spread cold butter on pancakes or french toast only to have it not melt all the way and you are left with that one lone chunk of butter floating around your plate? This solves that problem. Not only did I put butter in my syrup but I added booze! That's right, its a boozy brunch. Orange and cinnamon just naturally made me think bourbon.
I started out my syrup cooking more blueberries in orange juice to cook down the blueberries and allow them to heat through. Next the bourbon was added and cooked down. All the alcohol cooked out so what was left was a sweet semi smoky flavor. Lastly the syrup and butter were added which resulted in an incredible combination. It was a balance of sweet and smoky with a creaminess from the butter.
One thing I have learned over the years is I don't skimp on the syrup. I buy the real deal maple syrup that doesn't have added crap to it and tends to be a little more expensive. When you buy pure maple syrup you get a richer flavor and save yourself the added preservatives and natural flavors that factory manufactured syrups have. Plus most of the stores, at least in Michigan, tend to sell syrup from local farms so you can help support small business.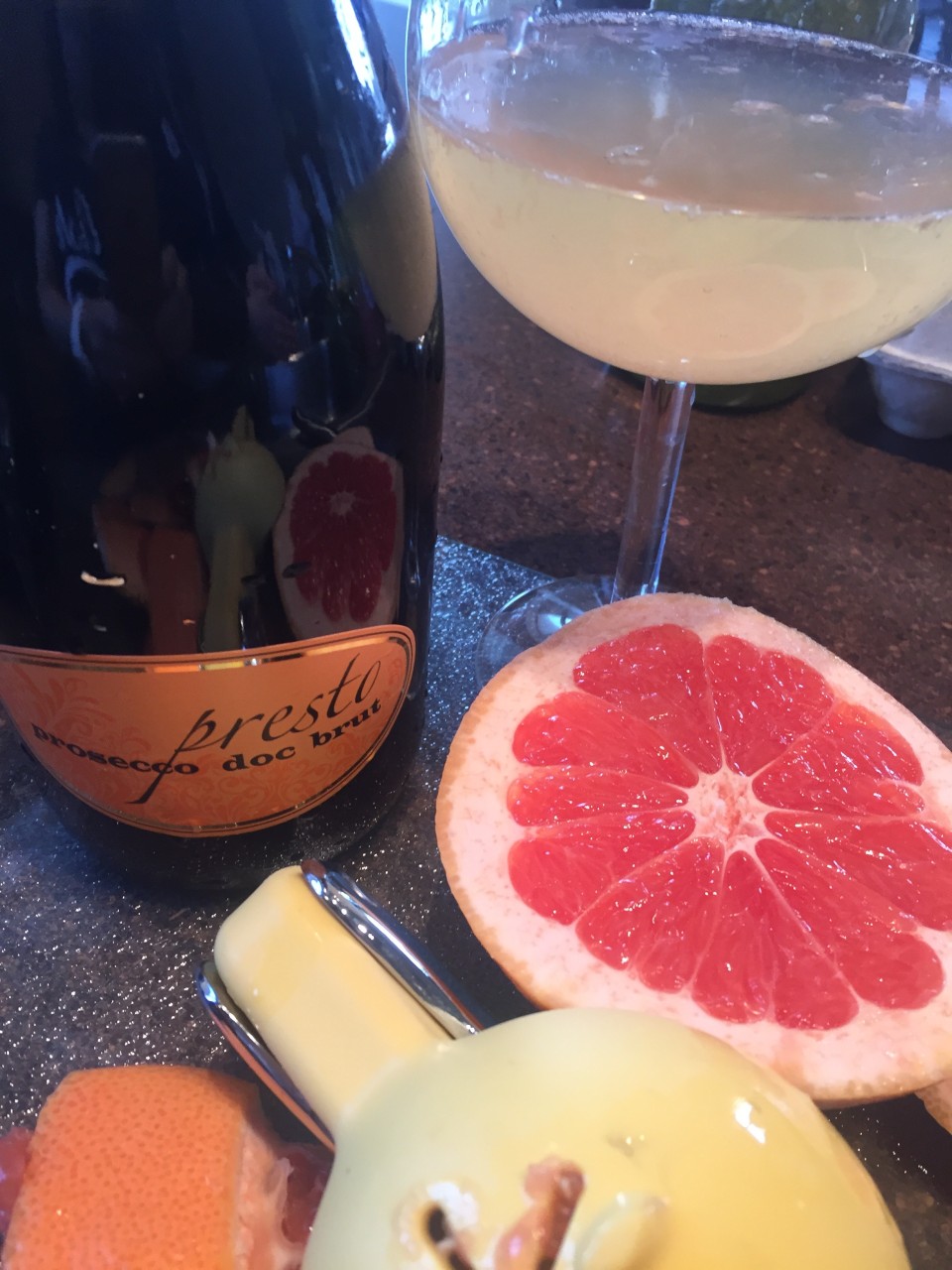 This dish really hit the spot, a set it and forget it type meal. It's the perfect meal to allow you to kick back, hang out with your guests or friends and not feel like you are missing out by being in the kitchen all morning. Pair it with a mimosa and you have a real winner!
Print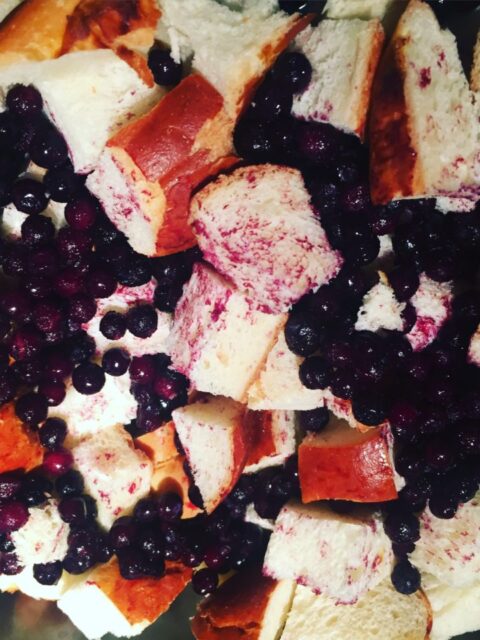 blueberry french toast casserole with blueberry bourbon syrup
Prep Time:

15

Cook Time:

60

Total Time:

1 hour 15 minutes
---
1

loaf of challah bread – cut into edible sized cubes

1.5

c unsweetened almond milk (you can use whatever milk you like)

1

orange – you will use the zest and the juice

2

TBS cinnamon

8

eggs

2

c blueberries (I used frozen and organic, berries are dirty dozen)

1

TBS vanilla

1/2

c sugar (I love coconut sugar)

3

TBS butter
for the syrup
1

c blueberries (frozen is ok)
the juice from 1 orange

1

c bourbon

2

c syrup (get the good pure maple syrup for a great flavor)

4

TBS unsalted butter
---
Instructions
The night before you want to eat your french toast, in a large mixing bowl combine the eggs, almond milk, vanilla, sugar, cinnamon, the zest and juice from the orange and whisk to incorporate everything and break up eggs. Place bread cubes and blueberries in a 9×11 baking dish. Pour liquid mixture over the bread, mix well to coat all pieces of bread with the liquid. Cover and refrigerate overnight.
The next morning pre-heat the oven to 350. Bake covered for an hour. Uncover and sprinkle with a little more sugar and cinnamon. Take the butter and cut into small pieces and top the casserole with the dabs of butter. Bake another 10 minutes so the butter melts and sugar and cinnamon forms a crunchy crust.
for the syrup
In a small sauce pan heat up blueberries and orange juice until the blueberries until blueberries cook down. Add bourbon to pan and turn the heat up to medium high. Allow the bourbon to cook out and reduce for at least 5 minutes. Add syrup and butter to the pan. Once butter is melted you may serve over the french toast casserole.
---