Growing up I remember my dad would make us grilled chicken Caesar salads all the time. We had this indoor grill that he used to grill up the chicken and it always had a great char/almost crust to it. We always used Cardini's caesar dressing that as a kid I remember being so good. It was the really creamy caesar dressing- creamy and probably not too good for you. Something about eating Caesar salads always remind me of those days. I can still picture that maroon grill my dad would plug in and put on top of the stove to cook our chicken.
While creamy dressings have a bad reputation of being "bad for you" it's really the amount of dressing that a person uses that turns your "healthy" salad into the same caloric and fat content as a fast food meal. My husband and I read an article about "healthy fat" before. It was mainly about how people try to eat salads but then they load them with dressing and cheese and their "healthy" salad becomes worse than a burger! I have learned you can use them sparingly and a little goes a long way. My husband has gotten into the habit of measuring out the "healthy fat" now. He uses a spray bottle for his olive oil (to prevent a heavy handed "drizzle" on salads or food) and uses a tablespoon for dressings. It really helps.
My father-in-law makes the BEST homemade Caesar dressing (the star of this recipe really!) It is thick and creamy but what makes it creamy is eggs. So when you think about what is "bad for you" in his version of the dressing really is the oil and the cheese. If you use a high quality oil such as olive oil or avocado oil that have more nutritional benefits to them versus a processed vegetable oil or canola oil – it tastes better and is naturally better for you.
Plus when you make your own salad dressing you know what is going in it. I recently saw the ingredients of my old family classic – caramel coloring, natural flavors, soybean oil, corn syrup – four reasons alone to make your it yourself! Don't beat yourself up too much using a creamy dressing, especially when it's homemade, just measure it instead of using the whole batch on your salad.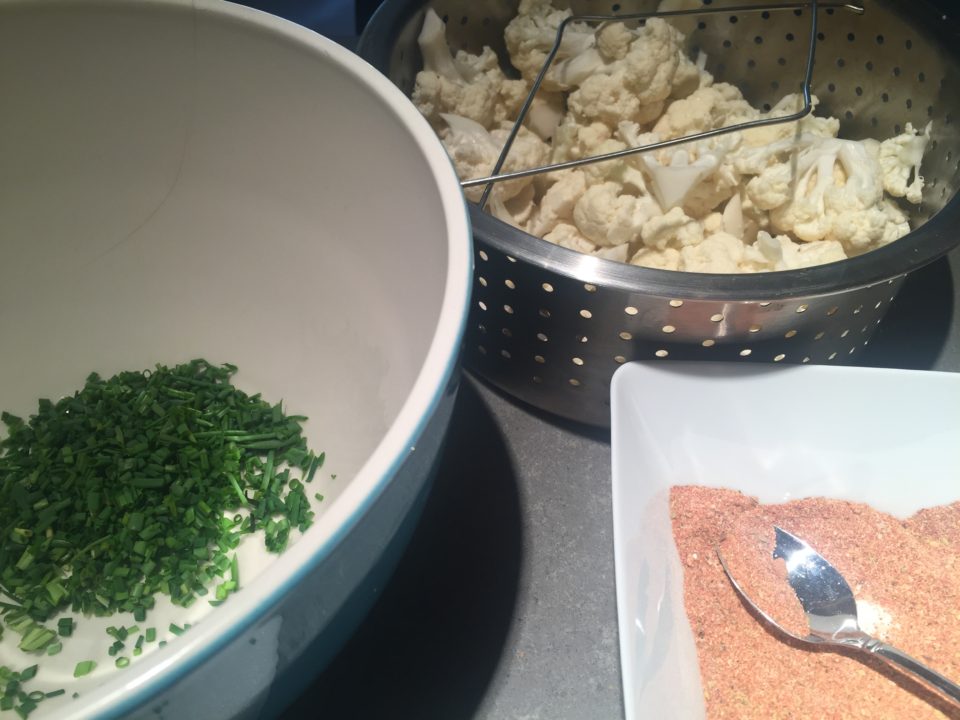 My husband is from the south and loves anything and everything spicy. I love the flavor of blackened chicken. When I go to Florida for work I love getting blackened fish tacos. I was in the mood for spice and I knew my husband wouldn't complain so I decided to amp up our Caesar game by making it spicy. The store bought blackening spices often have salt listed as the number one ingredient. I bought one once and couldn't even eat what I had made because it was so salty from the seasoning mix. Because of this I wanted to make my own.
Unfortunately I can't take credit for this blackening seasoning mix, I found it online but it was a great blend of flavor and spice. I also like to make my own croutons when we actually eat them. For the most part Sunday is a splurge day for us. We don't worry too much about carbs and I don't feel guilty about eating a little bread. Whole Foods sells these cute little mini ciabatta loaves that are perfect for croutons. When it's just us I can buy one mini loaf and it's plenty. For four people you can buy two. I decided to carry the spice theme and make my croutons spicy as well. I tossed them with a little olive oil and more of the blackening seasoning. The key is to check your croutons often when you are roasting them in the oven. They really quickly can turn from a nice golden brown to burnt.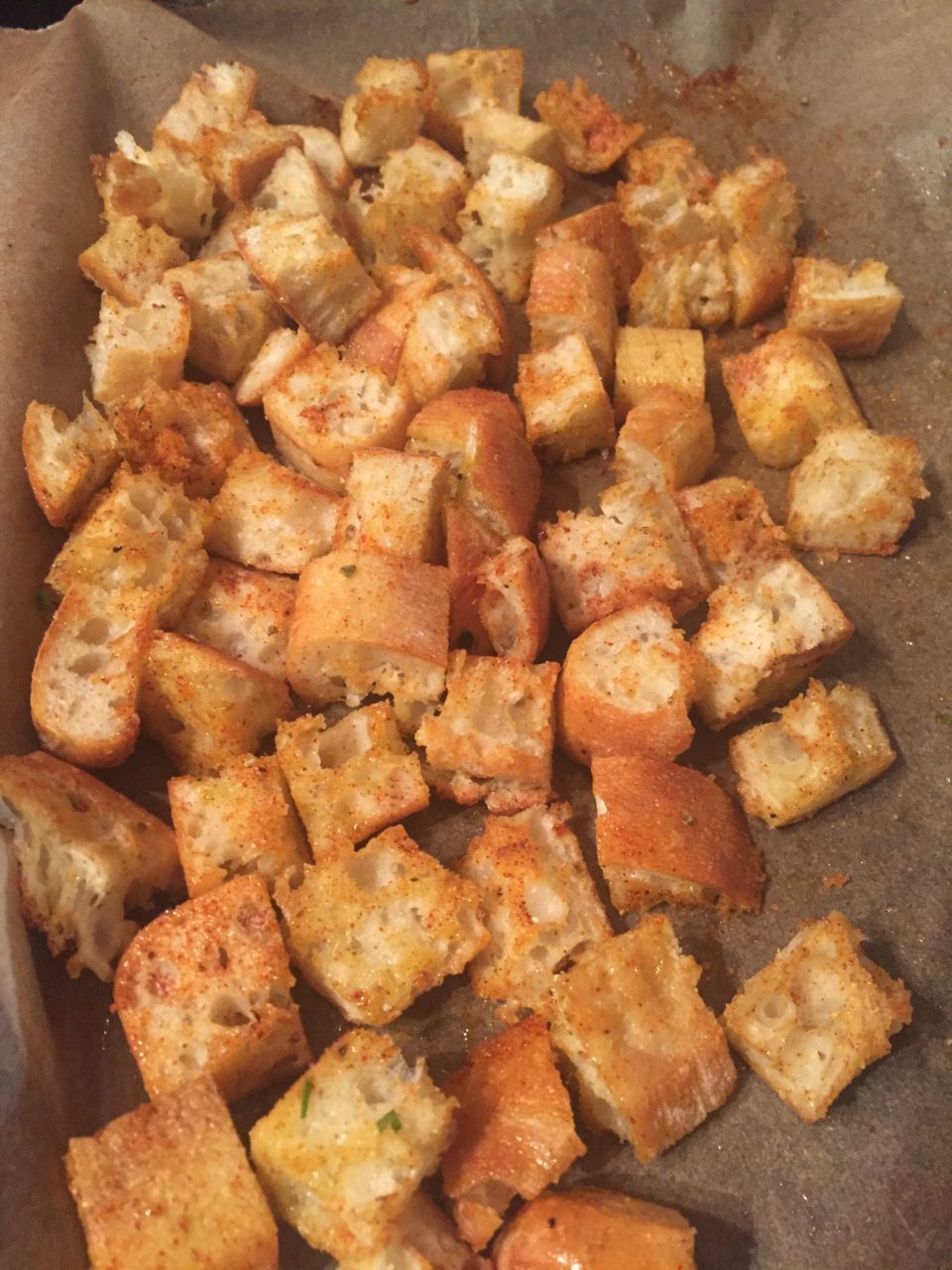 When I first met my husband and we started cooking together he would kid around about how I am a pro at making carbs (now he kids around that I am the reason he can't lose weight!) because I could make a variety of pastas and potato dishes. One of my favorites when I had time were twice baked potatoes. You can do ANYTHING with them. You can make them southwest with salsa and beans, keep it basic with sour cream (we use Greek yogurt though) and chives, broccoli and cheese is also a great combo. I have made them several ways. To me the key is a good cheese so you don't need as much and incorporating a vegetable somehow. I add a head of steamed cauliflower to mine and when it's all mashed together you can't even tell it's in there.
I started doing something new to my potatoes that I personally think makes a huge difference in flavor. Before I bake the potatoes the first time in the oven I rub them with a little olive oil and sprinkle garlic salt (Trader Joe's has a great garlic salt grinder that I use) all over them. That flavor seems to penetrate the potatoes as they are cooking. Plus if you are a fan of eating the skins, this gives them extra flavor. They pair nicely with a leafy green salad.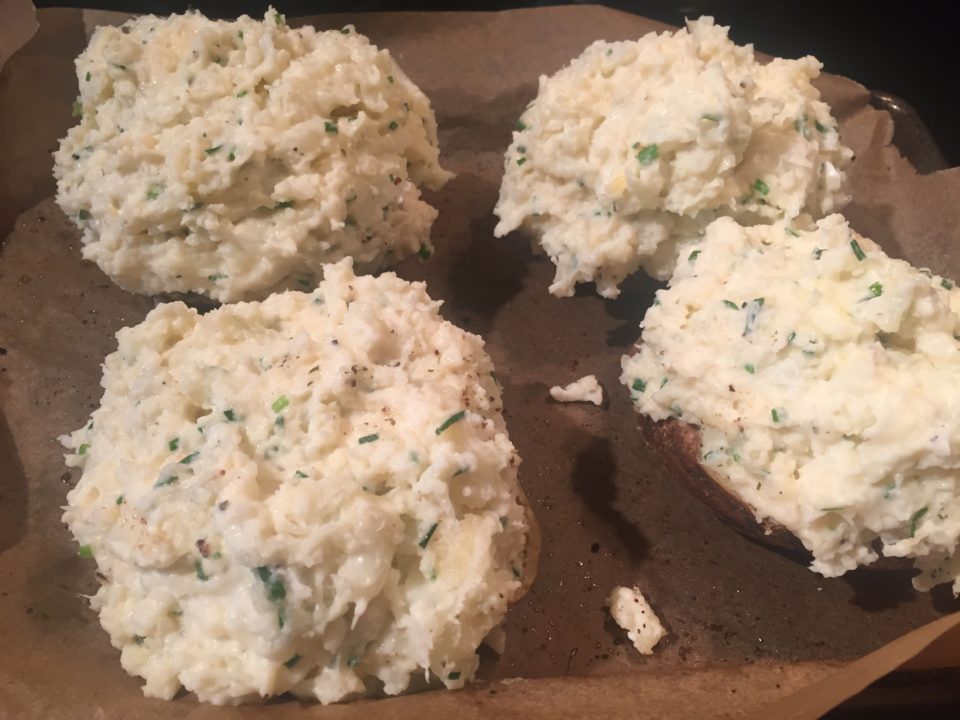 This meal is a great balance of creamy, spicy, crunchy, cheesy, carb-y and surprisingly enough, healthy. While to me this meal is perfect for a summer night, if you grill all year long like us or have an indoor grill like I grew up with, you can make this combo any time.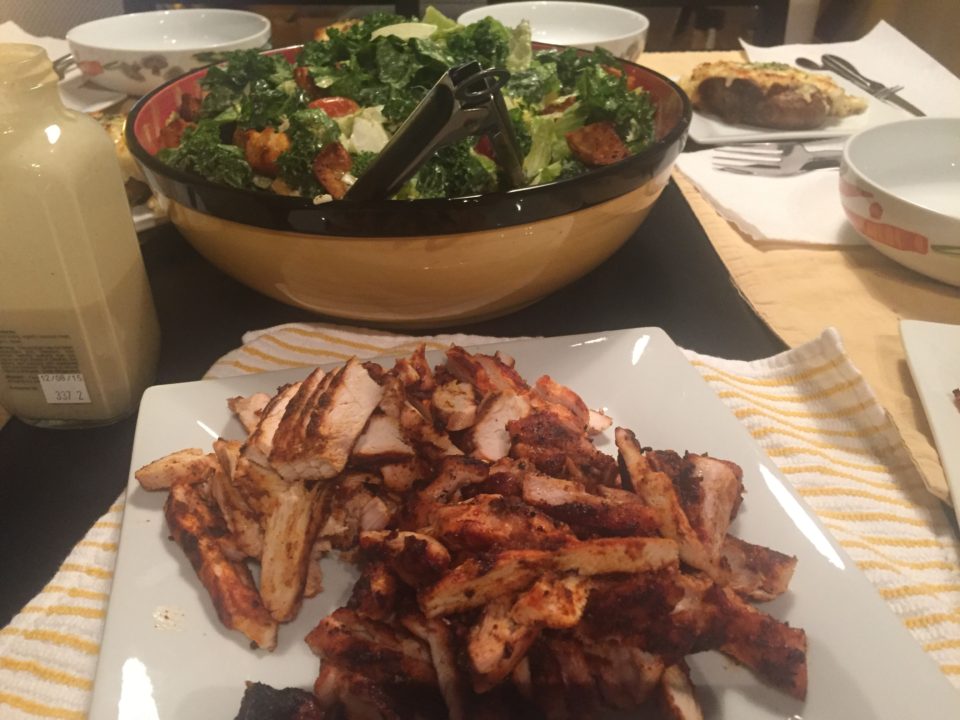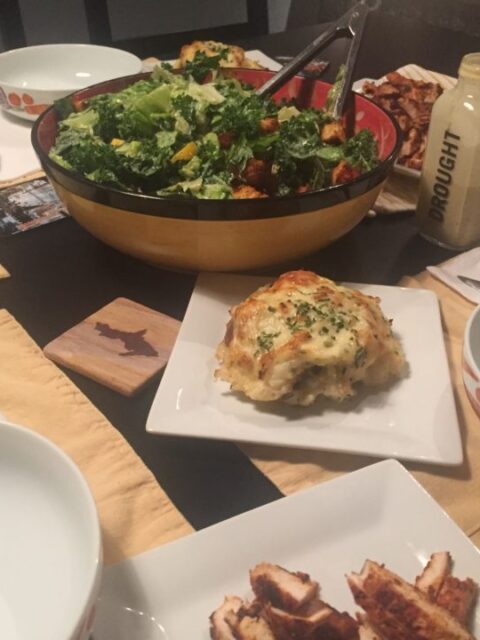 spicy chicken caesars with twice baked potatoes
---
for the potatoes
4 russet potatoes – skins scrubbed of all dirt
12 oz. plain Greek yogurt
2 cups of shredded cheese (I buy Gouda and organic grass fed cheddar and grate myself)
one package of bunch of chives – minced
1 head of cauliflower cut into large florets
olive oil
garlic salt (I love the Trader Joes garlic salt grinder)
for the salad
2 heads of romaine, leaves separated, washed, torn or cut into edible pieces
1 head of kale (green or purple) stems removed cut into edible sized pieces
2 bell peppers (I prefer the sweet colors for this, red or yellow) diced
1 quart of cherry or grape tomatoes – halved
black pepper
1/4 cup good quality grated or shaved parmesan cheese (I use Parmesan Reggiano)
for the crutons
2 mini ciabatta loafs cut into small cubes (not too small, they will shrink slightly when they cook) or 6 slices of any day old bread of your choice
3 TBS olive oil
1–2 TBS blackening seasoning
salt and pepper
for the chicken
2 lbs of boneless skinless breasts or thighs or both – pounded 1/4 inch thin (you can also buy cutlets at the store that are usually pounded for you, the thighs are quite thin already so skip pounding them out if you only use thighs)
1–2 TBS of avocado or olive oil
4–5 TBS of blackening seasoning
salt and pepper
for the dressing
1 egg – bring out of the fridge and let sit for 20 minutes or so to come up to room temperature
juice of one lemon (fresh)
1.5 tsp Dijon mustard (I LOVE the Whole Foods brand in this recipe, more than Grey Poupon)
4 cloves of garlic
6 anchovy filets (I promise you can't taste it, as gross as it may be to you these really make the dressing)
dash of Worcestershire sauce (3 shakes of the bottle)
dash of balsamic vinegar (3 shakes of the bottle)
1/4 c. grated parmesan
1.5 c. good quality olive oil
---
Instructions
In a food processor or blender blend egg, dijon, balsamic, Worcestershire sauce, anchovies and lemon juice until creamy. Let the blender run on low and VERY slowly steam in the olive oil in a continuous slow steady steam. This will allow the oil to emulsify and thicken the dressing. Once olive oil is added and dressing has thickened add in parmesan cheese and season with salt and pepper. Pulse a few times to incorporate cheese (you don't want to run too long as the cheese will heat up and melt). Place in the refrigerator and allow to cool for an hour before using.
to make the potatoes
pre-heat your oven to 420
Start the potatoes first, as these take the longest amount of time. Pierce the potatoes with a fork so they cook evenly. Rub the potatoes with olive oil and season liberally with garlic salt. Bake for an hour – an hour and fifteen minutes until the potatoes are fork tender. Leave your oven on and when you pull out your potatoes put your croutons in to bake.
Once potatoes are done, steam the cauliflower florets for 6-7 minutes, until fork tender. I have a steamer basket that I use over boiling water.
Once potatoes have cooled, cut off the top 1/4 of the potatoes. Scoop out the inside (and the potato from that top you just sliced off) and place into a large mixing bowl. Be careful not to scoop too close to the skin as you might rip it. The goal is to have the shell left to place the potato mixture back into. Add the steamed cauliflower to your potatoes and with a potato masher or large fork, mash the two together. Stir in Greek yogurt, chives (leave a little off to the side for garnishing), and 1 1/2 cups of your grated cheese. Season liberally with salt and pepper. With a large spoon scoop the mixture back into the potato shell and place on a parchment paper lined baking sheet (if you don't have parchment paper that is ok, some of the potato mix might spill out onto your sheet while baking, this just makes for easy clean up). Bake at 375 for 30 minutes. Top with the remaining grated cheese and chives and place under the broiler for 4-5 minutes until the cheese on top is golden brown.
to make the croutons
Mix bread, oil, blackening seasoning and salt and pepper together in a mixing bowl (use your hands to mix which helps evenly incorporate the oil and seasoning) place on a baking sheet (I like to use parchment paper) and bake in the 420 degree oven from the potatoes for 12-15 minutes turning the bread every 4 minutes to make sure it doesn't burn. The croutons should be a nice golden brown. Try one to make sure they are nice and crunchy. Allow to cool.
to make the chicken
Pre-heat grill to medium-medium high heat, indoor or outdoor
Drizzle chicken with a little olive oil or avocado oil. Season liberally with salt, pepper and blackening seasoning. You can season the chicken well in advance for the flavors to merry into the chicken. Grill chicken breasts for 5-6 minutes a side, thighs need about 4 minutes a side (make sure your breasts have been pounded into 1/4 inch cutlets otherwise 6 minutes will not be enough time). Your meat should pull easily from the grill grates when ready to flip. Make sure to allow your meat to rest at least 5 minutes to re-circulate the juices.
To assemble the salad add romaine, kale, tomatoes and peppers in a large serving bowl. Top with fresh cracked black pepper and parmesan. Add a few tablespoons of dressing and toss with tongs to coat evenly. Add a little dressing at a time and toss to get desired "coating". I like to start with a little and then allow each person to add more dressing if necessary. Top with croutons and sliced chicken.
Notes
If you are washing your own lettuce I like to do this well in advance of when I will be eating. I lay the lettuce on clean dish towels to sop up the water. When lettuce is wet the dressing will not stick to it and it will make your salad soggy so do this prep well ahead of time.
Save
Save