[dropcap]A[/dropcap]fter the Holidays finally ended all we wanted was a home-cooked meal that was on the healthier side. We had Monday off so I knew I would have a little more time to spend on dinner if I wanted. Sometimes we do "Meatless Mondays" at our house. Like I have said before my husband is from the south and loves spicy food. So I decided to make him a Mexican inspired meatless meal and make homemade enchiladas.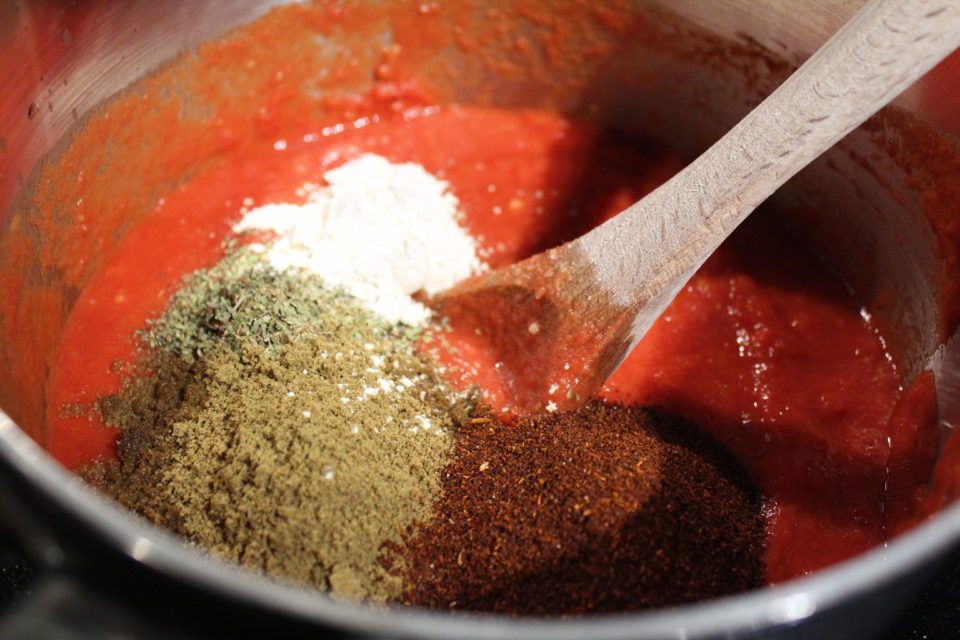 Originally I was going to make a verde sauce. But the store didn't have any tomatillos (not shocking since it's January – in MICHIGAN….) so at the store I needed to improvise and figure out a red sauce. There are tons of recipes out there for sauces. Some use broth and spices, no tomatoes, some use tomatoes. Some are made really sweet with brown sugar. There are also a ton you can buy at the store. Personally I prefer to make what I can at home. Then I know what is going in what I make.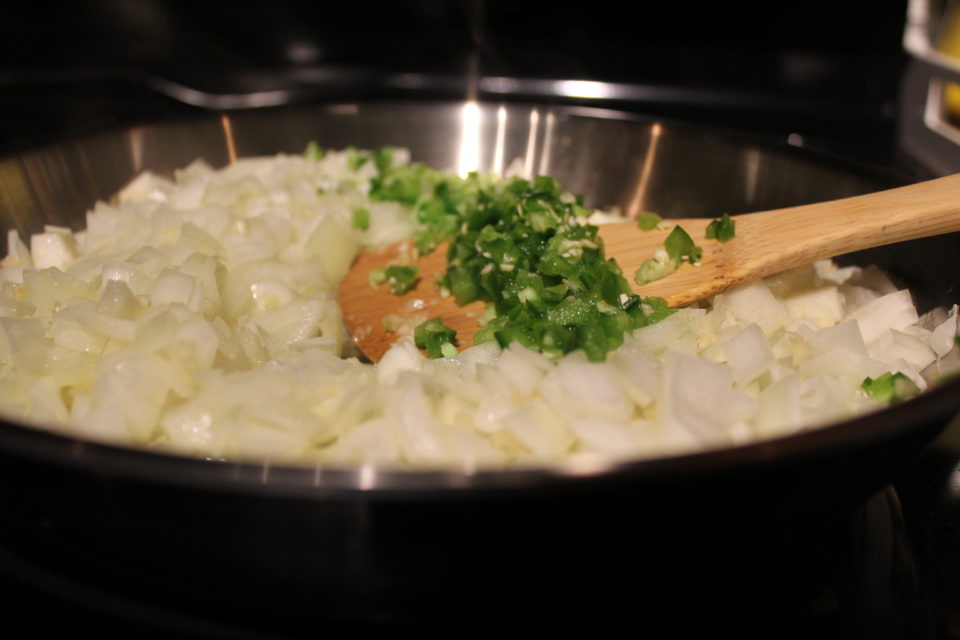 Enchilada sauce is so easy to make. This version is a tomato base with lots of spices. You can choose if you like to keep your sauce chunky. Personally I like my sauce very smooth. So I use my immersion blender to take all the chunks from the veggies out. My husband asked if I could make some Mexican rice to go with. Lately I have been baking my rice in the oven with tomatoes and onions to infuse the rice with flavor. Instead of doing it that way I thought, why not use my enchilada sauce IN my rice as well? Then the rice soaks up all that delicious flavor from the sauce making it seasoned perfectly.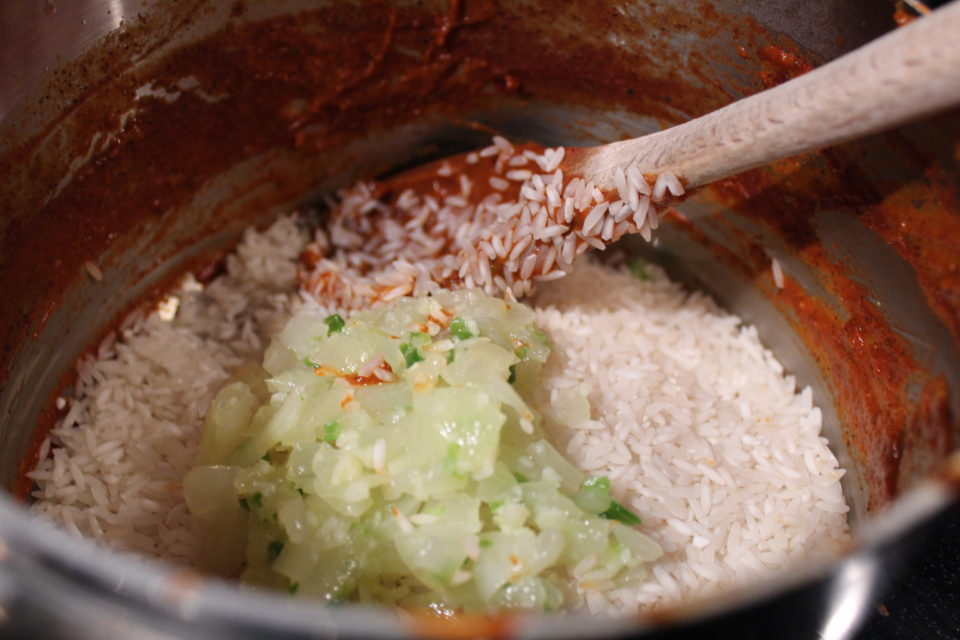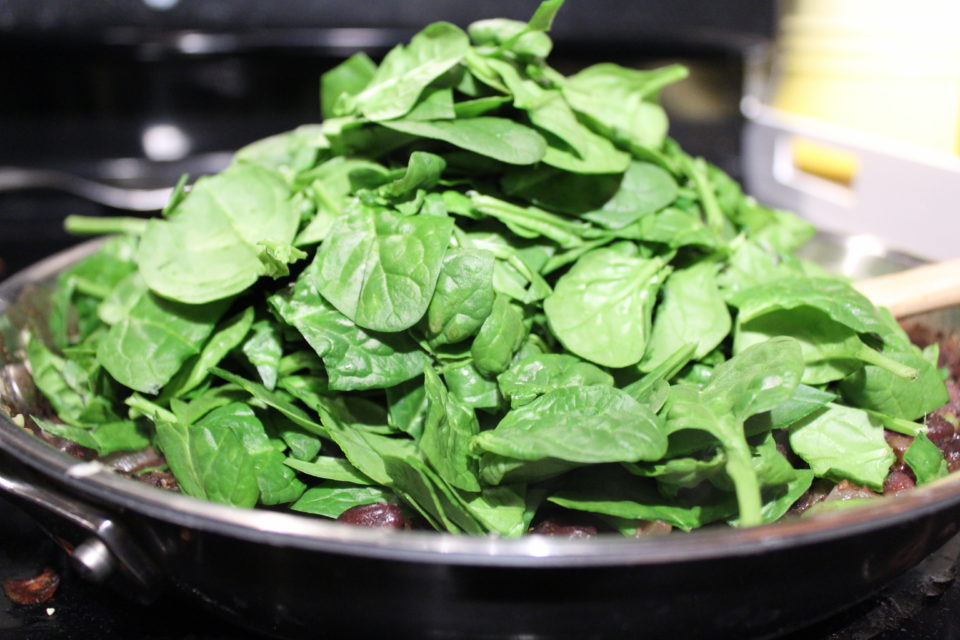 When I was going to make my enchiladas verdes (green) with everything in them green – poblanos, green onions and spinach. I decided to keep my filling as I had planned. Sometimes less is more. Normally when I make veggie enchiladas I LOAD them with veggies. This version I just tried to keep simple and flavorful.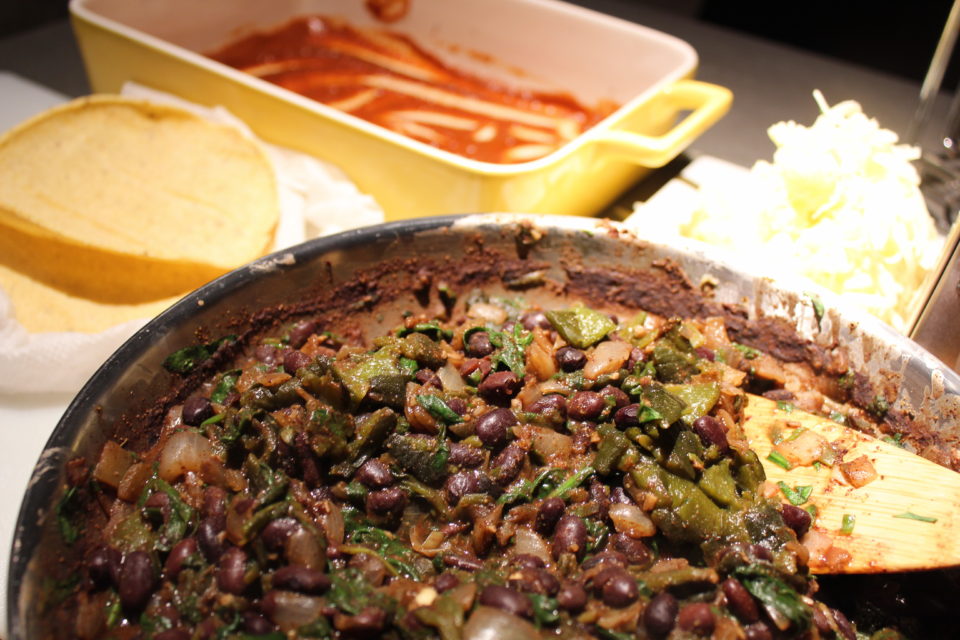 Every component in this recipe used onions, jalapenos and garlic. Since they all start the same way I started with a very large yellow onion, lots of garlic cloves and one full jalapeno and sauteed that. Then I left half of that mixture for my beans in the pan. Next I split the remaining half between the rice and the enchilada sauce. I love being able to save time in the kitchen that way. Chop it and cook it once, use it three times!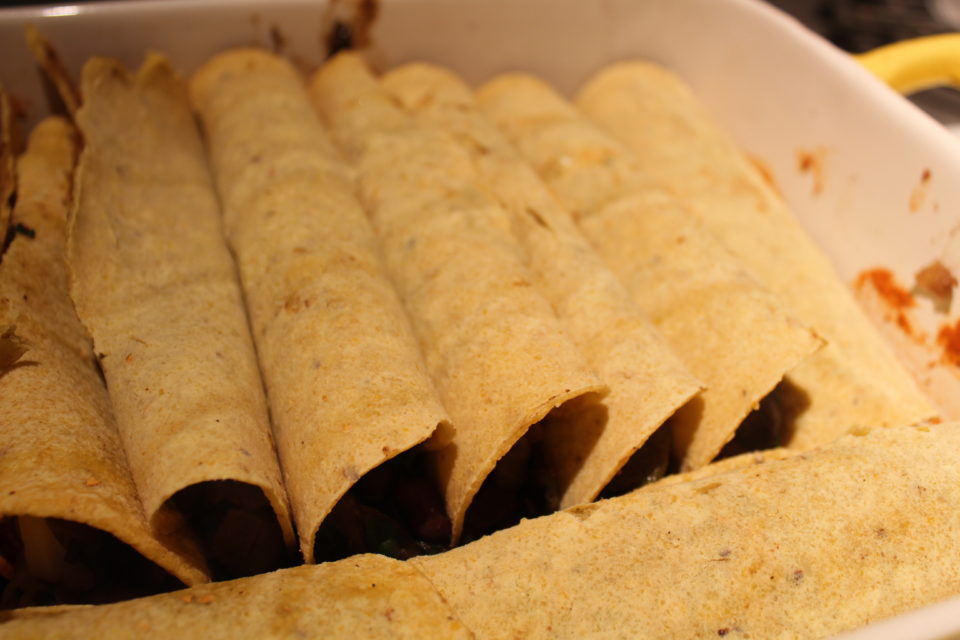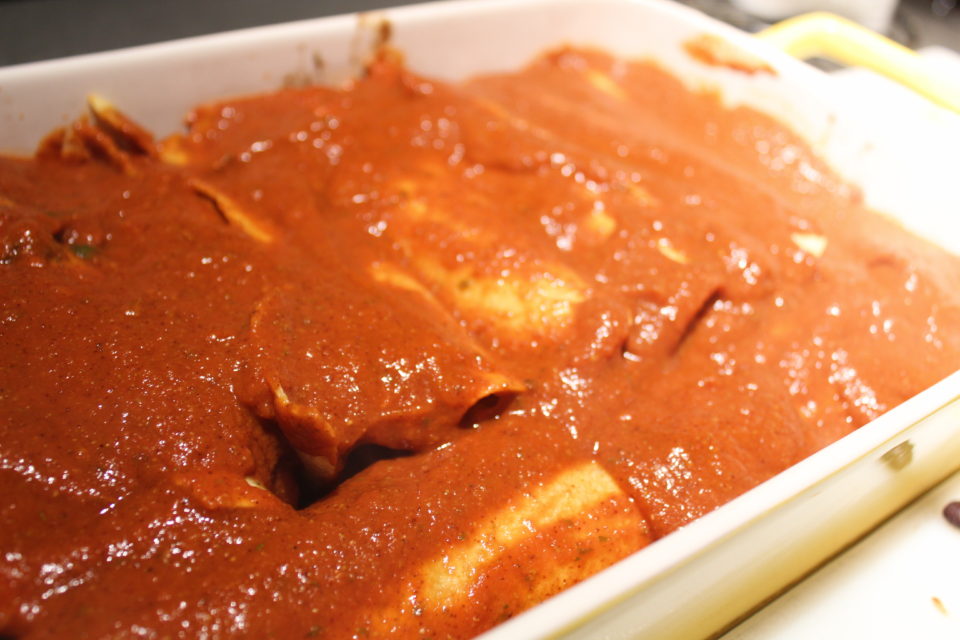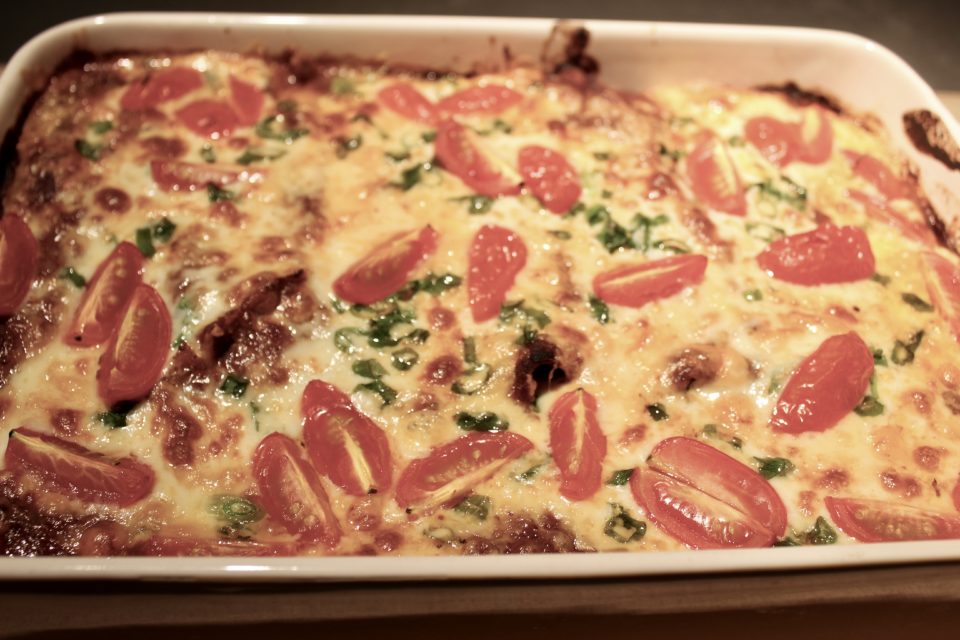 This recipe comes together quickly. The prep and actual time you spend slaving over the stove is minimal. Most of the time is spent waiting for the enchiladas to bake in the oven. Maybe when tomatillos come into season I will make my verdes. For now a red sauce will have to do!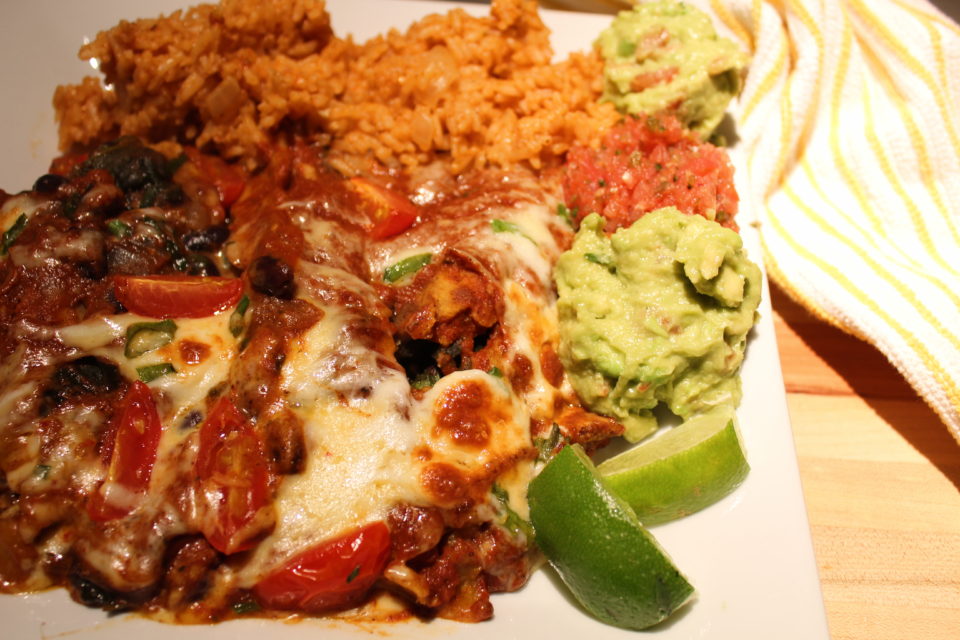 Print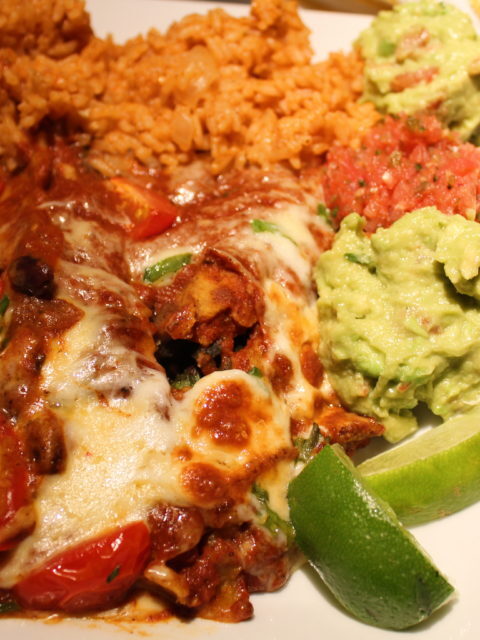 black bean and spinach enchiladas
---
4 poblano peppers, roasted in the oven, skins and seeds removed, diced (if you cannot find poblano peppers 2 cans of diced green chilis will work here)
1 yellow onion, diced
5 cloves of garlic, minced
1 jalapeno, minced
2 cans of black beans, drained (no need to rinse)
8 oz bag of baby spinach, rough chopped
1 bunch of scallions, thinly sliced
3 tsp cumin
3 tsp chili powder
1 tsp oregano
salt and pepper to taste
12 oz of shredded montery jack cheese
12 corn tortillas
3 c enchilada sauce (I prefer to make my own, second recipe of this post)
1 fresh tomato diced or a handful of cherry tomatoes cut in half
Additional toppings
avocado
cilantro
salsa
guacamole
For the rice
2 c jasmine rice
3 c vegetable or chicken broth
1/2 c enchilada sauce
2 bay leaves
1 TBS butter
salt and white pepper to taste
---
Instructions
For the enchiladas
Pre-heat oven to 375
Start by sauteeing onions, garlic and jalapenos in a small amount of olive oil in a large pan over medium heat until onions are soft (about 10 mins) Reserve a few heaping spoonfuls of this mix to use for your rice (if you are also making your own enchilada sauce take a few spoonfuls for that as well). Next to the pan add in beans, spices, most of the scallions (save a few to top the enchiladas with) and salt and pepper (to taste!). Next add in spinach. While it will look like a TON but I assure you it will cook down. After the spinach has wilted down stir in poblano or green chili peppers. Adjust seasonings if necessary. If you like hot and spicy food you can add in a few dashes of hot sauce as well.
Soften tortillas by dampening a dish towel or paper towel. Wrap tortillas in the dampened towel and microwave for 30 seconds. This helps the tortillas become pliable and less likely to crack (although I still had a few of mine break open).
To assemble enchiladas spread a thin layer of the sauce on the bottom of a deep 9×13 baking dish. Scoop a layer of the bean mix in the center of your tortilla. Top with a small amount of the cheese. Roll up and place seam side down in the pan. Continue to assemble until all your enchiladas are made. I wound up with a little extra filling that I just saved to make lunch the next day with. Smother the enchiladas with the remaining sauce. Bake uncovered in the oven for 15 minutes (everything is already cooked so this just gives everything time to melt together). Take pan out of the oven. Lastly, sprinkle with remaining cheese, green onions and tomatoes. Place under the broiler on high and broil until the cheese on top becomes melted and golden brown.
To cook rice
First in a large sauce pan combine all ingredients for the rice. Bring to a boil and season with salt and pepper. I like the taste of white pepper when I make rice. Once mixture is boiling turn down heat to low and cover. Cook for 15 minutes. (if you are not using jasmine rice make sure to read instructions and liquid ratio. Jasmine rice is 1 c rice to 1.5 c liquid, if you are using a different rice the ratio might be 1:2). Stir the rice, remove from heat, cover the rice again and let sit for 5 more minutes to finish cooking.
Lastly top the enchiladas with any toppings of your choice and serve with enchilada style Mexican rice
Prep Time: 15
Cook Time: 45
Print
1/2 onion diced
4 cloves of garlic, minced
1/2 jalapeno, minced
2 TBS flour
1 28 oz can crushed tomatoes
1 c vegetable or chicken broth
3 TBS chili powder
1 tsp oregano
3 tsp cumin
1 tsp garlic powder
1 tsp sugar
salt and pepper to taste
---
Instructions
In a large sauce pan sautee onions, garlic, and jalapenos in a few TBS of olive oil or butter over medium heat until the onions are tender (about 10-12 minutes). If you are making the enchiladas above, just take 2 heaping spoonfuls from the onion mixture you prepared above. Next add in flour and whisk until the flour cooks for a few minutes. Then add in tomatoes, seasonings and chicken broth, turn heat up to medium high. Whisk to fully incorporate the flour.
The sugar might sound weird to you but it is used to cut the acidity of the tomatoes. Since this will not cook all day the sugar helps balance out the acidity levels found in the tomatoes. Turn the heat down to medium low and cook the sauce for 5 minutes to let the flavors merry. At this point you can be done.
However, I like my enchilada sauce completely smooth so I then use my immersion blender to puree the sauce completely. If your sauce is too thick you can thin out with a little more broth. Remember to taste your sauce and use as much salt and pepper as you like.
Prep Time: 5
Cook Time: 15