As a child growing up I actually hated tomato soup. So I didn't have the joy of having the classic Campbell's straight out of a BPA lined can loaded with sodium tomato soup. (if there was only a font called "sarcastic"…) Actually I didn't really like any kind of tomato unless it was a sauce or salsa. As I have gotten older I have grown to love them. Heirloom tomatoes are my absolute favorite. I love how weird they look and the great flavor they produce. Last year I bought pounds upon pounds in the late summer when they were in season and froze them and used all winter for sauces and soups.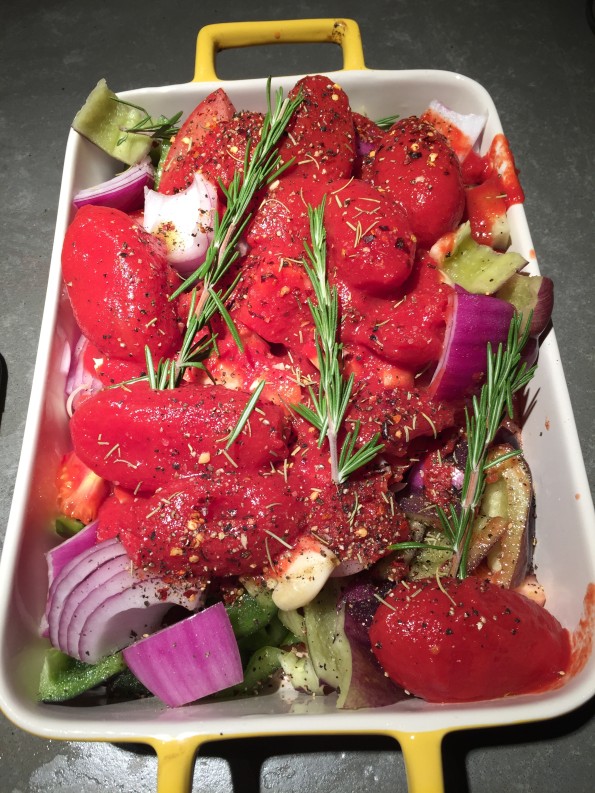 Our fall in Michigan is off to a slow start this year (which is COMPLETELY fine by me) but the other week when it finally started to cool off we needed a quick dinner. You know those nights when you really don't want to be in the kitchen for HOURS?? (some of you might dread being in the kitchen for MINUTES even). Well I was having that night. I wanted to come home from yoga and relax. My husband can tell you that is a word I barely know the meaning of. However, I do know how to make my life easier with quick recipes. Or recipes that don't take a lot of effort.
I was watching an episode on the Food Network recently and the couple had made a grilled cheese and tomato soup dish. Bobby Flay had made a comment about "if you take a classic and serve it you better be able to amp it up and make it the best grilled cheese and tomato soup out there". Which made me think how simple, classic meals don't have to be flavorless.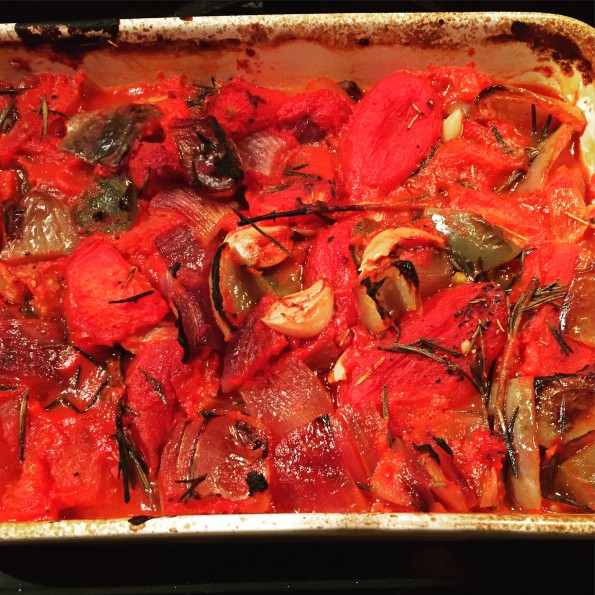 The soup doesn't have to come from a can. The cheese doesn't have to come from an individual wrapper and be orange processed who knows what. I feel like our society has gotten so spoiled. We are looking for the quickest way to do EVERYTHING. Take a meal out of a box and put in the microwave for seven minutes, take this "magic" pill or patch and you will lose 10 pounds, send a text instead of picking up the phone (guilty there, I know…) but cooking doesn't have to be these drawn out hour long ordeals. Meals don't have to have lots of items in them to make them good. You actually CAN make simple food taste gourmet when you use the right ingredients.
I have made this tomato soup several times and it is always a good one. It is super easy. It literally consists of chopping vegetables, putting them in a baking dish, letting them roast in the oven for 40 mins (which gives you 40 minutes to have a glass of wine, sit down and relax, whatever you need to do!) and then blend everything to make a soup. It's THAT easy. And I have some cooking challenged friends, even you girls could do this!!!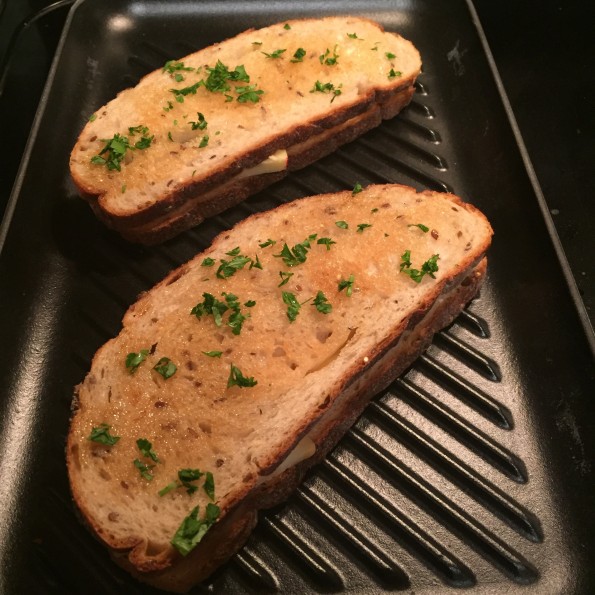 There are a few things I do to "gourmet" my grilled cheese. First, I melt some butter in a small frying pan (you could use olive oil as well, whatever fat you like to cook with) and add 2 whole cloves of garlic. Then I cook that on a low heat so the garlic infuses with the olive oil. Lastly I brush the bread with my melted butter, sprinkle it with some parsley for extra flavor and put it on my indoor grill pan (wedding registries are a WONDERFUL thing!). But if you do not have a grill pan you can use a basic frying pan and get the same results minus the grill lines.
I also love buying artisan breads which really makes the sandwich better. We have an amazing local bakery that has this multi-grain that is fabulous (support local!). Additionally I also try to use good cheeses. Ditch the American cheese individually wrapped slices and get something a little more "grown up". So in this version I used a combination of gouda and some white cheddar we had.
Keeping the classics classic is an easy thing. But when the classics were basic to begin with make them gourmet with better quality ingredients and more flavor. Your kids, husband, even YOU will thank you!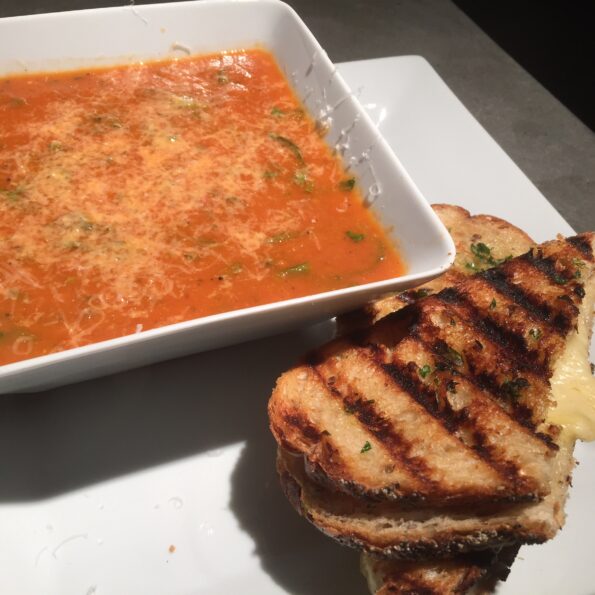 Print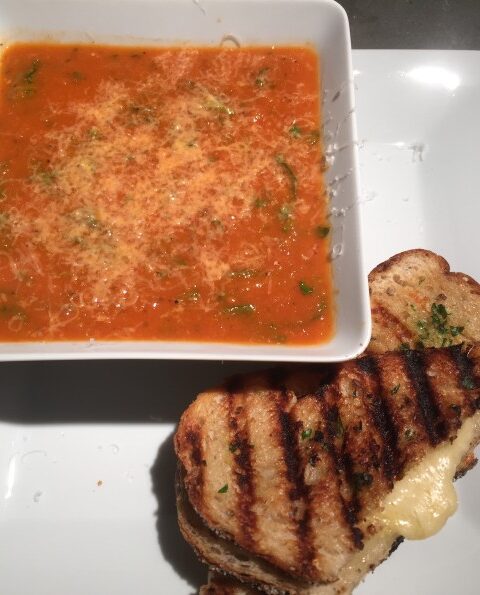 roasted tomato soup with "gourmet" grilled cheese
---
Total Time: 1 hour 15 minutes
for the soup
1–1.5 lbs of fresh tomatoes roughly chopped (I like romas, campari or heirlooms) if you cannot find good fresh tomatoes double the canned tomato portion
1 28 oz can of diced tomatoes with their juice
2 bell peppers (any color but I prefer red, yellow or orange) roughly chopped
1 red onion roughly chopped (if your onion is small use 2)
3 TBS of italian seasoning
10 cloves of whole garlic
1/4 – 1/2 tsp of red pepper flakes (depending on your heat preference, if you don't like spice omit this)
2 TBS olive oil
1 small package or 1 large handful of fresh basil, cut or torn into small pieces
1 quart of chicken broth/stock (if you are vegetarian use vegetable stock)
parmesan cheese for topping
for the grilled cheese
2 slices of bread for each sandwich (depending on how many you would like to make) splurge on some good bread, I like French bread, sourdough or multi-grain for my grilled cheese
3 slices of cheese for every sandwich (I used white cheddar and gouda, I also love meunster or provolone in my grilled cheese)
3 TBS olive oil or butter
2 whole cloves of garlic
3–4 TBS of fresh italian parsley minced
---
Instructions
for the soup
Pre-heat the oven to 450
In a large baking dish combine all of the ingredients except the chicken broth. Mix together and season with salt and pepper. Roast the veggies for 40 minutes stirring every 20 minutes or so. It's ok if they start to char a little. It will enhance the flavor of the soup.
Once vegetables are cooked transfer to a large soup pot and puree with an immersion blender. If you do not have an immersion blender you can puree in batches in a regular blender. Be careful if you use this method. Do not fill your blender more than half way and be sure to ventilate the top for steam to escape so your soup doesn't explode.
Turn the heat on your soup to low. Stir in 1 cup of chicken broth at a time until you get your desired consistency. I prefer mine thicker but my husband likes it a little more brothy. Taste your soup. Season with more italian seasoning, salt and pepper if needed. Stir in the fresh basil. Serve topped with some parm.
for the grilled cheese
In a small frying pan on medium low heat the olive oil and garlic cloves together for 10 minutes until the garlic infuses the olive oil.
Brush the outsides of your bread with the olive oil and sprinkle parsley on the buttered side. Make the sand which by placing the cheese in between the bread with the buttered sides facing out. In a frying pan or grill pan on medium heat brown the outsides of your sandwich. I check mine every minute or so to make sure they do not burn and just get nice and golden brown.
Prep Time: 15
Cook Time: 60