Organic is often used to describe the food we eat. I went from eating organic to turning it into a lifestyle. My co-workers used to tease me that I was a hipster and now they call me a full fledged hippie. They know if they have a headache that I am going to give them an essential oil versus a Tylenol. I now try to use a lot of chemical free and natural products.
I posted an Instagram post recently that sparked a lot of texts and emails from my friends so I figured I would blog about it. There is an app called "Think Dirty". I had downloaded it a few years back but forgot about it. I recently went on and looked up some products I was using and I was shocked at the crap that was in them when they were supposed to be "natural". Let me also disclaim everything in my life I treat as eighty/twenty. I know there are some things I can't control. Do I dye my hair red? Yes. It's not "natural". Some of my products have chemicals in them. But if I can at least control most of it I feel ok.
I am sharing with you a few of my favorite products that are natural and organic in case you want to make the shift from organic food to organic LIFE.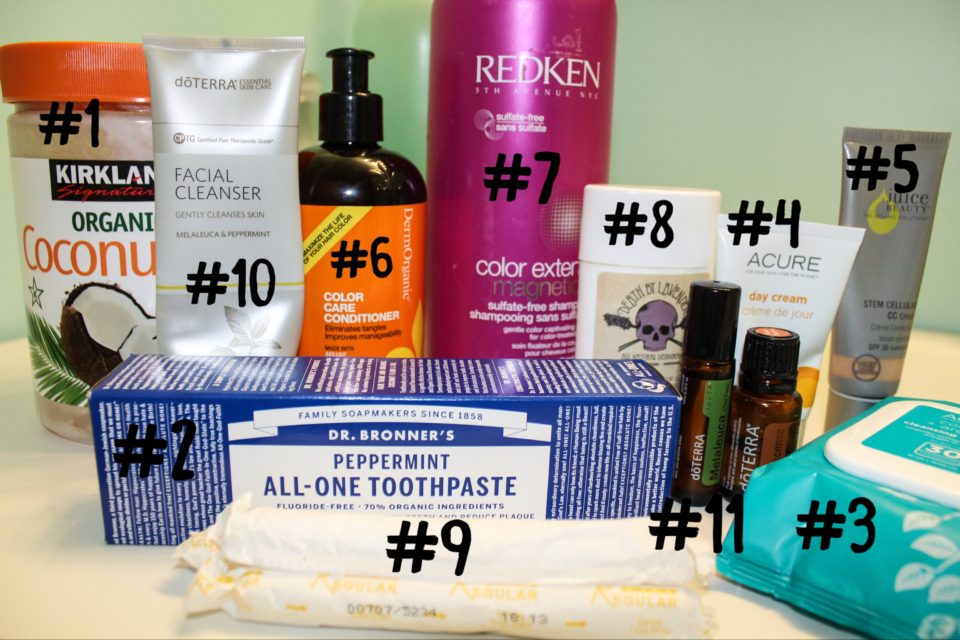 Organic Coconut Oil – I use coconut oil for various things. We put it in our coffee, we use it for cooking oil but I also use it on my body as lotion. Not only does it make your skin soft there are no chemicals being absorbed into your skin. It also removes eye makeup wonderfully. Sometimes I use it as face lotion too but coconut oil can clog pores so if you have oily skin I would steer clear from using as a face lotion.
Dr. Bronner's All One Peppermint Toothpaste – My stepdad is a dentist and him and I will debate this subject all day long but I started using toothpaste a few years ago that is fluoride free. Many dentists and the American Dental Association has stated that there are years of studies showing that fluoride helps prevent tooth decay. I won't deny that. I personally just prefer to not add more chemicals to my body. And P.S. I grew up drinking well water for eighteen years of my life that didn't have fluoride in it and I don't use fluoride toothpaste. Guess how many cavities I have had? ONE. My whole thirty plus years of life, ONE!
Acure Organics Coconut + Argan Oil Cleansing Wipes – These are great when you need to quickly remove your makeup. I use them after work before I head into the yoga studio. They are fragrance free and all organic. I have had a hard time even with "natural" companies trying to find makeup wipes without fragrance. (also scores a 1 with the Think Dirty app, 0 being the best, 10 being the worst)
Acure Organic Day Cream – I love this stuff. It's perfect for every day use and is loaded with natural oils such as argan, olive and citrus oils. It smells fresh and almost like oranges. I use it day and night. I get mine at Whole Foods but recently saw Target carrying it as well.
Juice Beauty Steam Cellular Repair CC Cream – This is the spark for all my friends asking me questions on what products I used. I was shocked when I saw my "all natural" Burt's Bees BB Cream that I used as a foundation score a NINE on my app. Mainly because of the "parfum" and the phenoxyethanol. However, when it comes to putting things on my skin I am getting pickier. Skin is the body's first line of defense and if you are putting chemicals on your body they are getting absorbed right into your system. When I can, I try to be good about it so this product is a new add to my collection. It scores a ZERO on the dirty meter!
DermOrganic Color Care Conditioner – I like this because it's sulfate free and smells really good. It has argan and sunflower seed oil in it. I have dry hair and only wash my hair once a week. I only use conditioner in my ends of my hair, never my roots to help keep my scalp from getting oily and maximize my time in-between washes and this stuff is great. It's a thicker conditioner which I like for my hair type. This unfortunately has fragrance in it though so that is one "bad" ingredient in the product.
Redken Color Extend Magnetics Shampoo – Ok this is an eighty/twenty product. Most of the ingredients are a three or less on the dirty meter. It is sulfate free but it does contain fragrance which makes it come in at a nine. I do like the shampoo and like how clean my hair gets but I will probably start looking for something a little more natural.
Death by Lavender Deodorant – I started using natural deodorants a few years ago. There are several studies that links aluminum to Alzheimer's disease. I started using products that I thought were "natural" but beware. Read your ingredients. If you are trying to avoid aluminum and use an "antiperspirant" it most likely has aluminum in it. Look for deodorants only. I am not going to lie, if it's really hot natural deodorants aren't always going to work the best. This one is a little hard to put on at first because it has coconut oil in it but once it comes into contact with your body it softens up. The lavender oil in it gives it a great smell.
Organic Tampons – Thanks to my good friend Ashley, who is probably a bigger hippie than me, I started buying organic tampons. She read a few articles that she shared with me for a few a-ha moments. Tampons that are not organic have cotton that is treated with who knows what chemicals and pesticides. Without getting too graphic then think about this, when you use these chemical laced tampons all of that gets absorbed right into your bloodstream. Are they expensive? Yes. I spend about $6 a box and they only come with 16 per box. However you can look online to buy in bulk. Some of the brands I like are Natracare, Seventh Generation and Azalea. I just get whatever brand is on sale at Whole Foods. Honest Company makes them as well but I have not tried them.
doTerra Facial Cleanser – this face wash smells great thanks to peppermint and melaleuca (tee tree) oils. Plus all doTerra products are sulfate free.
Essential Oils – I use essential oils every single day (brand of choice is doTerra). Some of my favorite oils and their uses are: Frankincense – add to my face lotion to help cellular regeneration. Melaleuca – use for cuts and scrapes AND if I am PMSing and getting a blemish. Peppermint oil – headaches, breath "mint", energizer. Lavender oil – use on burns or to help promote relaxation before bed.
In addition to the above mentioned products other things I am really careful about is my sunscreen (back to the chemicals being absorbed into my skin), using the microwave (at home we never do, at work I am forced to heat up lunch in one), not using aluminum foil and only using glass containers for tupperware.
These are only opinions based on research I have done. In no way am I claiming to be an expert on any of these topics. However, I know some of you are interested in "cleaning" up your life so I wanted to pass on my tricks and tips to help you on your organic lifestyle journey. Remember, eighty-twenty, trying to control it all will make you go crazy!
Leave a comment below and tell me your favorite organic products. I am always looking for new things!