These meatballs with tomato cream sauce is not your traditional spaghetti and meatball recipe. The addition of heavy cream changes the game!
I don't eat meat too often but every now and then I crave a good meatball. Maybe it's my body's way of telling me I need iron or maybe I am just hungry. But whatever it is I using give in and whip up a batch. This recipe combines two favorites of mine – meatballs with tomato cream sauce.
That's a meatball
While I am not Italian I love everything about the country. The food, the people, the food, the wine, the food, the cities and the FOOD! I started looking up the origin of the meatball and what I was able to find out is no one really knows if the meatball started in Italy. However they definitely are known for them now. But while you may find meatballs in Italy you will NEVER find spaghetti and meatballs together.
In Italy the first course (primo) followed by a meat but not together. So spaghetti and meatballs are the Americanized version of the Italian polpette (meatballs). And while this meatball dish isn't traditional I assure you it tastes amazing!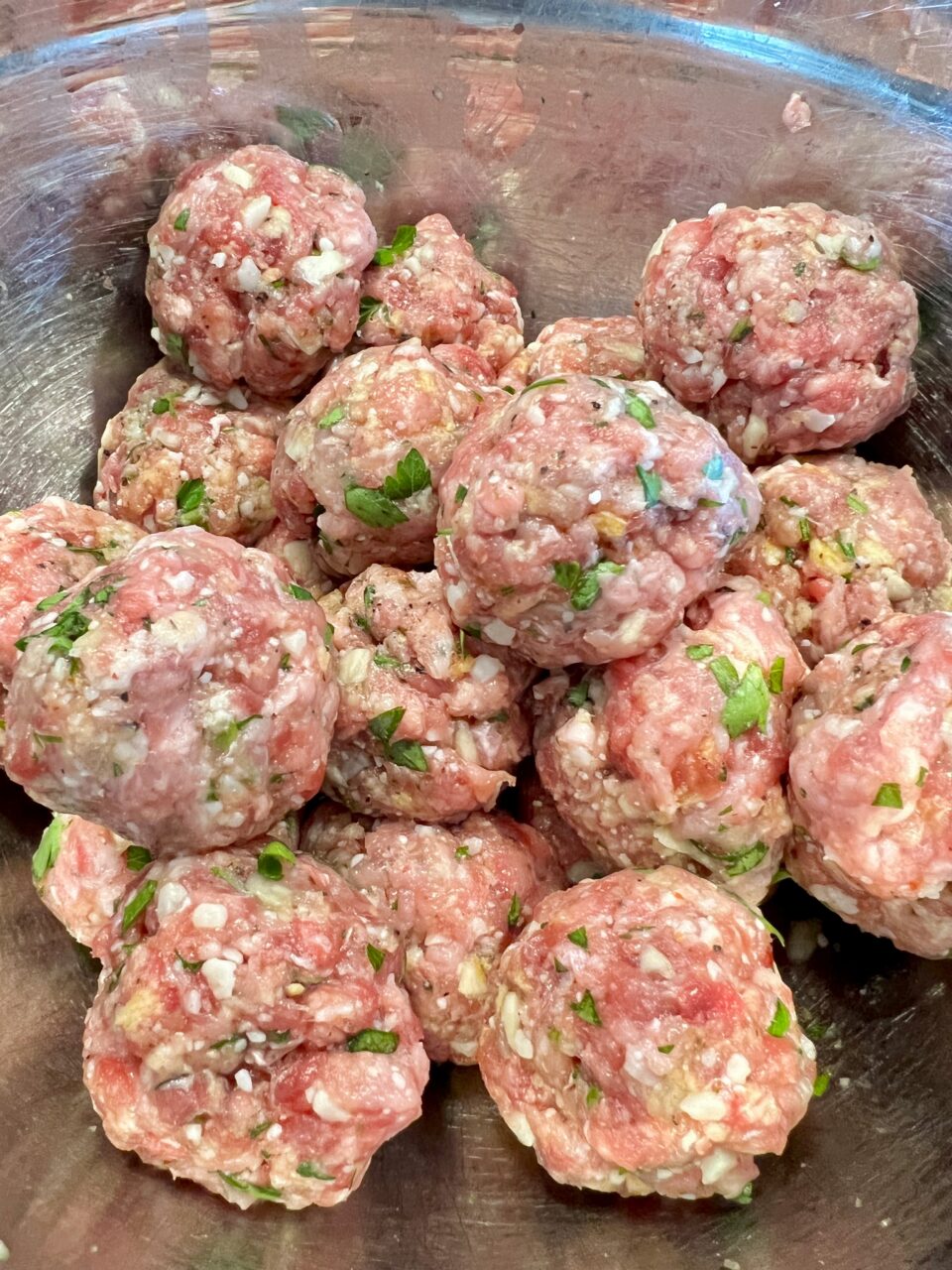 Tips for a good meatball
There are a few things that I found really help make a flavorful meatball that I will share with you here.
The right meat mix – don't use all beef. At a minimum I use half beef half pork. But when I can find ground veal (I know I know I actually can't think of it and just eat it, I am very sorry baby cow) I use equal portions of all three
SEASON YOUR MEAT – the one thing I have learned over the years is salt and pepper are your friends. My husband kids around that in the midwest we don't know what salt is. But I have changed my ways over the years. These meatballs have not only salt and pepper but red pepper flakes for a little extra flavor.
Don't over mix your meat – you want to mix it just so everything is incorporated. Supposedly the more you mix your meat it can become over worked and tough. While I don't know if it's true I don't take my chances!
Get a good sear on the meatballs first – I always brown my meatballs on all sides before they go in the sauce
Simple tomato cream sauce
This tomato cream sauce is one of the easier sauces to make. Even the meatballs are easy they just are a little time consuming! The base of the sauce is a simple garlic yellow onion mixture. Then I take a little help from the store with crushed tomatoes. The sauce simmers away while the meatballs brown up.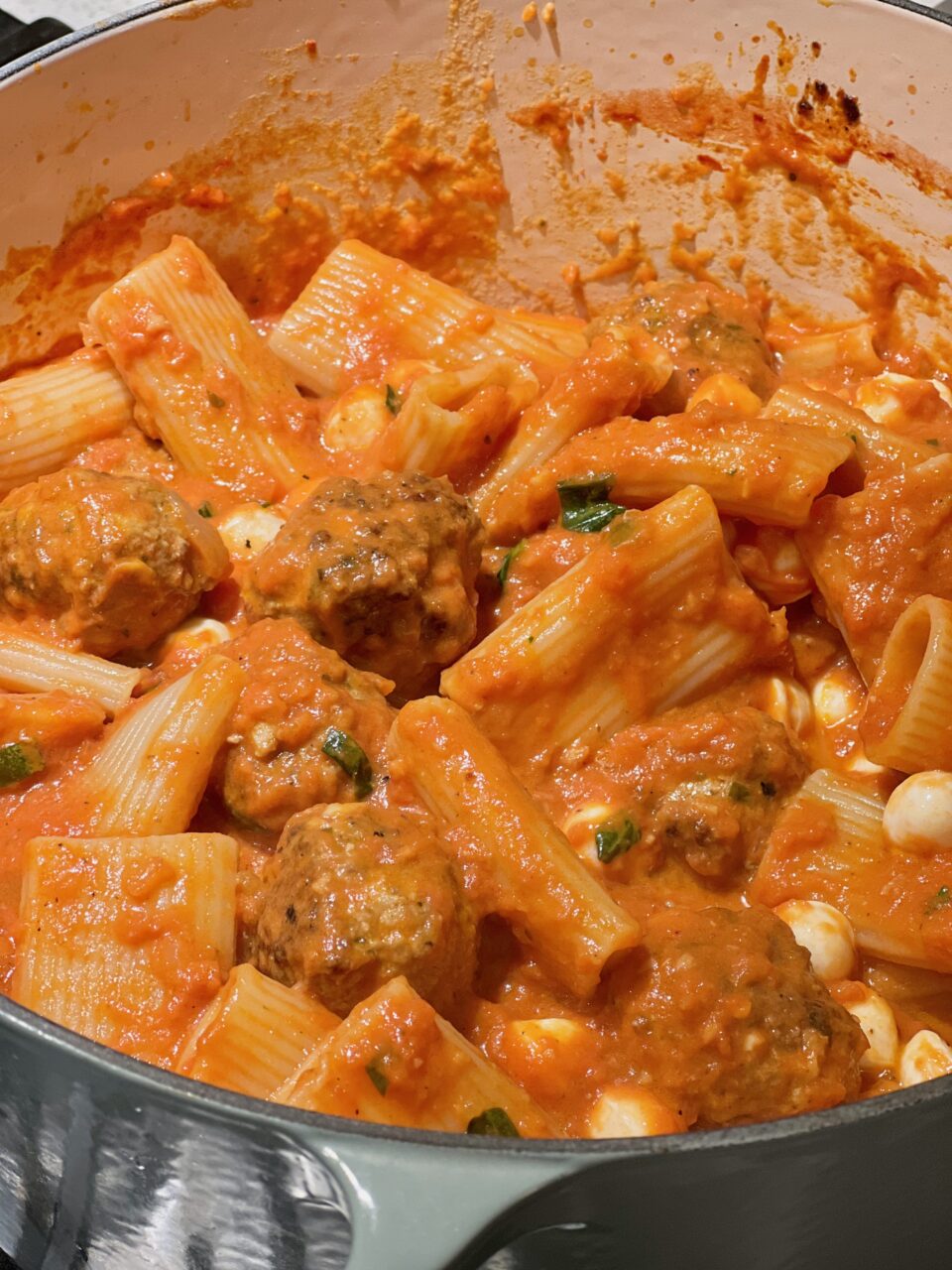 The one thing that really changes the sauce though is heavy cream. I remember back in the day if a recipe called for cream I would leave it out. "It's too fattening – gasp". Please don't be like old me. I feel cheated for all the years I avoided things because I thought they were "bad" and now realize how in moderation it doesn't matter. And what the heavy cream does for this sauce is a game changer. The cream gives the sauce a richness and elegance that it needs. It turns a simple sauce into something more "gourmet".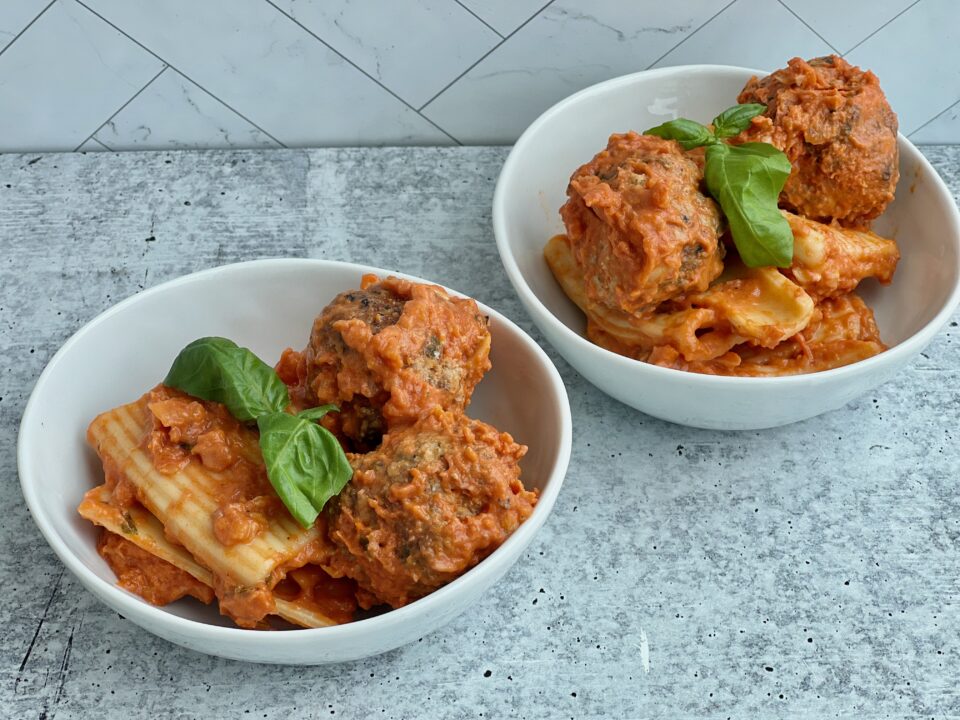 So if you randomly crave meat like me or love Italian food in general these meatballs with tomato cream sauce will win over your stomach. And while it's not traditional Italian it still tastes amazing and is worth making – even if your Italian friends roll their eyes. Buon appetito!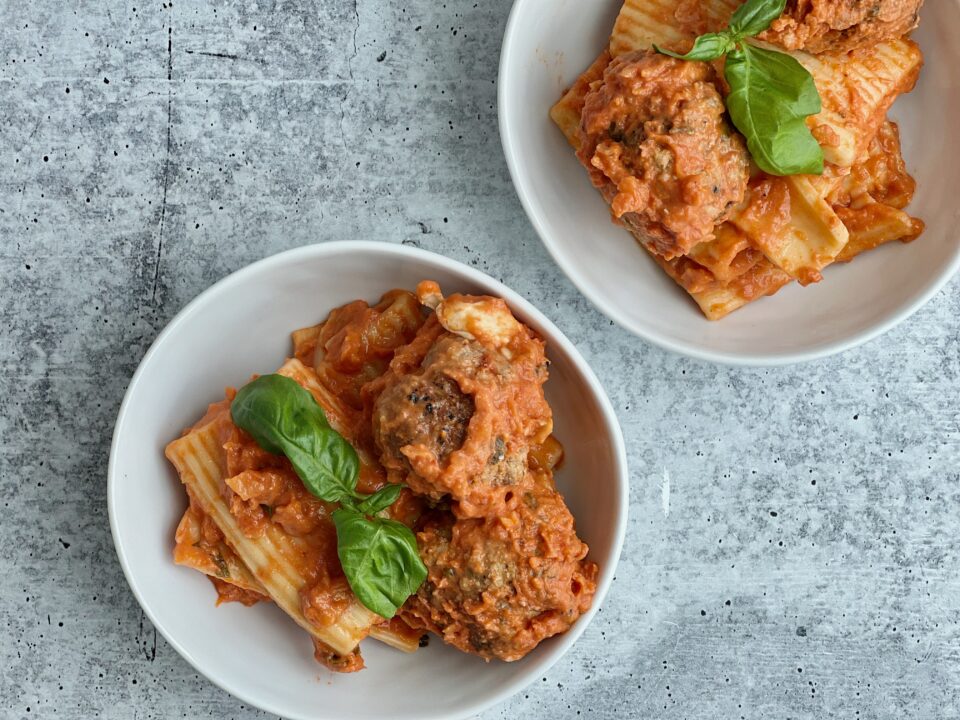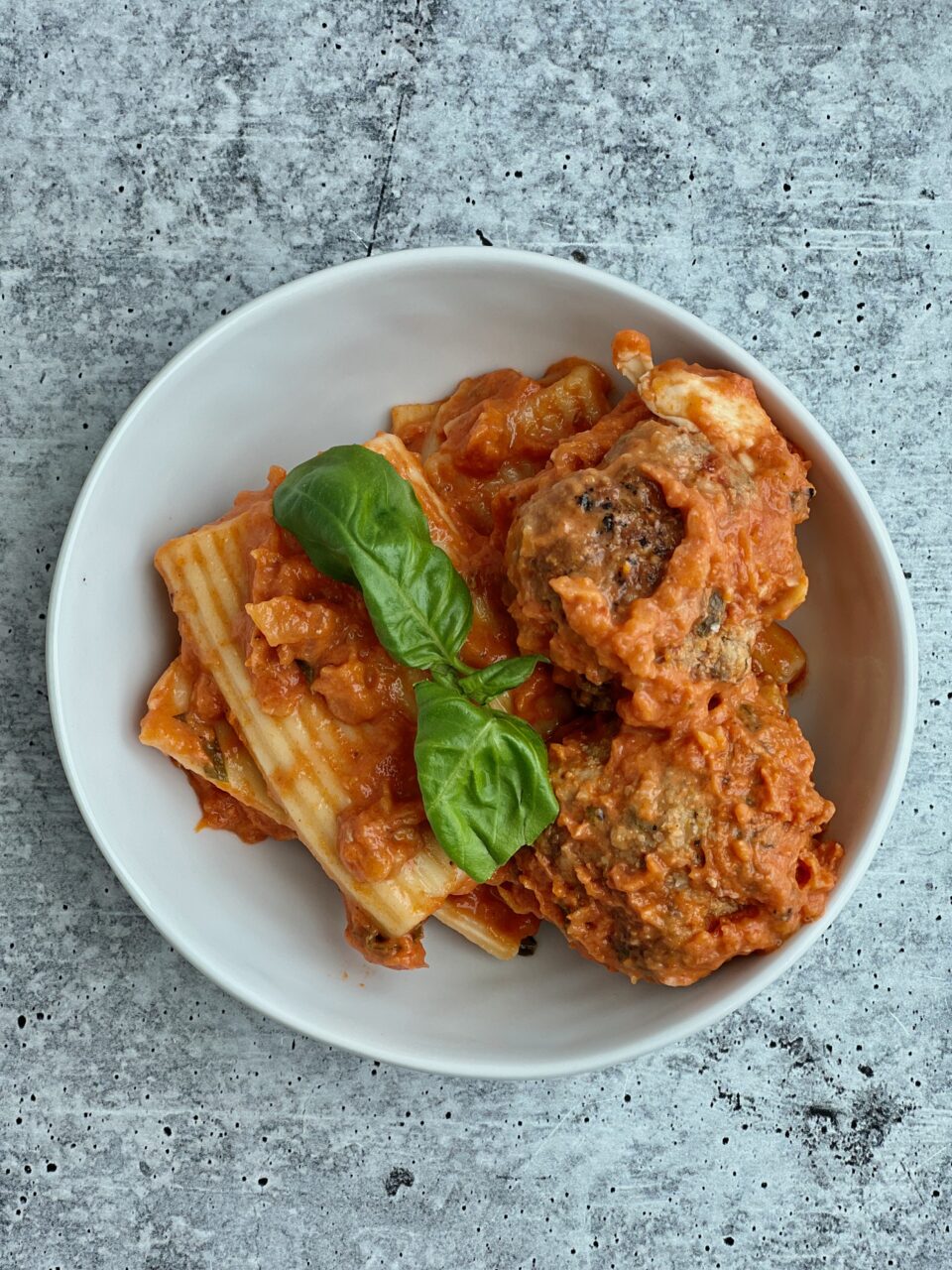 Print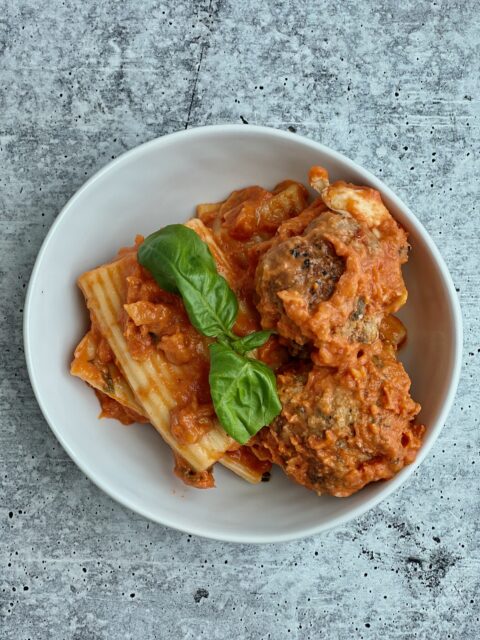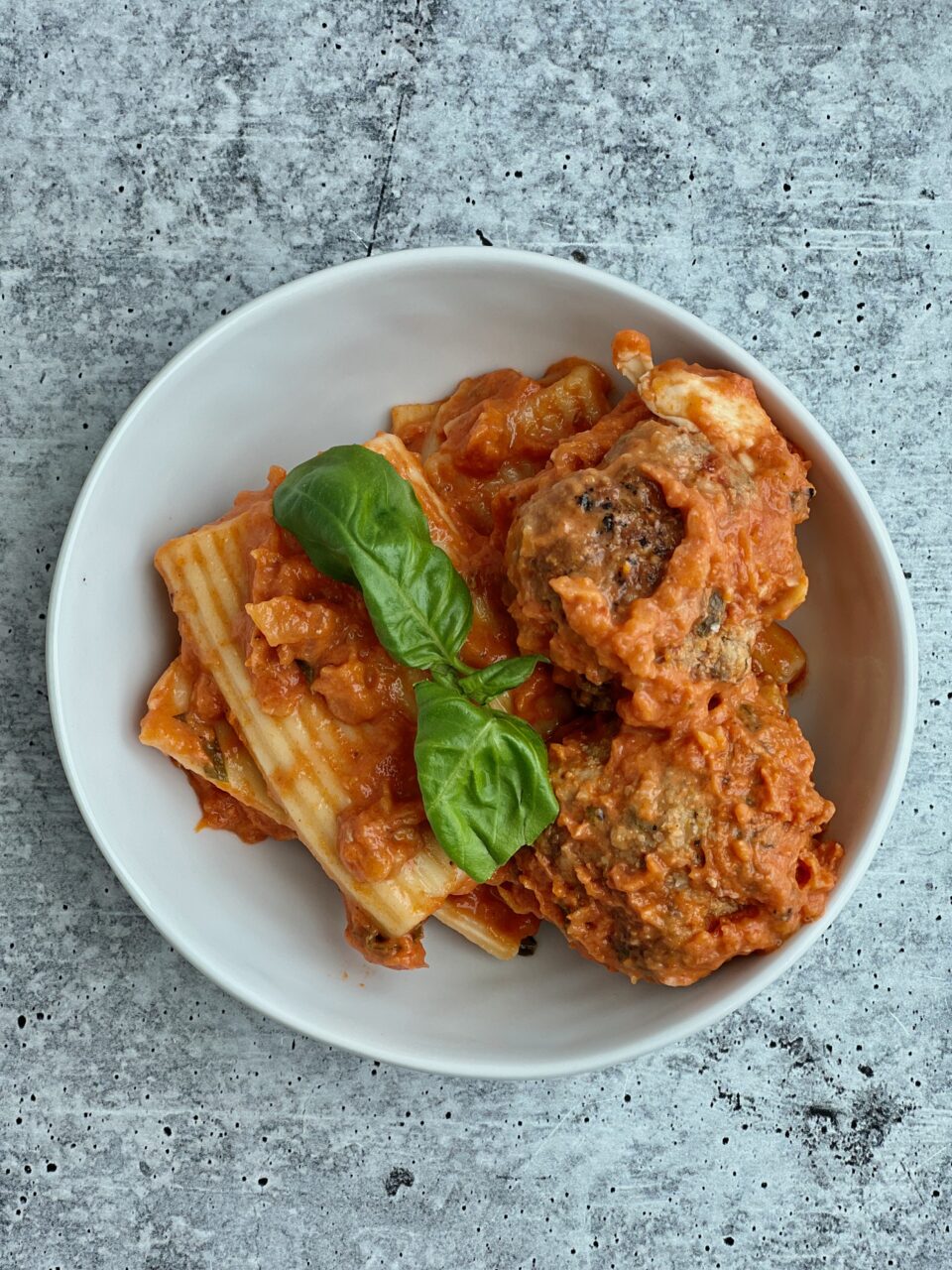 Meatballs with tomato cream sauce
---
Description
Not your average spaghetti and meatballs here. These meatballs are paired with an easy tomato cream sauce for an upgrade to the old classic!
---
Meatballs
1.5 ground meat (I did 1/2 lb each of ground pork, ground beef and ground veal you could just do pork and beef if you can't find veal)
1 egg
1 large handful of Italian parsley, minced (between 1/8 – 1/4 c once chopped)
6 cloves of garlic, minced
1/2 c grated parmesan cheese
1 c panko bread crumbs
dash of red pepper flakes
4–6 TBS olive oil
Tomato Cream Sauce
1/2 yellow onion, minced
6 cloves of garlic, minced
2 TBS olive oil
dash of red pepper flakes
2 28 oz can crushed tomatoes
1 tsp sugar
parmesan cheese rind (usually found with the fresh parmesan or ask at your cheese counter)
1 handful fresh basil, chopped small
1/3 c heavy cream
---
Instructions
In a large soup pot, dutch oven or a high sided sauce pan add onions, garlic, red pepper flakes if using and olive oil. Cook over medium low for 12 minutes until onions and garlic are soft. You do not want your garlic to brown so if you find that happening turn the heat down.
Add in crushed tomatoes, sugar and parmesan cheese rind. Season with salt and pepper. (I use probably 6-8 cracks of both from a grinder). Slightly cover to prevent sauce from splattering. Keep heat at medium to medium low. Stir occasionally.
In a large mixing bowl add in all the ingredients for the meat balls. Before combining, season VERY LIBERALLY with salt and pepper. If you do not have a grinder use 2 tsp of each. If you have a grinder 10 cracks (or grinds) of each. This is the only chance you get to flavor your meat!
Combine the meat mixture gently, there is no need to overwork it. Once everything is evenly distributed start forming the meat mix into balls. I don't like my meatballs too large – probably the size of a golf ball.
In a large frying pan (I prefer a cast iron skillet!) turn the heat up to medium and add 2 TBS of oil. Wait a minute or so until the oil heats up. Add in your meatballs making sure to leave space in between them. Usually it takes me two batches. TIP: I start at the top of my pan and add the meatballs clockwise on the outside and then fill in the middle. Then I know what meatball to flip first and the order they were placed in the pan!
Cook the meatballs a few minutes on each side. You want the outside golden brown and crispy on all sides! Once the meatballs are browned on the outside use tongs to add them to your sauce.
Repeat with 2 more TBS of oil and the rest of the meat
Gently stir the sauce (be careful not to breakup the meatballs). Let cook AT LEAST another 20 minutes so the meat cooks through. You can cook the sauce for an hour even letting the flavors concentrate even more.
When you are ready to eat stir in the basil and heavy cream. Try your sauce, 9 times out 10 I find that the sauce needs more salt.
Serve topped with a little parmesan OR over your favorite pasta
Notes
If you serve with pasta some recommended shapes are rigatoni, ziti, oreccheitte, or lumachi. I like something that picks up the sauce as well as the chunks of meat.
Prep Time: 5M
Cook Time: 60M
Keywords: pasta, meatballs, meat,