This black bean veggie skillet is quick and easy to make. Fresh veggies compliment the store bought ingredients for a healthy, delicious meal.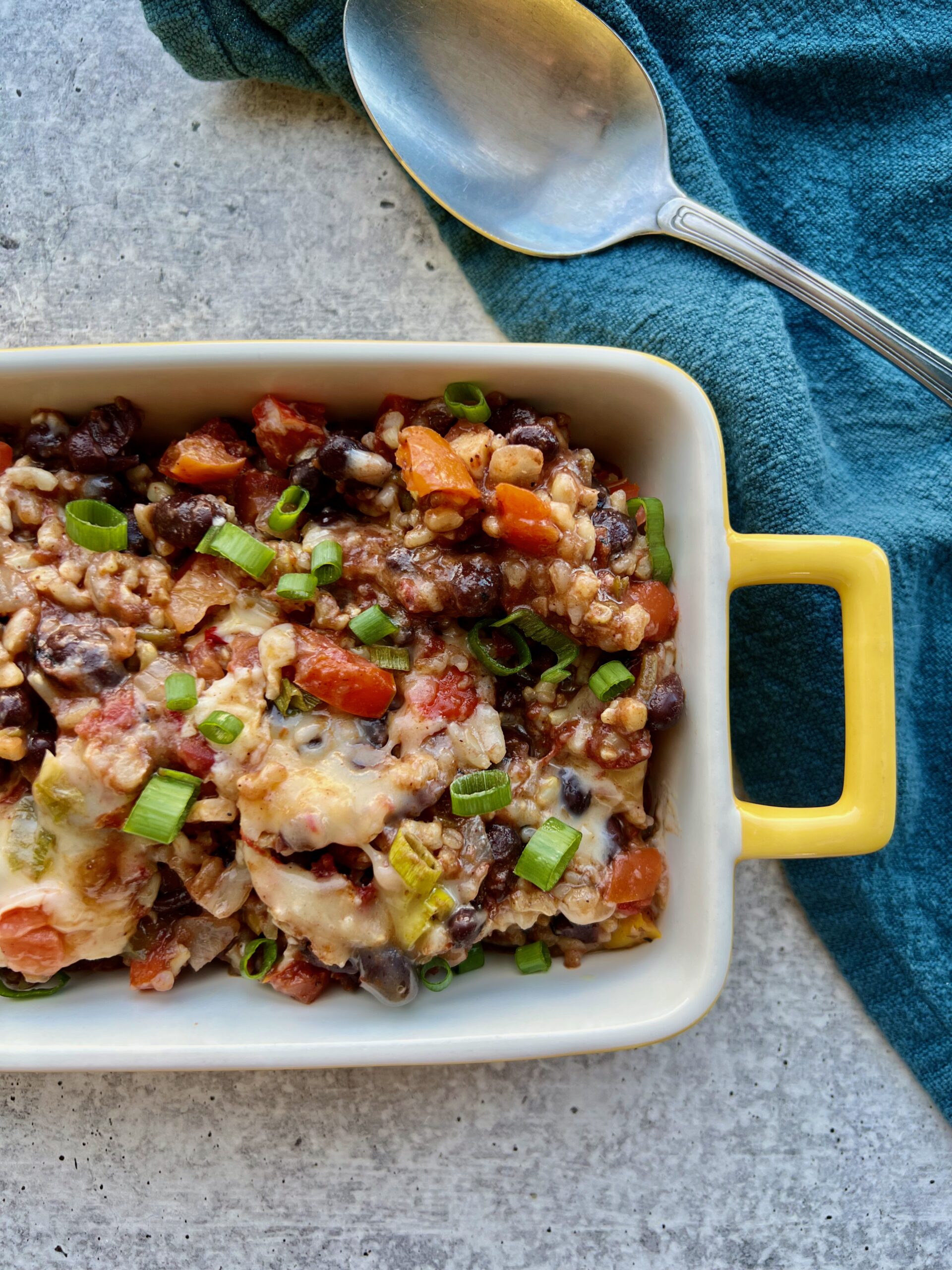 Lately I have been trying to spend less time in the kitchen during the week and more time with my family. So I try to find meals that are quick to make yet still taste good. Fast food doesn't have to be takeout or fried everything. Fast food can still be nutritious. The other night I decided to make an easy dish not only to cook but for clean up as well. This easy black bean veggie skillet checked all the boxes.
Store Bought Help
This meal is made combining fresh vegetables and then taking some help from the store. While I appreciate people who want to take the time to cook beans from dried, I personally just don't have the time to do so. Also canned vegetables like diced tomatoes are canned at their peak – no need to worry about them not being "fresh". This recipe uses help from the following store bought pantry staples:
Diced tomatoes – I like the fire roasted or the ones with chilis for this recipe
Canned green chilis
Canned black beans – pinto beans would be good too!
Pre-cooked brown rice – you can find this in the freezer or even in pouches with the dried pasta and rice most of the time
If you can open a can you can make this black bean veggie skillet!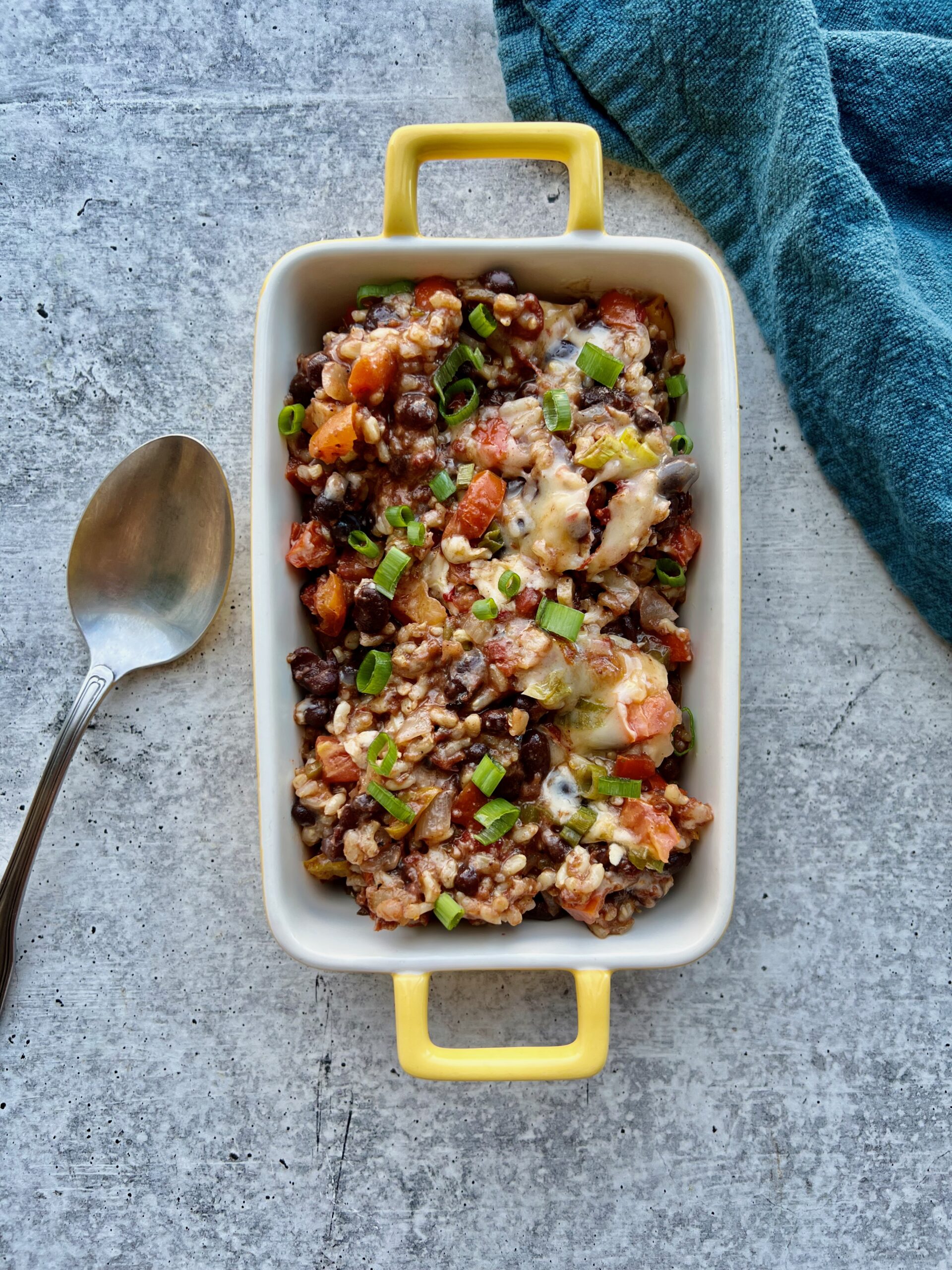 One Pot Wonder
The key to this dish is finding a large skillet or cast iron pan that can go from stove top to oven so you have less dirty dishes to wash! The steps are super easy for this meal.
We start by sautéing fresh veggies like bell peppers and onions and add seasonings to it
Next all of the store bought items are added in
Lastly we top it with cheese and a few more veggies, pop it under the broiler so everything melts together and you are done!
That's it! This black bean veggie skillet is so easy to put together. Most of the time spent on the recipe is waiting for things to cook. The next time you are in a hurry or need a quick meal or frankly would just rather NOT spend time in the kitchen, be sure to try this easy black bean veggie skillet. And if you do be sure to rate and comment below and tag me on Instagram!

Print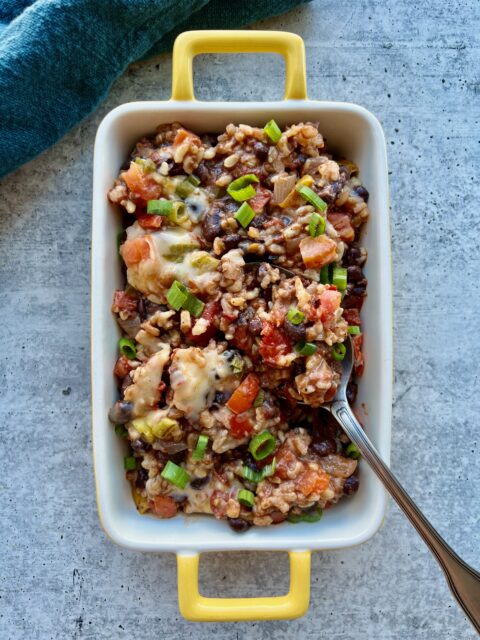 Easy Black Bean Skillet
---
Description
This black bean veggie skillet is quick and easy to make. Fresh veggies compliment the store bought ingredients for a healthy, delicious meal.
---
2 bell peppers (I like red, yellow or orange over green for this), small dice
1 yellow onion, small dice
1 jalapeno, minced (see step 1)
5 cloves of garlic, minced
4 oz can diced green chilis
14 oz can fire roasted diced tomatoes
2 14 oz cans black beans
1 TBS cumin
2 tsp chili powder
1/4 tsp cayenne powder
1/4 tsp onion powder
1/2 tsp garlic powder
1 tsp smoked paprika (regular paprika works as well)
2.5 cups frozen brown rice
1.5 c pepper jack or Monterey Jack cheese, grated
3 scallions, thinly sliced
3 roma tomatoes, insides and seeds removed, small dice (also grape tomatoes sliced in half would work here too)
Avocado Crema
1 scallion chopped in half
1 avocado
Juice of one lime
Salt and pepper
1 c greek yogurt (you could also use sour cream here)
---
Instructions
Mince jalapeno and garlic together. Reserve 1 TBS of the mixture for the crema.
In a large ovenproof skillet sauté onions, bell peppers and remaining garlic/jalapeño mix in 1 TBS olive oil over medium to medium low for 10 minutes until veggies are soft.
Add in tomatoes, green chilis, spices, black beans and frozen rice. Cook 5 minutes until rice is thawed completely. Season with salt and pepper to taste.
Top with cheese and place under the broiler for 1-2 minutes until the cheese has started to melt.
Top with scallions and tomatoes and place back under the broiler another 1-2 minutes. The cheese should be golden brown and bubbly. Be careful using the broiler, things go from golden brown to burnt in no time!
Top with the crema and serve
Avocado Crema:
In a blender, chopper, Nutribullet etc. place scallions with the 1 TBS of garlic/jalapeno mix with a small amount of water (1/8 of a cup or so, just enough to blend) and lime juice and blend so the mix becomes a liquid and is not chunky
Add in avocado and Greek yogurt, season with salt and pepper and blend more – if your mix is not blending add a little water to the mix to make it easier to blend. Add just a little at a time though to prevent watering the mix down
Notes
The rice used here does not have to necessarily be frozen, just already cooked. You could cook rice from scratch, use leftover rice or even use cooked rice from a pouch at the store.
Additionally you may substitute another grain of your choice for rice like quinoa, barley or lentils. Just be sure they are already cooked.
For a meaty meal you could add cooked ground beef, ground turkey, or even rotisserie chicken to the mix.
Prep Time: 5 min
Cook Time: 25m
Keywords: mexican, black beans, vegetarian, quick meals,