This roasted garlic white bean soup is easy to make and packed with flavor. Roasted garlic gives the soup that little something extra.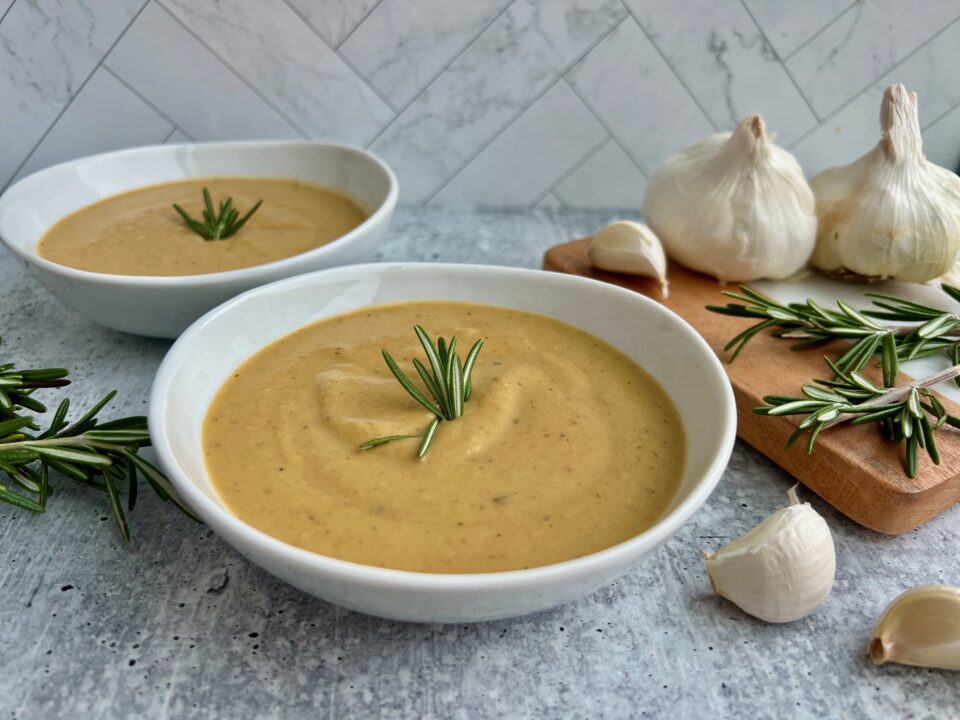 It was soup Sunday and I was looking for an easy meal to make. But I was all over the map on what I wanted. I was thinking white bean potato soup but I had just made my Copycat Outback Potato Soup [3] the week before. So I started flipping thru some old cookbooks for inspiration. There was a recipe for a roasted garlic soup and thought, what if I combined the two ideas? I pitched the idea of a roasted garlic white bean soup to my husband and he was all for it.
Roasting Garlic
If you haven't tried roasting a head of garlic and smearing it on a cracker you are for sure missing out. But instead of a cracker it was going to go in my soup. And I wanted a lot of it. So I took four whole heads of garlic for this recipe. People get intimidated by roasting garlic but it is seriously the easiest thing. Here is how you do it.
Cut the top quarter inch off the head of garlic. You want to expose the tops of the the cloves.
Drizzle with olive oil and season with salt and pepper. I see a lot of people just roast their garlic in the oven without seasoning. While that is fine I prefer to take the opportunity to season every aspect of my food including this!
Lay a few sprigs of rosemary over the tops of the garlic
Roast in oven for forty minutes until soft
Let cool so you can handle it
Remove the outer papery layers of the garlic cloves
Squeeze at the base of the head of garlic so all the cloves pop out, some will come out like a paste so be sure to get that as well
Another thing we like to do is mix all that roasted garlic with some Boursin cheese and put it on a toasty baguette. You will thank me later.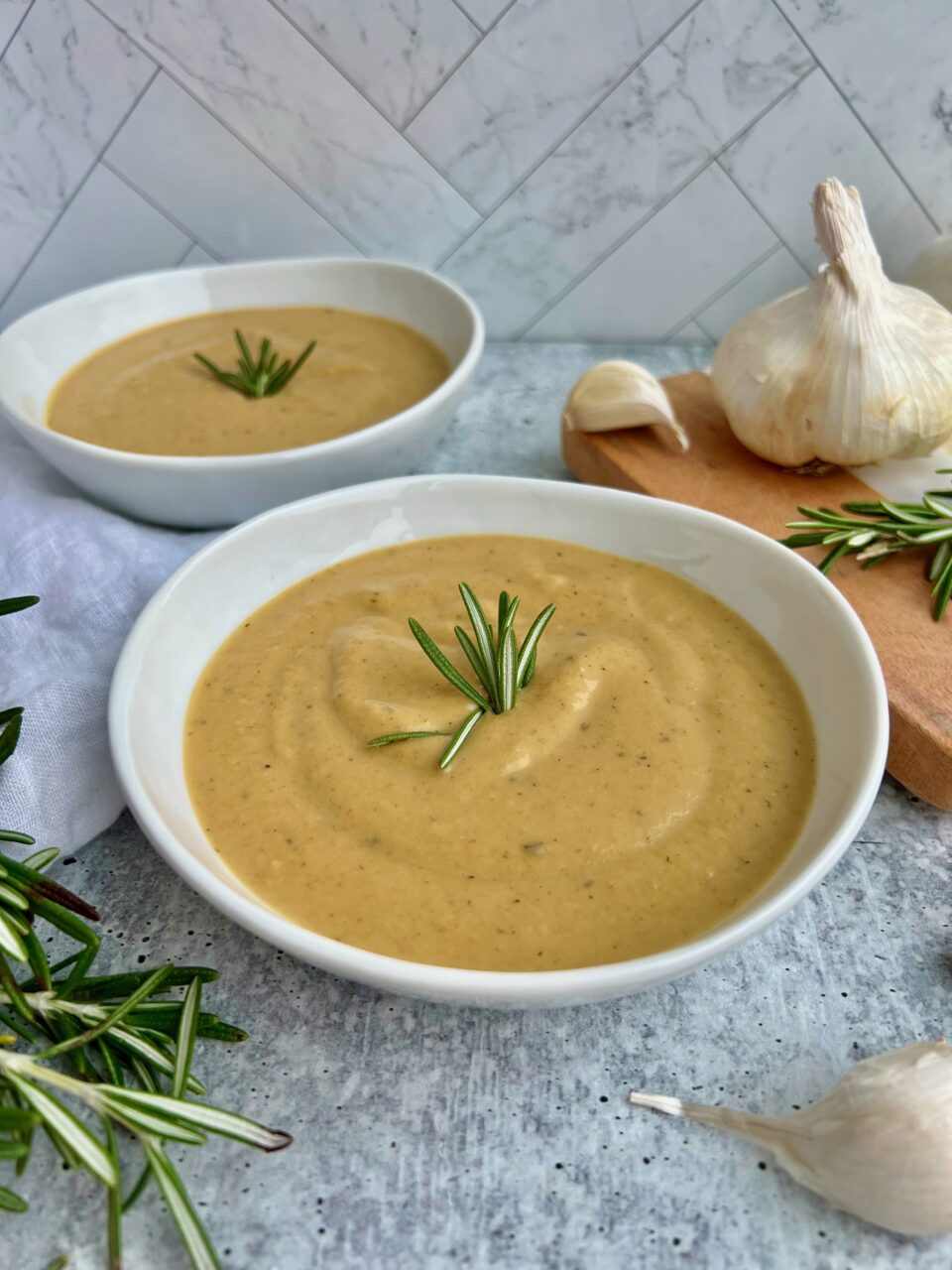 Beans – fruit or legume?
We all know the song we used to sing as a kid. But beans indeed are NOT a fruit. They are a legume. Apparently why beans or other legumes for that matter have been called fruit is because the "fruit" of the legume comes out of a pod. Think about peanuts in a shell. The shell of the peanut is the "pod" and the peanut is the actual "fruit". Whatever you want to call them beans have SO many great health benefits and are a great source of protein especially when you don't eat a lot (or any!) meat.
I love cooking with cannellini beans and have a new found appreciation for them since visiting Italy where they can be a staple for cooking depending on the region you are in. They are super creamy which makes them a perfect addition to soups and stews. If you can't find cannellini beans Great Northern beans are a good substitute.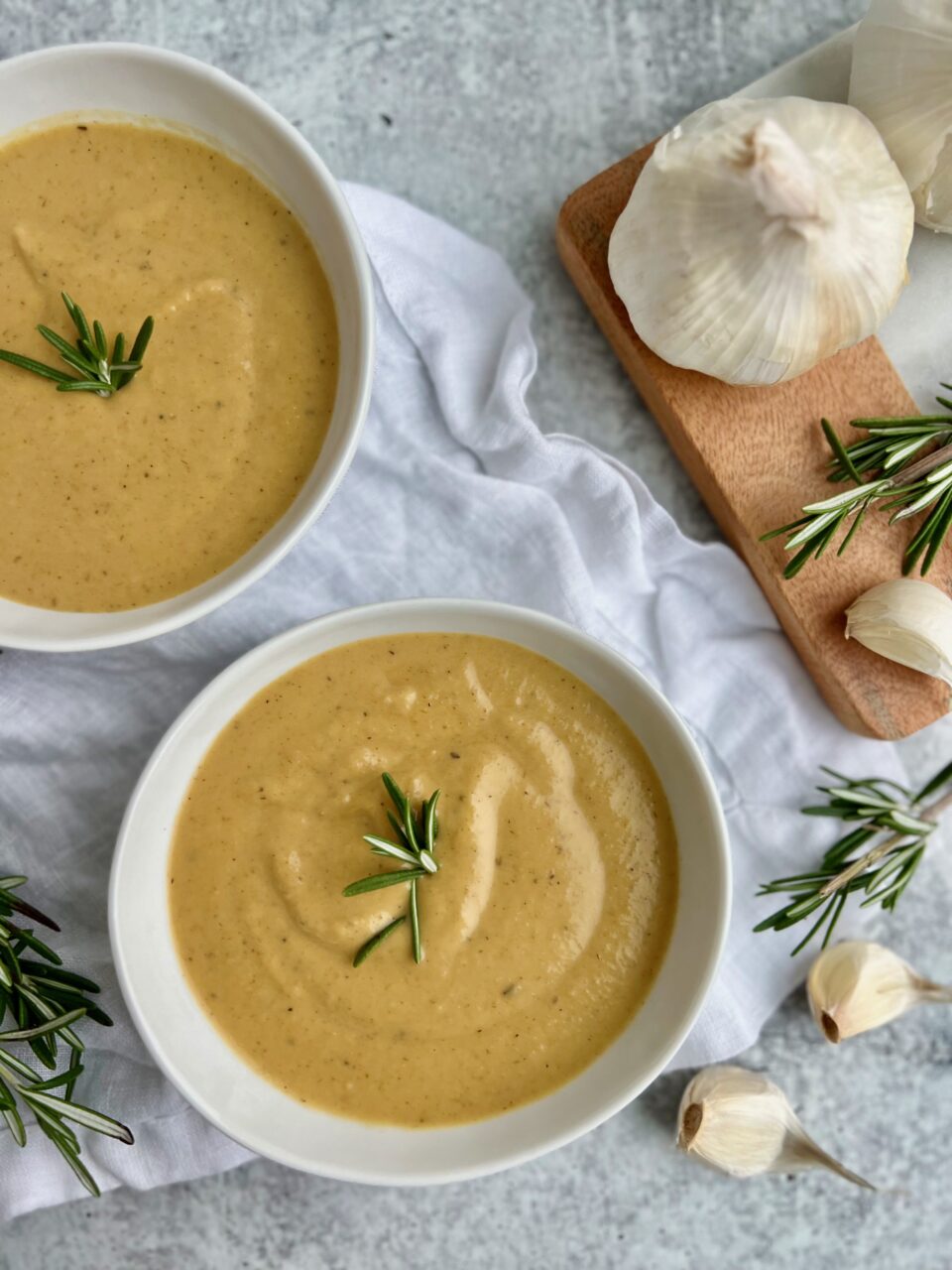 While you most certainly could soak dried beans overnight I prefer to save time by using boxed beans (or canned beans). For people that might say "I don't like beans" good news – you are blending this whole soup up. I don't like carrots but they are in this soup. My husband doesn't like celery but it's in this soup. Once you blend it all together with that roasted garlic I promise you can't taste one ingredient on it's own. So sneak in those veggies for your picky eaters!
Looking for more ways to use beans?
This creamy lemon orzo soup [4] is made "creamy" with beans!
More blended beans go into this tomato Florentine soup [5]
This one pot orzo with veggies [6] is an easy meatless meal
The next time you are looking for an easy soup to make try this roasted garlic white bean soup. And remember, if you do try it be sure to share it, rate it and tag me on Instagram! [7]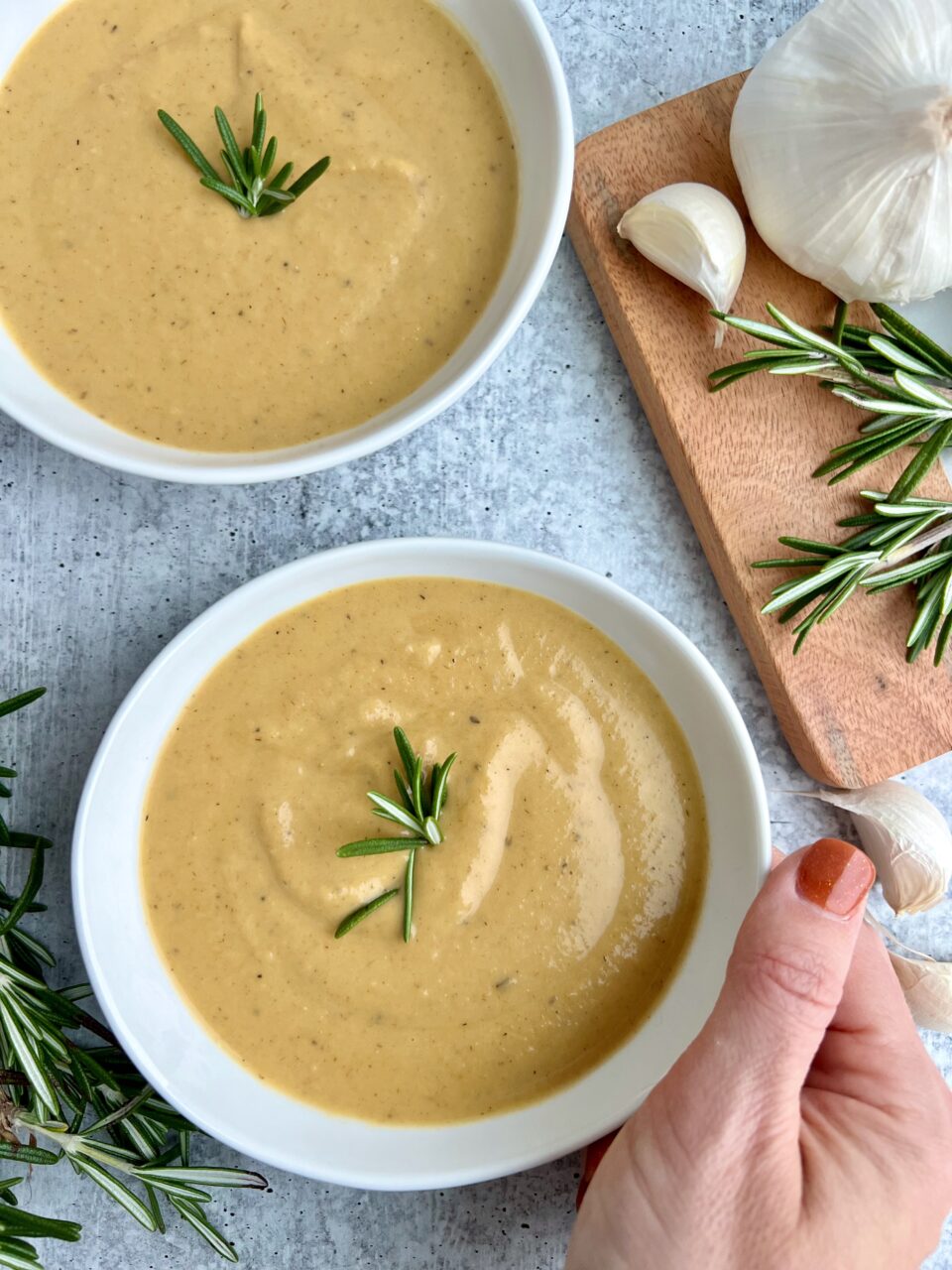 Print
[2]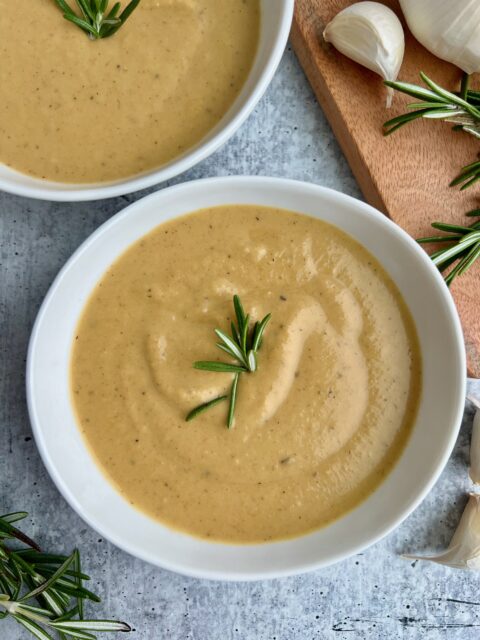 Roasted Garlic White Bean Soup
---
Author:

Karissa P [8]

Total Time:

1HR

Yield:

6

1

x
4

head of whole garlic, top quarter inch cut off (yellow tops of garlic should be exposed)

4

whole sprigs of fresh rosemary, additionally remove a few leaves and chop finely to garnish the soup

2

leeks, dark green parts and ends removed, cut in half lengthwise

6

–

8

stalks of celery, thinly sliced

1

c

grated carrots (buy pre-grated to save time or 3 whole carrots chopped or grated will work)

1

yellow onion, diced small

2

bay leaves

3

cans cannellini beans drained not rinsed

5

c

chicken or veggie broth

1/8

c

heavy cream
Fontina or parmesan cheese to top with
Half a lemon
---
Instructions
Pre-heat oven to 425
On a cookie sheet place leeks and heads of garlic. Drizzle with 1 TBS of olive oil, season with salt and pepper. Lay sprigs of rosemary over garlic and leeks. Bake 40 minutes until tender.
While garlic is baking in a large soup pot sauté carrots, celery, onions and bay leaves with 1/2 TBS of olive oil over medium low heat 12-15 minutes until softened. Season with salt and pepper.
Add in beans and four cups of broth. Bring to medium heat and cook while garlic finishes.
Once garlic is finished allow to cool until it is safe to handle. Peel all of the outer flaky layers of the garlic skin off. At the base of the head of garlic squeeze into a bowl so all of the cloves start to pop out. Some of the garlic will come out like a paste just scrape that into the bowl. Remove any skin that might come into the bowl.
Remove the leaves of the rosemary off the stems and add to your garlic. They should be crunchy and crispy.
Add the garlic, leeks and half of the soup to a blender. Blend soup until smooth. Continue in batches until all of the soup is creamy. Add back to soup pot.
Turn heat to slow. Taste your soup, season with salt and pepper. Stir in remaining cup of broth and heavy cream. Let soup cook over low for 5 minutes to warm back up.
Serve topped with fontina cheese, a little fresh rosemary and a squeeze of fresh lemon juice
Notes
Vegetarian Option – use veggie broth instead of chicken broth
Vegan Option – use veggie broth and omit heavy creamy
For a meaty version – add cooked bacon as a topping to the soup
Prep Time:

10M

Cook Time:

50M