I just finished a 5 day fast program and the day after they recommend to eat lighter. So I decided I wanted to make some soup. But I wanted minimal work and not a lot of veggie chopping. I thought about making my Tomato Florentine soup but even that seemed like a lot of work to me at the moment. I wanted my dinner as easy as it could be. So I tweaked my recipe and came up with a tomato Florentine soup with roasted tomatoes instead.
Easy Roasted Tomatoes
If you haven't roasted tomatoes for tomato soup before you are missing out. First off it's the easiest thing ever. I take a big baking dish with two cans of whole tomatoes to roast. I add bell peppers, onions, garlic cloves and rosemary to the pan and season it well. That's it. Then it goes in the oven. That is all there is to it!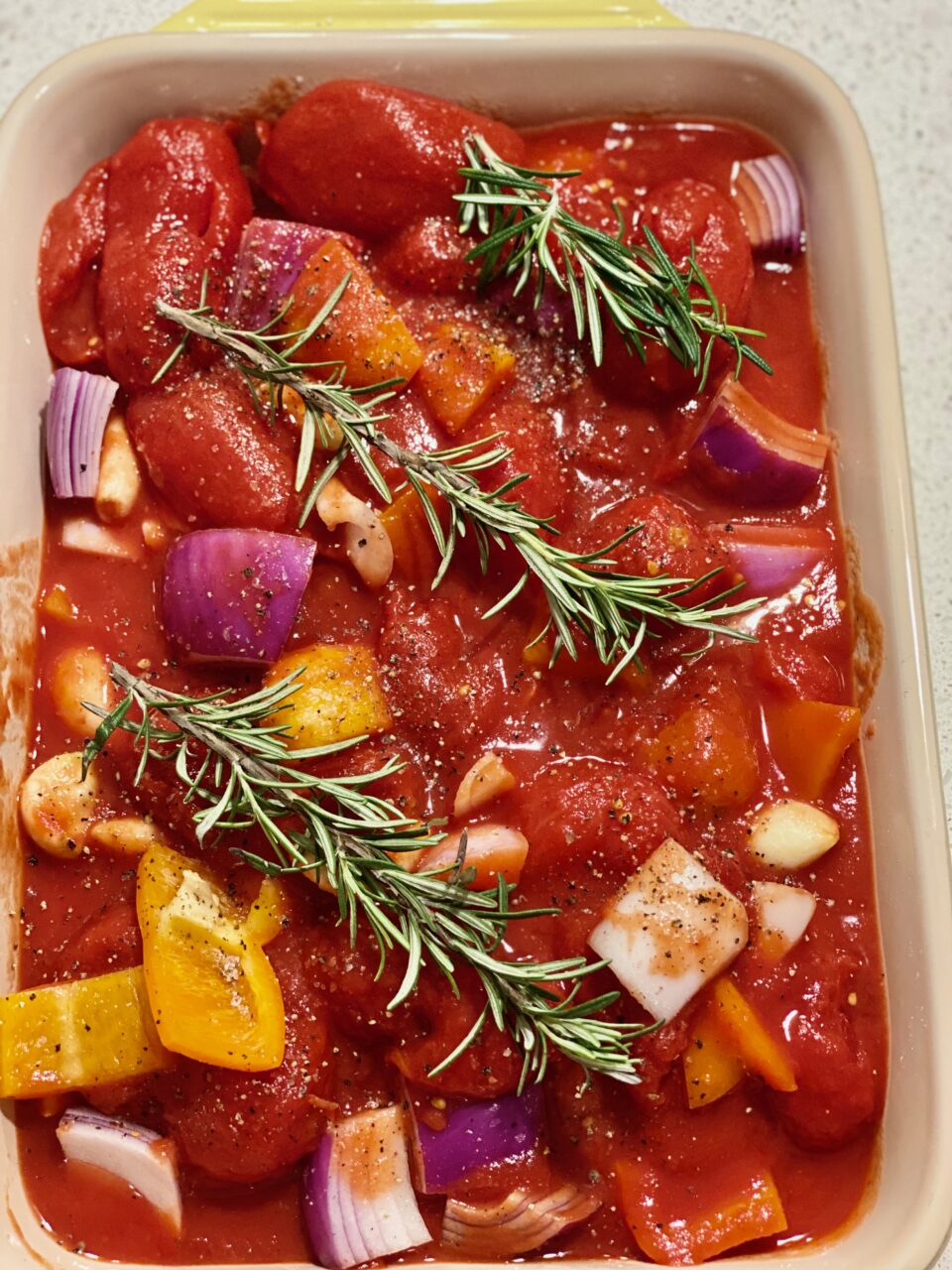 But what happens in the oven is the magic. The veggies start to char up. The little bit of brown roasted bits gives the soup a slightly smoky flavor. And I don't mean liquid smoke like flavor. Just a subtle depth of flavor normal canned tomatoes aren't going to have.
Turning it into soup
After the veggies roast then they get put into the blender. I have a Vitamix which is nice because it only takes me two batches to blend. If you have a smaller blender it might take a few more batches. To ensure that everything blends up I add a few splashes of broth to the veggie mix to make it more liquid-y.
When I am blending I like to sneak in some nutrients. I love trying to maximize nutritional value and sneaking in ingredients to recipes. This is no exception. While I puree the soup I add in two cans of cannellini beans. Don't skip this step. Even if you aren't a bean fan. Because you are never going to know they are in there. If you can't find cannellini beans you can use Great Northern beans instead.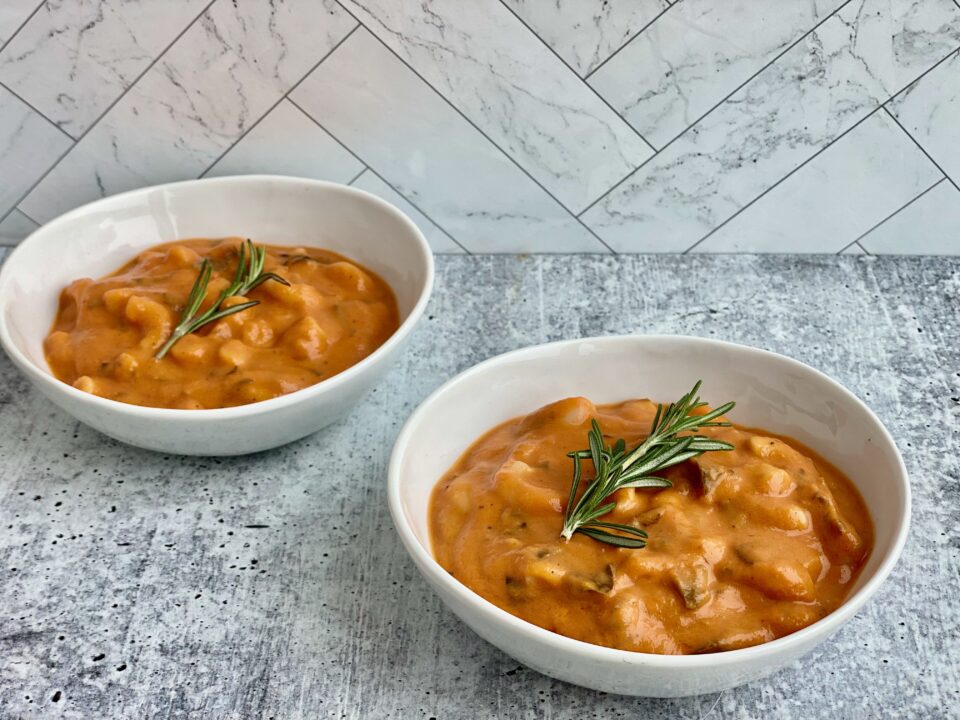 Once the soup is pureed I add it to a big soup pot, add in broth to thin it out and bring it up to a gentle boil. Then the spinach and pasta gets added until the pasta is cooked and that's it!
This tomato Florentine soup with roasted tomatoes still has the main ingredients as my other version. But to me it was easier to make and had a totally different flavor profile. This version is not to be missed. The next time you are craving tomato soup be sure to try this recipe for a new twist.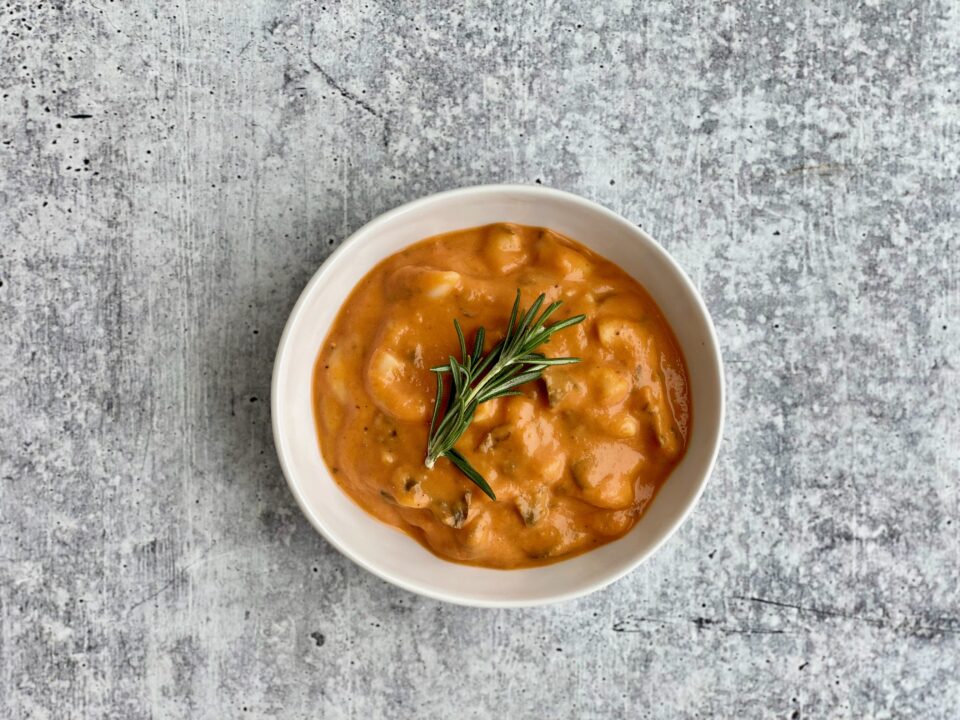 For more tomato soup creations be sure to check out these recipes:
This roasted tomato soup gets a nice twist with Boursin cheese
If you like the tomato and spinach combo try this tomato, spinach and wild rice recipe
And remember, if you try this recipe be sure to rate it and leave a comment below and let me know how you like it. Or tag me on Instagram!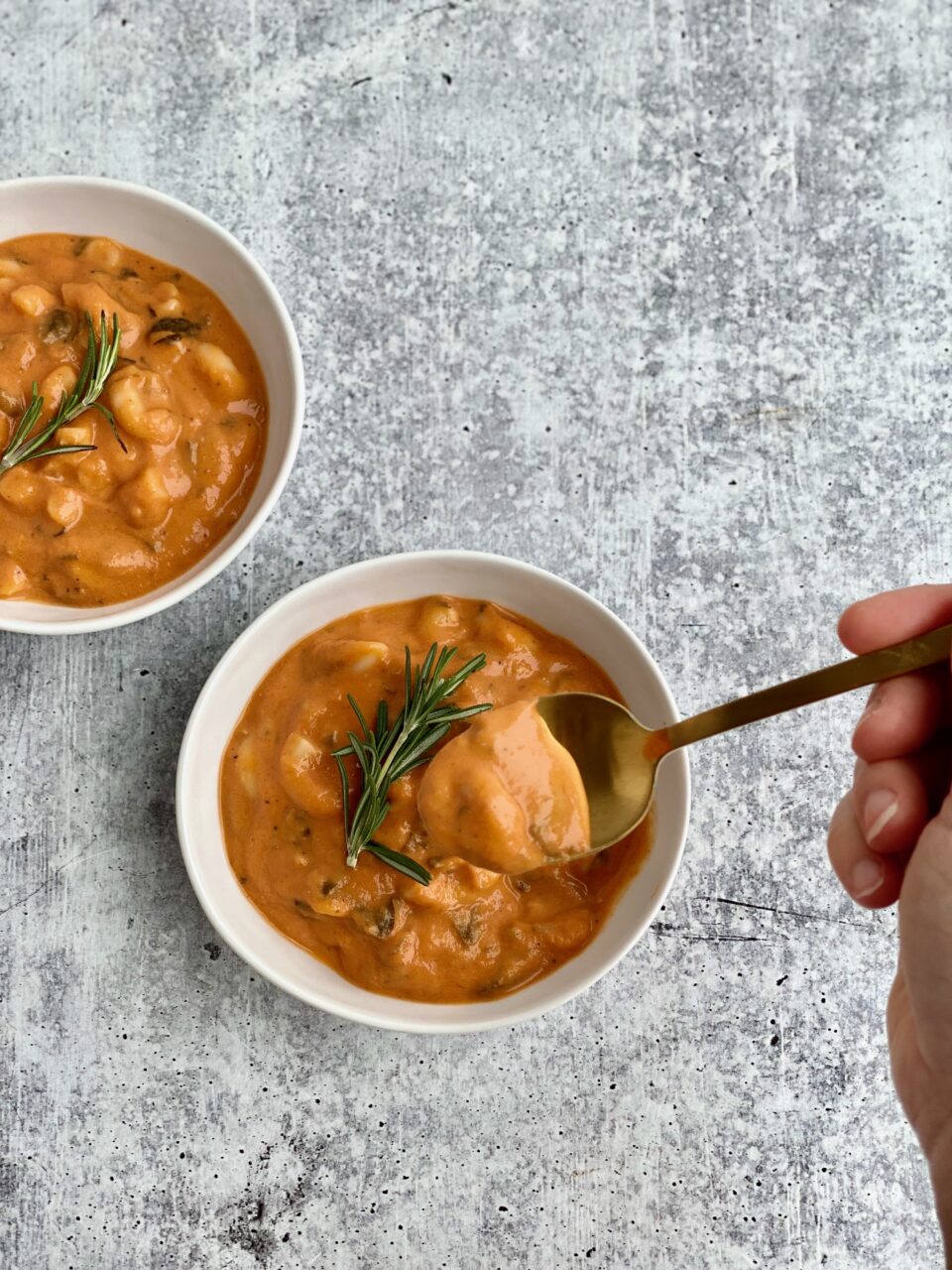 Print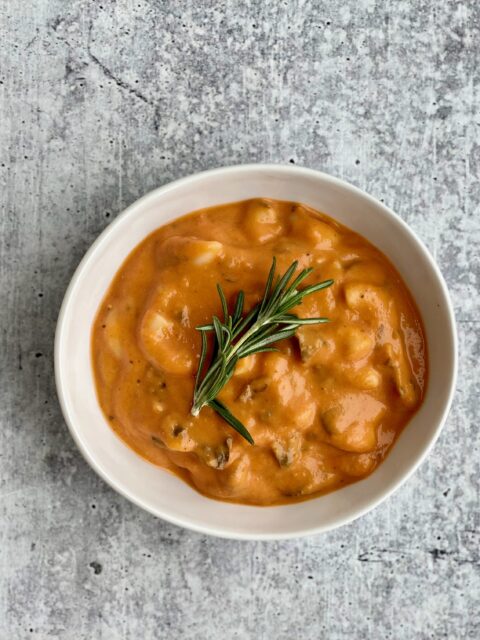 Tomato Florentine Soup with Roasted Tomatoes
---
2 bell peppers (yellow, orange or red would be best here green would make the soup a little bitter), large dice
1 red onion, large dice
2 28 oz cans whole tomatoes (San Marzano are my favorite)
6–8 whole cloves of garlic
3 sprigs of fresh rosemary
6–8 c chicken or veggie broth
2 cans cannellini beans, drained not rinsed
5–6 oz bag of fresh baby spinach, roughly chopped
1.5 c short pasta like orzo, elbow macaroni, ditalini or acini de pepe
parmesan cheese rind
1/4 c heavy cream
parmesan cheese to top with
Pantry Items – salt, pepper, crushed red pepper flakes
---
Instructions
Pre-heat oven to 425
In a large baking dish place red onion, bell peppers, garlic cloves and tomatoes. Gently pierce the tomatoes with a fork so the liquid inside oozes out. Season liberally with salt, pepper, a few shakes of crushed red pepper flakes if you like a little spice. Stir in baking dish. Then top with the sprigs of rosemary. Bake 40 mins stirring half way thru.
Turn broiler on high and broil the veggies for 3-5 minutes until they get a slight char on the top.
Let the veggies cool down slightly. Remove the rosemary leaves from the stems and discard the stems. Then in batches puree the veggies in a blender or Vitamix. I like to add a 1/2 cup of broth when I puree to make the veggies blend easier. In the last batch of veggies add the two cans of cannellini beans to puree. Place all pureed veggie mix in a large soup pot.
Stir in 3 cups of broth to thin out the mixture. Turn on medium high. When the soup comes to a gentle boil add in pasta, parmesan rind and spinach. Season with salt and pepper to taste.
Let pasta cook according to directions be sure to stir every few minutes so the pasta does not stick to the bottom of the pan.
Once pasta is cooked add in the heavy cream. The soup may have thickened up a bit. Add in a few more cups of broth to thin it out to your desired consistency.
Top with parmesan cheese and serve
Notes
I prefer chicken broth over veggie broth personally here. For a vegan option use veggie broth and omit the parmesan cheese rind and heavy cream. There is no need to replace with a plant based milk as the beans make the soup creamy on it's own.
Prep Time: 5M
Cook Time: 1H
Category: soup